Turkish Airlines Business Class Review: Istanbul to Bangkok
We opted to fly in Turkish Airlines business class for our week of fun in Bangkok and, after previous great experiences on the short haul Dublin to Istanbul flight, we were excited to check out Turkish Airlines business class on the long haul Istanbul to Bangkok route. Read on to find out how we fared in the sky!
As always the Turkish Airlines Istanbul lounge proved to be a firm favourite in The Whole World is a Playground house and we arrived on board refreshed, relaxed and ready for our 9 hour flight.
Welcome on Board!
Istanbul to Bangkok
'Welcome to Suite 1k Ms McArdle, enjoy your flight!' As it turned out the flight was being operated on a Jet Airways aircraft which was decked out with a 3 class cabin (first, business and economy) while Turkish Airlines have a 2 class offering (business and economy). This resulted in some passengers at the front of the plane getting to sample the Jet Airways first class private suite on a business class fare. We lucked out with our row 1 seat allocations and the trip got off to an amazing start with our very own private suites.
We welcomed with a choice of fresh juices as we settled into our seat.
The first class business class cabin!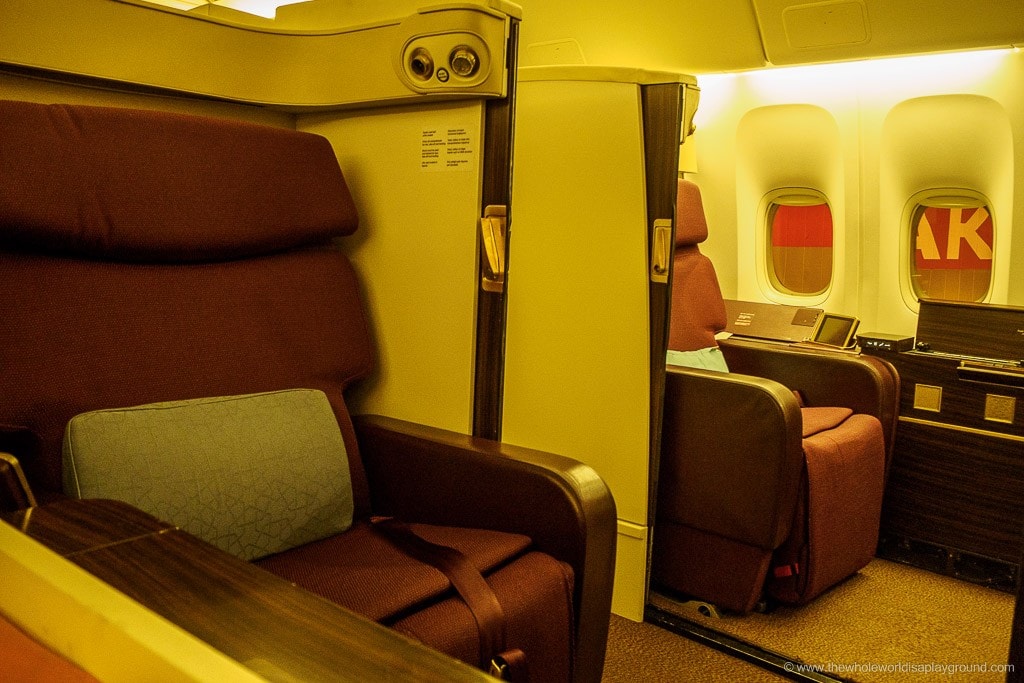 Bangkok to Istanbul
The same Jet Airways aircraft operated on our return flight from Bangkok to Istanbul but this time we were allocated a business class seat. You can't win them all, huh?!! The business class cabin was a herringbone configuration of 1-2-1 and we opted for 2 seats one behind the other so we could lean over and have a chat during the flight.
The business class cabin: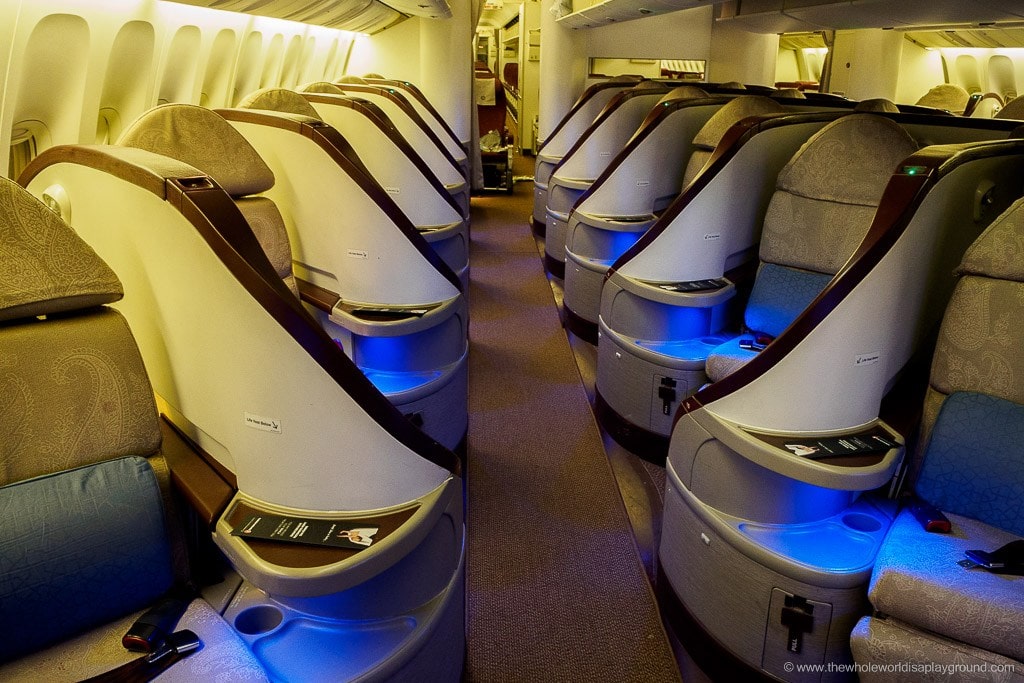 The Seats
On both legs of the flight the interior of the aircraft was showing its age with some noticeable wear and tear but, given it was a leased aircraft, there's not much Turkish Airlines can do about that!
Istanbul to Bangkok:
The suite was amazing and we loved having so much personal space with the bonus of sliding doors for privacy. It was decked out with a seat and an ottoman which converted into a spacious lie flat bed. There was also a personal wardrobe, ample storage under the ottoman and a huge television screen.
The seat: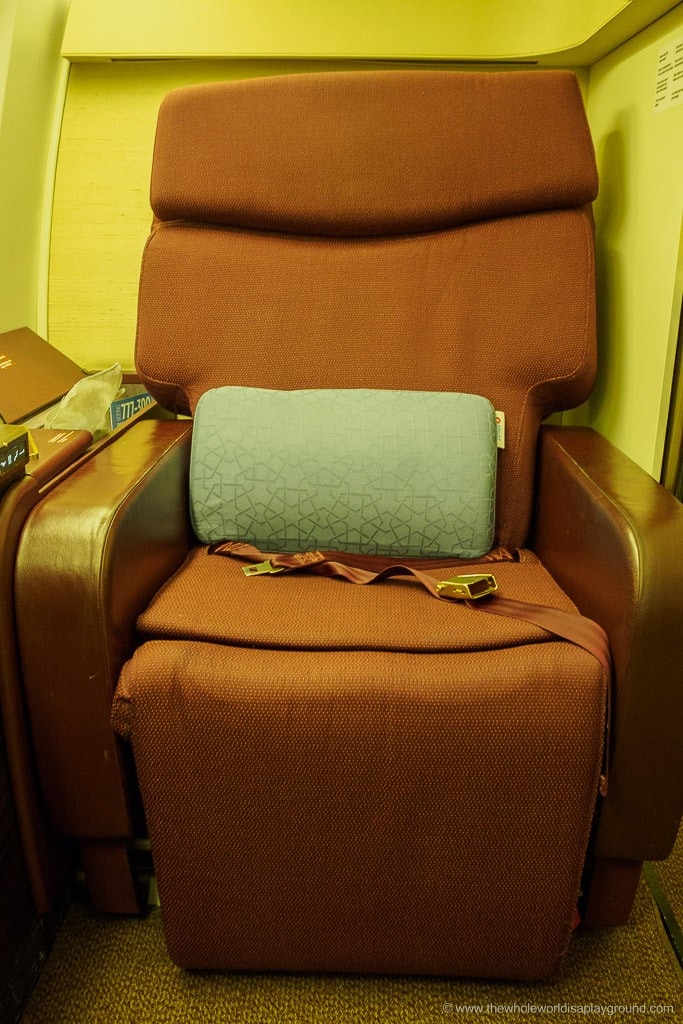 Just about made it to the ottoman with a huge stretch!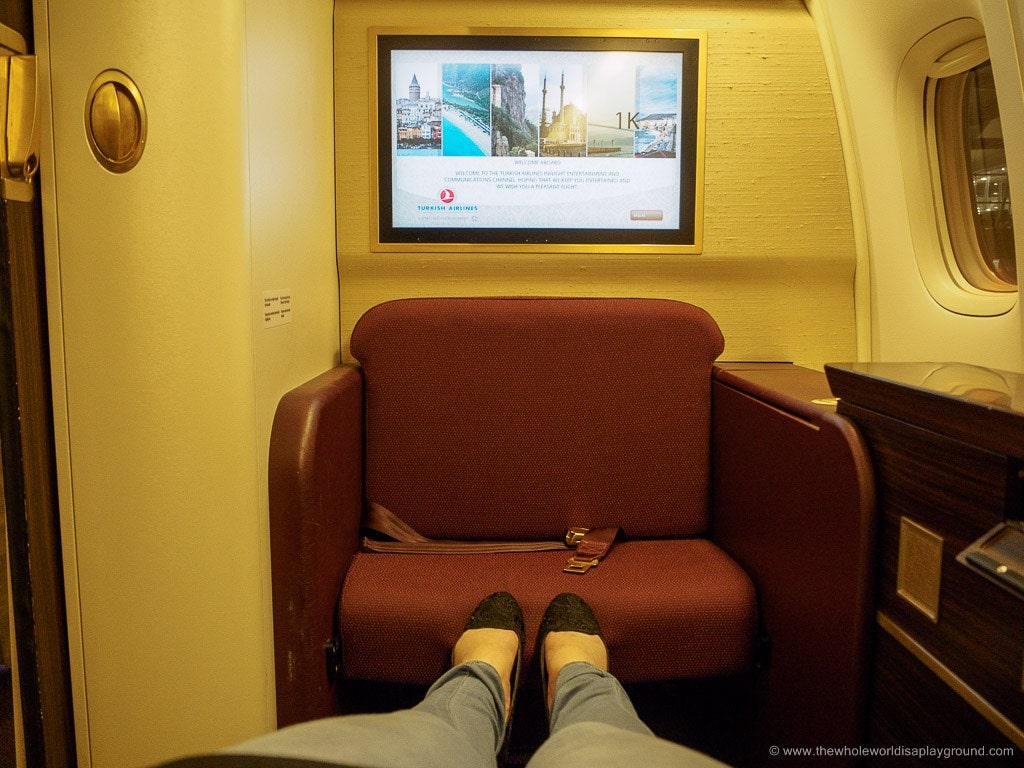 My wardrobe!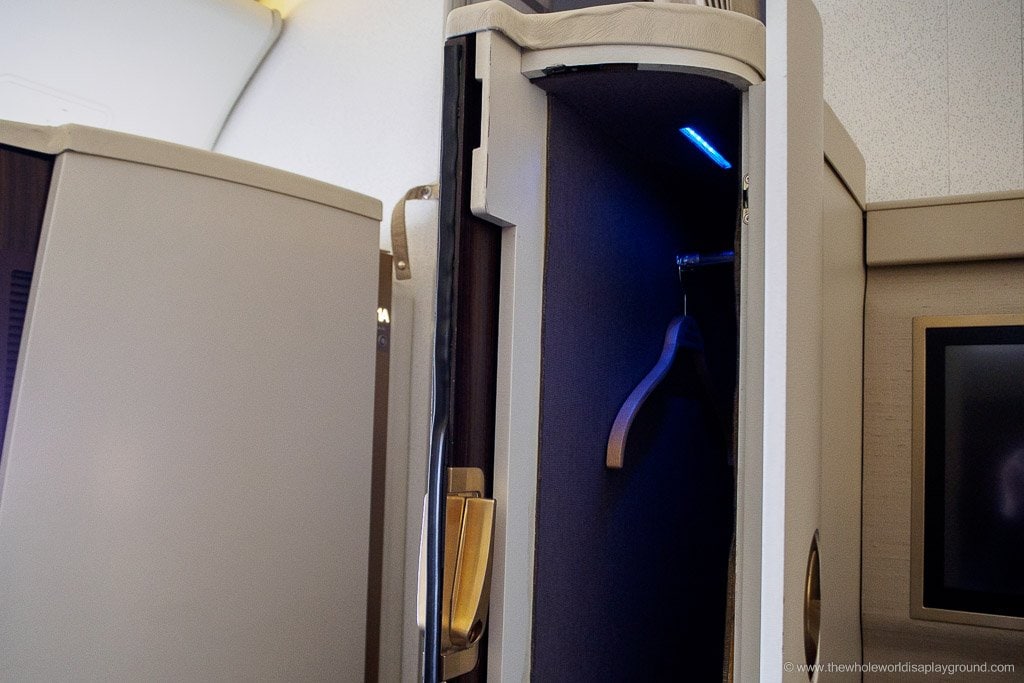 Bangkok to Istanbul
The business class cabin was equipped with lie flat seats and the herringbone configuration meant the seat felt quite private compared to a business class cabin with seats side by side. I always find the herringbone configuration makes the cabin feel a little more crowded but I prefer this configuration for the personal space it gives.
The business class seat: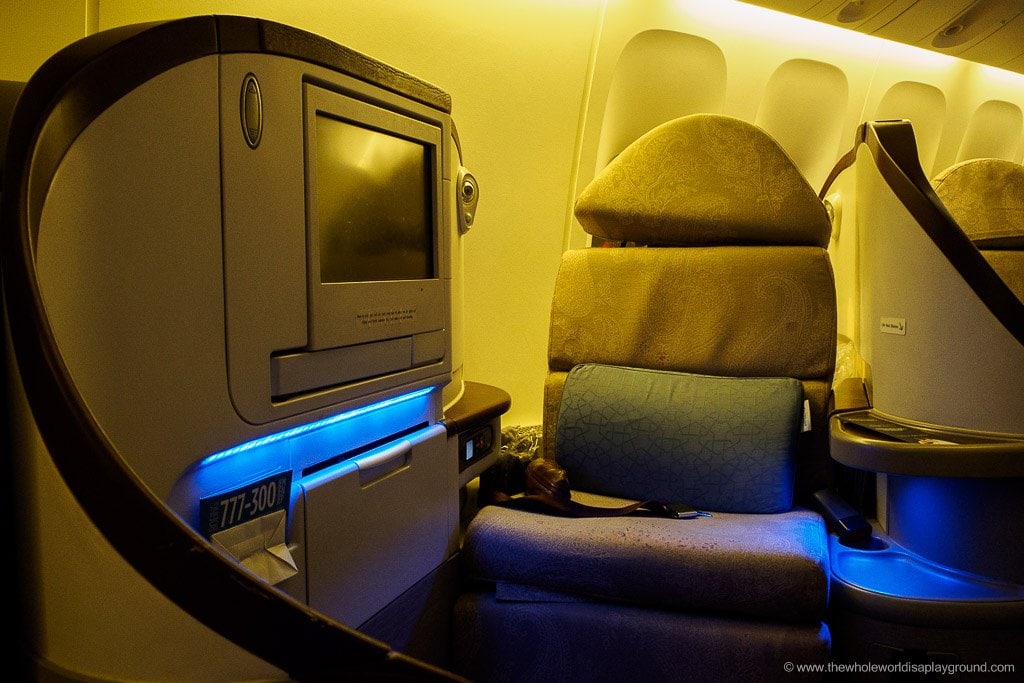 Less of a stretch but no complaints!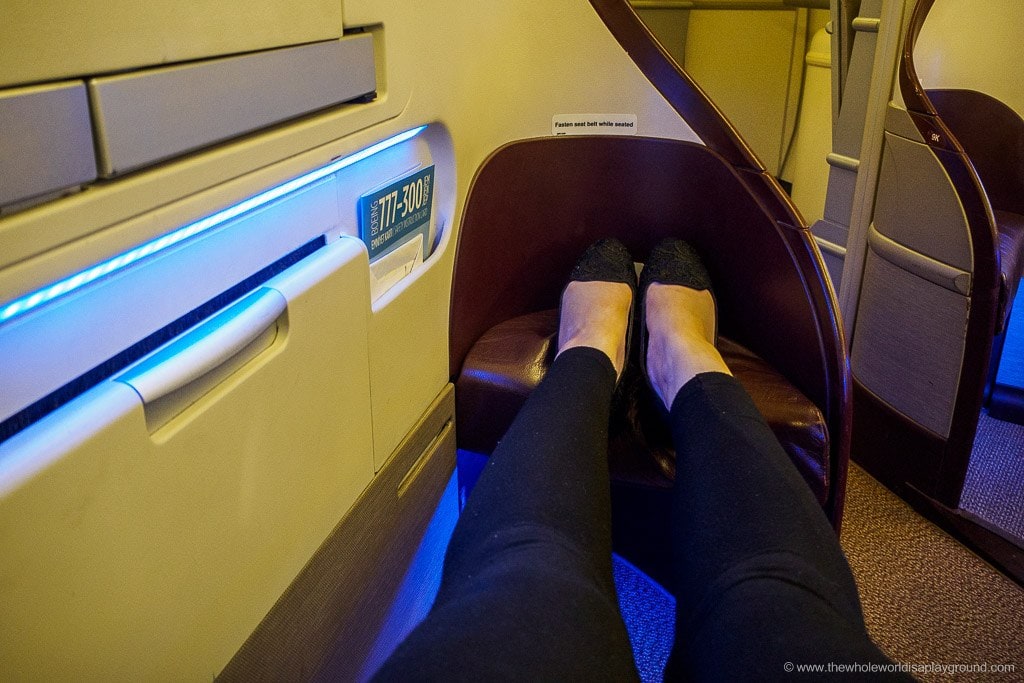 Where to stay in Bangkok, the hotels we love:
We've spent over two months in Bangkok and have had the opportunity to sample some amazing hotels across the city. Our favourites include the club level at the Renaissance Bangkok Ratchaprasong Hotel, the incredible luxury at the Mandarin Oriental, the great value and river views at the Riva Surya and the location and outdoor pool at the JW Marriott. Bangkok is still excellent value and we usually take the opportunity to splash out on luxury with a great value Asia price tag!
We find Agoda the best booking website for Asian hotels due to the wide range of hotels on offer and the extremely competitive prices. It's reliable, has a huge inventory and the prices were the best we could find. Remember to use our affiliate link if you are booking through Agoda: we receive a small commission which helps us to continue to provide information for your adventures and you pay the same price either way!
Check out Bangkok hotels here:
The pool at the JW Marriott: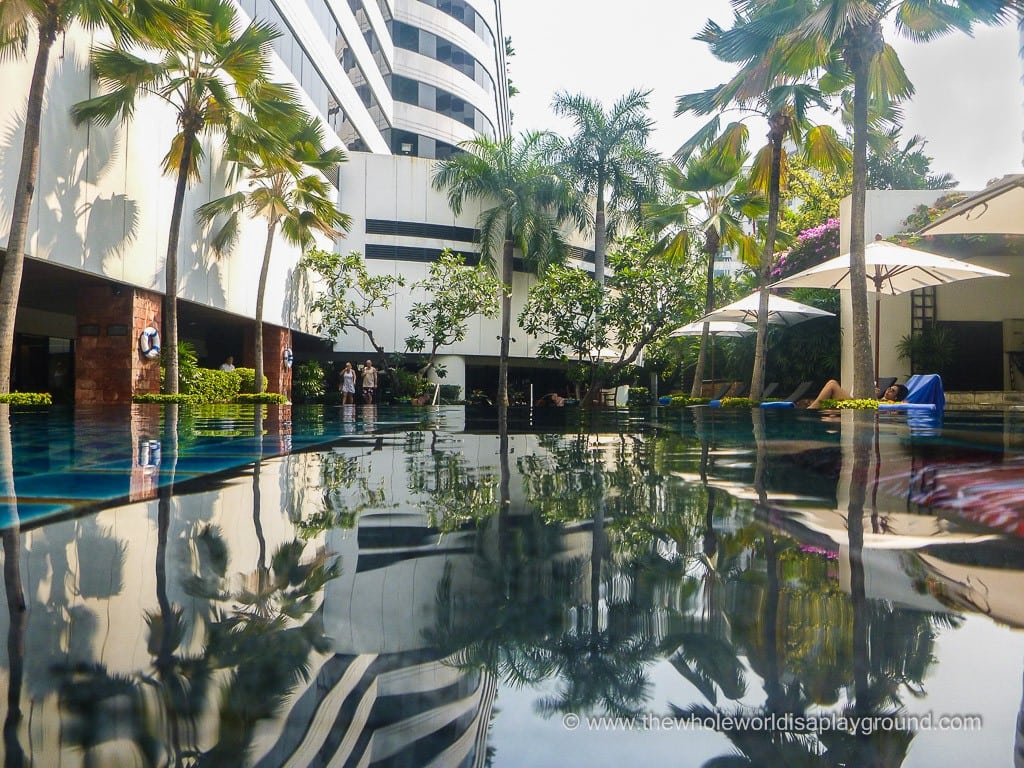 Food and Drink
The crew presented us with 3 menus: one for dinner, one for beverages and a pre order breakfast menu for the next morning. We were quite taken by the amount of paperwork! The food was served by an in flight chef wearing a white chef's uniform and was by candlelight, both of which were a nice touch.
Istanbul to Bangkok menu: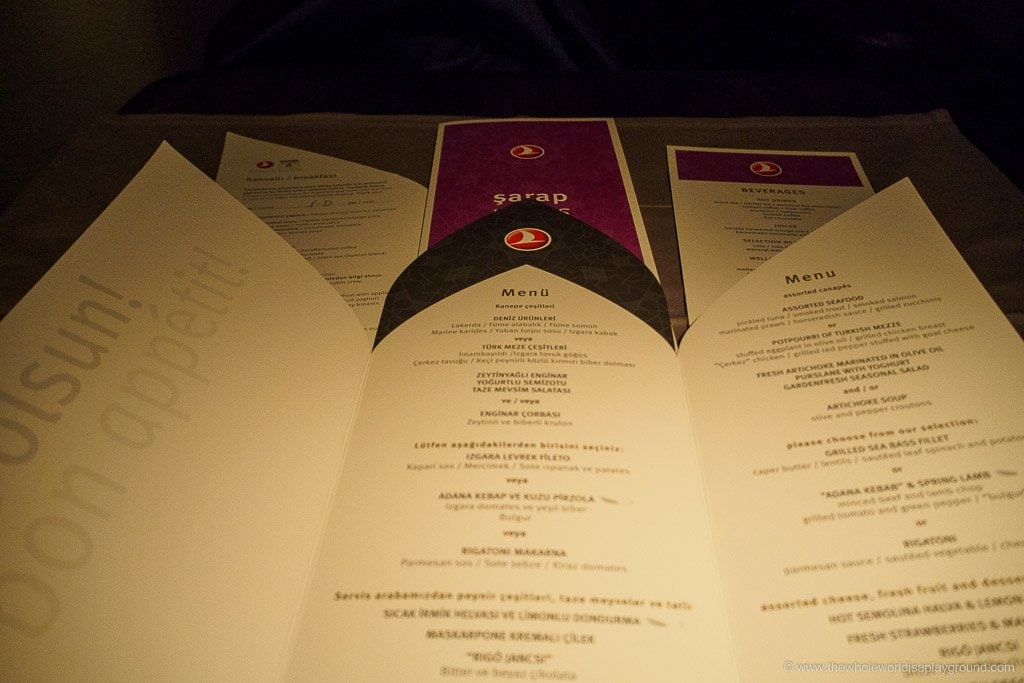 Istanbul to Bangkok
The meal service kicked off with champagne, nuts and assorted canapes. The canapes were comprised of a spring roll, an avocado and tomato tartlet and a lamb meatball.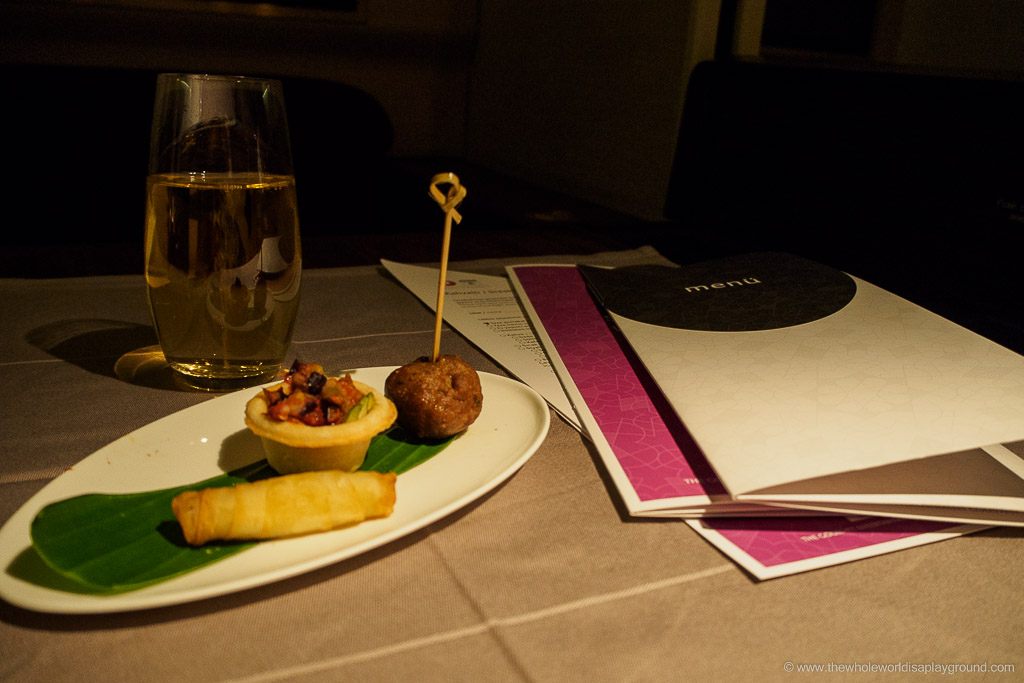 For the first course we opted for a potpourri of Turkish mezze and a selection of seafood. The Turkish mezze included stuffed eggplant, grilled chicken and red pepper stuffed with goats cheese and the assorted seafood was made up of pickled tuna, trout and smoked salmon.
Turkish Mezze:
Although I was quite full after the first few courses I wanted to try everything on offer (in the name of research of course!) and decided on an in between course of artichoke soup with an olive and pepper crouton. The soup course turned out to be my favourite food of the flight! The gold bowl also won my approval!
Artichoke soup: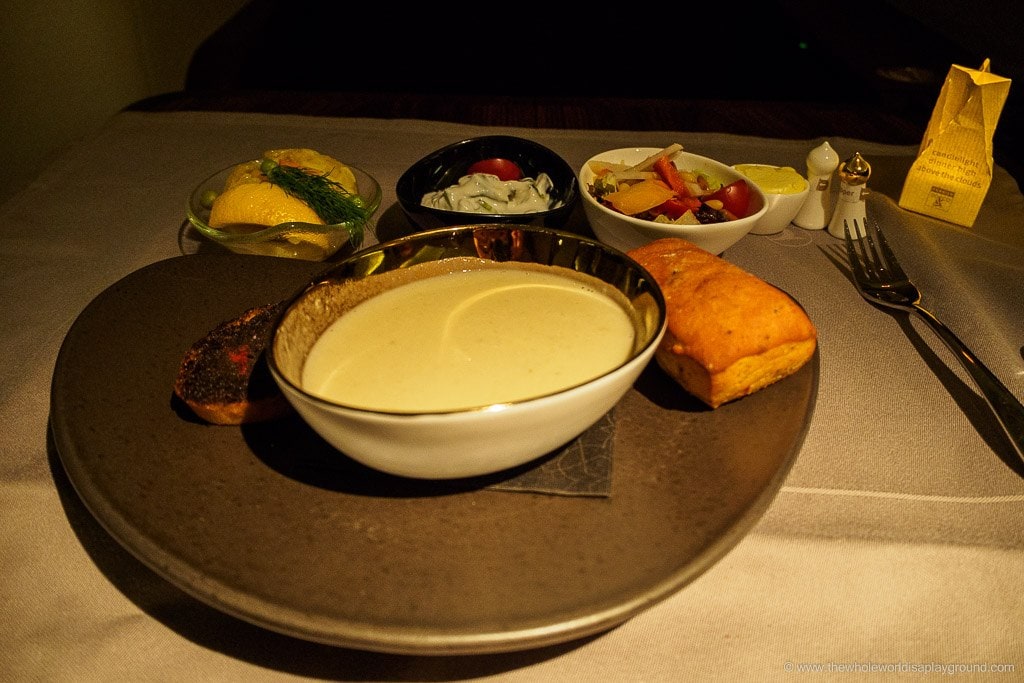 Our main meal choices were grilled sea bass with diced potatoes and sauteed spinach and spring lamb accompanied by bulgur and a grilled tomato.
The arrival of an impressive dessert trolley surprised and pleased us in equal amounts and we were offered fresh strawberries and marscapone, Turkish desserts and a selection of fresh fruits and cheeses.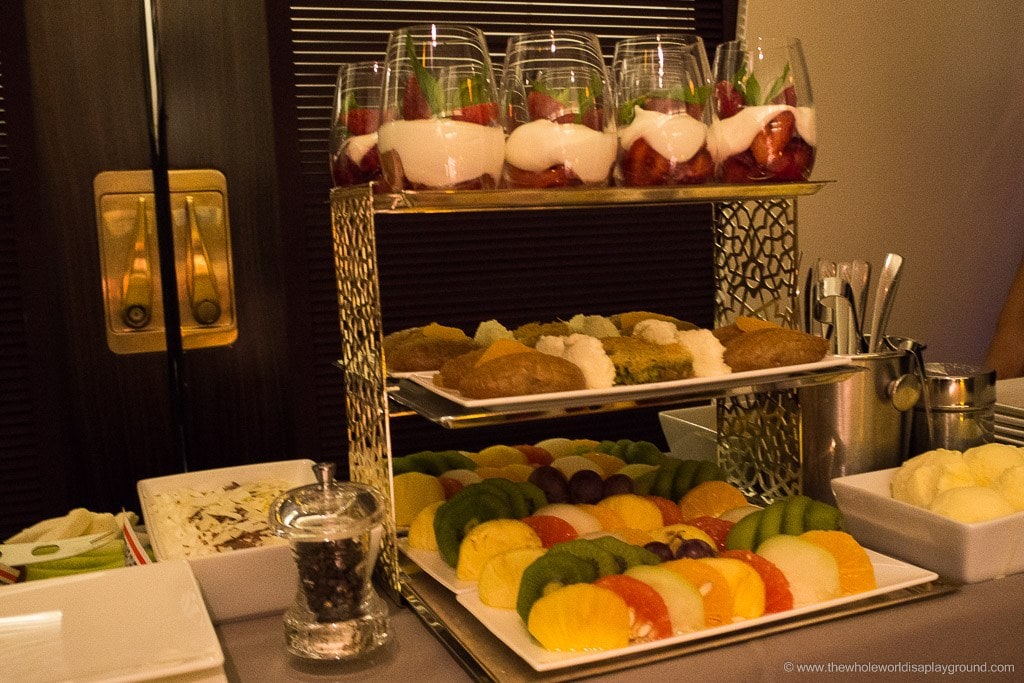 Fruit and ice cream: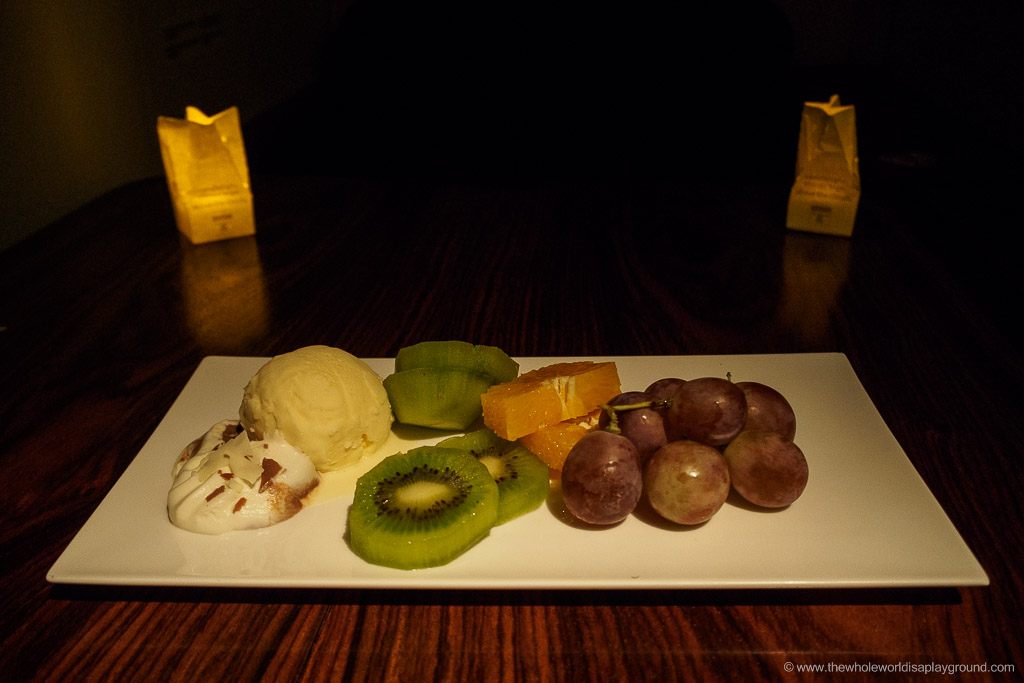 First course of breakfast: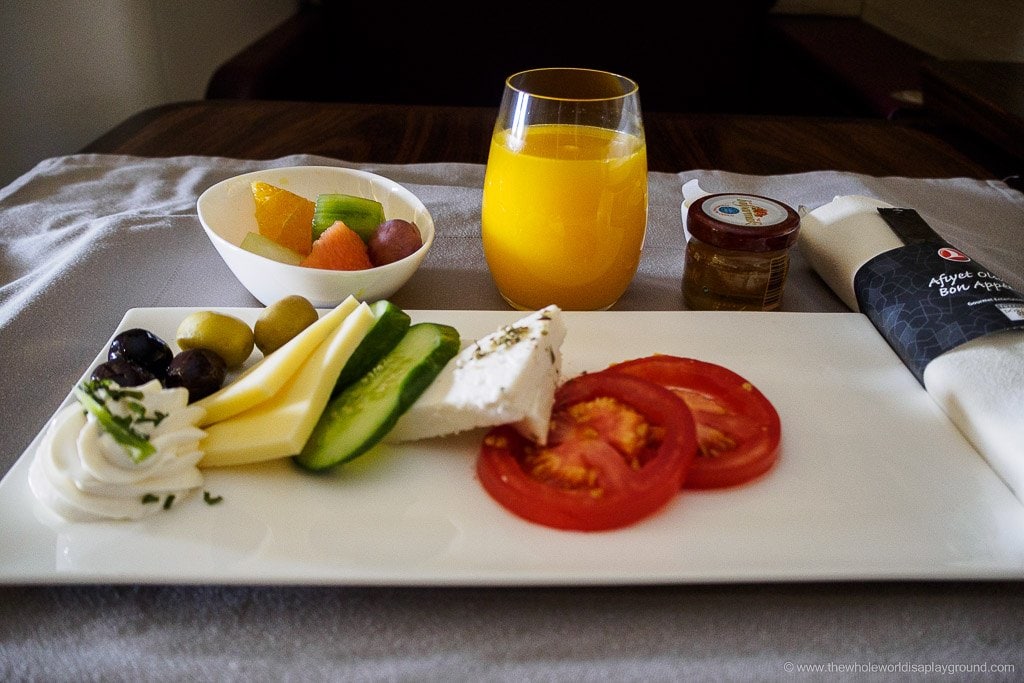 Bangkok to Istanbul
The food was just as enticing on the return leg and for starters we chose salmon carpaccio and beef with avocado and olives.
Salmon: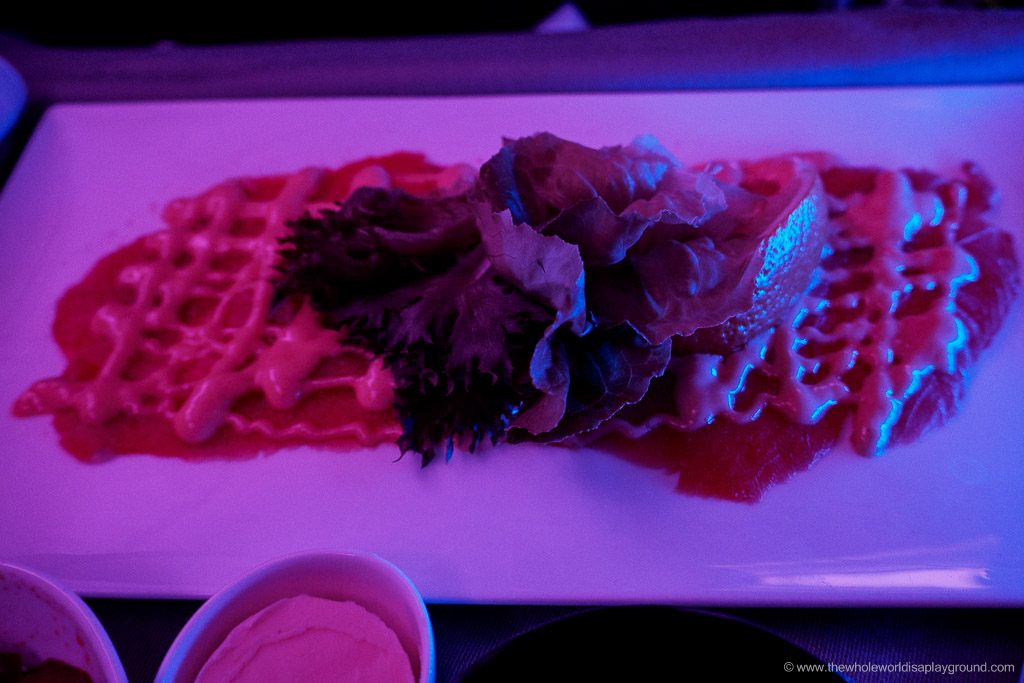 Beef: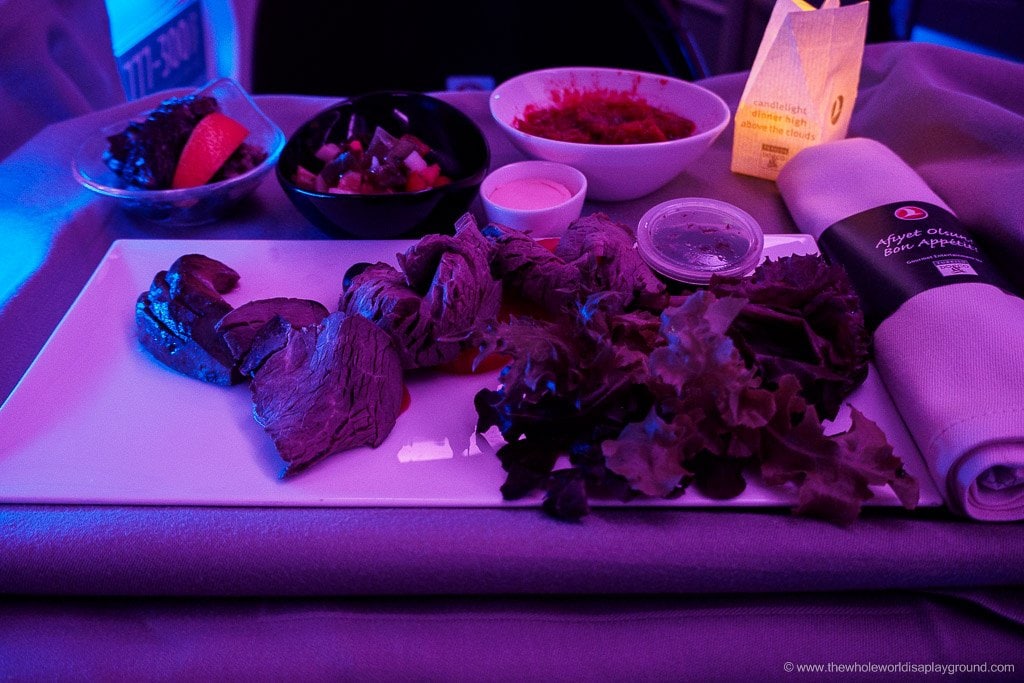 We loved the soup course on our way to Bangkok and just had to sample the broccoli offering on our way to Istanbul. The lack of olive croutons was a bit disappointing but the soup was delicious.

For mains we ordered chicken with Mediterranean vegetables and rigatoni with Parmesan sauce.
Chicken: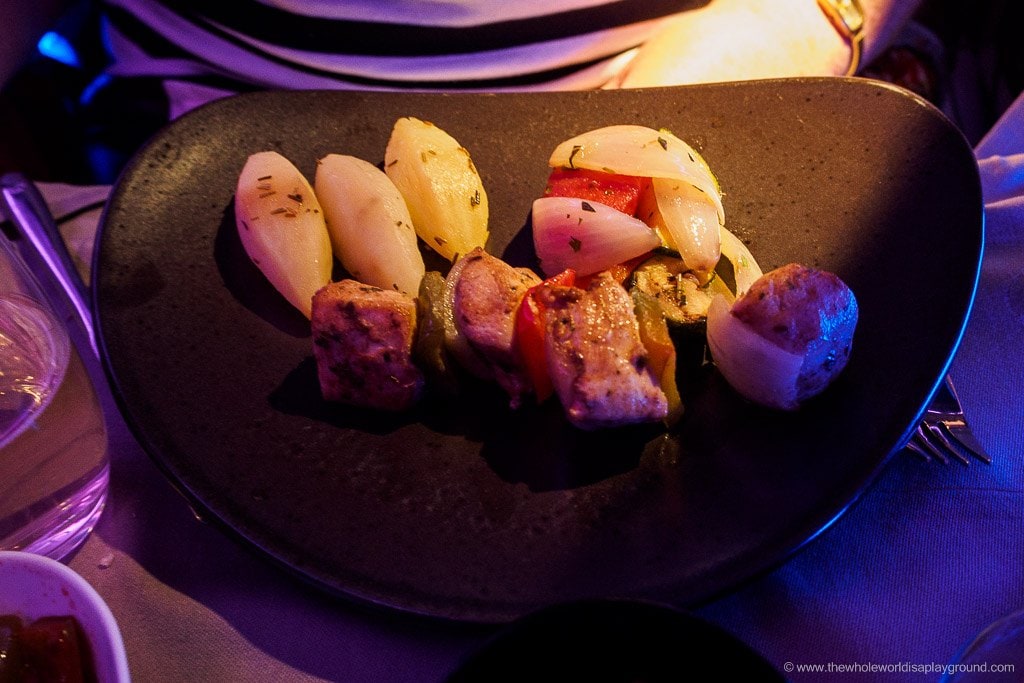 Pasta: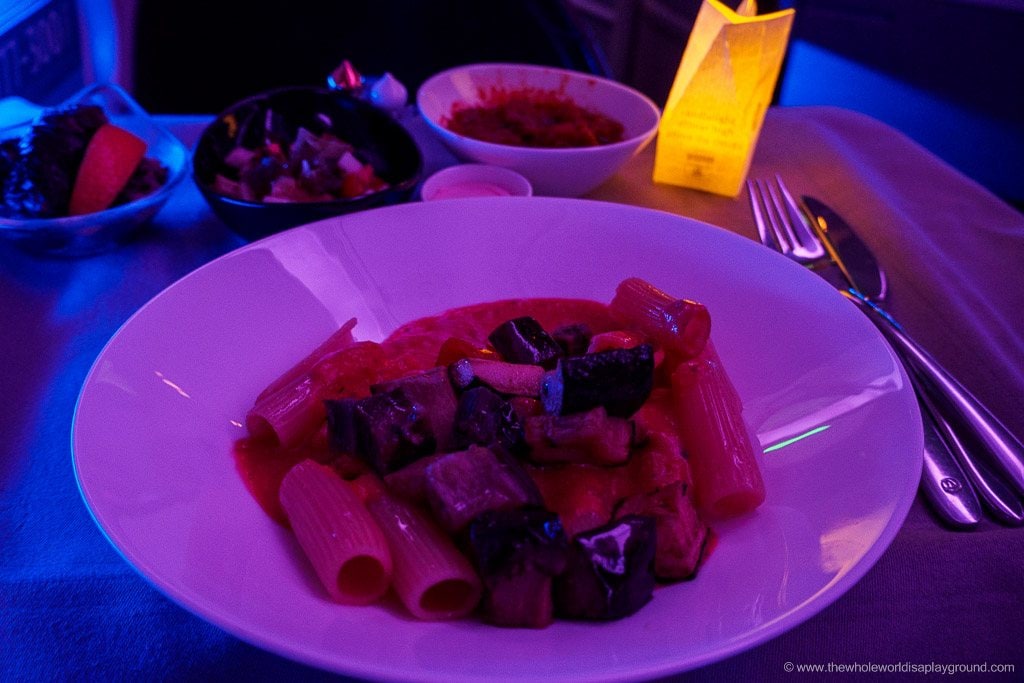 The dessert trolley arrived once more and the selection included double chocolate cake, Turkish desserts, fruit and vanilla ice cream.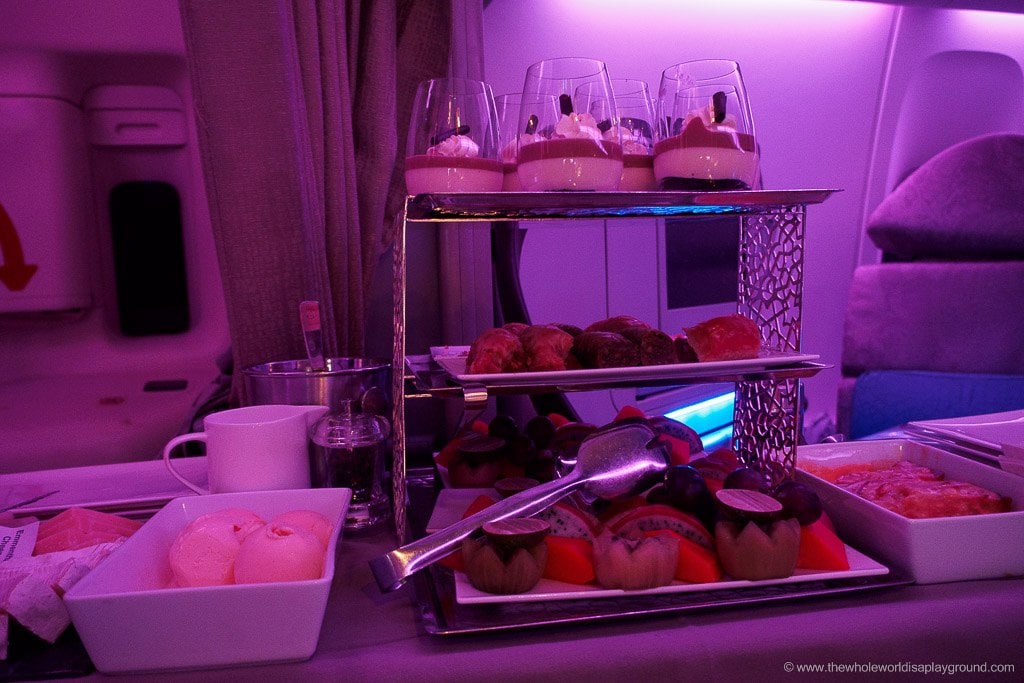 Ice cream with a chocolate sprinkle: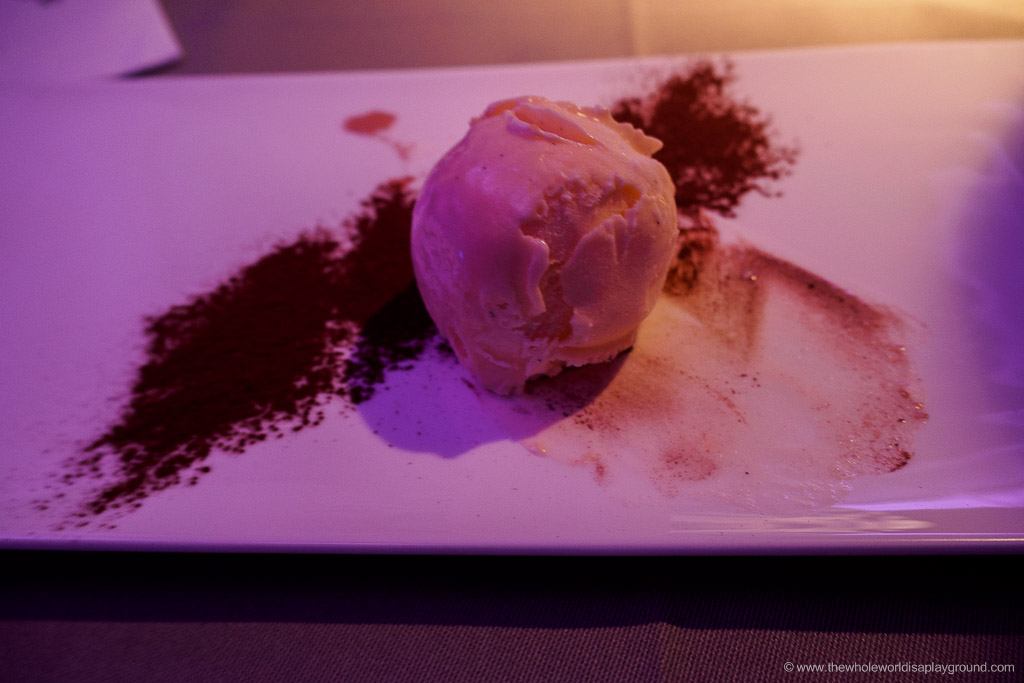 Snacks were available throughout the flight with sandwiches, crisps and fruit on offer.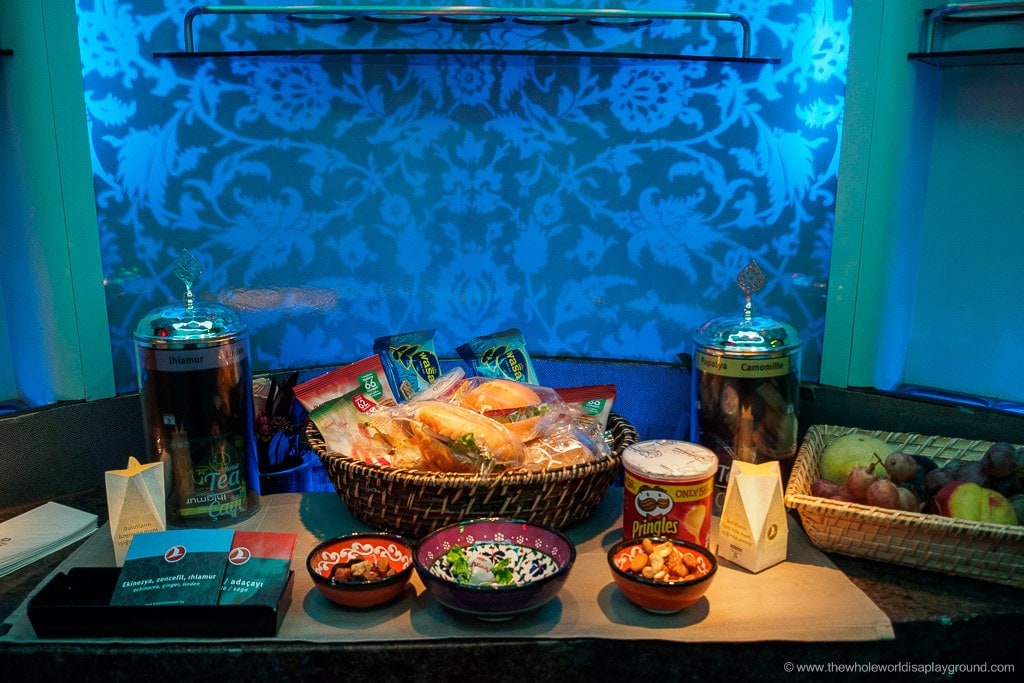 Breakfast started with a fruit salad and was followed by an omelette or scrambled eggs. We're hard people to impress on the breakfast front in any setting but it was nice to get some food before arrival!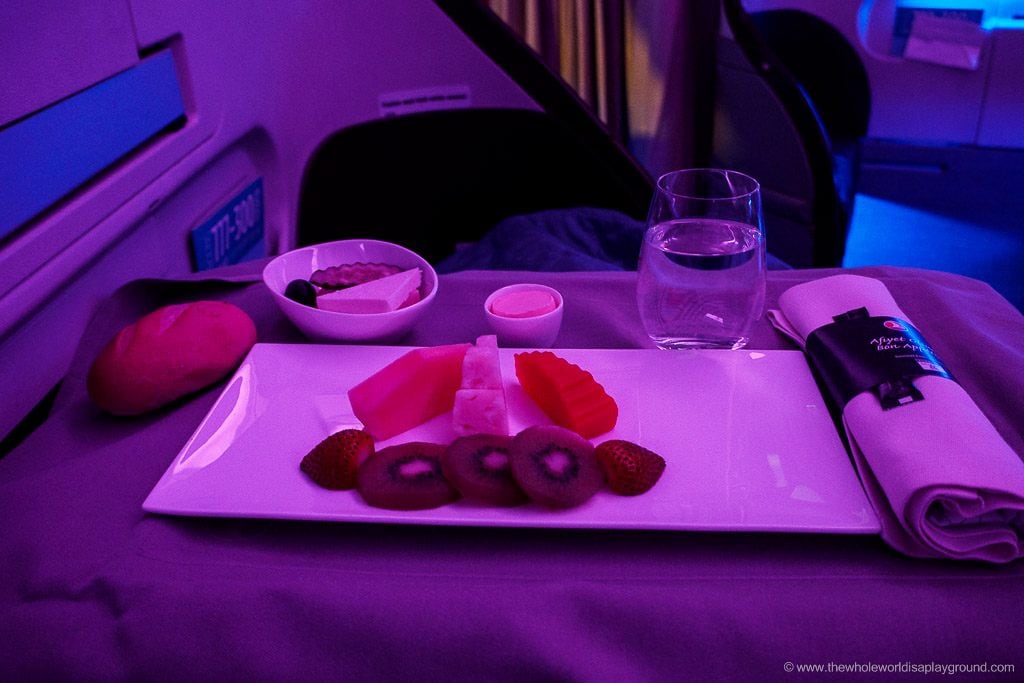 Omelette: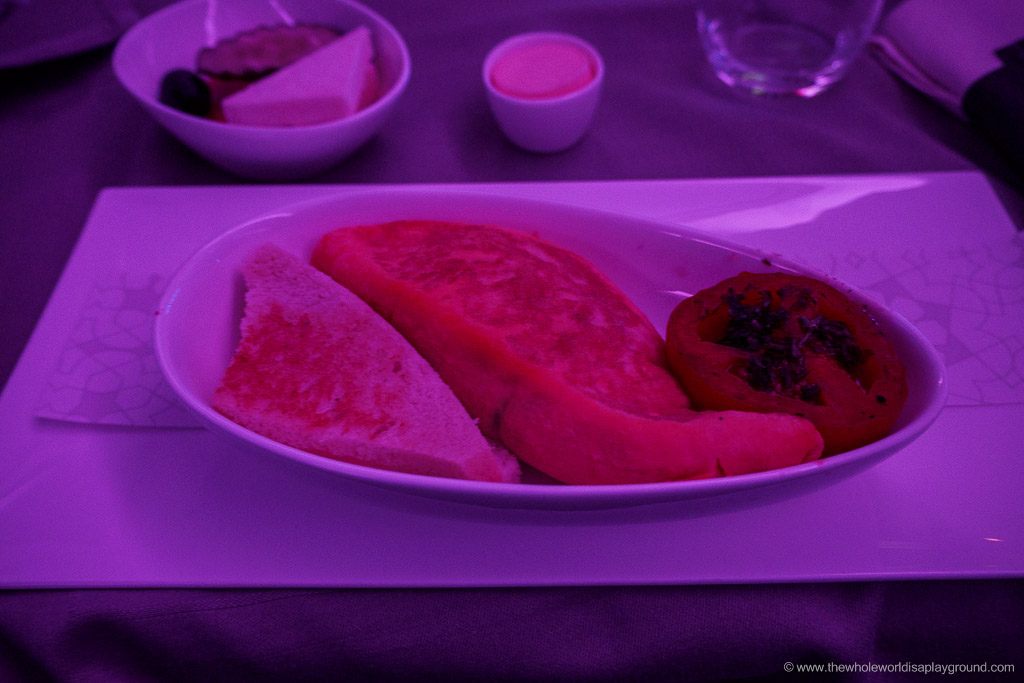 Scrambled eggs: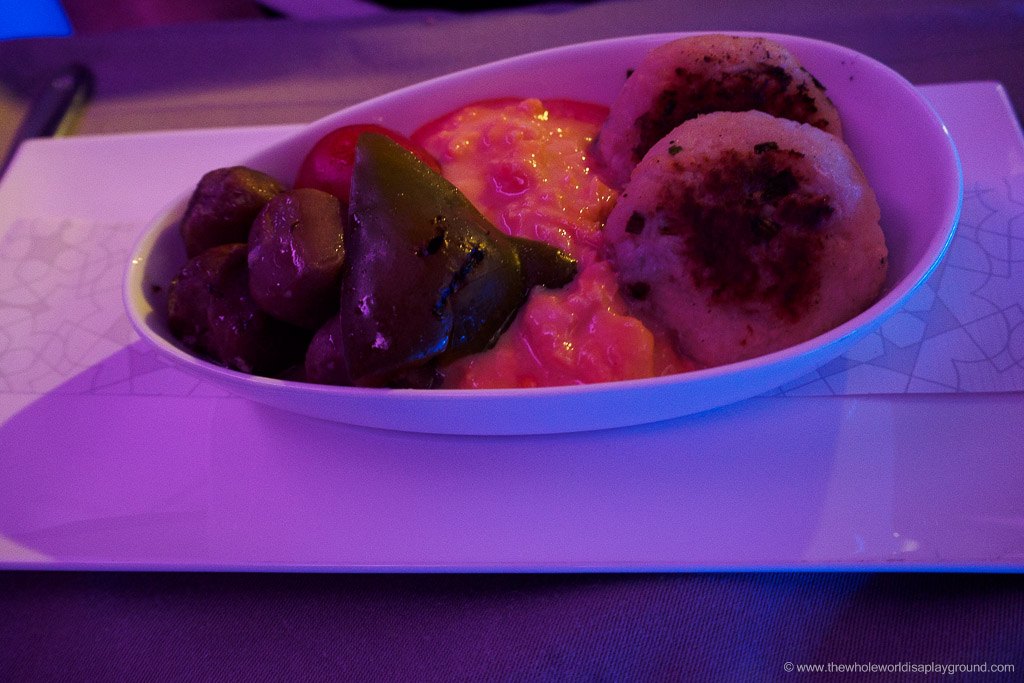 Beverages
The wine menu included a selection of red and white wines, port and champagne. There was also hot and soft drinks, spirits and tea.
The champagne menu: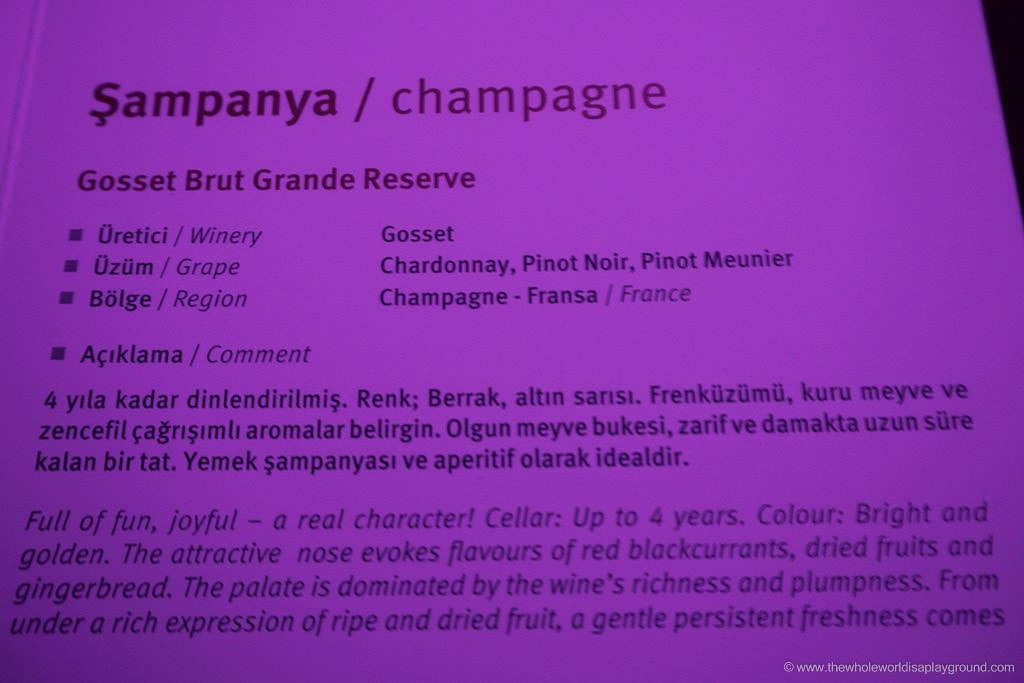 Sleep Time!
The late evening timing of both our flights meant we needed some in flight beauty sleep and so we converted the seats into beds on both legs!
Istanbul to Bangkok
Night time in the suite was amazing! The cabin was extremely quiet with only 8 seats and the ceiling was twinkling with stars. We turned on our do not disturb signs, shut the doors and settled down in our extremely comfortable and spacious lie flat beds. What a treat!

Leaving the world outside!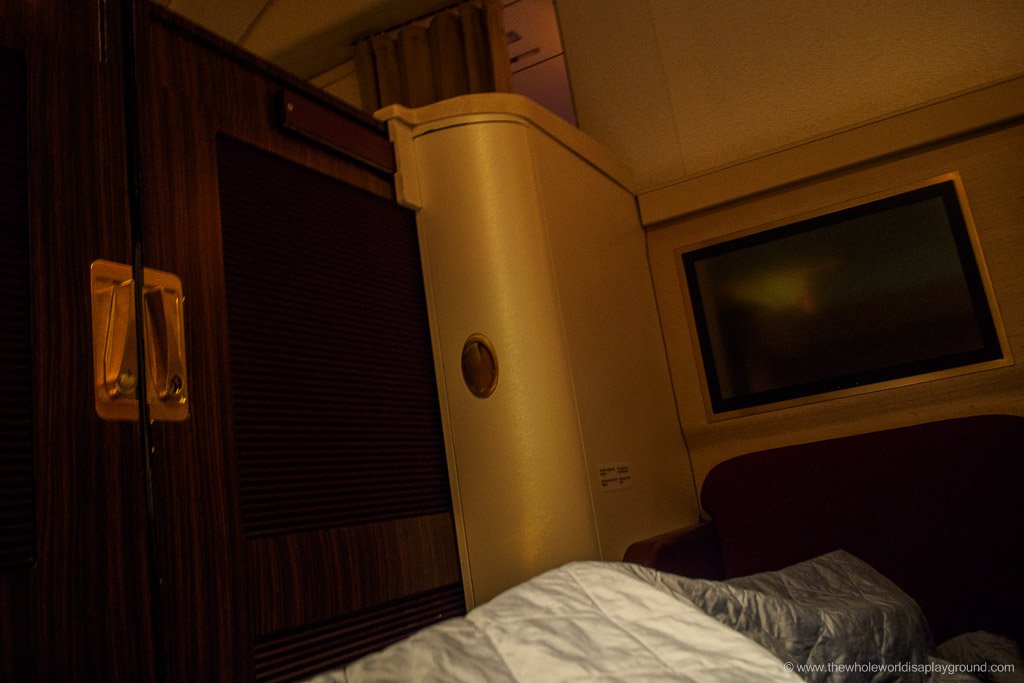 Bangkok to Istanbul
The business class seat also converted into a lie flat bed which was narrower than our suite offering but we had no trouble catching some sleep before our morning arrival in Istanbul.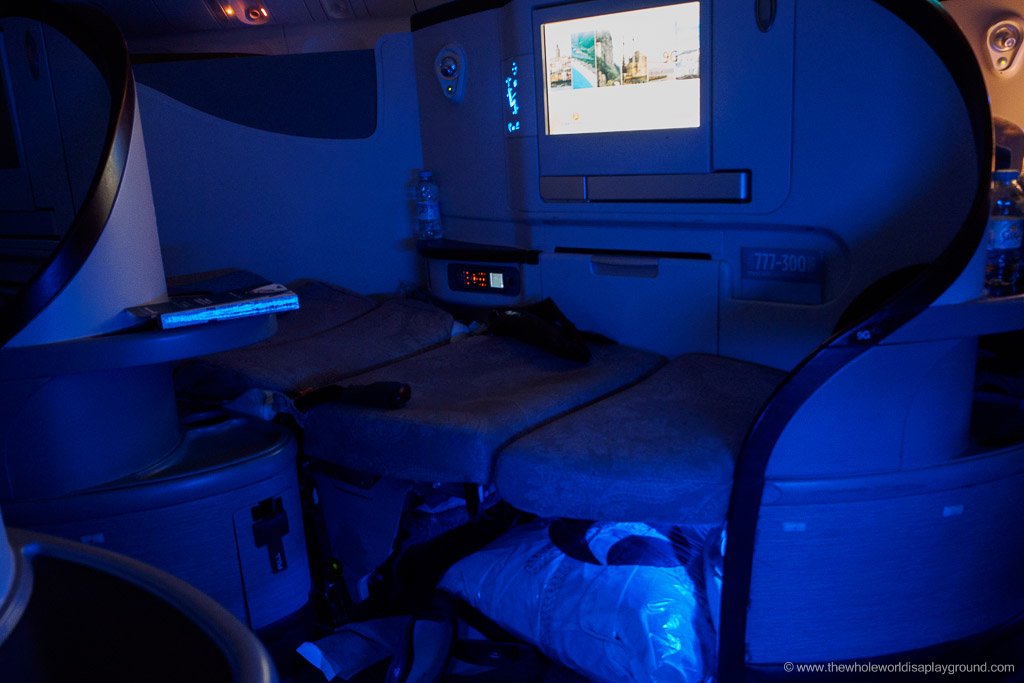 Amenity Kit
On our way to Bangkok we were presented with Porsche branded amenity kits which contained everything we could want for the flight. There were lotions and potions, a dental kit, a shoehorn, socks, an eye mask, earplugs and a selection of meal stickers.
On our return to Istanbul neither of us received an amenity kit and, as the flight went on, we forgot to ask.

Overall
I'm a huge fan of Turkish Airlines and continue to be after our Bangkok to Istanbul flights. Turkish airlines might not have the best business class seat on the market (on either its own or leased aircraft) but the service, food and drinks and the Istanbul lounge all make for a fantastic offering. This, coupled with their excellent connections for UK and Ireland based passengers and a very competitive business class pricing make it hard for me to bypass Turkish Airlines for my business class flights.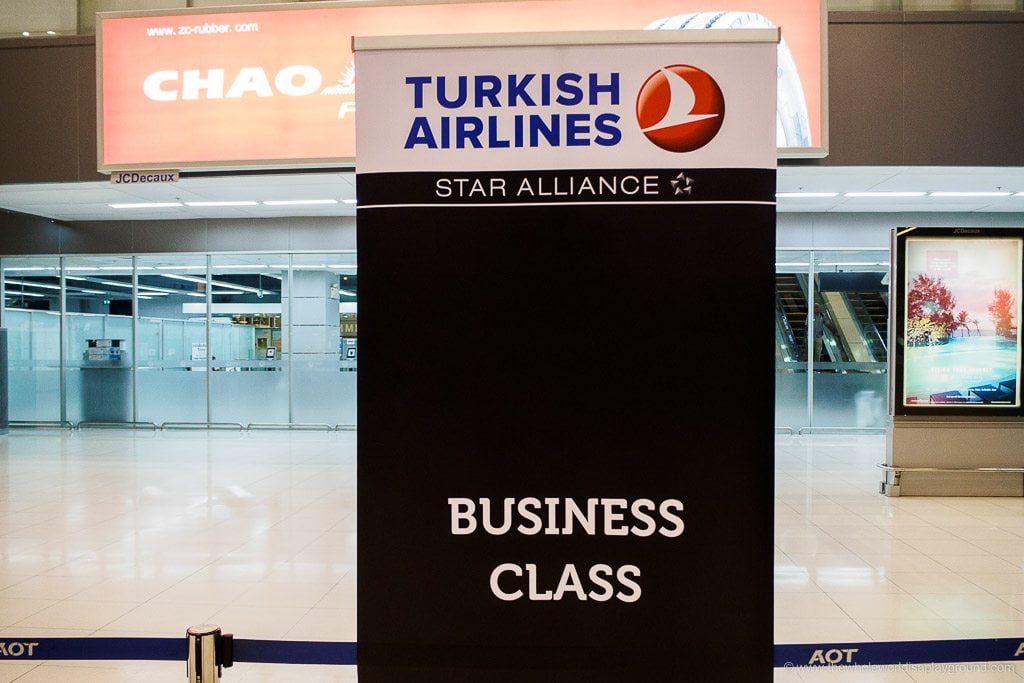 Disclaimer: As an Amazon Associate I earn from qualifying purchases.