After a week of fun in New York we were on our way back to London and stopped off at the Virgin Atlantic Clubhouse in Newark. Having experienced the Virgin Lounge in JFK on a previous trip we were excited to see how the two compared and, after check-in, we made our way to the lounge where we settled in for some pre flight rest, relaxation and maybe a cocktail or two!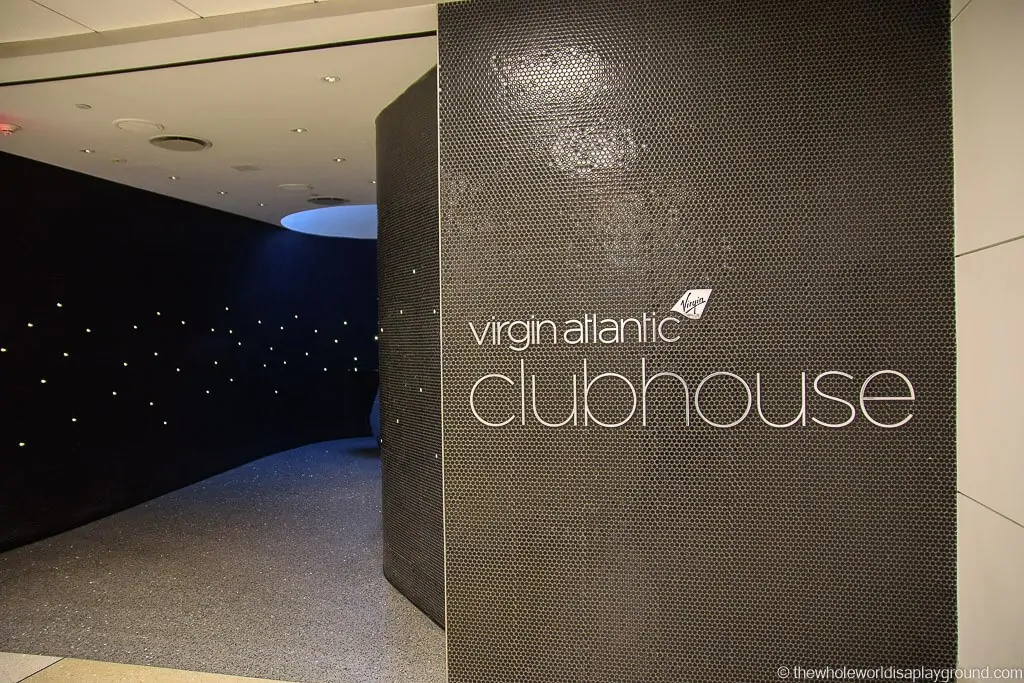 Virgin Upper Class Check in at Newark
The Virgin Upper Class check in at Newark is unremarkable and consists of a dedicated Upper Class counter which sits alongside the economy check in desks.
If you are returning from London Heathrow, the Upper Class private entrance and dedicated security line are a real treat!
The Lounge
The Virgin Clubhouse in Newark is located after security in a quiet corner of Terminal B and is a short walk from the gates. It's a similar size to its JFK counterpart and the lounge does fill up as the departure time approaches. The decor aims to channel downtown Manhattan although it's still very Virgin-esque in its style and will be familiar to frequent Virgin flyers. Luggage storage facilities are available upon entry to the lounge.
The lounge is split into sections over two tiers and there are a variety of seating styles throughout. We started in the Brasserie which is the formal dining area before relaxing in the Origami lounge which has a more private and relaxed style seating. There are also couches, bar stools and a relaxing cinema area with reclined lounge chairs.
There are no windows in the lounge so it was easy to lose track of time!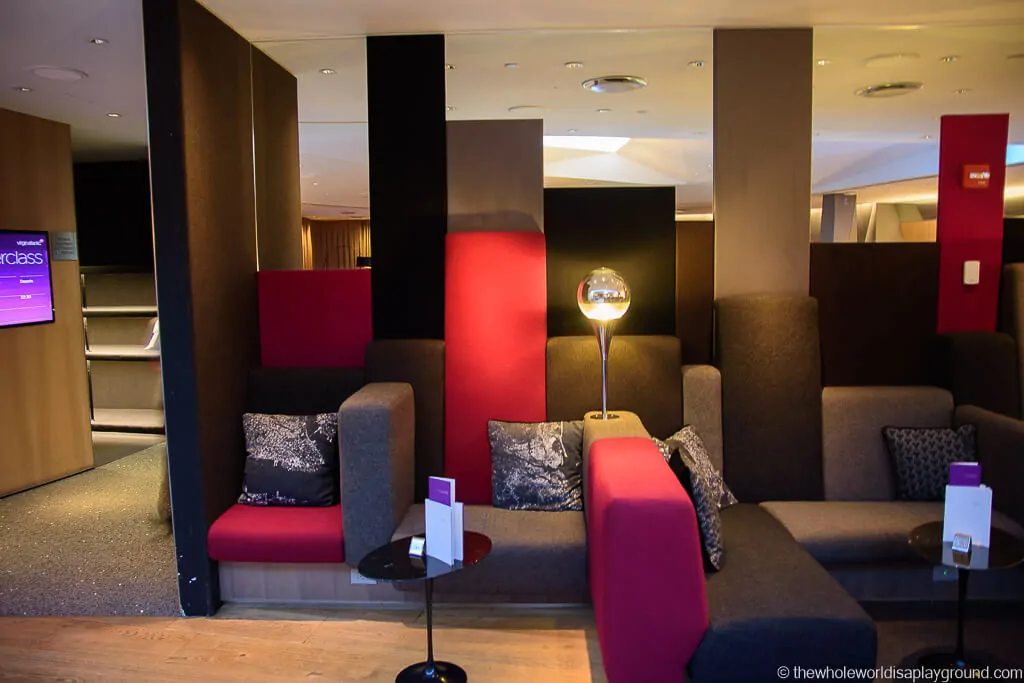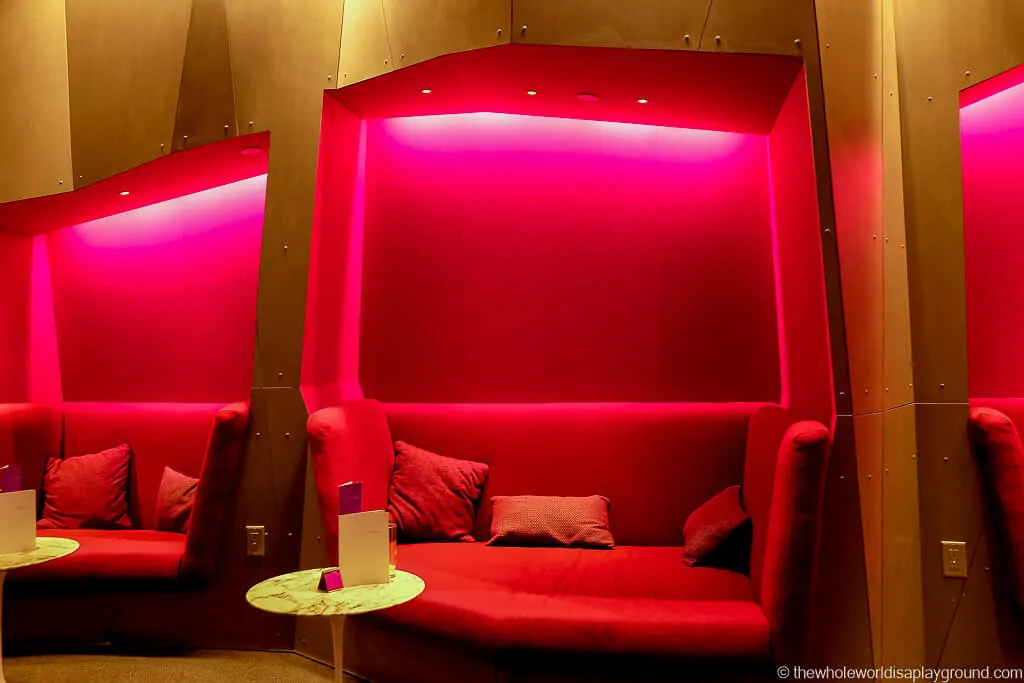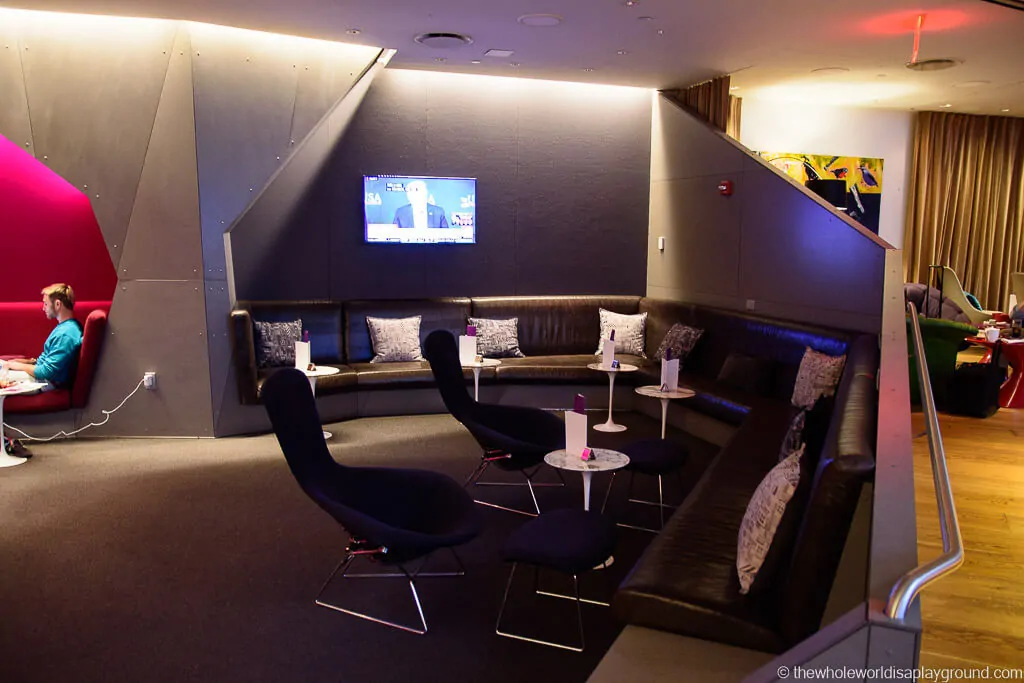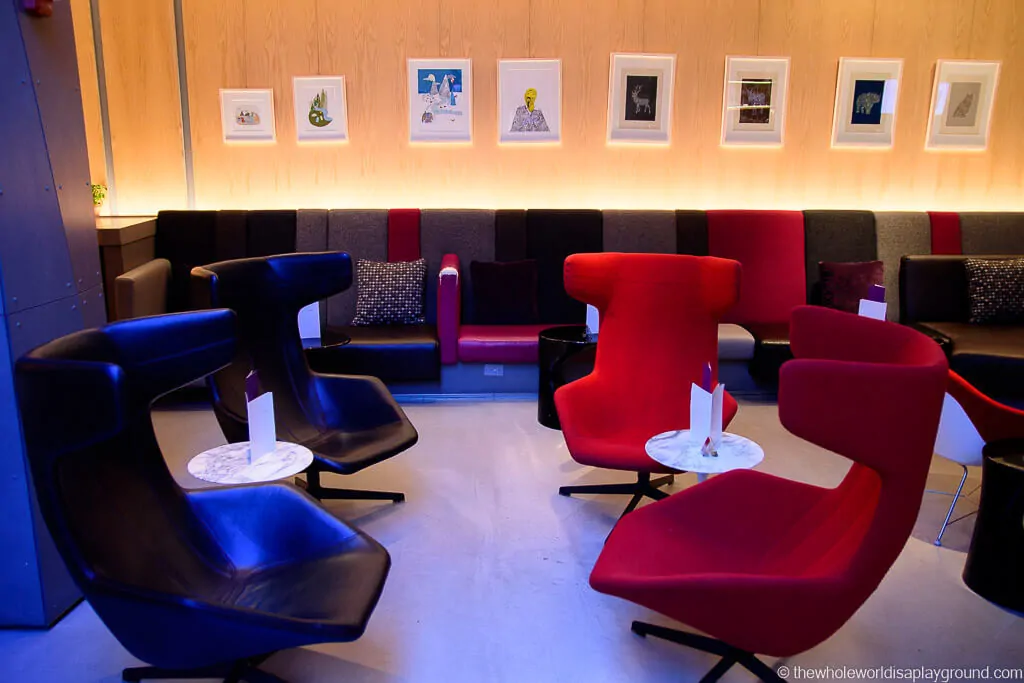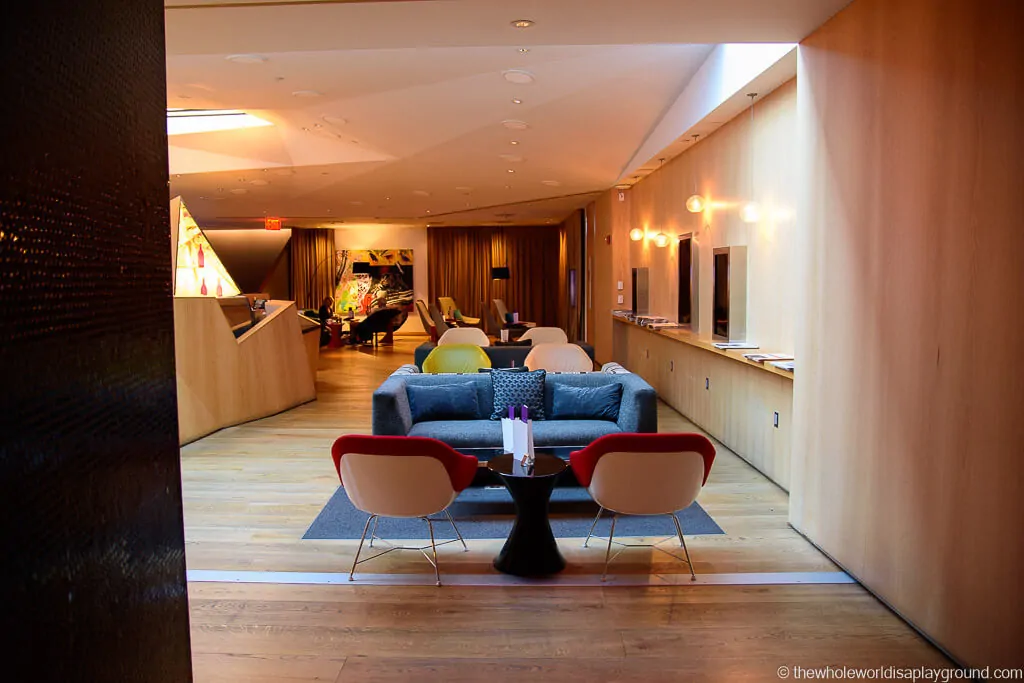 Priority Pass Lounges
A Priority Pass membership allows you to access Priority Pass lounges whoever you fly with no matter your class of travel. Anyone who flies regularly should seriously consider joining Priority Pass as their lounges significantly improve the travel experience. We love the app which allows you to check in at each lounge and overall the quality and availability of lounges around the world are very good. We've personally used Priority Pass for the past few years and highly recommend it.
There are three options available, standard, standard Plus and Prestige. We recommend the Prestige pass for frequent travellers (it's the one we use!) which offers unlimited visits throughout the year.
Click here to get your Priority Pass now!
Food and Drinks
All the food and drinks are ordered from the menu in the Virgin Lounge and there are no self service or buffet style stations. Brunch is served between 10am and 2pm and a more extensive dinner menu in the evening.
Food
Brunch options included a grilled cheese sandwich, soups, salads and a curry.
Our evening flight was serviced by the dinner menu which had a selection of starters, mains and desserts. The starters included soup, calamari, chicken wings and salad while mains were salad, fish, chicken and both a meat and vegetarian curry and burger. For dessert, trifle, tart, fruit salad, cheese and sorbet were on the menu. There were also some dishes like Mac and cheese and ice cream for young fliers.
Bar snacks including olives, crisps, peanuts, popcorn and cookies were also available.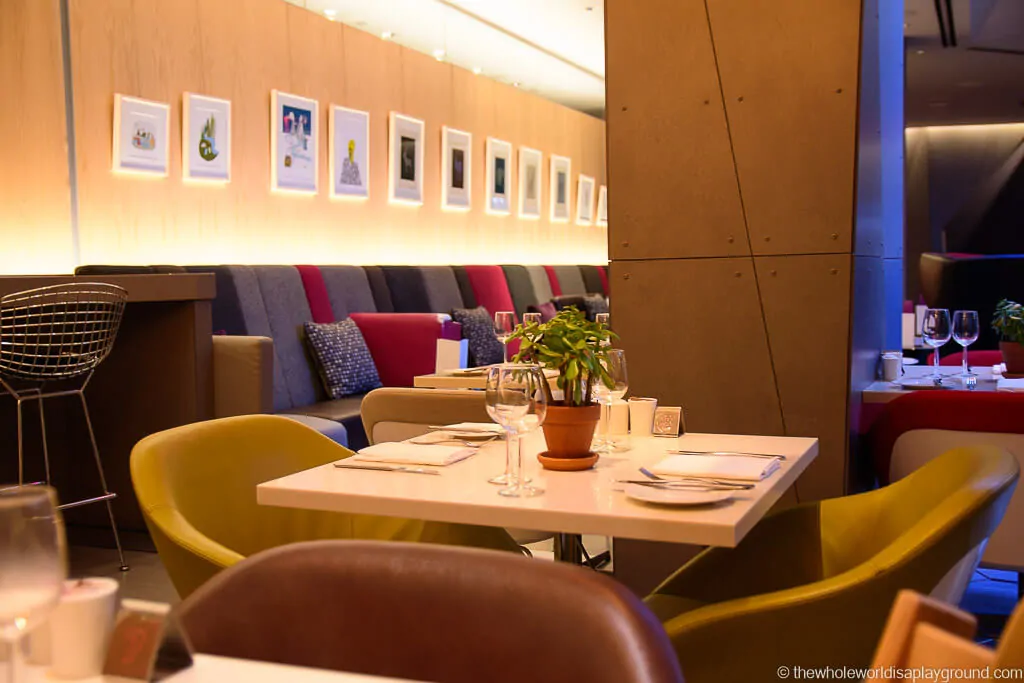 Hopefully we caught the Clubhouse on a bad evening but the dinner service was a comedy of errors for both us and the diners surrounding us! Same course dishes were served over 20 minutes apart for diners in the same group and plenty of orders were mixed up or forgotten. The food was reasonably good when it did arrive although it took almost 2 hours to get through starters and mains and there was no explanation or apology for the delays and errors.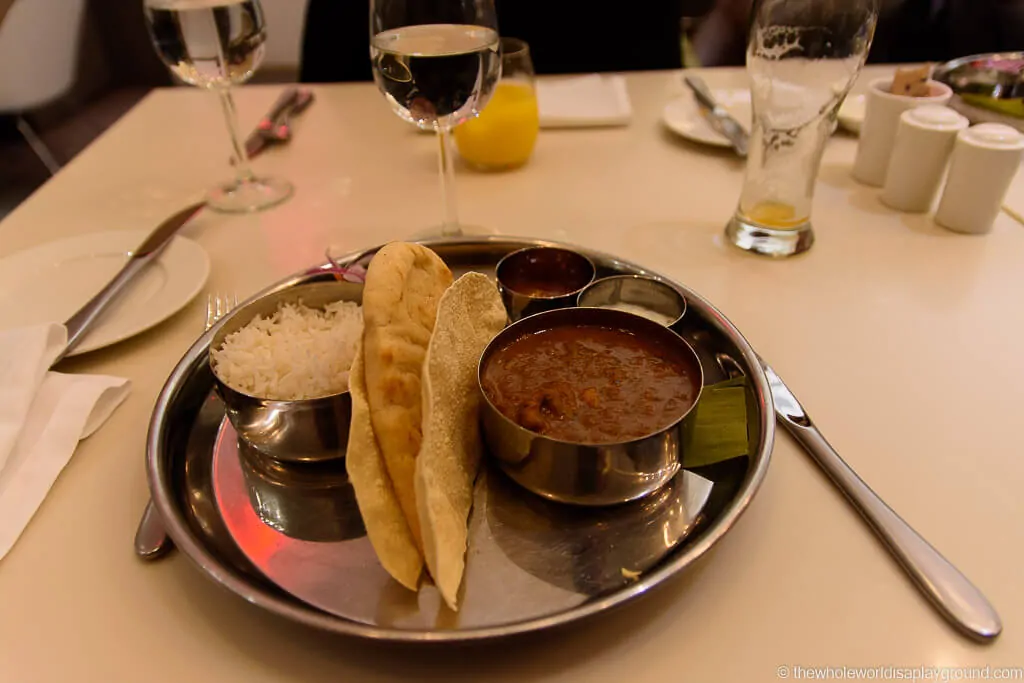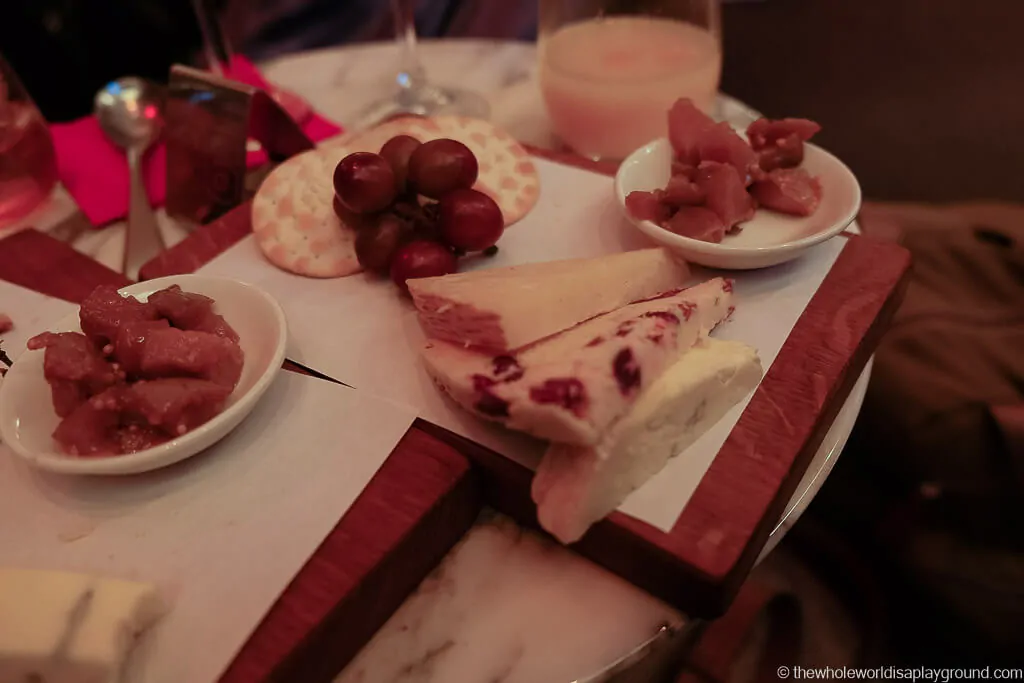 Drinks
The menu includes two craft beers (Sweetwater Brewing Co. Extra Pale Ale and Anchor Brewery Co Anchor Stream), a selection of bottled beer (Sam Adams, Amstel Light, Corona, Brooklyn Lager and Heineken), a champagne (Lanson Black Label) and a prosecco (Enza) as well as three red wines (Spy Valley Sattellite Sauvingon Blan 2017, Imagery Estate Winery Chardonnay 2016 and Marques De Caceres Albarino Riax Baixas 2016), three white wines (Chloe Pinot Noir 2016, Antigal Uno Cabernet Sauvignon 2013 and Layer Cake Shriaz 2017) and a rose (D'Orsay Rose 2017).
There's also an extensive cocktail menu which serves cocktails by BlackTail, a venture from the owners of NYC's Dead Rabbit which is often touted as the World's best bar. Gin is the speciality and there is a vast range of gin based cocktails.
Drinks are served from the bar at the center of the lounge.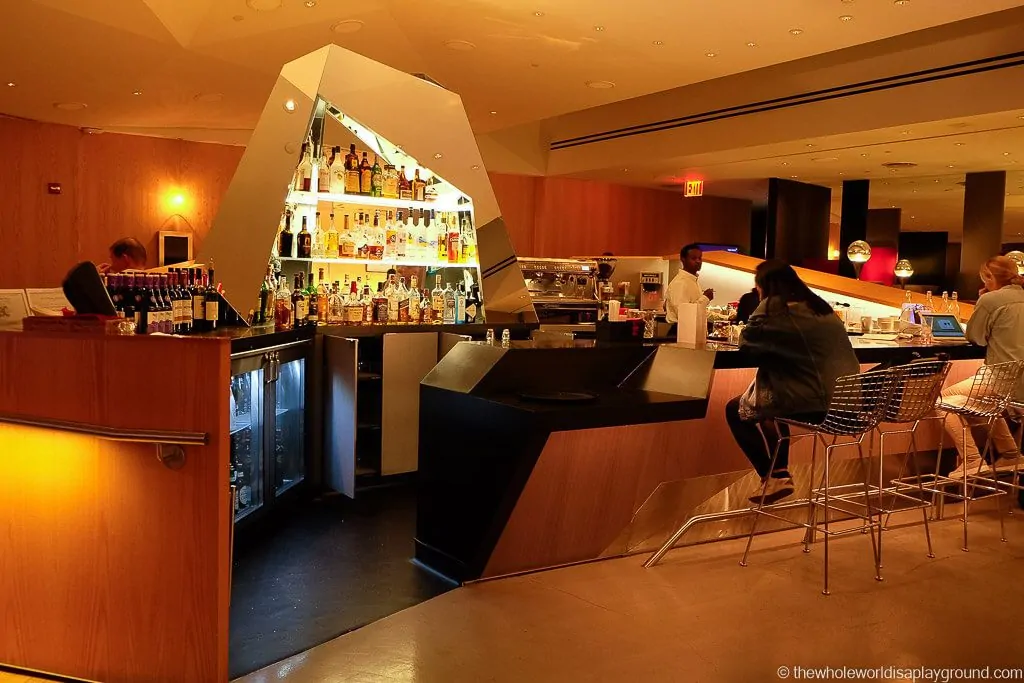 Spa and Showers
There are two shower rooms but the Newark Clubhouse does not have a spa (the JFK Clubhouse does if you are choosing between the two)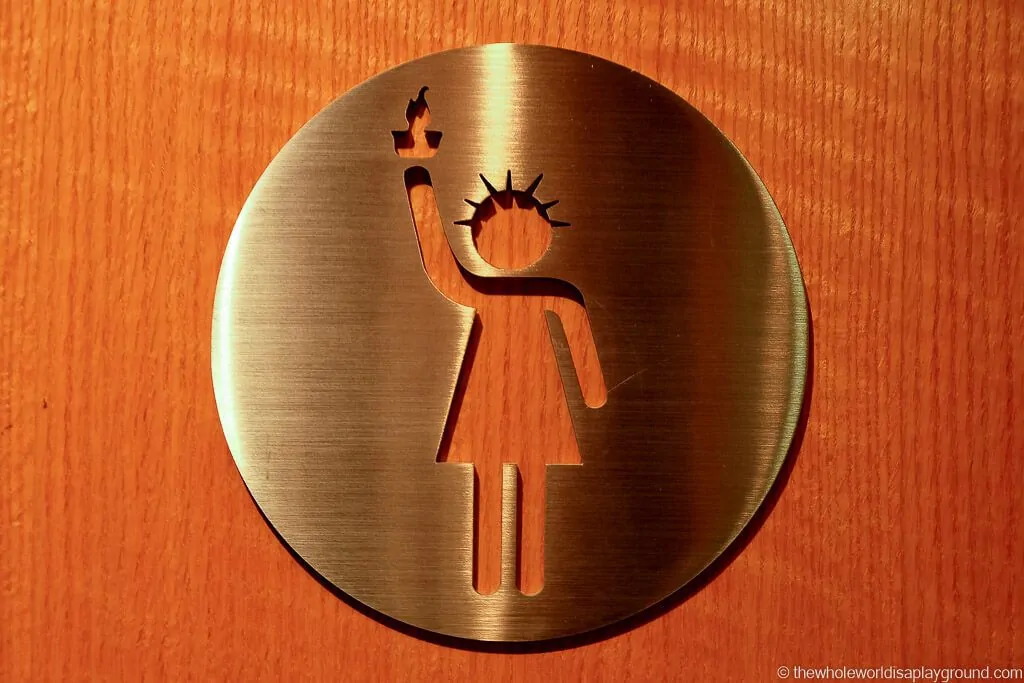 Showers
The shower rooms were a real treat with sleek decor and Bumble and Bumble products. They were spacious and spotless and incredibly welcome after a long NYC day and the prospect of an overnight flight! Towels and hair/body products were available.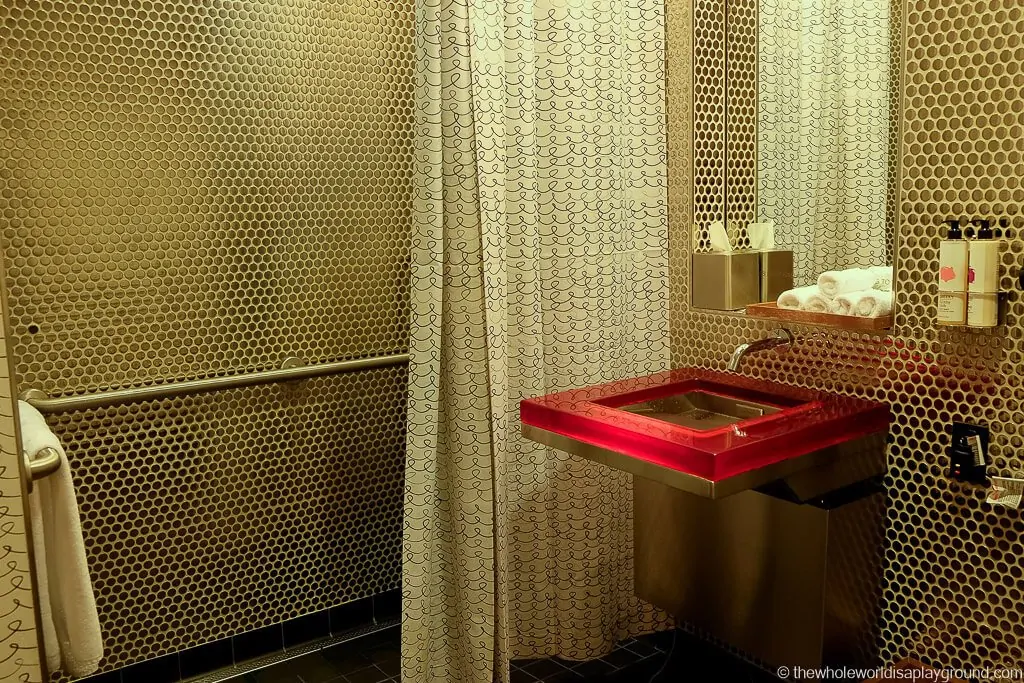 Opening Hours and Location of Virgin Clubhouse Newark
Opening Hours: around four hours before the departure time of Virgin Atlantic flights. The lounge is also open for Priority Pass and Lounge Club members between 2pm and 6pm.
Location: The Revivals Lounge is located post the security checkpoint at gates B51 to B57 in Terminal B. Hit Airline Lounges in the elevator to access the lounge.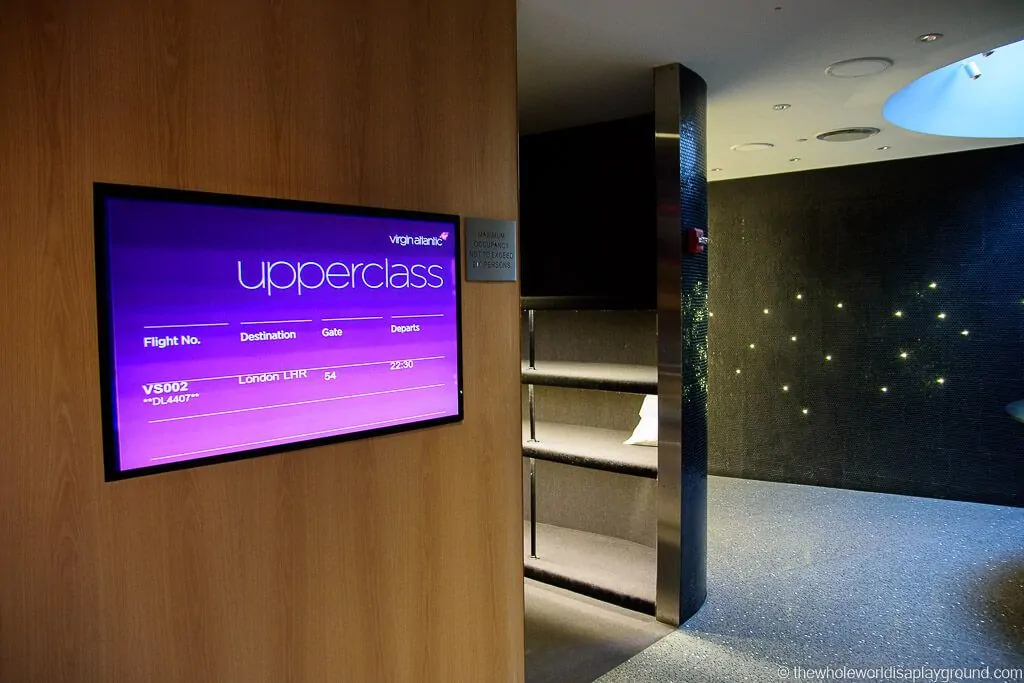 Access to Virgin Clubhouse Newark
Upper Class ticket holders: may bring one departing guest
Flying Club Gold member: may bring one departing guest
Delta SkyMiles Diamond, Platinum and Gold Medallion members: may bring one departing guest and must be travelling on a direct Virgin Atlantic or Delta flight to the UK
Priority Pass and Lounge Club members: access between 2pm and 6pm and drinks limited to beer and wine. Our London flight departed at 10:30pm so the passes would not cover this pre flight period.
Overall
The Newark lounge is a welcome retreat from the bustling airport terminal and is a good quality lounge by US standards. The centrepiece bar and its extensive menu, the selection of seating and the showers are the best features and the decor and cleanliness are excellent. The close proximity to the gate is always a lounge bonus!
We may have caught the lounge on a difficult evening where the food service could only be described as dismal although the dishes were reasonably good when they did eventually arrive. The lounge does get crowded as departure approaches so arrive early to grab the good seats. It would be nice to see the addition of some more casual snacks like chips and chocolate and we did miss the spa which is such a treat in other Virgin Clubhouses.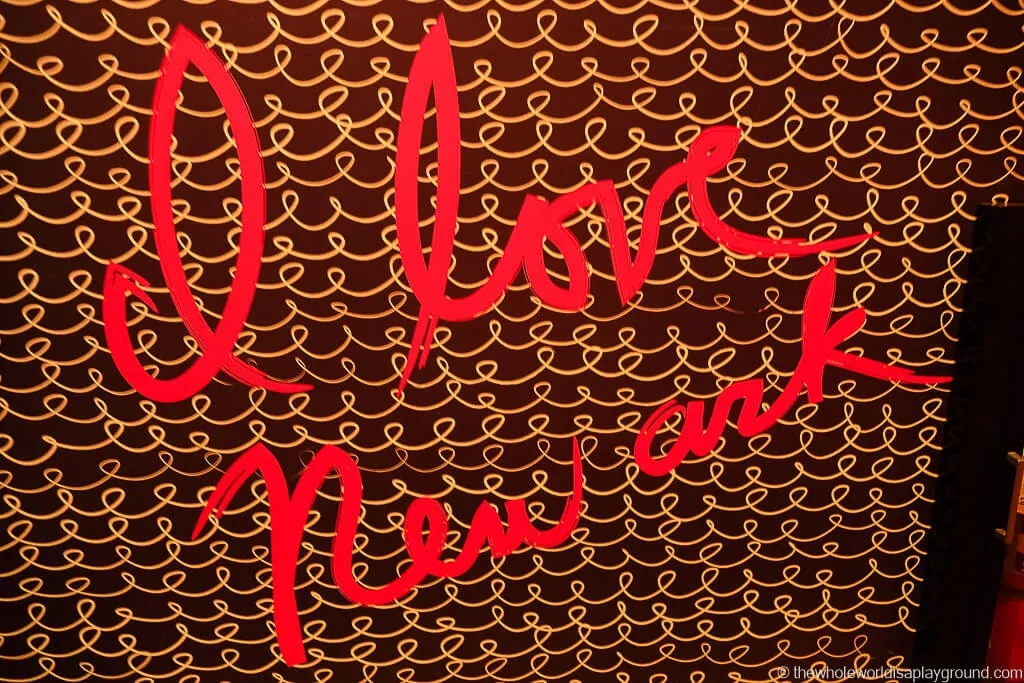 For more on flying Virgin Atlantic Upper Class check out