After a fun visit to our old hometown we were excited for our Upper Class flight on a Virgin Dreamliner to take us back to London. The Dreamliner showcases the latest Virgin Upper Class product and it was a bonus to discover it would take us home. We'd experienced business class on a Dreamliner during our Ethiopian Airline travels to South Africa and were keen to see how Virgin's offering fared in comparison. All aboard for flat beds and a cocktail bar in the sky!
The Lounges
With the bonus of a Virgin arrivals lounge in London Heathrow we started and ended our journey from New York to London in style. Our first stop was the well regarded JFK Clubhouse which was excellent by US standards but not standout in comparison to the lounges of the other large European carriers (check out our JFK Clubhouse review). Post flight we popped into the Virgin Revivals Lounge for a spot of breakfast (read our Revivals report here) and some final Virgin pampering before returning home!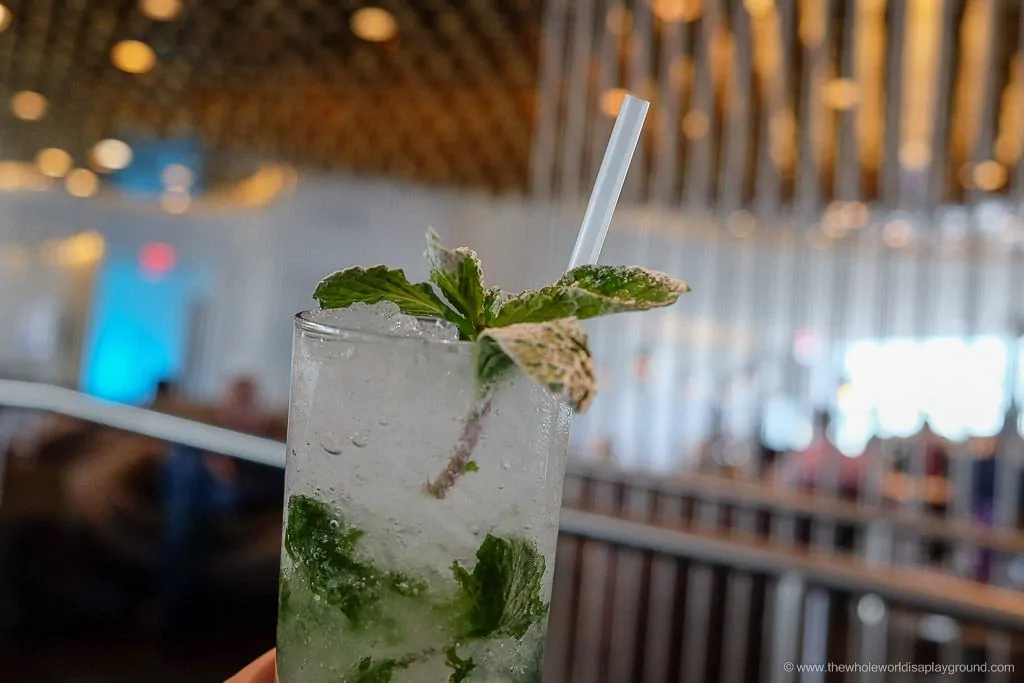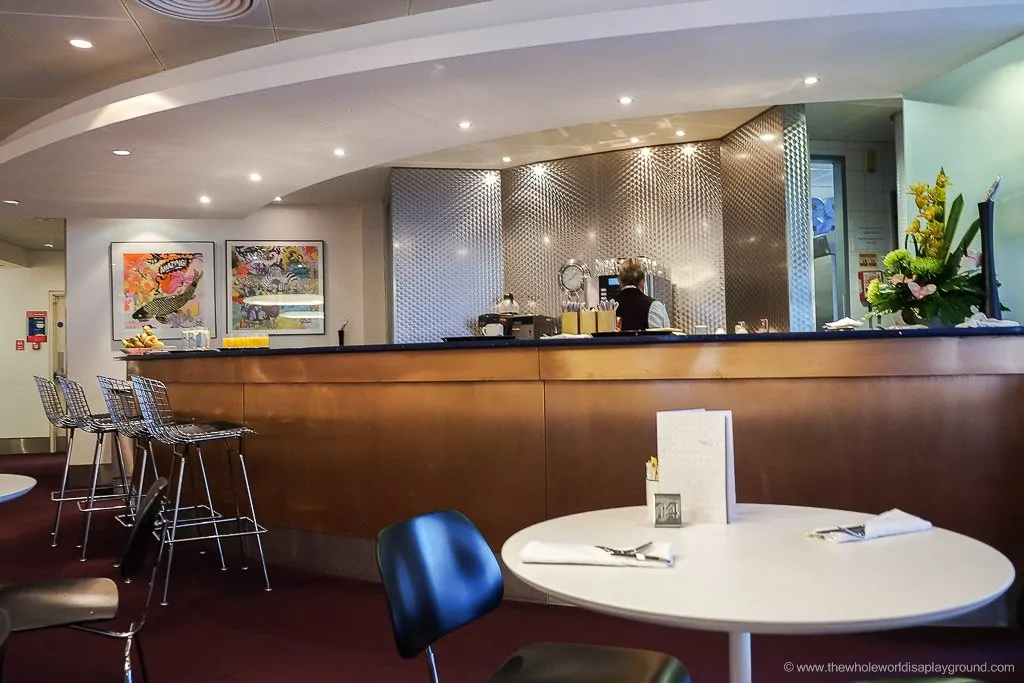 The Cabin
Virgin Upper Class operates a 1x1x1 herringbone configuration with 11 rows of business class and 31 seats in total. The cabin décor has a real Virgin feel and the colour scheme stays true to the Virgin brand. The mood lighting is a nice touch as are the larger windows which make for a brighter cabin. The Dreamliner, as with any herringbone configuration, can initially feel cramped when full but it is less noticeable when everyone settles back into their seats.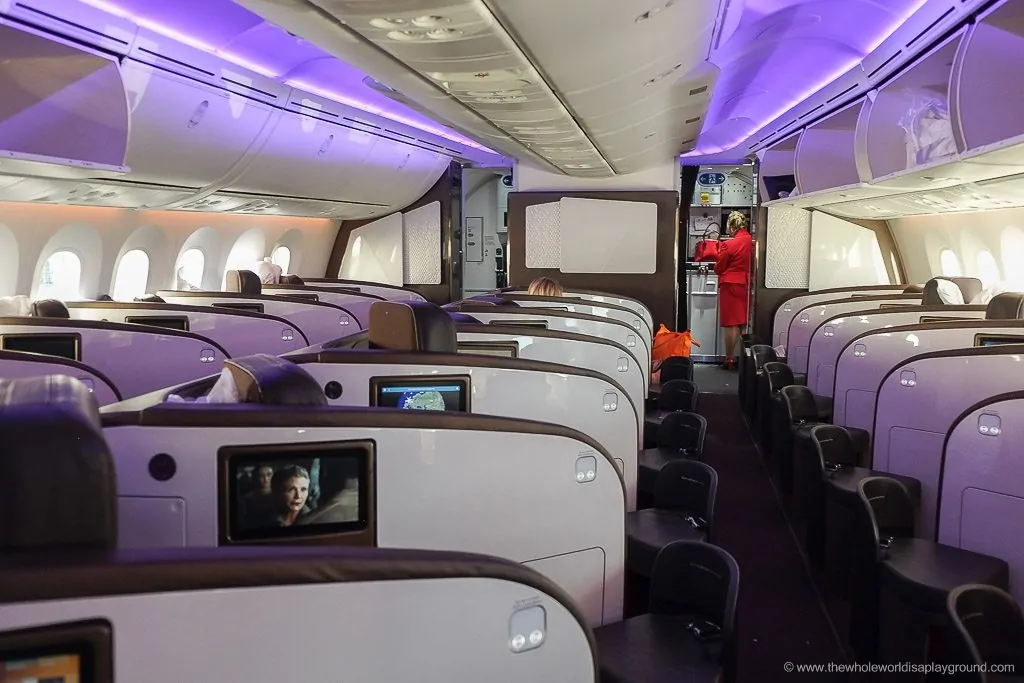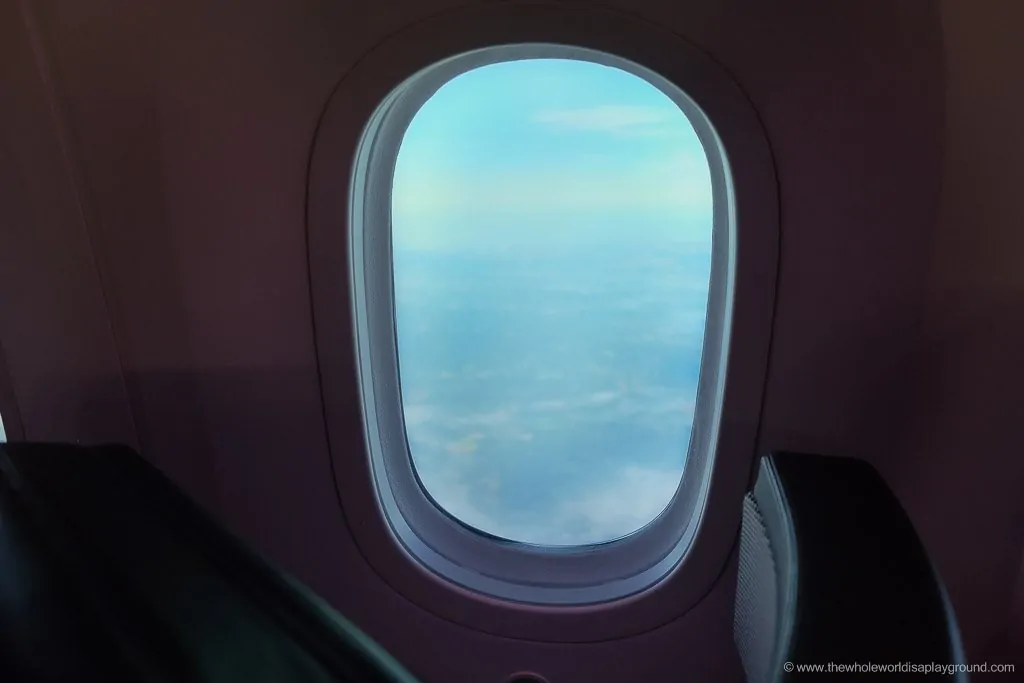 An Onboard Bar!
The Upper Class bar is a lovely treat and it's amazing to have a separate space to sit at. It's good fun when there's a crowd and it's a great place to have some chats: we toasted a New York wedding and hung out with some interesting characters while enjoying some delicious drinks!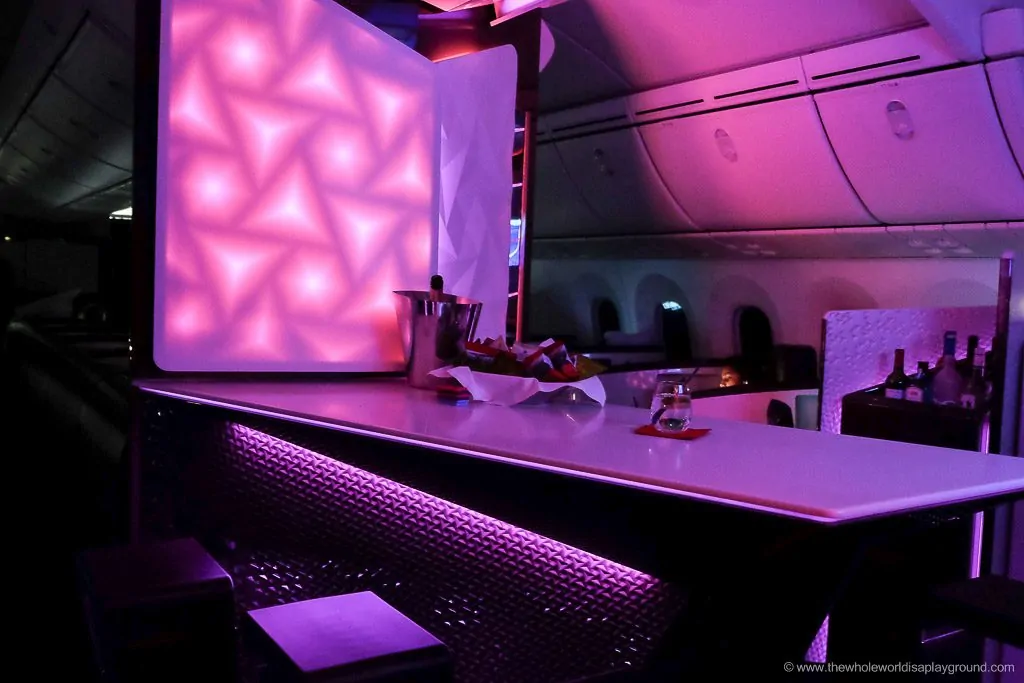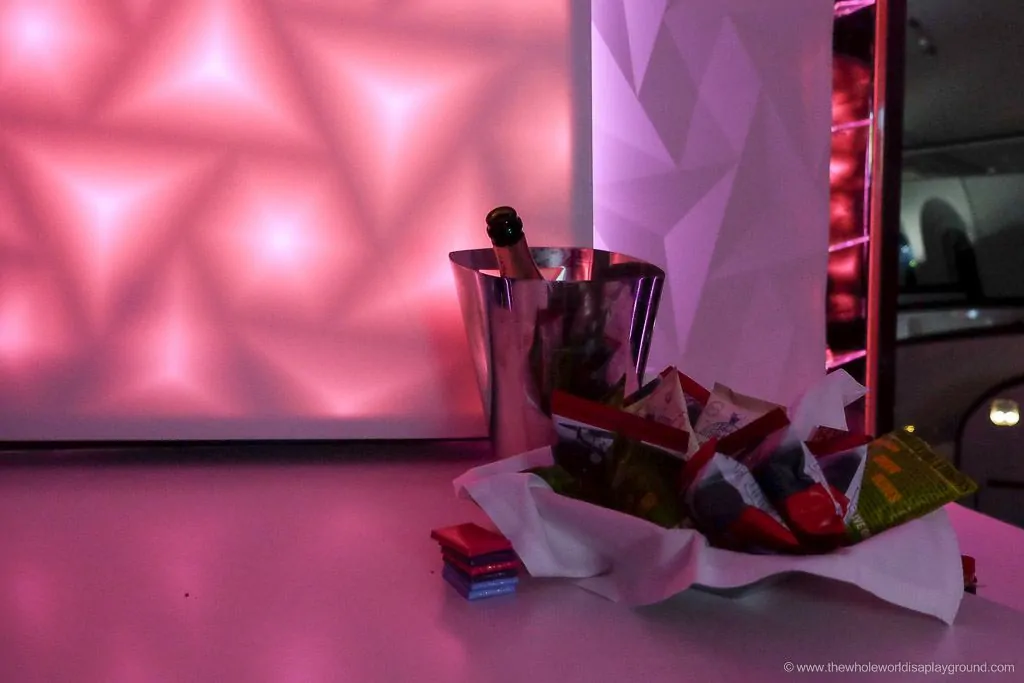 Food and Drinks
Onboard food is one area where Virgin fails to inspire but the lounges more than make up for a lackluster effort in the sky. On both legs the main courses we sampled ranged from average to almost inedible but, having indulged on the ground, it wasn't too much of problem.
The Dinner Menu
Starter:
Tomato and mozzarella salad served with warm breads
Mains:
Grilled beef fillet with garlic potatoes and seasonal vegetables
Grilled salmon on a bed of gnocchi with cherry tomatoes and sugar snap peas
Vegetable korma with rice and naan bread
Pudding:
Chocolate cake with raspberry coulis
Cheese and port:
Cheddar, Camembert and goat's cheese
Breakfast:
Breakfast was served about 90 minutes before landing and included cereals, fruits and a full English.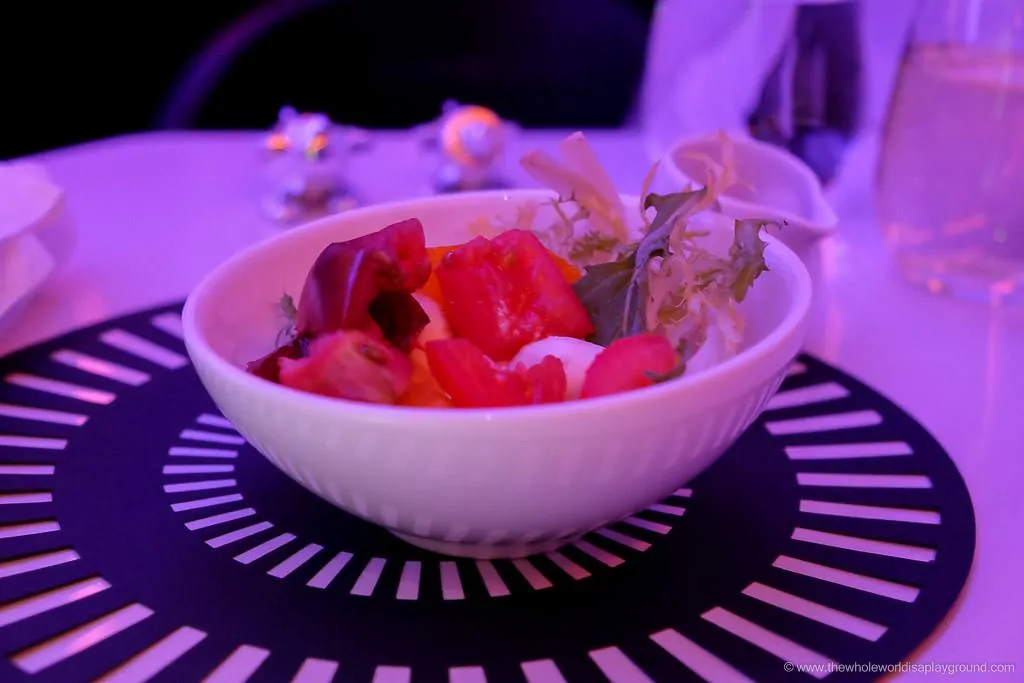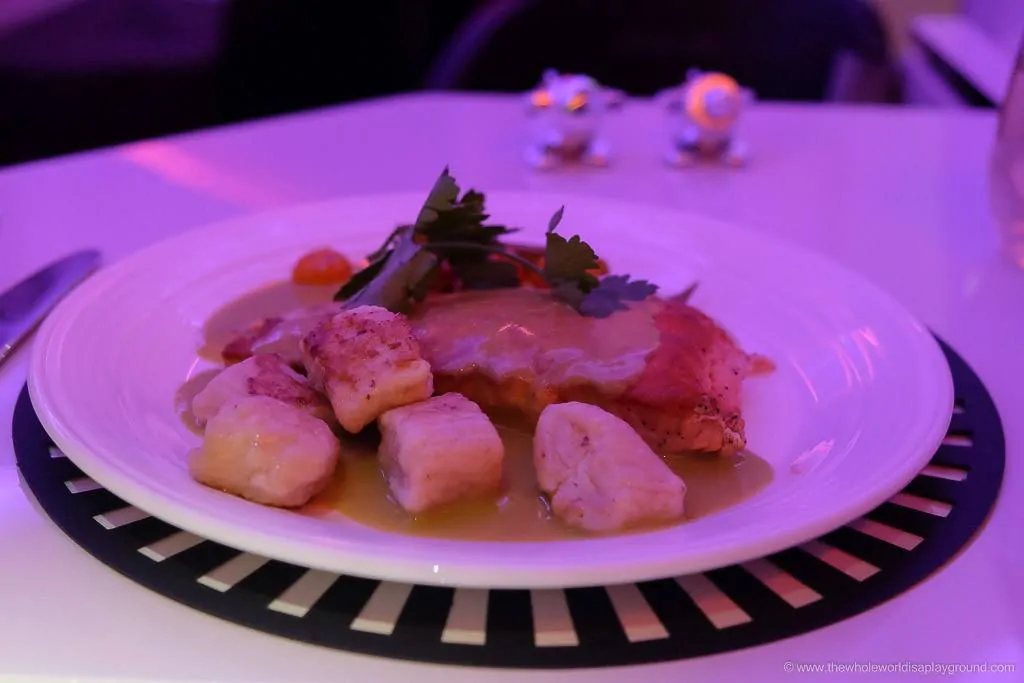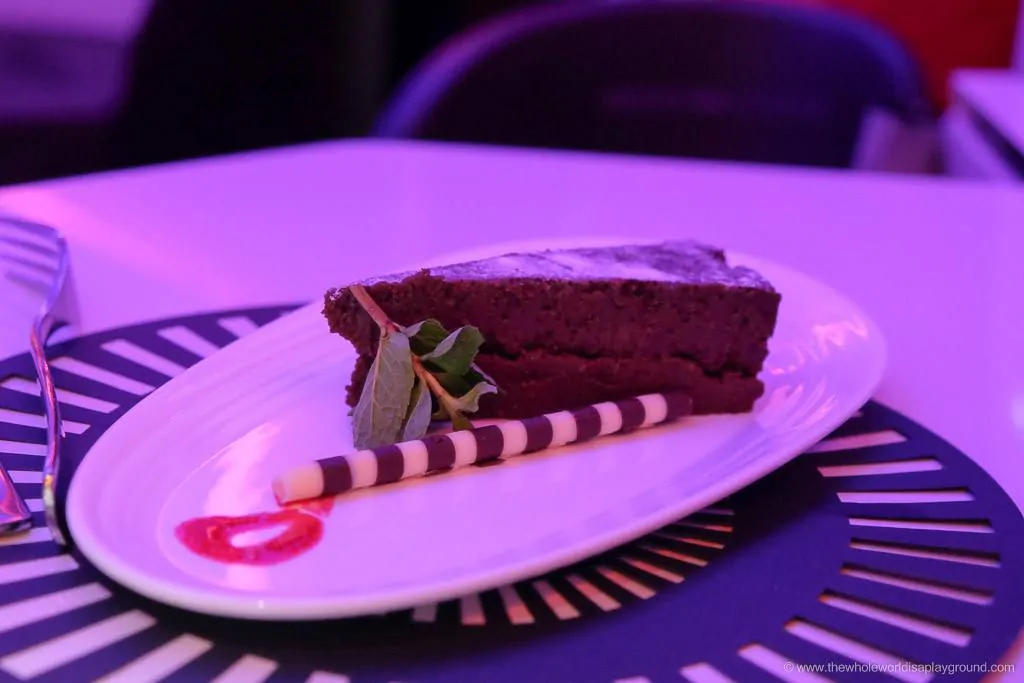 Drinks Menu
We were served a glass of Gardet Brut Premier Cru champagne on arrival to the aircraft alongside some vegetable potato chips. Drinks were served throughout the evening flight.
Champagne: Gardet Brut Premier Cru
White wines: 2014 St Veran, 2015 Constantia Glen Sauvignon Blan, 2015 Wakefield Riesling Clare Valley
Red Wines: 2012 Uvaggio Primitivo, 2012 Chatau Cissac, 2011 Berrys' Rioja
Cocktails: a wide variety of pretty cocktails were served on board including mojitos, a champagne based cocktail and a mocktails
Spirits, soft drinks, teas and coffees were also available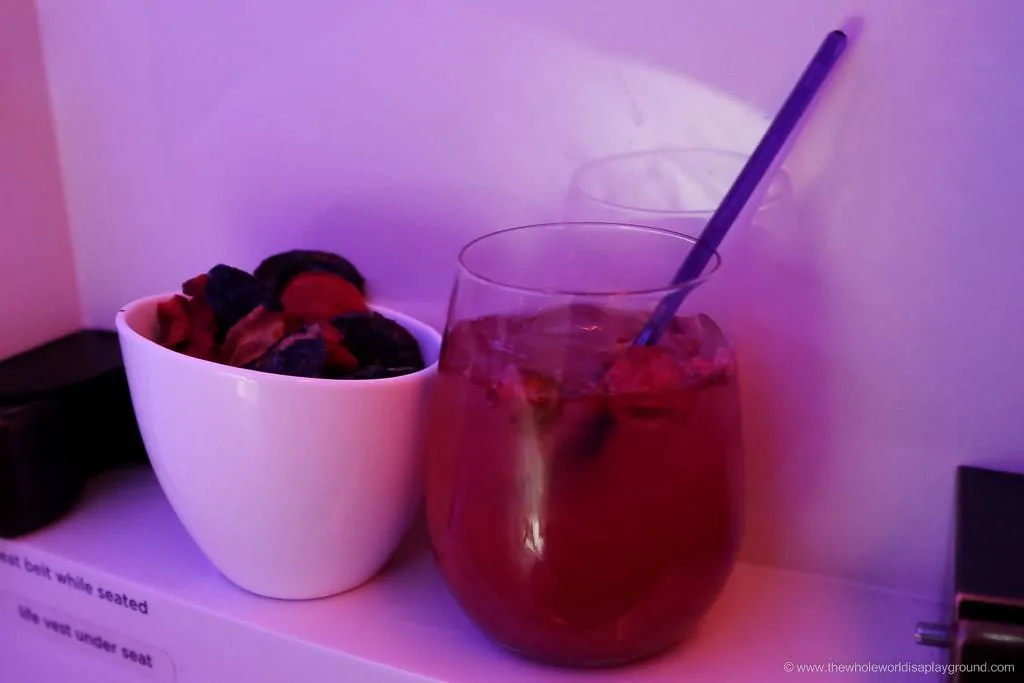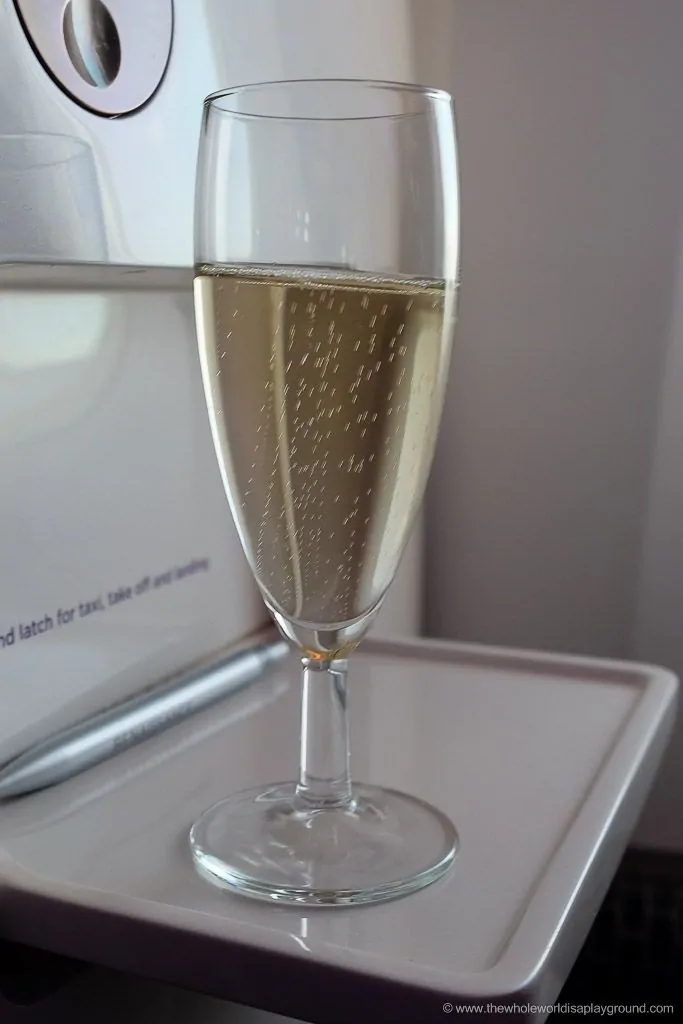 The Seat
The seats are comfortable and spacious and we were happy to spend seven hours lounging in them. Each seat area comprises of the seat itself, an ottoman, a back of seat tv and some in seat storage. The overhead bins on the aisles and middle row ensure there's lots of cabin storage in upper class.
The leftmost rows, row A and row G are separated by a divider and are both facing in the same direction while row K faces into the cabin and into row G. Rows G and K facing into each other is a real downside on privacy and I felt I got to know my neighbours quite well as a result of facing directly into their seats for the flight!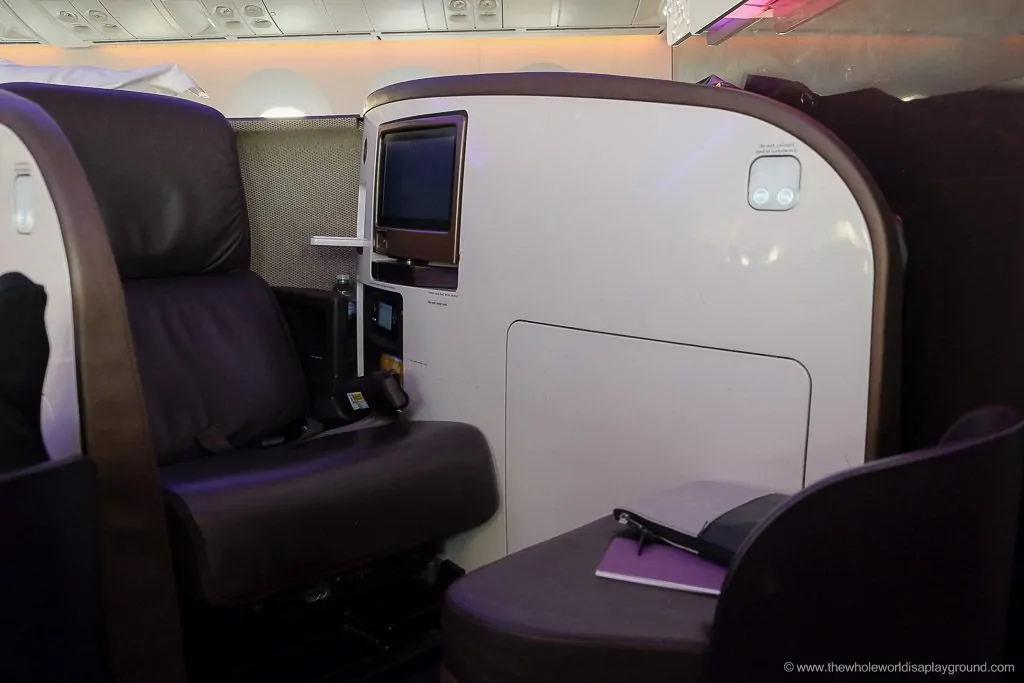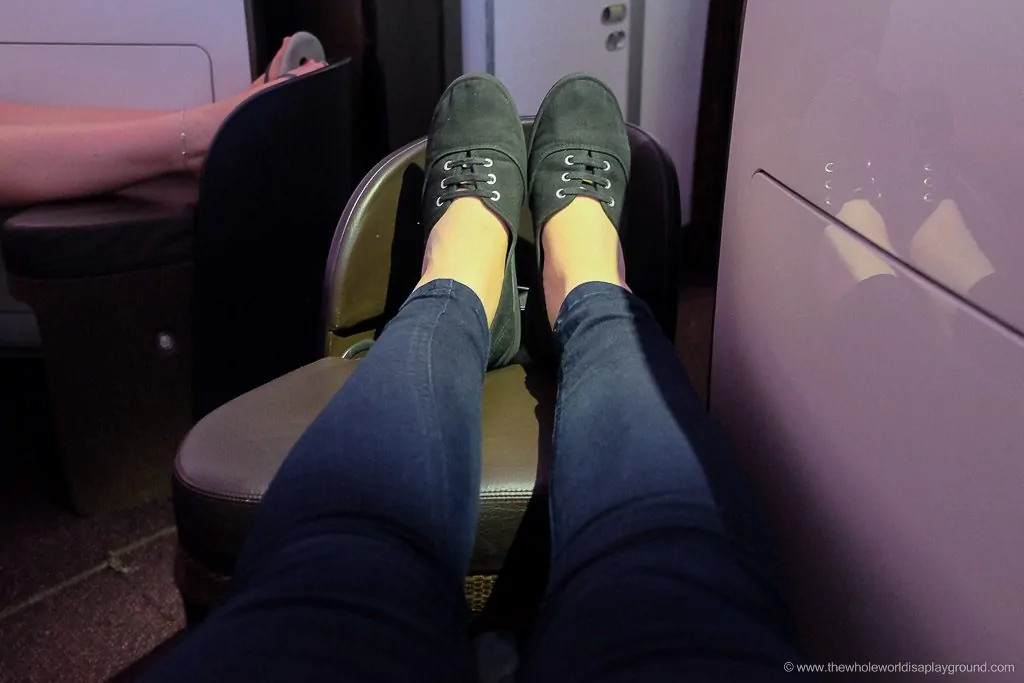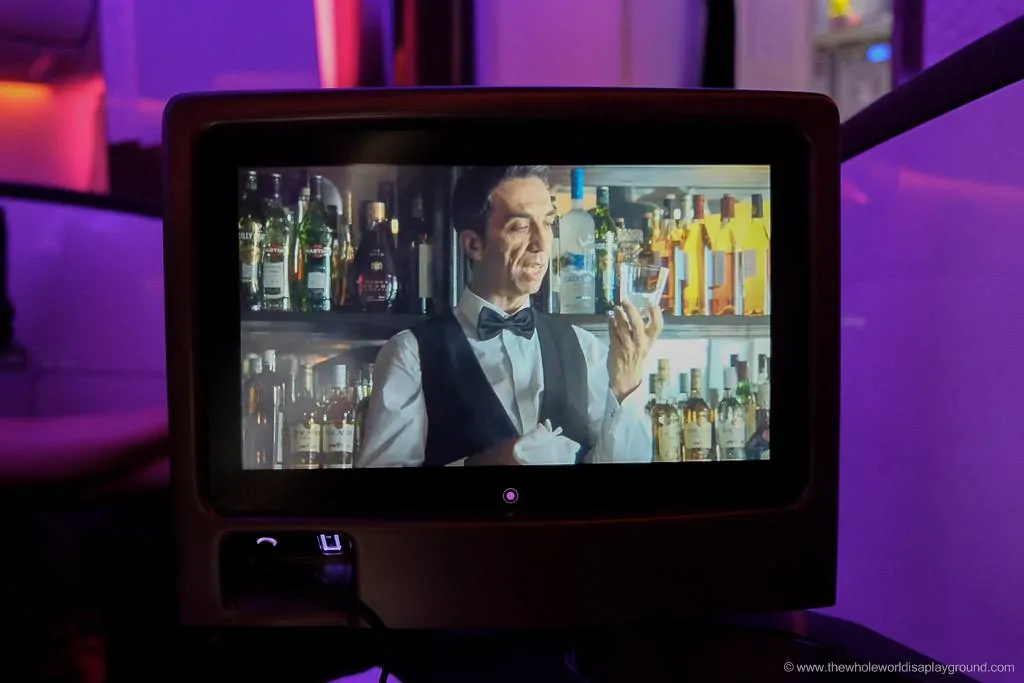 Sleep Time
Flat beds rule the airways and Virgin delivers with its Dreamliner offering. The seat flips over and meets the ottoman to make the flat bed and it's perfect for catching some zzz's. A mattress topper, pillow, duvet/comforter and Virgin pajamas are provided in the sleep pack. I still wear my Virgin pjs when I fancy some comfort!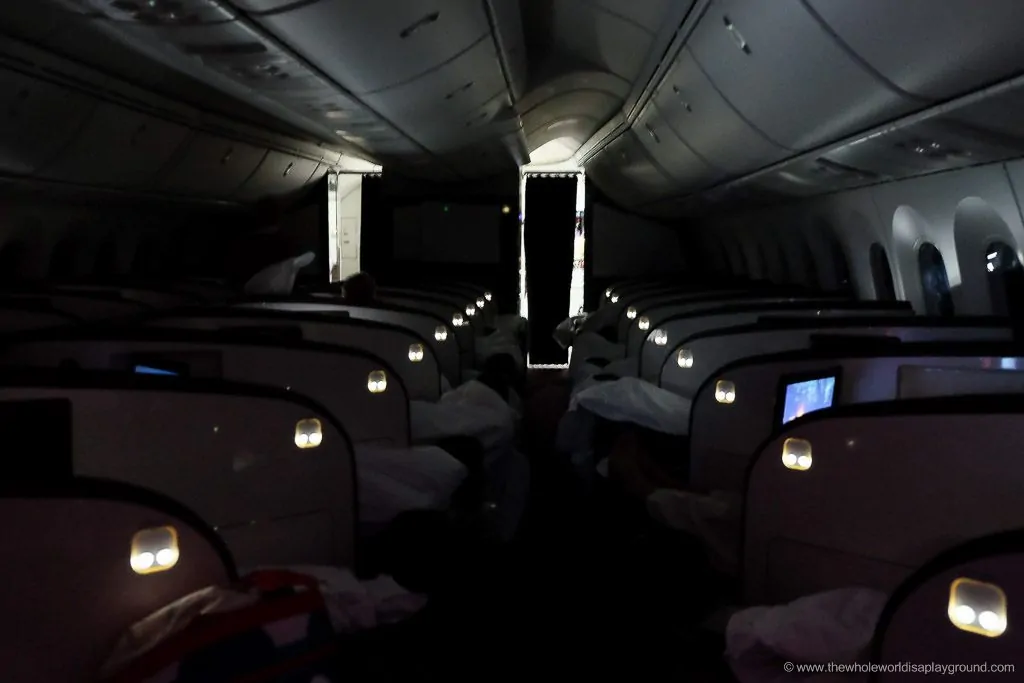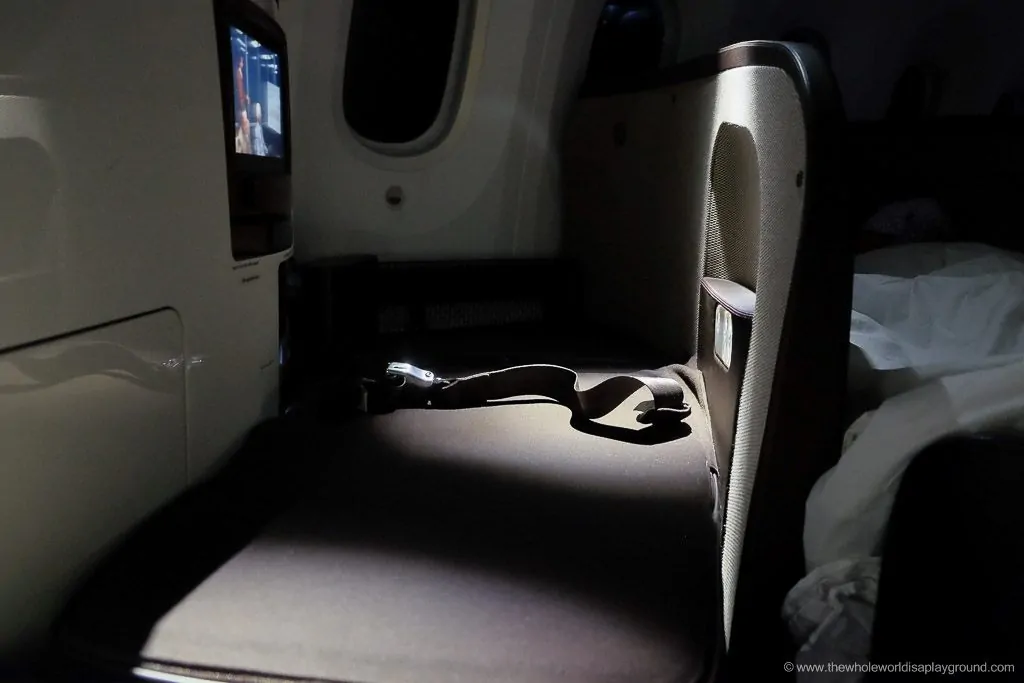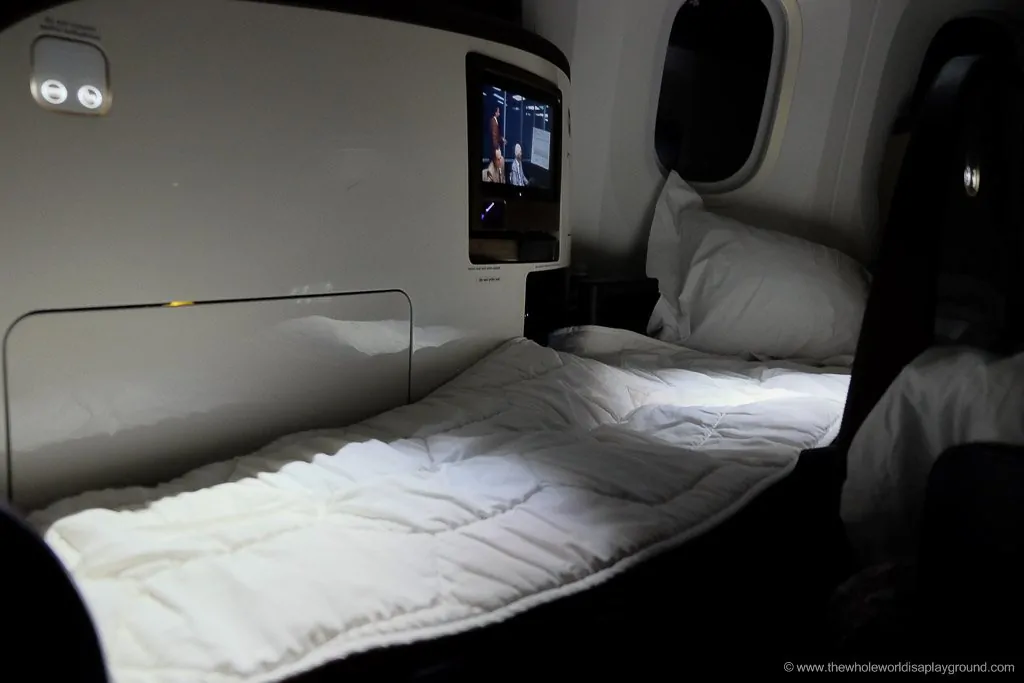 Overall
Virgin Upper Class is a mixed experience. The lounges are excellent and the bed is comfortable however it lets itself down with in flight food and mixed service levels. We wouldn't hesitate to choose Upper Class again assuming it is competitively priced and we much prefer it to the BA London to JFK Club World competition.
Choosing the best seat: Virgin Upper Class Dreamliner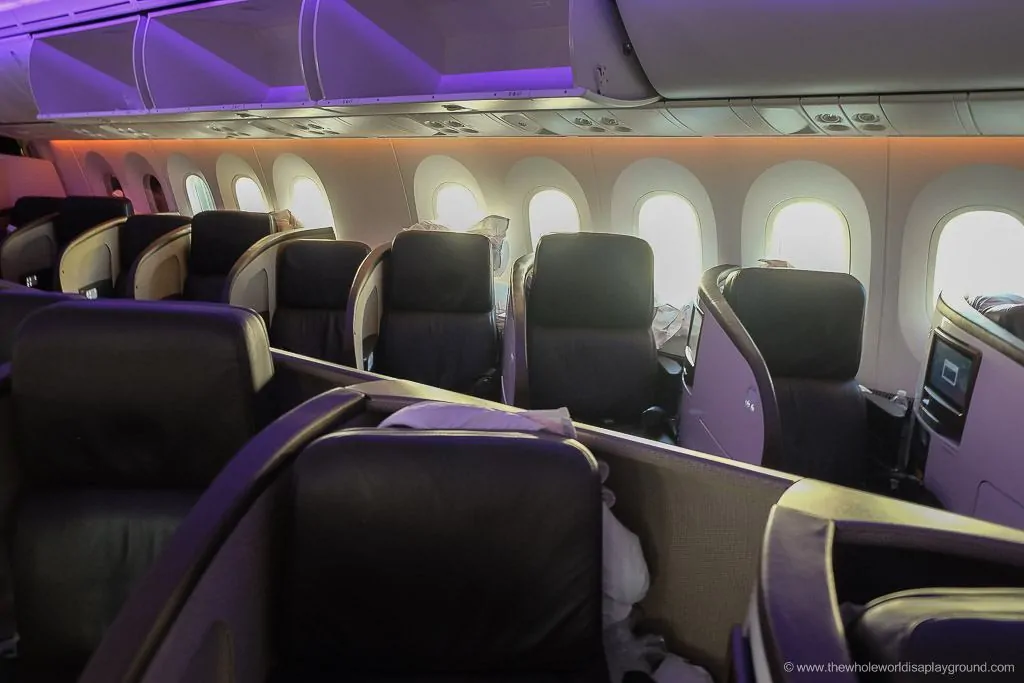 For single travellers: row A
A divider separates rows A and G on the Dreamliner making row A highly coveted. It's also much more private as row A passengers face into the back of row G passengers.
For couples/pairs travelling together: consecutive seats in row A. If row A is not available then consecutive seats in rows G or K or a duo of seats facing into each other in rows G and K are the best alternative.
We prefer the consecutive seats  in  rows G or K as its easier to chat to each other. Remember the first seat in row G faces into the second seat in row K so, if you opt for seats facing into each other be sure to choose the correct combination.
Seats near the bar: depending on how many passengers are wanting to party the flight away the seats further back tend to be nosier as result. On both our flights, the bar was busy initially but, after a few hours, everyone settled down and chilled in their seats.