The tickets are booked, the route decided and finally, it's time to start preparing for your trip to Norway! Then comes the dilemma: what to pack for a Norway adventure trip? Having returned from our 3,000 km adventure through Norway we wanted to share our recommendations for essential gear to bring on a Norway trip. We travelled around most of the country, stayed in stunning campsites and cosy cabins, took in the stunning scenery, beautiful hikes and sometimes crazy Norwegian weather. Here's our packing guide with the lowdown on the what you need to pack for your Norway trip!
If you are planning a trip to Norway check out our Norway itinerary for more inspiration!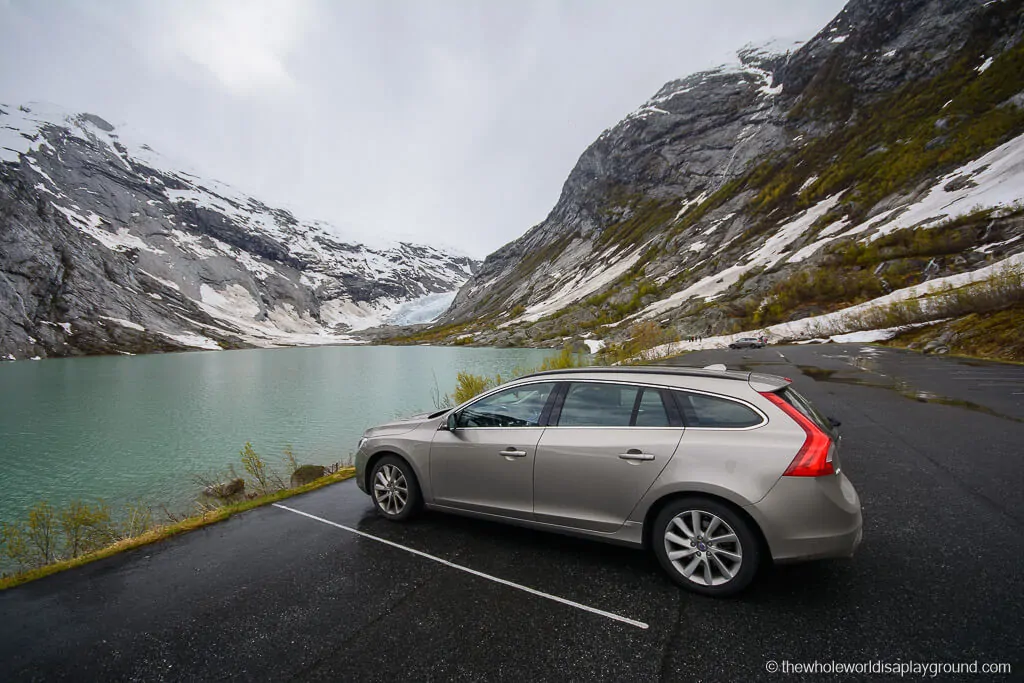 What to Pack for a Norway Road Trip
From hiking to clothing to camping gear, here's what to pack for a Norway road trip!
Hiking Gear
Weather conditions in Norway can be extremely changeable, even in the summer. We experienced a crazy mix of weather from blistering sunshine to snow and hailstones and torrential rain in the summer while taking in the iconic hikes at Pulpit Rock and Kjerag, exploring the stunning Fjords, checking out the cities and finding solitude in remote locations such as the Arctic Circle and the Vega Islands. As a result, you're going to need good outdoor gear for your trip. Being warm and dry no matter what the weather makes a trip much more enjoyable!
1 | Hiking Backpack
A good quality backpack is essential for a Norway trip. The perfect bag is different for every person but here's what to look for in a hiking backpack:
Size: You'll want a bag that can fit all your things but not so big that you'll be tempted to bring unnecessary stuff meaning the bag will be too heavy to carry up those steep Norway hikes! We find a 35-40 litre bag the perfect balance between the two.
Comfort: Norway's best sights involve hiking up hills and mountains so your backpack needs to be comfortable and not make you too sweaty. Look for a bag with a lightweight frame and comfortable waist strap.
Waterproof: It's super important to have water protection for your gear when visiting Norway. You'll need a waterproof bag and a rain cover to ensure your gear stays safe and dry from the Norwegian elements!
I use a fantastic Columbia Ridgerunner 40 litre backpack – unfortunately, it's been discontinued but the bags below have a very similar design and offer the same features that will make life easier you on your trip:
Osprey Talon 33
The extremely lightweight frame and generous size of the Osprey Talon 33 make it a perfect backpack for day/extended hiking and big enough for more general day-to-day use. Ventilation at the back is excellent and features like the top access pocket, waist strap pockets, waterproofing and hiking pole side attachments make it a perfect choice for extended hikes. Combine these features with Ospreys solid reputation and you have one of the best hiking backpacks available – check prices now!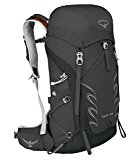 Deuter ACT Trail 30
Deuter is one of the best bag manufacturers in the world and Elaine's backpack has so far lasted over 3 years with frequent and heavy use and she's had no issues. A similar design to the Osprey Talon 33, the Deuter ACT trail has many of the same features. A slightly larger bag by design the ACT Trail 30 also includes space for a water bladder. The bottom zipper allows easy access to items stored at the bottom of the bag. The Deuter Aircontact system reduces back sweat and the lightweight Delrin frame reduces the weight on your back.There are different versions for men and women to make sure to order the correct one! – check prices now!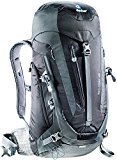 2 | Hiking Boots and Socks
Hiking boots and socks: a must have for the hikes. Remember to break in new hiking boots before the trip to avoid sore feet or blisters – check prices now!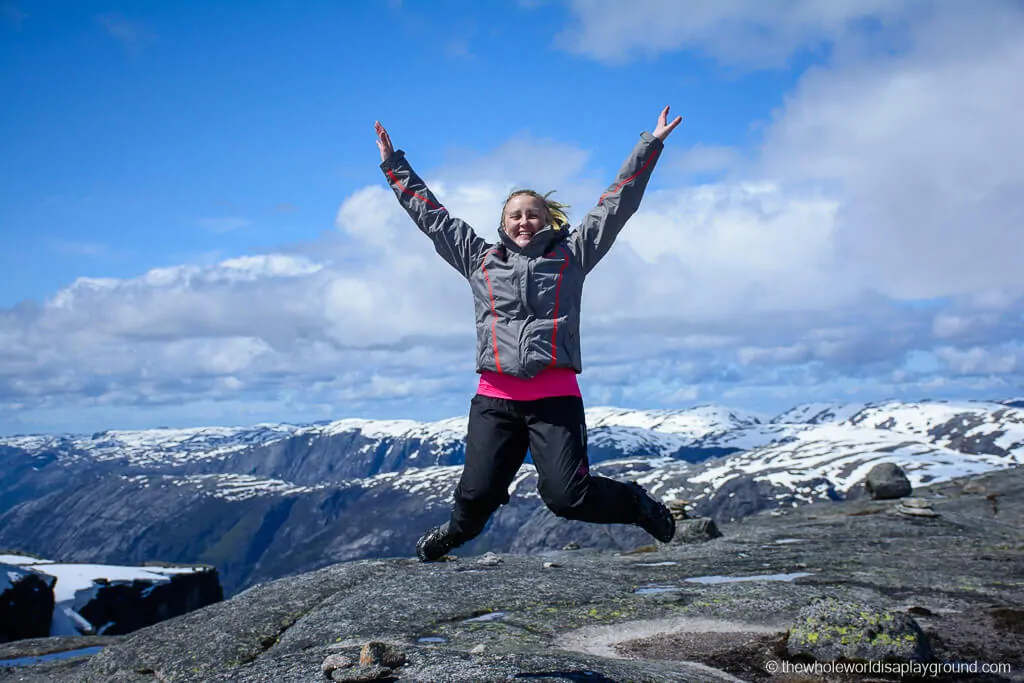 Other Useful Hiking Gear
Water bladder – a hiking essential! We used our Camelback backpack constantly during our trip. It's a compact bag which holds 2 litres of water and has some medium sized pockets for snacks and valuables. Most importantly, it doesn't feel like you are carrying very much water in terms of weight. You can also change out the water bladder and use it as your main hiking bag if you don't want to carry a second bag – check prices now!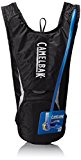 Hiking poles: They're lightweight to pack and make the tough hikes so much easier especially when hauling heavy camera bags up a mountain. We foolishly didn't take ours to Norway due to packing space and really regretted it. Lots of the hikes in Norway have serious elevation gains and the poles help with stability and reduce the risk of a fall – check prices now!
Compass and maps: It's really important to have an alternative to electronics in case you get stuck on a longer hike such as Trolltunga and run out of battery. Due to lack of decent wifi or phone signal make sure to save your Google maps for offline use before you leave for any hike or get a Map app that allows you to save maps offline.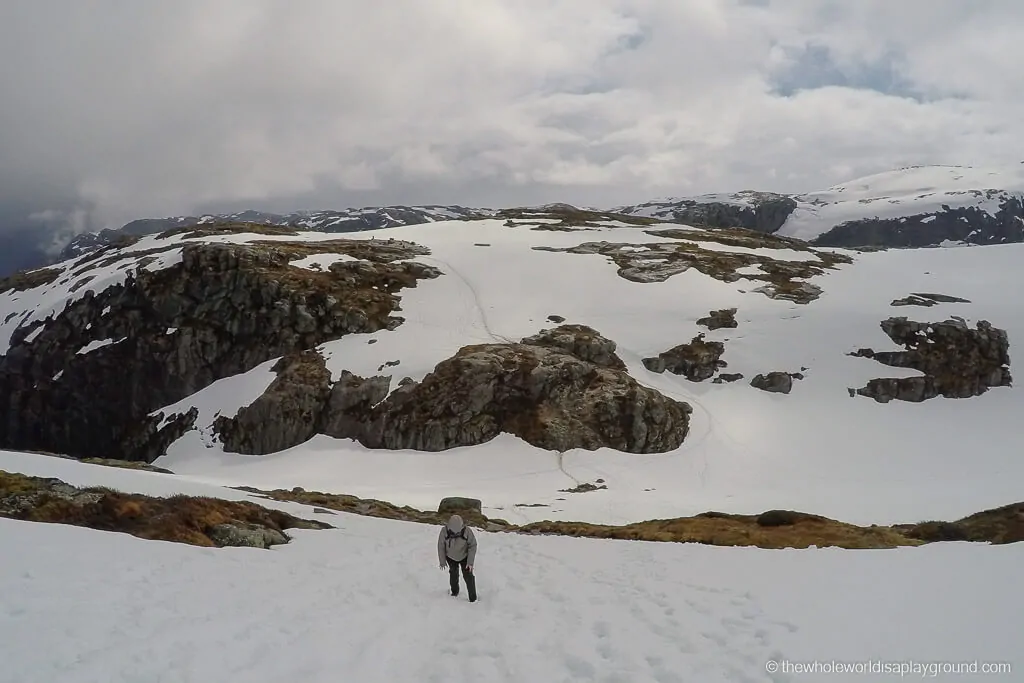 3 | Clothing
Bring lots of layered clothing: the Norwegian weather can change at a moments notice (we experienced 4 seasons in one day while climbing Kjerag!) so layered clothing is a must. We wore thermal leggings, wet pants, cold weather layers, t-shirts and jackets and stripped off/ put layers on when appropriate!
Waterproof jacket: it rains a lot in Norway! We love North Face gear and find it worth the price tag as their gear keeps us warm and dry no matter the conditions. We have a number of North Face coats and rain gear and rely on them heavily in bad weather – check prices now!
Buy North Face Coats now on Amazon!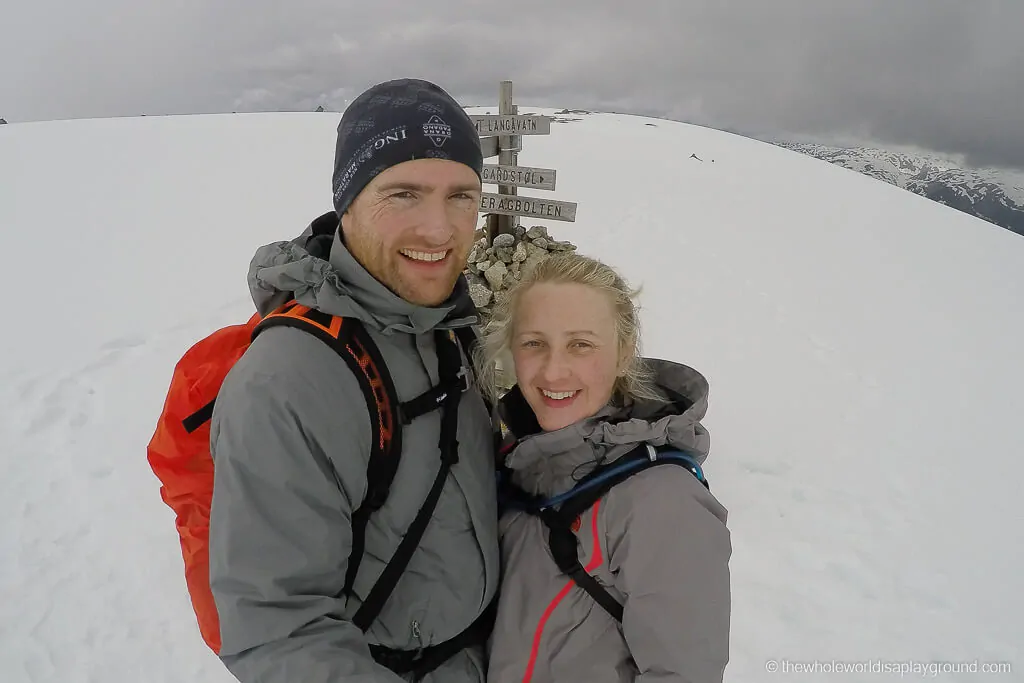 Hat, scarf and buff: perfect to protect against the elements. Buffs are extremely versatile for hiking and can be used as a scarf, hat or to protect your face from the wind/cold/sun when the Norway weather varies! – check prices now!
Packing Cubes: Quite possibly one of the greatest travel inventions of all time (we're not kidding, they've revolutionised the way we pack!) and a must when packing for a trip. They are compact zipped bags which then fit neatly into your main luggage. The advantage is they allow you to group your stuff (no more rummaging around your bag!) plus you can compact/roll your clothes so you get a lot more into your bag. They're not expensive – we use the medium sized Amazon Basics version and they work just fine! – check prices now!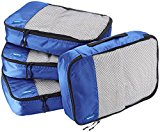 Microfiber towels: these towels are amazing and a must have for anyone who travels with limited luggage! Lightweight, quick drying, odor free and super compact, microfiber towels are fantastic and you'll find yourself using these all the time in Norway, from hikes to camping. Make sure to buy a medium/large towel as they are generally smaller than standard towels – check prices now!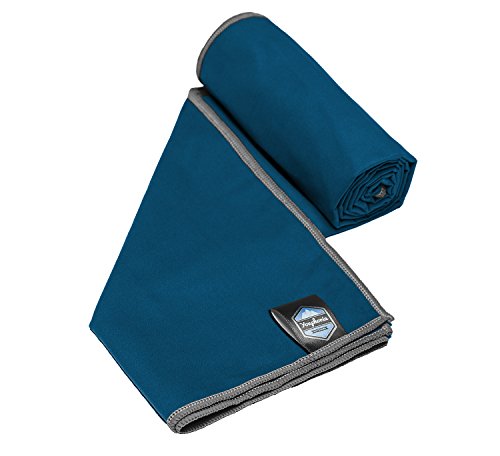 Buy now on Amazon!
4 | Camera Gear
We usually travel with a lot of camera gear and Norway was no exception – you can check out what camera gear we use here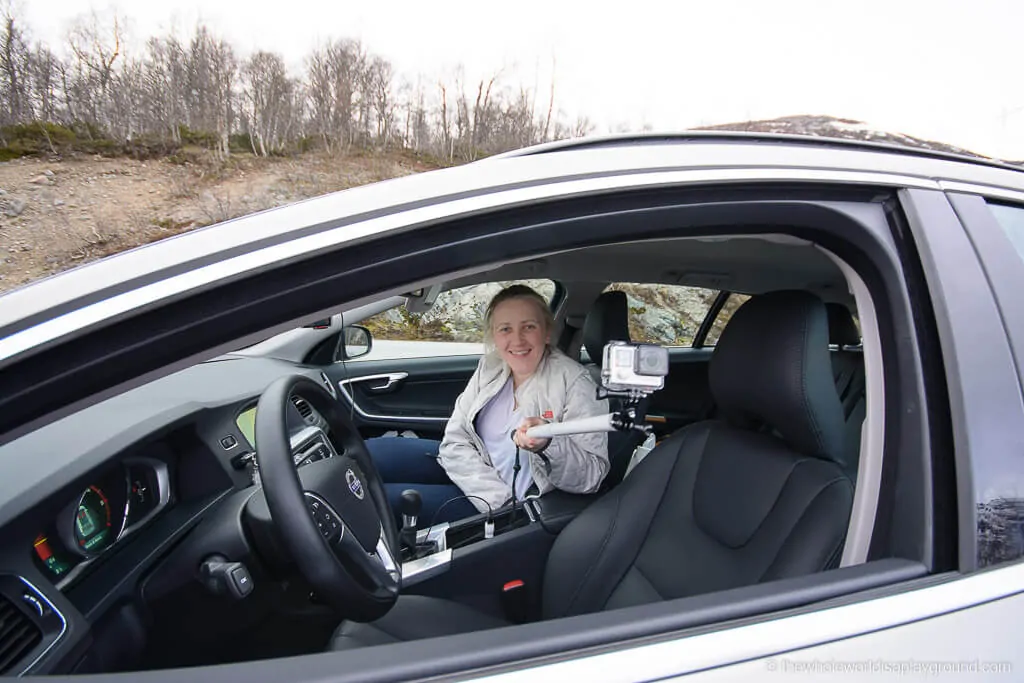 5 | Essential Road Trip Car Gear
Navigation: a good cellphone sat nav is essential for navigating the Norwegian roads and we found it invaluable on our hikes too. Google Maps or OSMAnd navigation are great options, just make sure you have offline access to allow you map if you don't have data.
Phone Cradle: We use our phone cradle on all our road trips as it allows us to use our phone safely for navigation and play music through our Bluetooth speaker – check prices now!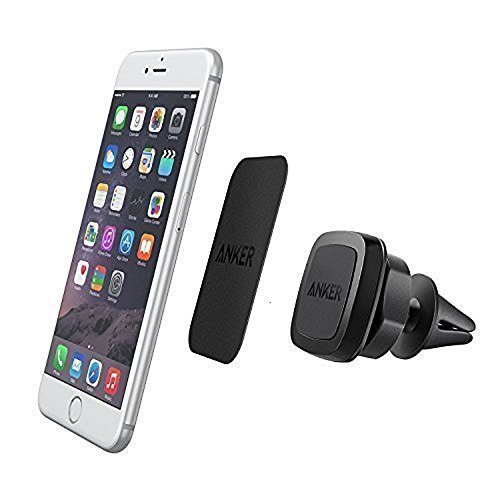 Buy now on Amazon
Bluebooth speaker: We love this Anker Bluetooth speaker. It is dust and waterproof so it doesn't get damaged easily while on the road. The sound is great for playing our favourite tunes while on long drives – check prices now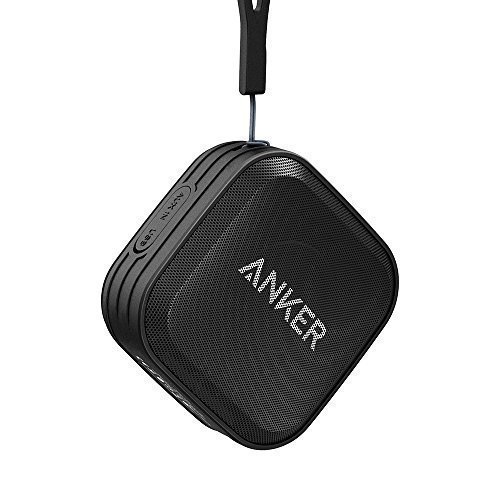 Buy now on Amazon
Inverter for charging electronics in the car: This is one of our most important pieces of gear and it comes everywhere with us. A car inverter allows the charging of wall socket and USB appliances in a car. We use and love this Bestek inverter due to its compact size and the fact that it seats neatly in the cup holder of the car – check prices now!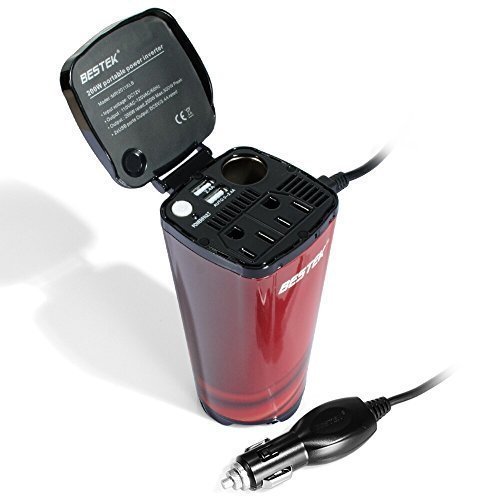 Buy now on Amazon!
3 | Camping Gear
Accommodation options in Norway can be relatively limited outside of the main towns and cities and hotels are often expensive. Campsites are a great option for a Norway trip. Campsites offer both traditional camping spaces for tents and the use of communal showers and cooking facilities and small, comfortable cabins for rent. Cabin availability is not guaranteed plus they can be expensive so it's really useful to carry camping equipment – we stayed in a mix of cabins and our own tent and saved lots of money by camping. The Norwegian campsites are very high quality and are perfect for allowing flexibility in your trip plans.
Norway travel tip: A tent will allow you to stay in places that might otherwise b difficult to visit in Norway, especially things off the standard tourist route!
We recommend the following basic camping equipment for a Norway trip:
A three person tent with extra pegs: we were travelling as a pair so we purchased a three person tent to have a little extra room- we'd definitely recommend buying a good quality waterproof tent rated one person above the number who intend to sleep in it. if this is your first time camping make sure you know how to assemble the tent and have a practice run before you arrive – check prices now!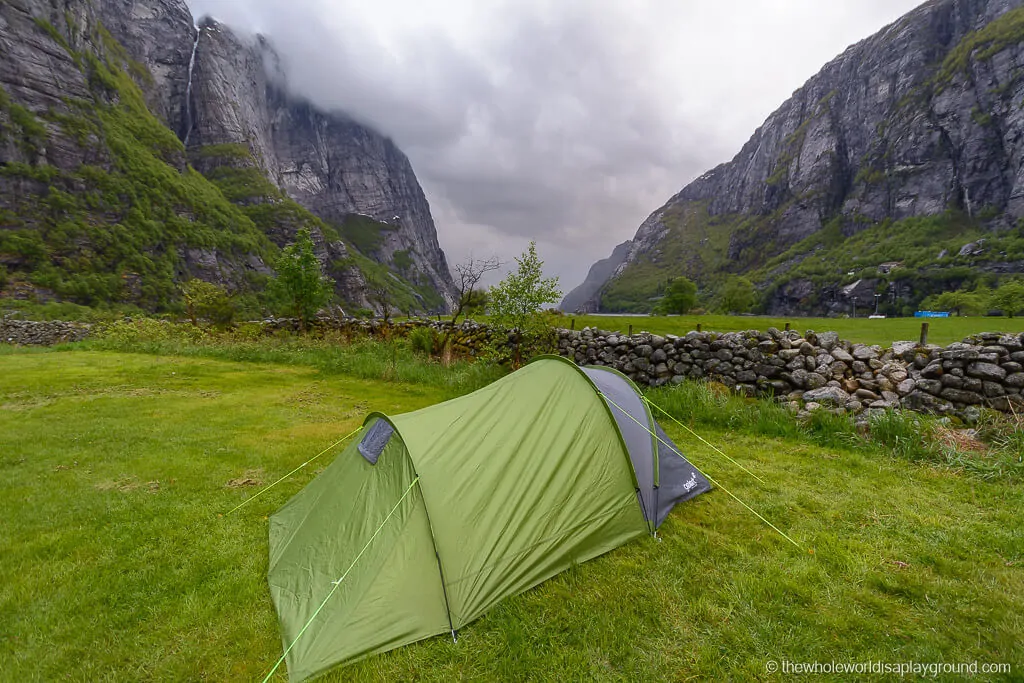 Sleeping bag and air mattress: we used a 4 season sleeping bag as the temperature dropped considerably at night. An air mattress was an essential addition for us to ensure a good nights sleep but remember you need a pump – check prices now!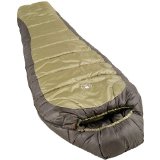 Camping pad: If you have the budget, a camping pad is a great lightweight alternative to a traditional air mattress. The mats are super quick to inflate and offer a very comfortable surface for sleeping. Plus they roll up small and are lightweight for carrying – check prices now!
Camping stove and cooking utensils: a compact travel stove makes it possible to cook hot food on the move. It's extremely versatile and great for cooking beans and soup or heating water to cook pasta and noodles. We brought our stove but obviously you cannot bring the propane gas on the plane! The Campingaz canisters are easily available throughout Europe so it's very easy to pick-up canisters when you land in Norway. We used this stove which boils 1 litre of water in under 5 minutes and is really compact for packing – check prices now!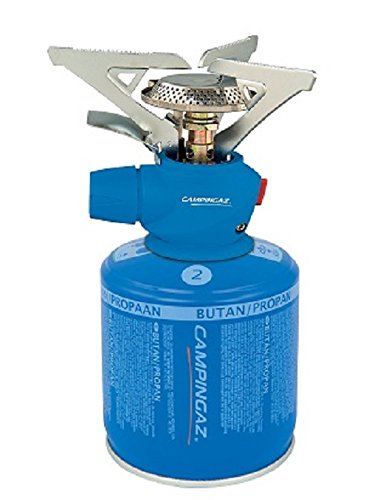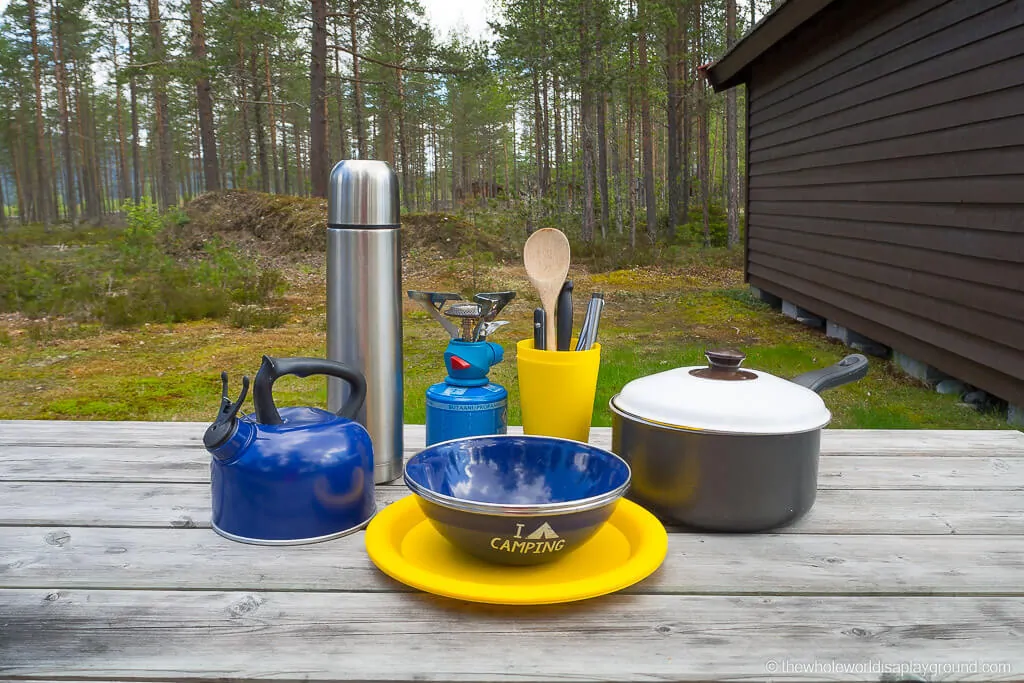 Dry bags: Dry bags are extremely useful for hikes, camping and kayaking and are 100% necessary to keep electronics such as cameras and phones dry. Trust us – you'll never leave home again without one of these to protect your gear! We have a variety of sizes and recommend the ultralight versions as they pack easily into another bag when not in use – check prices now!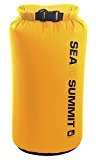 Buy now on Amazon!
Headlamp: a good headlamp is definitely worth bringing. They're super useful for camping as they keep your hands free. We use this one that charges over USB so we can charge it on the go – check prices now!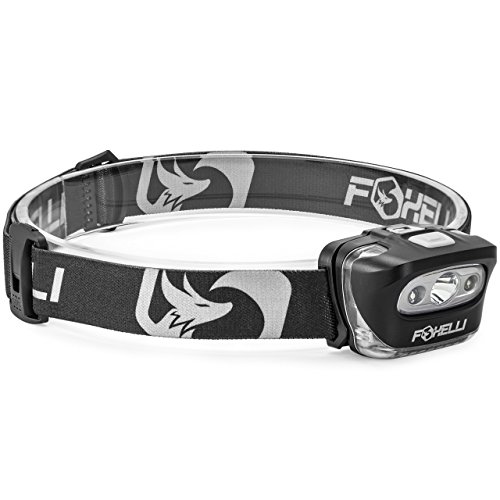 Buy now on Amazon!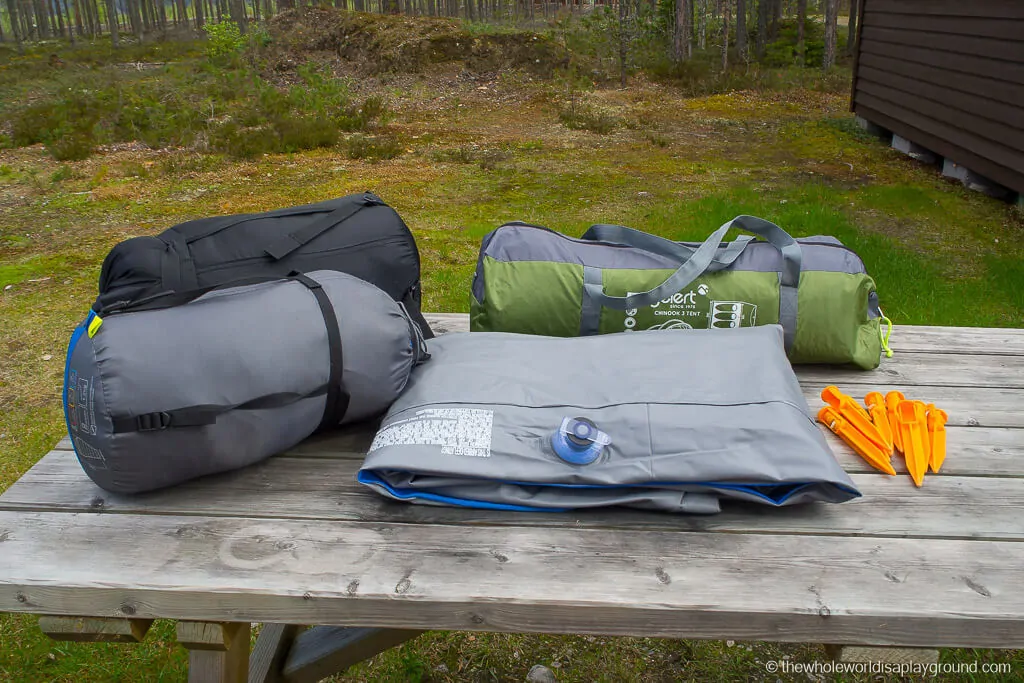 4 | Other Supplies
Sunscreen: it snows, it rains, the wind howls and then the sun shines. Always wear a high factor sunscreen on exposed skin as it's difficult to tell when the sun is liable to burn.
Food: Seriously consider taking food with you before you arrive in Norway as even basic foods like bread and pasta are expensive. A roadside hotdog will cost around 5-6 euros with meals costing a lot more! When researching our trip we read advice to take food with us and we were extremely glad we followed it. We packed a bag with cereals, energy bars, pasta, noodles, baked beans, tortilla wraps and chocolate which was both budget friendly and extremely convenient as we were on the move and active for most of the trip.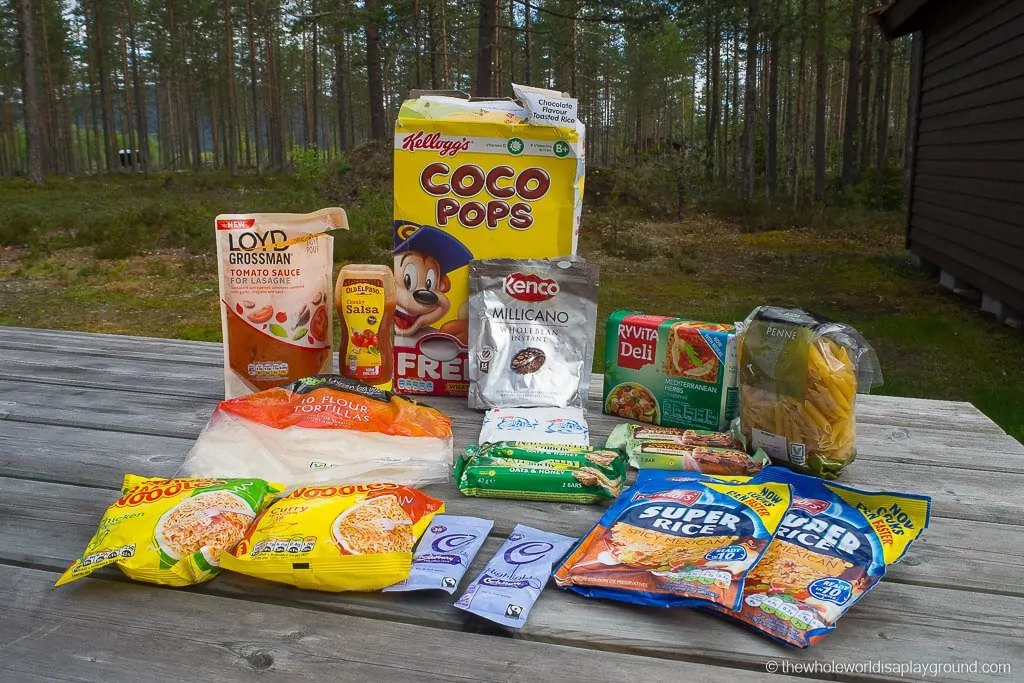 So there you have it, our essential packing list for your Norway adventure. We hope this helps you to prepare for your trip through this immensely beautiful and rugged country. Let us know in the comments if we've missed anything!
For more on Norway