Norway Itinerary and Road Trip Route
After months of planning our Norway itinerary we finally settled on a route which took us through some of Norway's highlights from the capital Oslo through the Fjordlands and as far north as the Arctic Circle. From the magnificent fjords to the breathtaking hikes we were blown away by the variety of sights and scenery on our journey. For any of you planning a Norway road trip, we've shared our ultimate Norway itinerary and self-drive route below. Enjoy!  
 
Norway Itinerary and Route
With our flights arriving in Oslo, we picked up our rental car and began our journey to the fjord lands before heading North to explore some of what northern Norway has to offer.
Norway itinerary tip: We spent over 3 weeks in Norway and drove in a loop beginning and ending in Oslo. You can shorten the itinerary by skipping some of the destinations on the route or by shortening the distance you travel from Oslo.
Norway Itinerary Route: arrive by air to Oslo (1) – Dalen/Morgedal (2) – Lysebotn/Kjerag (3) – Pulpit Rock (4) – Sauda (5) – Odda (Låtefossen/Trolltunga) (6) –  Bergen (7)  – Flam (8) – Jostedalsbreen National Park  (9) – Lake Loen (10) – Andalsnes (11) – Kristiansund (12) – Trondheim (13) – Roros (14) – Oslo (15)
 
Click here to view a more detailed map
Renting a Car in Norway
Renting a car in Norway is the best way to explore the country. Driving conditions are really good with extremely good quality roads throughout the entire country. Having your own car gives you the flexibility to travel at your own pace through the Fjord lands and see places that are simply not possible on group tours or public transport.
We're huge fans of road trips and have driven rental cars in over 40 countries so we have a lot of experience renting cars in foreign countries. Book your car now with RentalCars.com, where you will find the best rental car prices
Click here for the best rental car prices
Ferries, hikes and winter roads in Norway
Norway travel inevitably involves ferries, winter roads and breathtaking hikes.
Ferries: many ferries are frequent and it's just a matter of turning up and waiting for the next departure. However, there are some which only run during peak season or have limited car spaces. You can check for ferry information here
Winter roads: some of Norway's most scenic roads pass through mountains and weather conditions mean they will close for winter. Always checks for winter road closures before you travel especially if you are travelling on the edge of the winter season
Hikes: some of Norway's hikes are challenging and it's important to be prepared for all weather conditions and terrain. We'd advise that you research any planned hikes and make sure that you have all the gear you need. 
Norway Guidebooks
Check out some of our favourite Norway Guidebooks for more trip inspiration. We personally used the Insight Guides and found it really good.
Buy your Norway Guidebook now!
Daily Norway Itinerary
Day 1: Arrive in Oslo 
We decided to explore Oslo at the end of our Norway trip and so, after a short early morning flight into Oslo we opted to begin our journey towards Lysebotn, home to the famous Kjerag hike. It's an 8hour drive from Oslo to Lysebotn so we spent the night halfway between the two after picking up supplies and doing some sightseeing along the way.
 
Day 1 Route: Oslo – Norwegian Mining Museum – Silver – Heddal Stave Church – Dalen/Morgedal
Norway itinerary tip: Norway is relatively expensive so we picked up some fresh food in the local supermarket and a gas cannister in G-Max, a sports store with camping supplies. For more ideas on budgeting during a Norway trip check out our article on how to save money travelling in Norway.
Where to stay in Dalen
We spent our nights in Norway in a mix of hotels, campsite cabins and pitching our own tent at campsites. Our accommodation options will work for all budgets and we loved the variety.
Dalen Hotel AS:  just over halfway between Oslo and Lysebotn. It's a fantastic hotel on the shores of Lake Bandak – check prices here!
Telemark Camping: Again, just over halfway between Oslo and Lysebotn. Telemark is a scenic campsite in the woods by the lake, perfect for both camping or renting a cabin – check prices here!
Morgedal Hotel: located in the proclaimed birthplace of modern skiing, Morgedal is a relaxed hotel with good facilities including a swimming pool. It's 3hours 30minutes leaving just under 5 hours to Lysebotn – check prices here!
Click here for the best Dalen Hotel prices
What to See
Our first stop was the Norwegian Mining Museum in Kongsberg which documents the history of the Kongsberg Silver Mines over 335 years. The museum is home to the world's largest collection of native silver. From there we took the train deep into the Silver Mines for a tour of the mines.  We finished the day with a visit to the Heddal Stave Church, the largest of Norway's Stave Churches Dating back to the 13th Century the fairytale Church is serene and well preserved.
 
Days 2 to 4: Lysebotn 
Day 2 is a scenic drive via Suleskarvegen, one of the highest roads in southern Norway. The drive winds through the mountains and past waterfalls and lakes before arriving in Lysebotn, home to the famous Kjerag and Flori 4444 hikes. We allowed 2 full days in Lysebotn to hike both Kjerag and Flori 4444 and enjoy the incredible scenery. Depending on the time of year you are travelling you might come across 'snow roads' which owe their name to the towering snow walls lining the roadsides.
Norway itinerary tip: many of the scenic roads, including Suleskarvegen, are closed during winter (approximate period is 1 November to late May but this is weather dependent)
Where to stay in Lysebotn
Flørli 4444 Hostel: beautiful hostel and apartments located right on the shores of Lysefjord with incredible views across one of Norway's most beautiful fjords. The hostel is only accessible by ferry: there are 4 departures daily so you need to take ferry times into account when making travel plans– check prices here!
Lysebotn Camping:

basic campsite just 5 minutes drive to the Kjerag car park boasting 

breathtaking views of Lysefjord
Click here for the best Lysefjord Hotel prices
What to see
Budget one day each for the Kjerag hike and the Flori 4444 hike.   Kjerag is a 9km hike with a 600metre climb which leads to Kjeragbolten, a free hanging rock impossibly wedged in a mountain crevice overlooking the beautiful Lysefjord. It's a challenging hike but the incredible views are sufficient reward. We're of average fitness and it took us about 6 hours of actual hiking there and back plus stops for food and pictures along the way. For a more extensive guide to hiking Kjerag check out our detailed article on how to hike Kjerag . 4444 wooden steps lead to the mountaintop on the Flori 4444 hike. It's the world's largest wooden suitcase and was once used to service the pipes of the old Florii power station. Flori 4444 is another challenging hike and probably not for those with a fear of heights! The climb via the stairs takes around 3 hours and the descent, via Store Runden or Rallarstien, is around 3 or 4 hours depending on which you choose.  
Day 5: Pulpit Rock
Another iconic Norway hike, Pulpit Rock is less challenging than Kjerag and Flori 4444. If you leave Lyseboytn early in the morning it's possible to do the Pulpit Rock hike on the same day or, if you're tired after the previous two days of hiking then allow an extra night to rest up.
Day 5 Route: a ferry is essential for this part of the trip and there are a few ways to get there depending on timing, if you are hiking Pulpit Rock on the same day and where you are staying!
Take the ferry from Lysebotn or Florli to Songesand and from there drive to Pulpit Rock. The Lysebotn ferry has limited car spaces so make sure to book ahead.
Drive to Lauvvik and take the Lauvvika-Oanes ferry before continuing to Pulpit Rock
Drive to Stavanger and take a ferry to Tau. This is a long drive but there are more frequent ferries and most of the accommodation options are in Tau.
Where to stay at Pulpit Rock
Preikestolen fjellstue: the closest accommodation to Pulpit Rock Preikestolenfjellstue is located at the entrance to the hike. There's a variety of accommodation options from mountain lodge to a hostel to a hammock by the lake! – check prices here!
Wathne Camping: we stayed in a cosy cabin in Lysefjord between our hikes. The cabins are spacious and very comfortable with everything you'll need to relax and unwind after hiking. It's a 30minute drive to the Pulpit Rock car park – check prices here!
Lilland Hostel Vaulali: private rooms with great communal facilities just 20 minutes drive from Pulpit Rock – check prices here!
Click here for the best Pulpit Rock Hotel prices
 What to see
It's no surprise that the aptly named Pulpit Rock resembles a pulpit. The rectangular rock juts out 600 metres above Lysefjorden and the sheer drop is enough to make anyone nervous! Pulpit Rock is a 3.8km hike with a 330metre elevation gain. We're relatively fit and we found Pulpit Rock a moderate two hour hike each way. If you're planning to hike Pulpit Rock check out our guide to hiking Pulpit Rock for a more detailed overview. If you opt to go via Stavanger check out the giant boulder field of Gloppedalsura Scree on the way to Stavanger.
Day 6: Sauda
From Pulpit Rock we made our way to Sauda via the designated Norwegian Scenic Route Ryfylke, one of Norway's 18 scenic drives also known as National Tourist Routes. There are some beautiful scenic stops along the way with Steindalsfossen Falls being the highlight for us.
Day 6 Route: Pulpit Rock accommodation – ferry from Hjelmeland to Nesvik – Lovra viewpoint – Hose Bridge – ferry Sand to Ropeid – Steindalsfossen Falls – Allmannajuvet – Sauda
Where to Stay in Sauda
Sauda Fjordhotell – classic hotel with nice rooms in the main building (some with great fjord views) and a good restaurant – check prices now!
Sauda Fjord Camping – located by the sea in Saudasjøen. Sauda Fjord Camping has a range of options including cabins and apartments, shared dorms and pitches for tents and campervans – check prices now!
Grand Hotel Sauda – small family run hotel with simple rooms – check prices now!
Click here for the best Sauda Hotel prices
What to see
The first stop is the Lovra viewpoint which has stunning views over Lorvafjorden and the little red cabin on the island in the middle of the fjord. Hose Bridge, a quaint footbridge crossing over the Suldalslågen River, is a quick photo stop. Steindalsfossen Falls is the highlight of the drive and the 180metre waterfall has stairs leading to an upper viewpoint which takes visitors almost within touching distance of the thundering water. The last stop of the day is the Allmannajuvet Museum located in a disused zinc mining works in Sauda with amazing architecture from Peter Zumthor.
Days 7 and 8: Odda/Tyssedal
If Trolltunga, another of Norway's iconic hikes, is on your itinerary then spend the night in Odda or Tyssedal stopping at the beautiful Roldal Stave Church and the twin waterfalls of Låtefossen along the way. Enjoy the scenic route through the Norwegian Scenic Route Ryfylke. Odda is the closest town to the start of the Trolltunga hike and Tyssedal is a village close by.
Day 7 route: Sauda – Roldal – Låtefossen Falls – Odda
Norway itinerary tip: if the road between Hellandsbygd and Røldal is closed then you may want to skip Låtefossen Falls and Sauda during Day 6 to avoid having to drive back.
Where to stay in Odda
Trolltunga Guesthouse: offers both serviced apartments and dormitory style rooms in Tyssedal – check prices here!
Odda Camping: beautiful location between two national parks, Odda Camping has rooms, cabins, apartments and camping facilities – check prices here!
Tyssedal Hotel: basic hotel by Hardangerfjorden in close proximity to the start of the Trolltunga hike – check prices here!
Click here for the best Odda Hotel prices
What to do
Make sure to stop at the Roldal Stave Church en route to Odda. Legend has it that the church crucifix has healing properties when the crucifix overhanging the altar sweats once a year. The twin waterfalls of Låtefossen are another lovely stop along the way.
After resting up in Odda for a night it's time to conquer Trolltunga, the home of the iconic tongue shaped rock jutting over the fjord below. Trolltunga is challenging so make sure you are in good shape and have suitable equipment and supplies before you attempt it. The hike takes around 9 to 12 hours depending on fitness, is 28km return and reaches 1,100 metres above sea level. The reward is incredible views over Lake Ringedalsvatnet and some Instagram worthy photos posing on the Trolls Tongue!
Norway itinerary tip: the recommended hiking season for Trolltunga is mid June to mid September depending on weather conditions that year. Hiking is not recommended in the winter (November to mid February) and a guide is recommended outside of these periods.
Days 9 and 10:  Bergen
Bergen, Norway's second largest city, is a lovely mix of history, culture and nature and the UNESCO listed city is worthy of two nights to explore and enjoy. En route, admire the beauty of Hardangerfjord, be awestruck by the Folgefonna glacier and make a stop at Steinsdalsfossen with its unique opportunity to walk behind the waterfall.
Day 9 route: Odda – Sundal – ferry between Jondal and Tørvikbygd – Bergen
Where to Stay in Bergen
Zander K Hotel: located close to the harbour and beside the train station, modern rooms and a great breakfast – check prices now!
Bergen Budget Hotel: great value hotel option and perfectly located right beside the UNESCO Bryggen waterfront with lots of food and drinks options nearby – check prices now!
Marken Guesthouse: a mix of dorms and private rooms, basic and good value option in Bergen – check prices now!
Click here for the best Bergen Hotel prices
What to see
Hardangerfjord and the Folgefonna glacier are notable sights en route to Bergen from Trolltunga. Stop en route at Sundal for a leisurely hike to view the Bondhus Glacier, an offshoot of the Folgefonna glacier. It's a 2hour round trip to Lake Bondhusvatnet, 3hr if you go to the far end of the Lake and 4 hours if you hike up the Vetledalen Valley for a closer glimpse of the glacier. Starting in the Atlantic Ocean, the mesmerising Hardangerfjord is the second largest fjord in the world and the second biggest in Norway and the ferry between Jondal and Tørvikbygd will take you across it.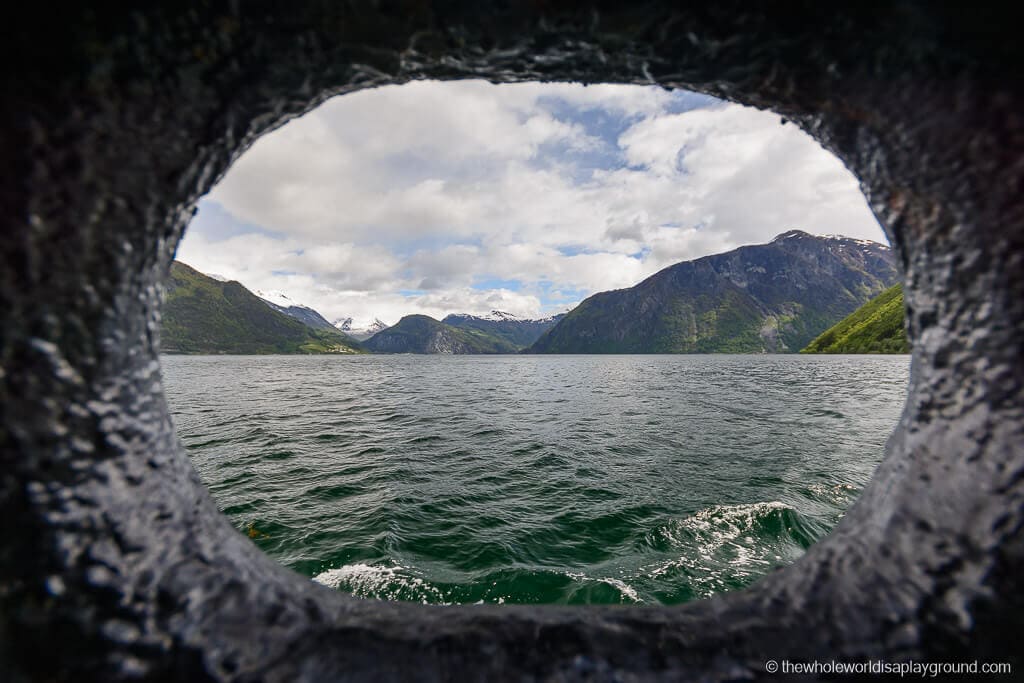 Afterwards, make a pit stop at Steinsdalsfossen where the walkway behind the waterfall means visitors can get up close to the falls. From there spend two nights in Bergen, an international city with a charming small town feel. Take a funicular to the top of Fløyen, one of the 7 mountains surrounding Bergen, or meander through the fish market. Bergen's old quarter, with its stacked wooden buildings lining the waterfront, is listed as a UNESCO World Heritage site and is a step back in time.
Days 11 and 12: Nærøyfjord and Flam
It's a short drive from Bergen to Flam and the adventurous Vloss is a nice stop half for an easy hike to the spectacular Bordalsgjelet gorge. From Vloss, it's another quick jaunt to picturesque Flam, the base for the next few days.
 
Day 11 Route: Bergen – Vloss – Flam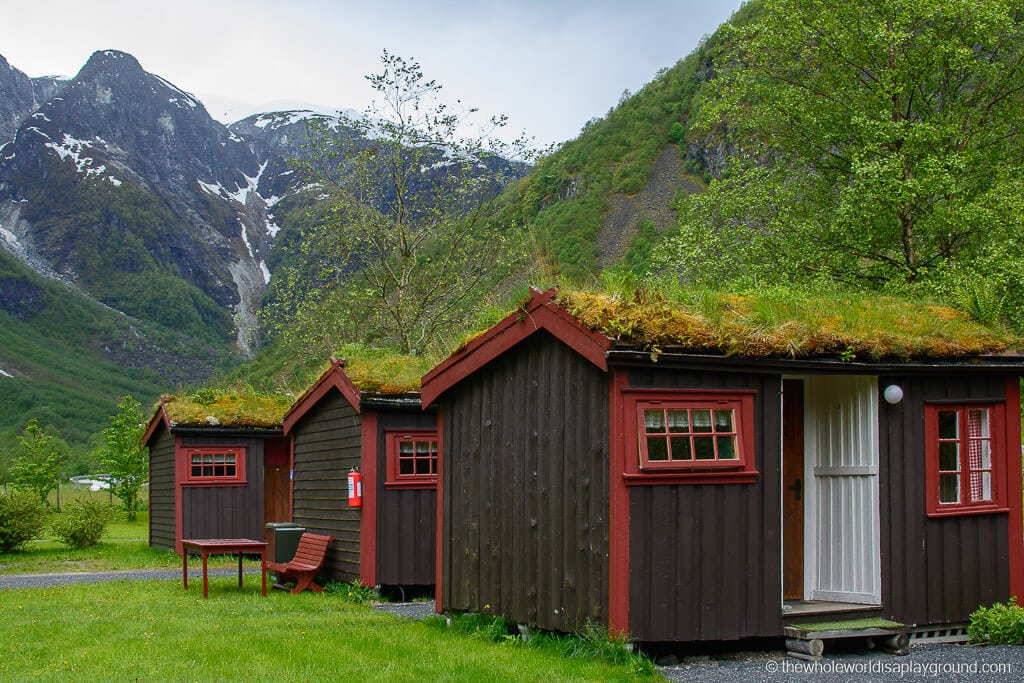 Where to stay in Flam
Flåmsbrygga Hotel – quaint hotel with beautiful fjord views and a great restaurant with its own brewery  – check prices here!
Gjørven Hytter Cottages: traditionally styled cottages with beautiful valley views  – check prices here!
Flam Hostel – choice of dorms and private rooms the Flam Hostel is located by the Aurland Fjord – check prices here!
Click here for the best Flam Hotel prices
What to see
The Bordalsgjelet gorge is a 30minute hike from the centre of Vloss and the clear waters of the steep gorge are spectacular. 2 nights are ideal in Flam to allow a full day for sightseeing. The picturesque Flam Railway is billed as one of the most beautiful train journeys in the world and ascends almost 1,000 metres through scenic valleys and waterfalls making a special stop at the Kjosfossen waterfall. Surrounded by steep mountains and cascading waterfalls, Naeroyfjord is one of the most scenic places in Norway and is listed on the UNESCO World Heritage list together with Geirangerfjord. Science cruises leave from Flam Harbour and it's incredible to sail through one of the narrowest fjords in Europe feeling tiny among the steep mountains.
Norway itinerary tip: If you have an extra day the Prest Hike in Aurland rivals Trolltunga, Kjerag and Pulpit Rock with stunning views over Aurlandsfjord and over to Flåm. Make sure to check out the Stegastein Viewpoint close to the start of the hike.
Day 13: Jostedal
There's a choice of two Stave Churches on today's route: both Borgund and Urnes Stave Churches are detours off the route. Borgund Stave Chruch is the first option on the way from Flam. After taking the ferry between Fodnes and Kaupanger, you can make your way to Solvarn to catch a ferry to Ornes and the UNESCO World Heritage Urnes Stave Church. Spend the night close to the Jostedalsbreen Glacier, the largest in mainland Europe.
Day 13 route: Flam – Stegastein Viewpoint – Laerdal tunnel – Borgund (if you choose to visit Borgund Stave Chruch) – Ferry between Fodnes and Kaupanger – return ferry between Sovarn and Ornes (if you choose to visit Urnes Stave Church) – Jostedal  
Where to stay in Jostedal
Jostedal Hotel – basic, clean and comfortable hotel with good food close to Nigardsbreen – check prices here!
Nigardsbreen Lodge – traditional lodge with private rooms and shared bathrooms with great views of the glacier from the grounds – check prices here!
Jostedal Camping – great cabins, good shared spaces and beautiful scenery – check prices here!
Click here for the best Jostedal Hotel prices
What to see
After leaving Flam check out the Stegastein viewpoint over Aurland Fjord then take the Laerdral Tunnel, the world's longest road tunnel at 24.5km. There are beautifully lit rest areas where conditions mimic daylight and are definitely worth a stop along the way!
Borgund Stave Chruch is an optional detour and was built in 1180. The church is dedicated to Andrew, one of the 12 Apostles. Tucked away on the shores of the Lustra Fjord and only accessible by car ferry, Urnes Stave Church is another optional detour and is one of the most beautiful Stave churches in Norway. Inscribed as a UNESCO World Heritage, the medieval wooden Church is very special both inside and out.