Located between Playa Del Carmen and Tulum, Cenote Dos Ojos is one of the most popular cenotes on the Yucatan Peninsula. It forms part of the Sac Atun cave system, the largest underground cave system in the world, and is one of the best cenotes for diving and snorkeling.
We've put together this guide for anyone planning a trip to Cenote Dos Ojos. We've included everything you need to know before you go, including how to get there, ticket prices, and what to pack to make your time at Cenote Dos Ojos as fun as possible.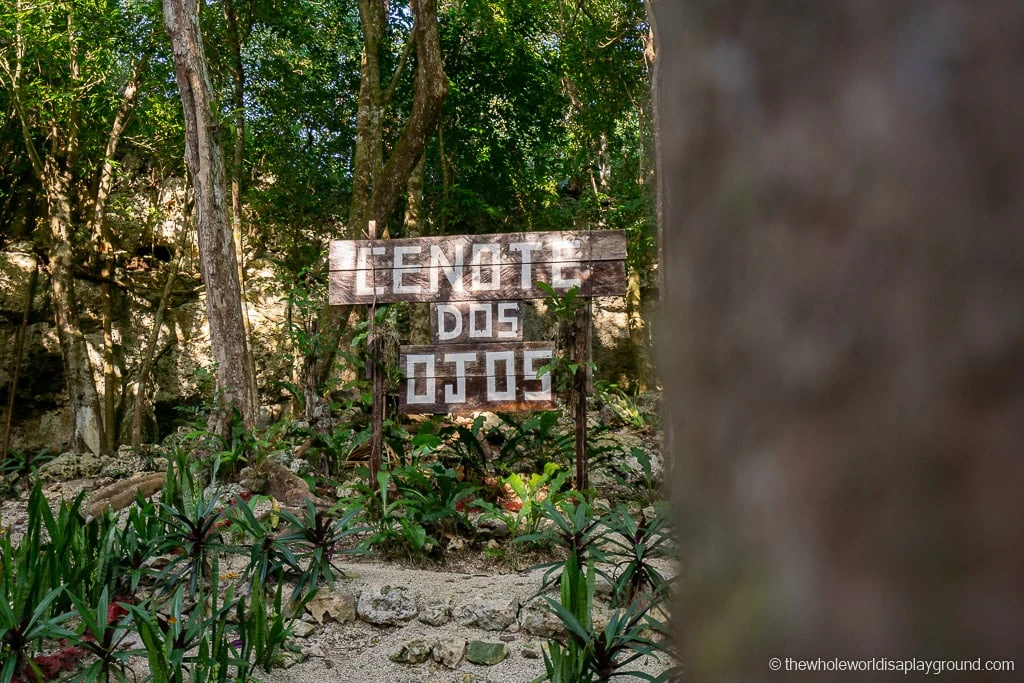 Cenote Dos Ojos
Cenote Dos Ojos is one of the most popular cenotes near Tulum. Its name translates as Cenote Two Eyes in reference to the double sinkholes connected by a boardwalk which take the appearance of two eyes. The double sinkholes join to form an underground cavern, known as the first and second eyes. Stalactites, stalagmites and tree roots adorn the floors and ceilings of Cenote Dos Ojos
Many visitors opt to join a snorkeling tour down into the caves. With its deep cave system, Dos Ojos is also very popular with divers.
Cenote Dos Ojos is the best known of the five cenotes that form Parque Dos Ojos. The other cenotes in the park are Jaguar and Nichte Ha (both open-air cenotes), El Pit (for diving), and Los Monos (the Monkey Cenote).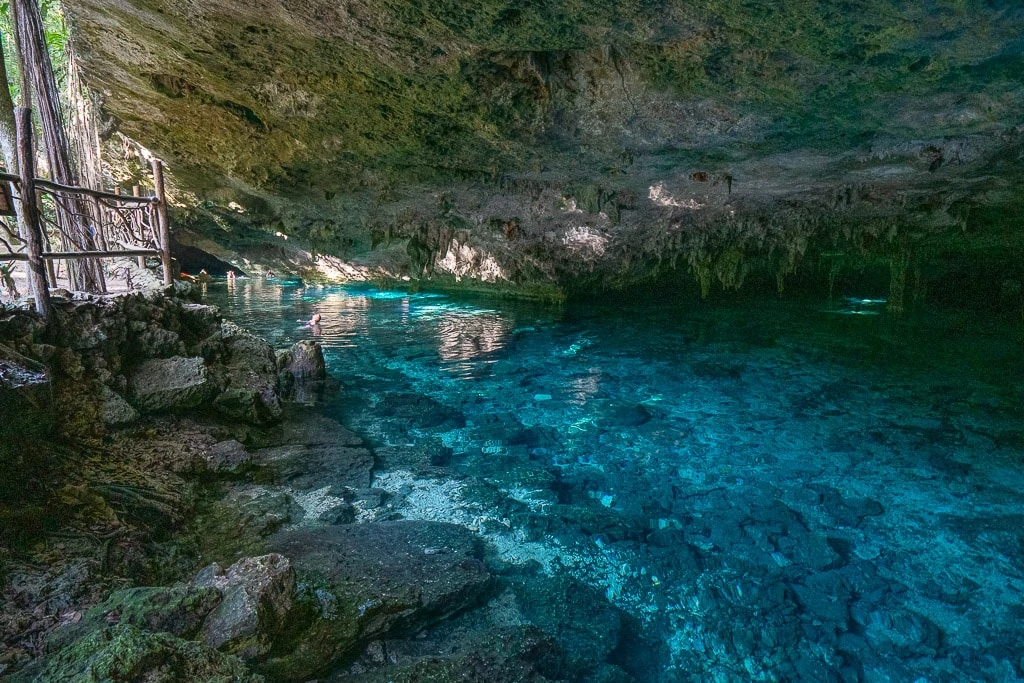 Cenote Dos Ojos tip: in 2018 a connection was found between nearby Cenote Sac Actun and Cenotes Dos Ojos, making the Sac Actun system the largest underwater cave system in the world.
What are Cenotes?
A cenote, pronounced seh-NO-tay, are water-filled sinkholes that naturally occur in limestone rock when an underground cave collapses in on itself and exposes the groundwater underneath. There are thousands of cenotes dotted around the Yucatan Peninsula and many of the cenotes are extremely popular with locals and tourists alike.
The water in the cenotes tends to be cold as the water comes from underground so they are great for a refreshing swim to cool off from the hot Mexican sunshine. We visited a lot of the cenotes in the Yucatan on our road trip and loved cooling off on hot days.
In ancient Mayan times a number of the cenotes were used for sacrificial purposes and objects such as gold, pottery, and even human and animal remains have been found at the bottom of some cenotes.
The cenotes in the Yucatan are a mix of semi-open, open, or underground cenotes:
Semi-open cenotes: these cenotes are mostly underground but have small openings in the ceiling where light and fresh air come in. Dos Ojos would generally fall into this category. We love these cenotes as they are particularly beautiful with light beams illuminating the crystal clear water below. Our favorite semi-open cenotes are Cenote Ik Kil which can be visited as part of a day trip to Chichen Itza and Cenote Samula, a cenote near Valladolid.
Underground cenotes: these cenotes are completely underground in a cave system and have no natural light to illuminate the cenote water. The three cenotes near the Coba ruins (Multum-Ha, Tamchach-Ha and Choo-Ha) are amazing underground cenotes you can easily visit from Playa Del Carmen on a longer stay.
Open cenotes: these are caves that have completely collapsed in on themselves and are exposed to the sky. These are our favorite as you can swim under the blue skies, the water is a pleasant temperature and there are usually lots of areas to relax by the water. Cenote Carwash is one of our favorite open-air cenotes. Our other favorite open cenotes are Cenote Azul in Playa Del Carmen, Cenote Zacil-Ha in nearby Tulum and Cenote Oxman near Valladolid.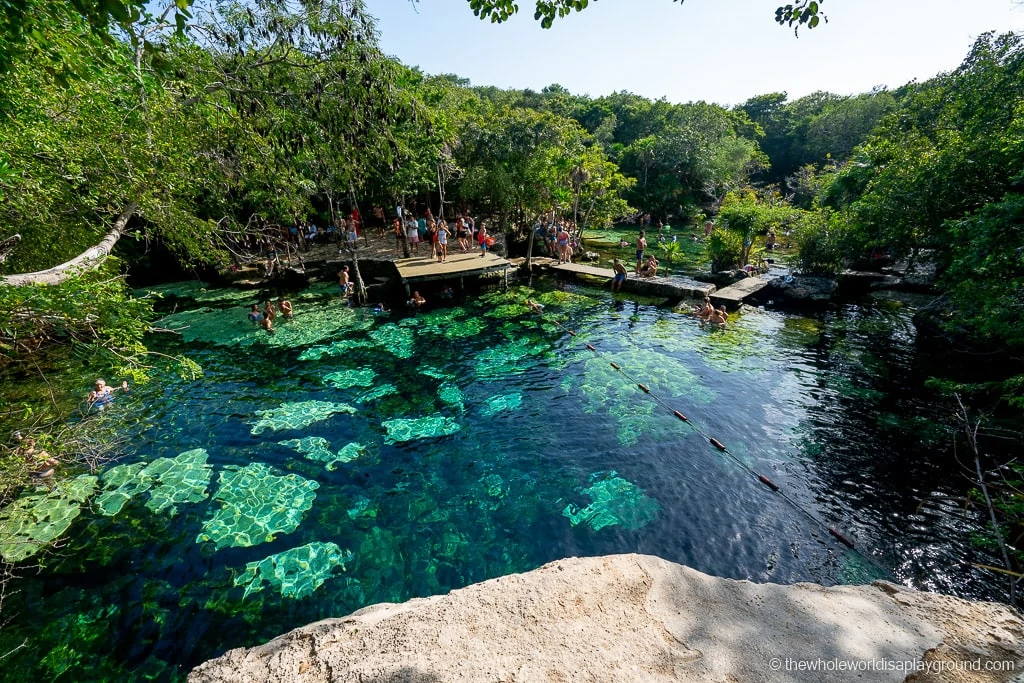 Visiting Cenote Dos Ojos
Cenote Dos Ojos is located just off the main Tulum to Cancun road, approximately 12 miles north of Tulum.
The easiest way to get to the cenote is by rental car and there is lots of parking at the cenote. There are lots of tour options from Cancun and Tulum and taking the public bus or a Colectivo is also an option.
We traveled from Cancun to Tulum in our rental car – if you are considering a rental car then check out our tips for renting a car in Cancun. We booked through RentalCars.com.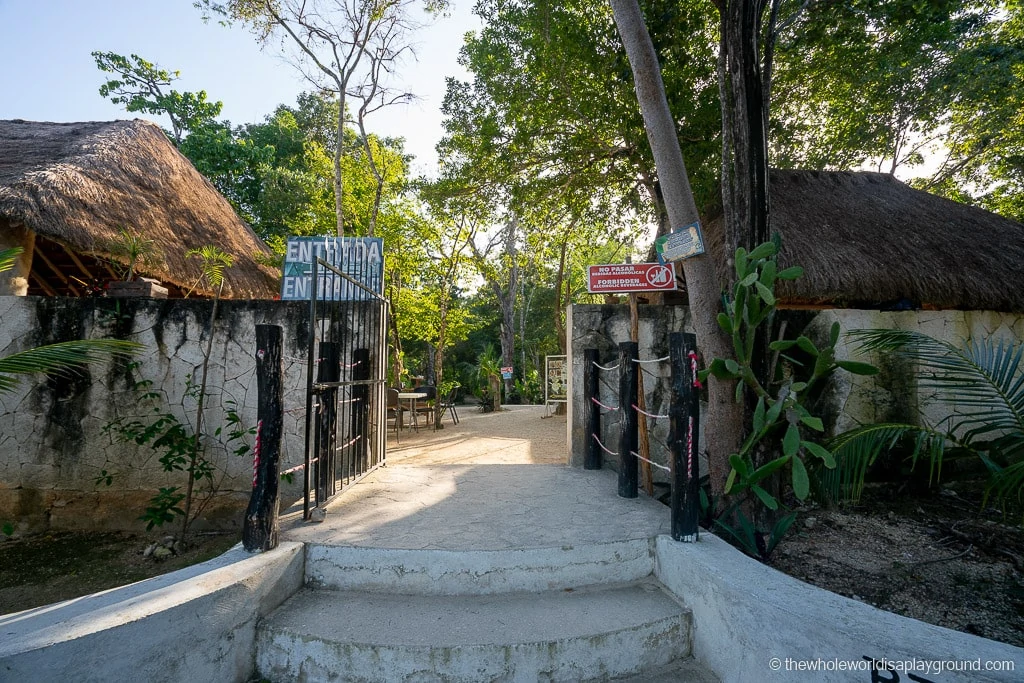 On arrival, stop by the park entrance to purchase tickets (tickets are around $17 USD) and then it's 2km to the cenote entrance – if you travel by public bus or a Colectivo shared minibus then you will have to walk from the ticket office to the cenote which is around 2km/20 minutes each way.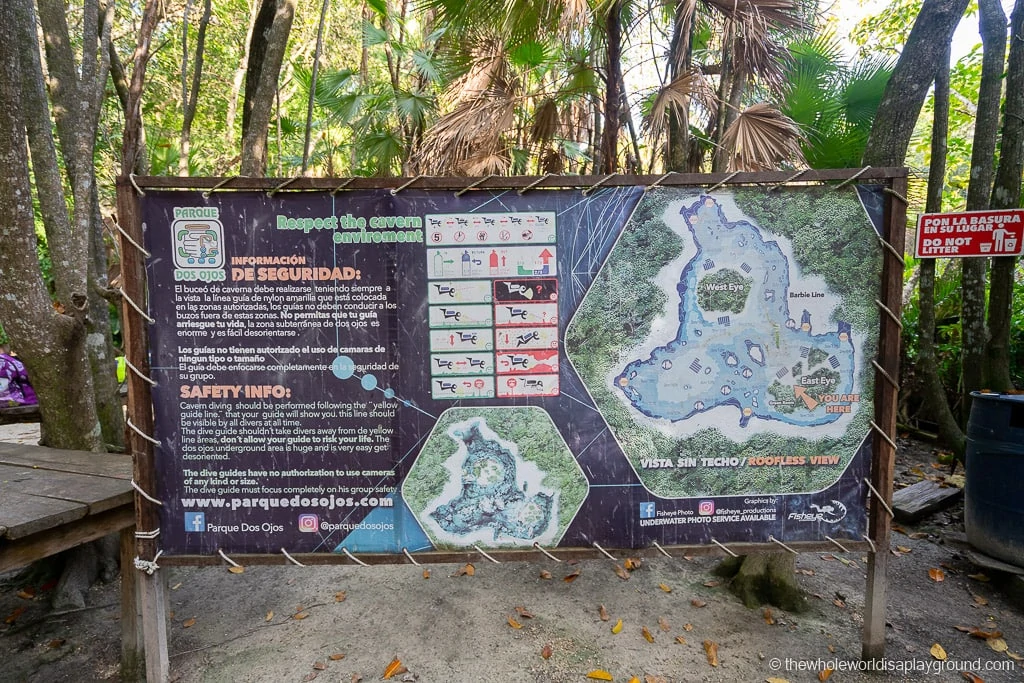 There is a general area inside the entrance where the changing rooms, lockers, and bathrooms are located. Life jackets are included in the ticket price but you will need to rent any additional equipment like snorkeling gear.
Swimming in Dos Ojos
The two areas for swimming at Dos Ojos are Eye 1 and Eye 2. Eye 1 is a smaller, deeper swimming area while Eye 2 is a little shallower and offers more swimming/relaxing options.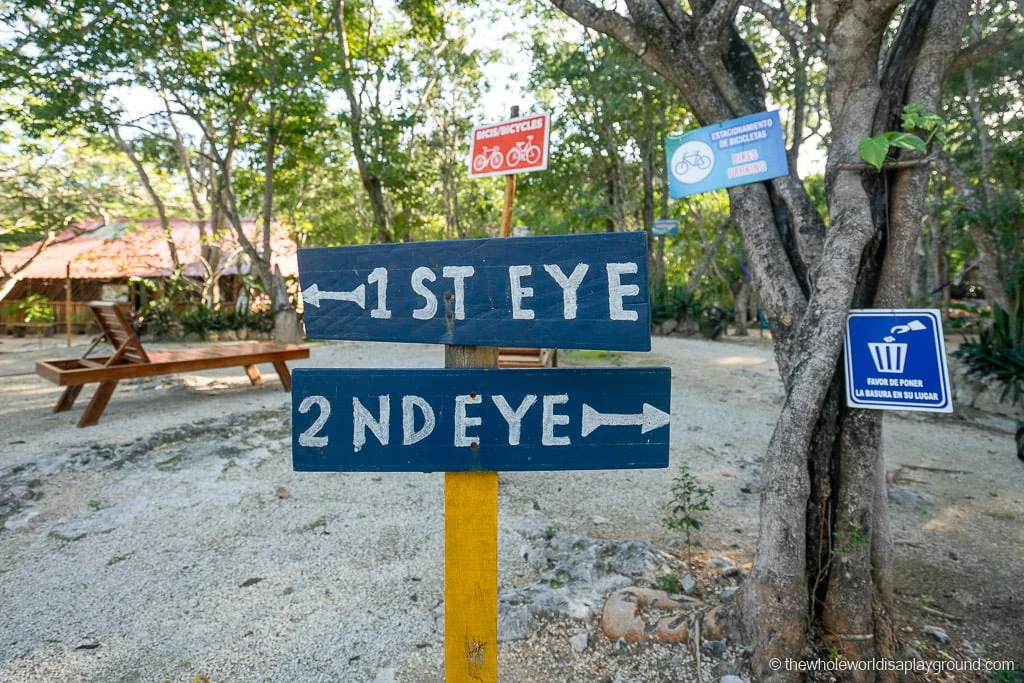 First Eye (East Eye)
The first cenote swimming area is the First Eye which is on the left after you walk into the cenote area. It's the smaller of the two swimming areas and has a large deep area for swimming.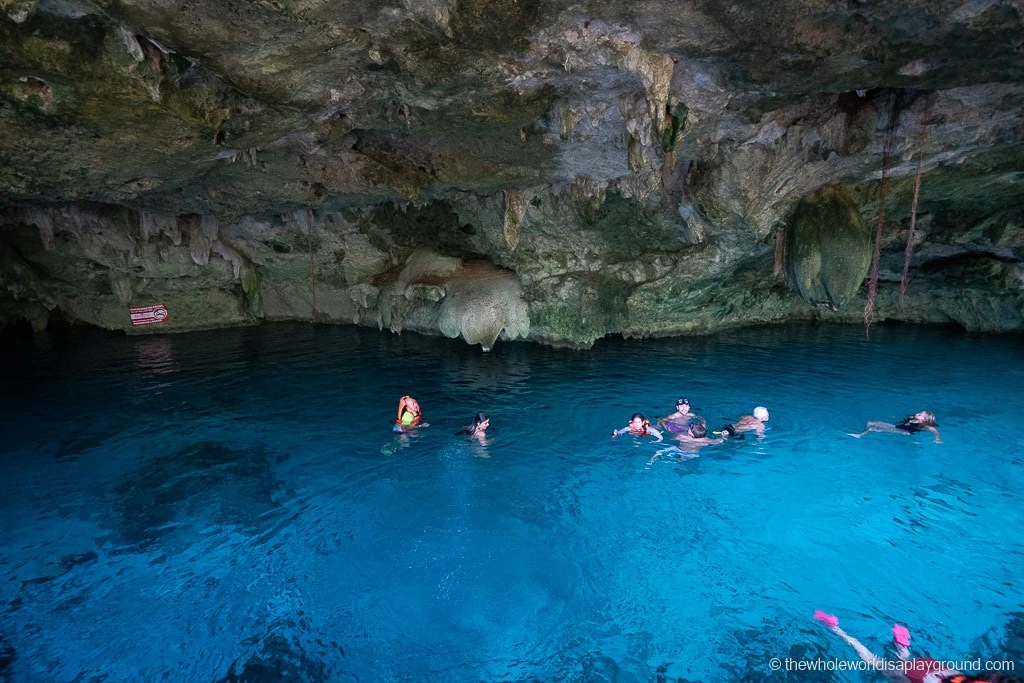 If you're not a confident swimmer it's recommended that you use the life jackets when swimming at the First Eye as the water is deep and the steps lead you directly into deep water.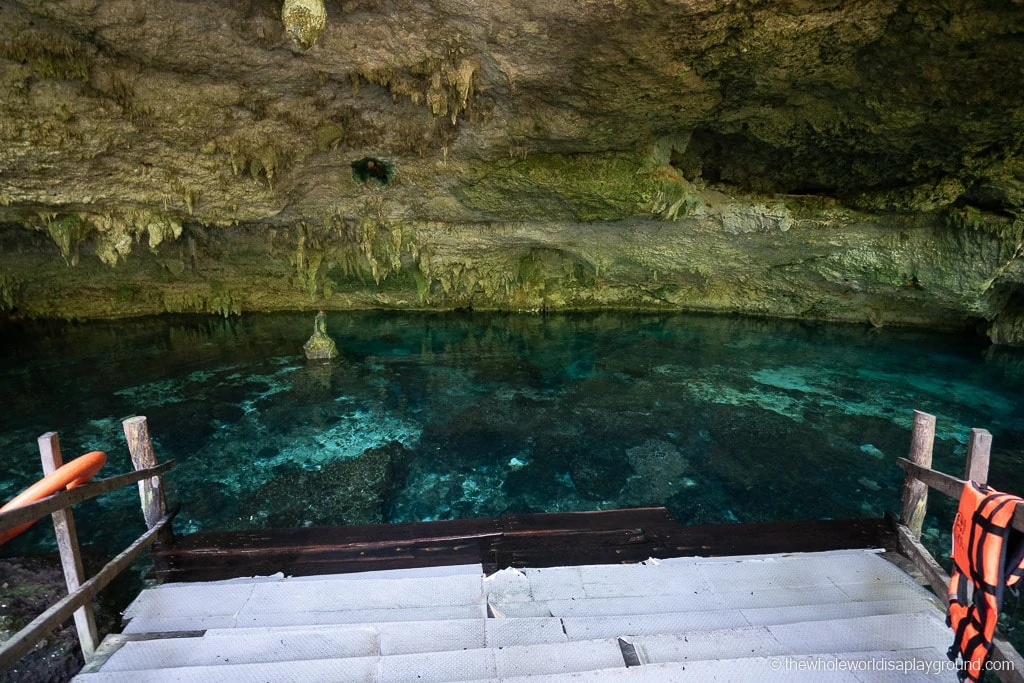 Cenote Dos Ojos tip: Be very careful when walking on the wet wood around the cenote swim areas. The wet wood can be slippy and it's easy to take a fall.
There are a number of tables at Eye 1 for swimmers and scuba divers to use for leaving things like shoes and towels.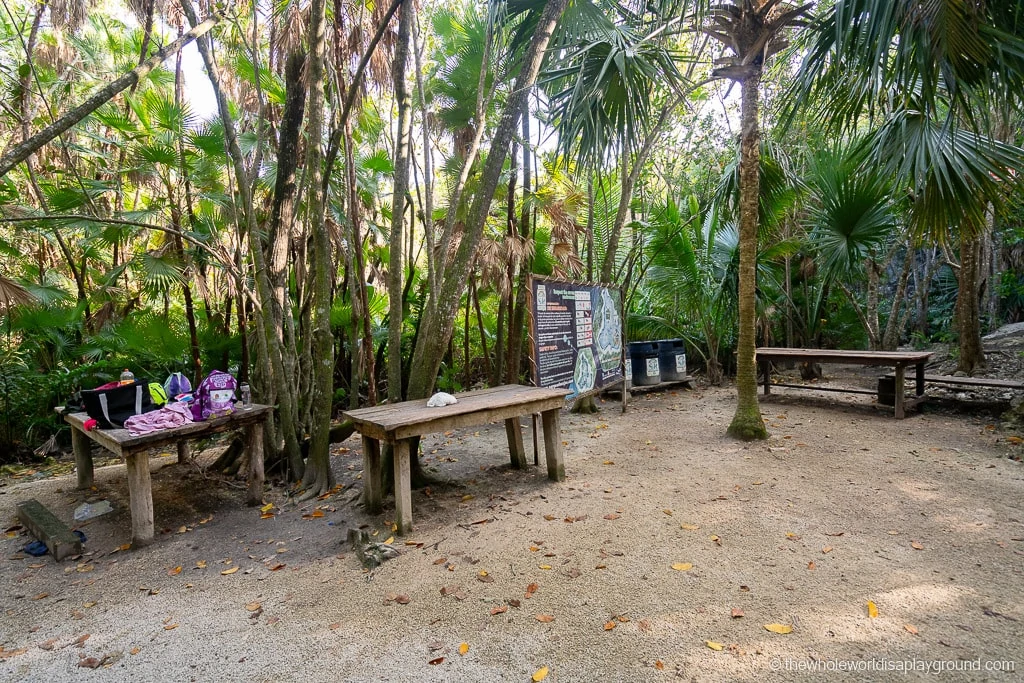 There is a dedicated area on the left of the platform at the First Eye for scuba divers to prepare and enter the water.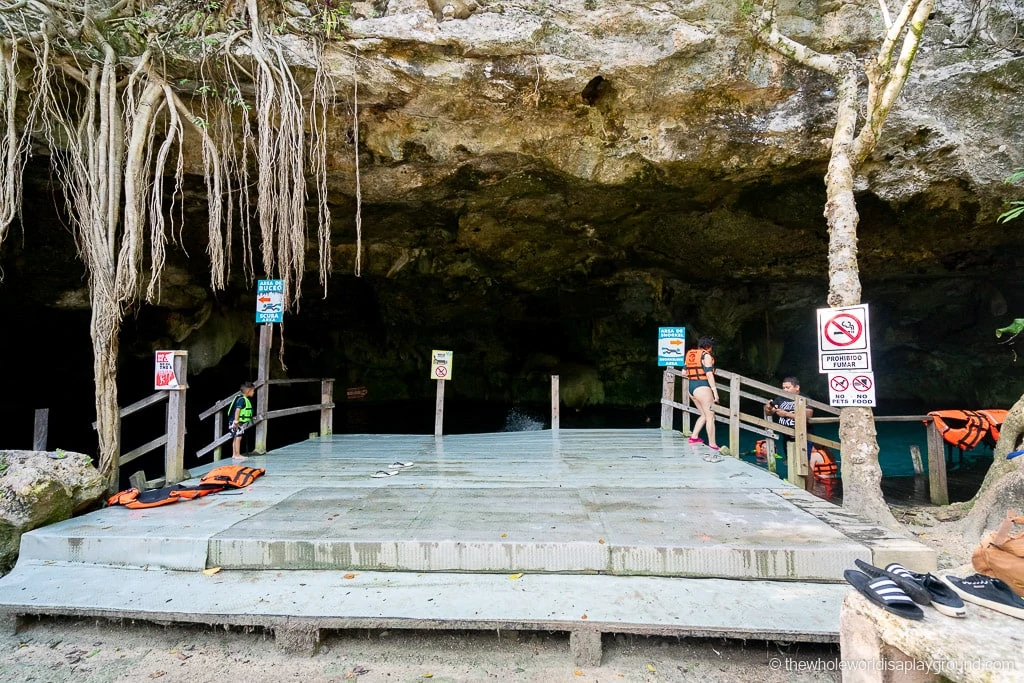 Cenote Dos Ojos: There are a number of different warning signs at the swim areas at Cenote Dos Ojos. One of the most important is in the swim area itself where is warns not to swim into the caves.
Second Eye (East Eye)
We preferred the second eye as it's a larger cenote area with more swimming options. – plus there are hammocks by the water!
There is a wooden walkway with steps from the main area down to Eye 2. The lush trees and overall beauty of Eye 2 make it a great place to relax. The water also varies in depth in Eye 2 so it's easier for anyone less confident in the water to enjoy swimming at Cenote Dos Ojos.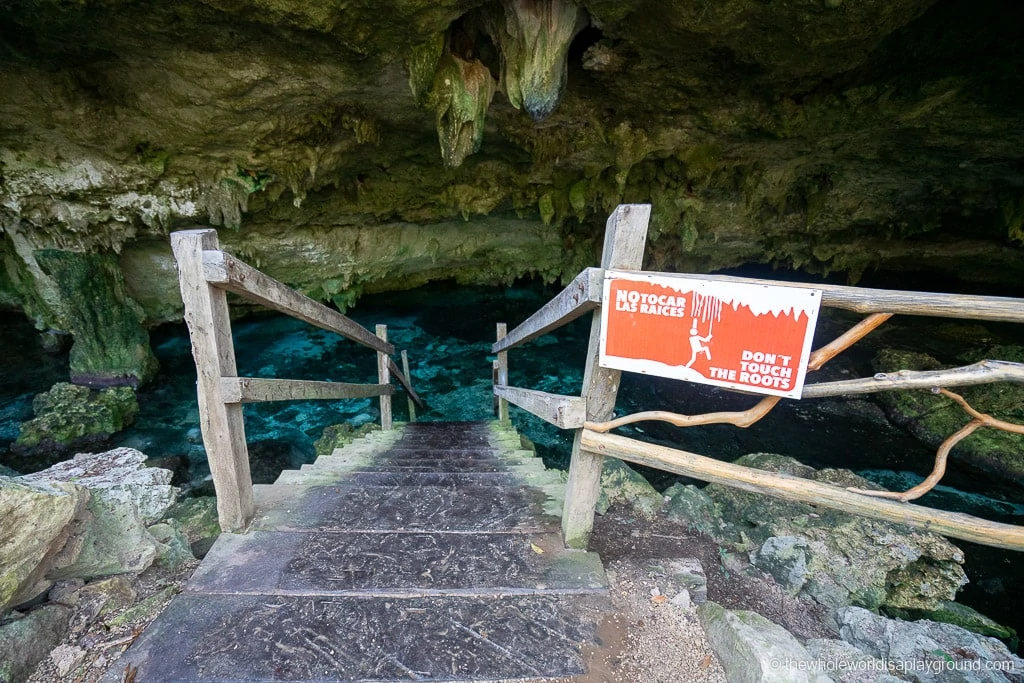 We loved relaxing in the hammocks at the second Eye that are tied to the trees beside the cenote water.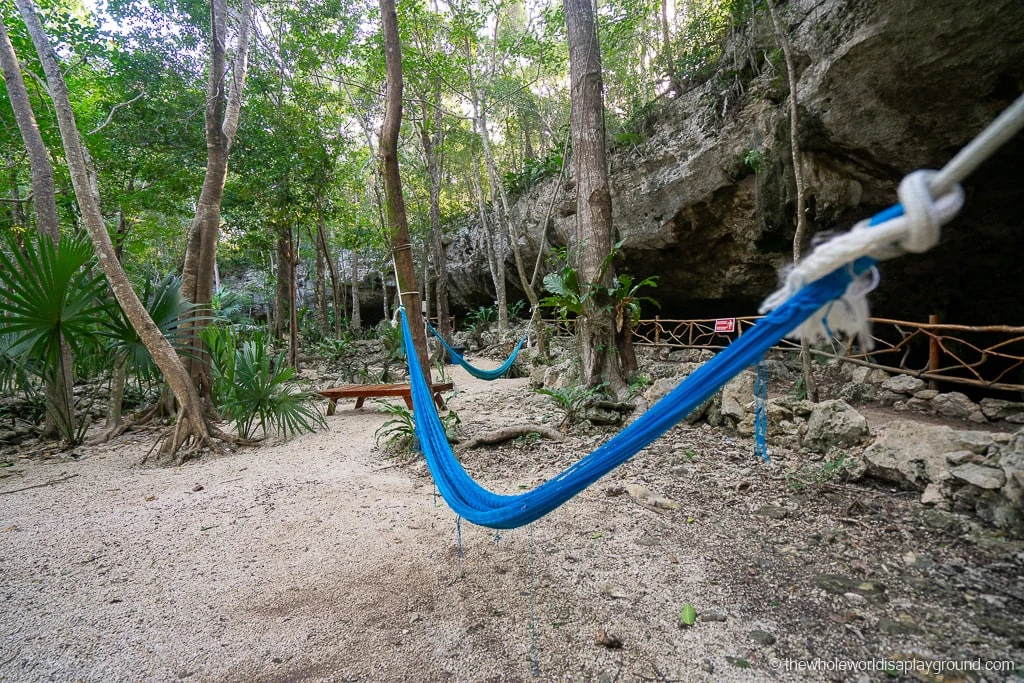 Cenote Dos Ojos Bat Cave
Another popular stop at Cenote Dos Ojos is the bat cave – note, the bat cave is only accessible by guided tour. The guided tour to the bat cave is included with a Dos Ojos Tour ticket and includes rental of a wetsuit, fins and snorkel/mask for around US $34. The guide will lead you in swimming through the submerged passageway to reach the bat cave.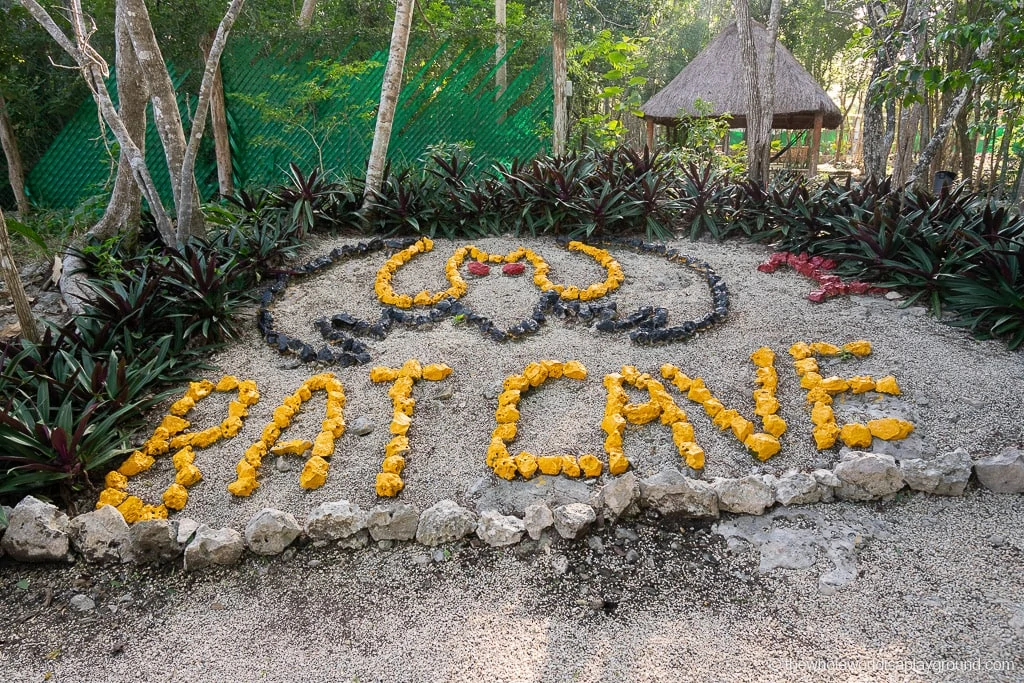 Snorkeling at Dos Ojos
Dos Ojos is a very popular cenote for snorkelling. Snorkels are included with the Dos Ojos Tour Ticket or you can bring/rent them separately if you prefer.
Scuba Diving at Dos Ojos
Dos Ojos is renowned as one of the top diving locations in Mexico due to the vast cave and cavern system available to divers. We recommend organising a scuba tour in advance of your trip to Dos Ojos. There are lots of providers available and it's important to make sure the tour operator is certified.
Tours can be tailored to each visitor's skill level, from beginner to advanced. This is one of the most popular guided scuba tours – check prices now!
Scuba divers can enter the water at both of the eyes at cenote Dos Ojos, with a designated area at Eye 1 for divers only.
Visiting Dos Ojos tip: Follow yellow guidelines at all times when in the water and should be visible to divers at all times – your guide should never lead you away from this yellow guideline.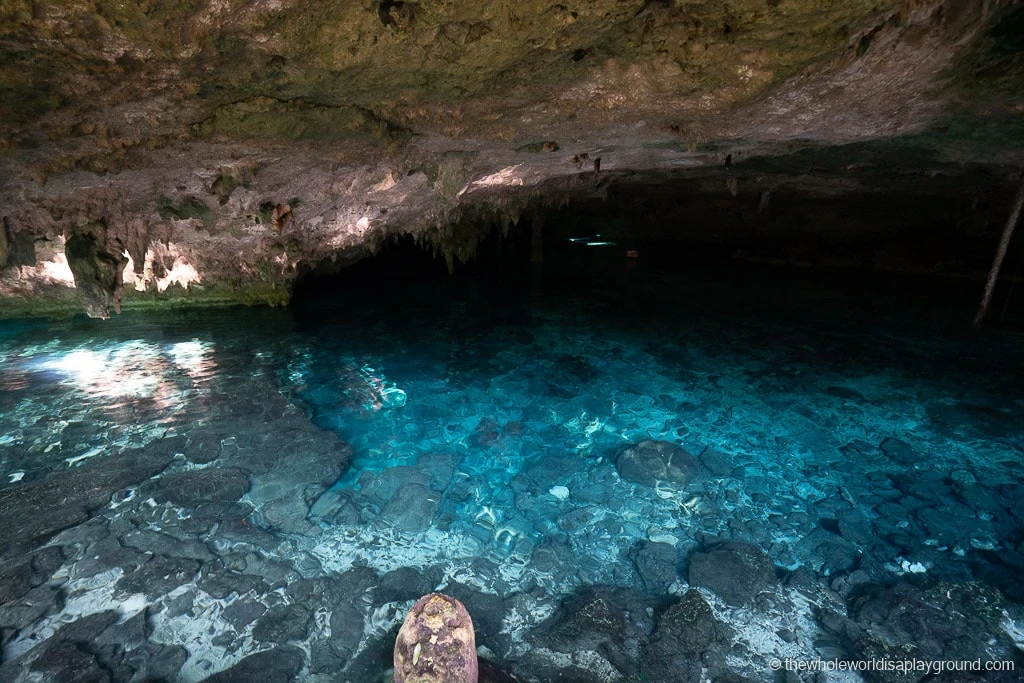 What to Pack for Cenote Dos Ojos
Visiting the cenotes is a little different from other attractions in the Yucatan. It's worth considering packing some of these items when you're visiting the cenotes
Cash
Many cenotes, especially the smaller cenotes, don't accept credit cards. If you need to rent a life jacket or buy any snacks or drinks you're likely going to need cash. Generally speaking, we found it easier to have pesos with us.
Some of the larger cenotes may take credit card for entry, however once inside the cenote area cash is usually the only option.
Towels
Some of the larger cenotes offer towel rental however we found it easier to bring our own large microfiber towels. Microfiber towels are fantastic as they pack small and dry super quick, making them great for the cenotes where you will be hopping back in a car after your swim. We take ours one every trip and we always end up using them – check prices now!
Snorkeling Equipment
You can snorkel at Cenote Dos Ojos and you can rent the gear when you get there. If you plan to snorkel in a few of the cenotes it's worth picking up a snorkel set as you'll save a lot over the rentals – check prices now!
Swim shoes
Swim shoes are great as they give you more grip on the wooden walk-ways around the cenotes. They also help a lot for the shallower entrances at some cenotes where you have to walk on submerged rocks. Make sure to throw them in your bag before you visit the Yucatan! – check prices now!
Sale
Sunscreen
While you cannot wear sunscreen or mosquito spray in the cenotes while swimming, you'll likely spend some time chilling in the sun after your swim.
Waterproof Camera
An action camera such as a GoPro or an Osmo Action is great for snapping photos and video. We loved having our Osmo Action Waterproof camera with us when visiting the cenotes. It allowed us to take some really fun videos and photos while swimming in the cenotes – check prices now!
Sale
Tips and FAQ for Visiting Cenote Dos Ojos
We've put together some additional tips and frequently asked questions for anyone planning a visit to Cenote Dos Ojos.
1 | How to get to Cenote Dos Ojos
There are a number of options for getting to the cenote.
Rental Car – A rental car is the easiest way to visit the cenotes in the Yucatan. We rented a car for our epic road trip through the Yucatan peninsula so it was a short drive from our Tulum hotel to Cenote Dos Ojos. There is plenty of parking right at the cenote entrance and parking is included in the Dos Ojos Tour Ticket – check rental car prices now!
Check prices now on RentalCars.com
Colectivo (Local taxi-bus) – Colectivo's are the local public buses that link the towns and cities of the Yucatan. You can catch a colectivi from Cancun or Tulum that passes the entrance road to Dos Ojos. You only need to tell the driver where you're going and they'll drop you off. It's a short walk from the main road to the ticket office for Dos Ojos.
Taxi – It's also possible to get a taxi to Dos Ojos. A taxi from Tulum should be reasonable however it's worth negotiating the price when you get picked up.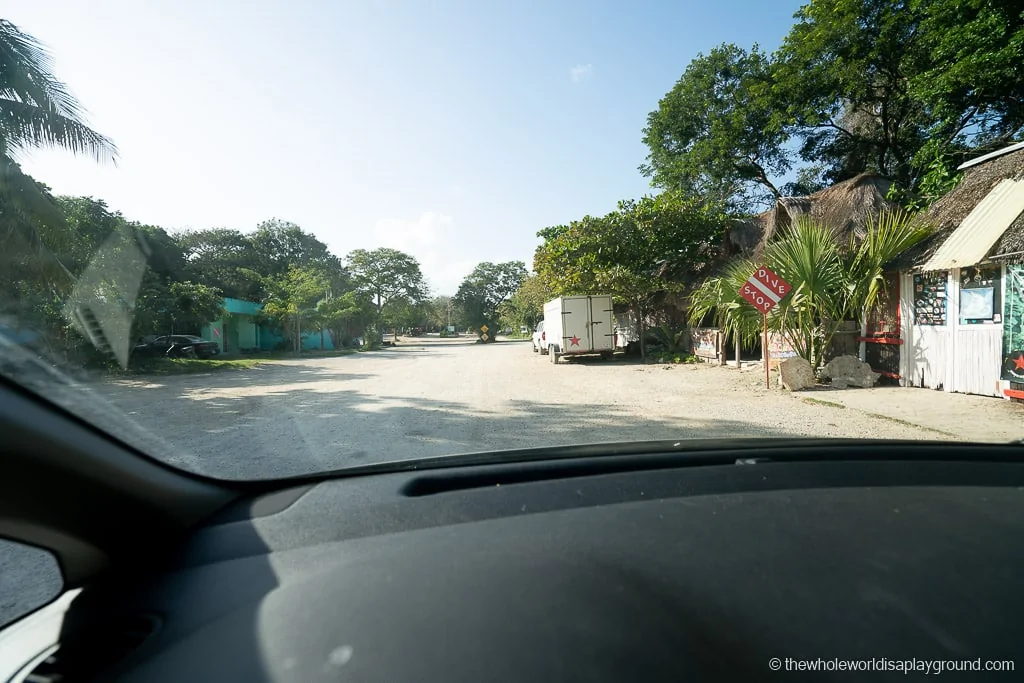 2 | Dos Ojos Opening Hours
Dos Ojos is open from 8 am to 5 pm every day.
Cenote Dos Ojos tip: The cenote gets quiet in the last hour before close and we found that a lot of the stalls and food options closed before the cenote itself closed.
3 | How much Dos Ojos Cenote cost?
The ticket office for Parque Dos Ojos is located just off the main road on the dirt road that leads to Dos Ojos. There is a barrier so you'll need to park up and buy your tickets at the ticket office.
There are two ticket options for Cenote Dos Ojos. The standard entrance to the cenote is one of the most expensive at 350 pesos (around $17 USD) and includes rental of a life jacket, parking and access to swim in any of the swimming areas located in the two cenotes. We bought the standard ticket when we were there as we only wanted to swim and relax for an afternoon.
The second ticket option is the Dos Ojos tour ticket at $700 peso (around $34 USD), which adds locker rental, snorkel gear rental and a guided tour around the cenote. The tour ticket also gives you access to the bat cave inside the cenote.
There's no actual time limit on your visit so you can stay as long as you like for the day. We spent an entire afternoon at Dos Ojos as there are lots to do and it's a great place to relax
4 | The Best Time to Visit Dos Ojos
Like most cenotes in Mexico, Dos Ojos gets pretty busy in the middle of the day and at weekends. We visited Dos Ojos around noon, but the crowds slowly reduced over the afternoon. There were very few visitors at the cenote in the last hour before closing and it was really nice relaxing in the hammocks at Eye 2 without the crowds.
We spoke with some other visitors while we were at Dos Ojos and learned that the cenote does get very busy at weekends when locals and tourists visit.
5 | No Alcohol
Like all cenotes in the Yucatan, it's forbidden to swim if you've been drinking alcohol. In addition to this, no alcohol is allowed into the Cenote Dos Ojos visitors area.
6 | Don't touch the Roots, Stalactites, or Stalagmites
This goes without saying but while swimming at Dos Ojos (or any cenote) do not interfere with the beautiful roots, stalactites or stalagmites that adorn the floors and ceilings of Cenote Dos Ojos. There are numerous signs warning against this kind of behavior and anyone caught will be subject to prosecution.
The ecosystem of the cenote is incredibly fragile and it is a serious offence to touch or remove anything from the cenote. There are lots of warnings at each of the entry points at Dos Ojos so make sure to follow the rules.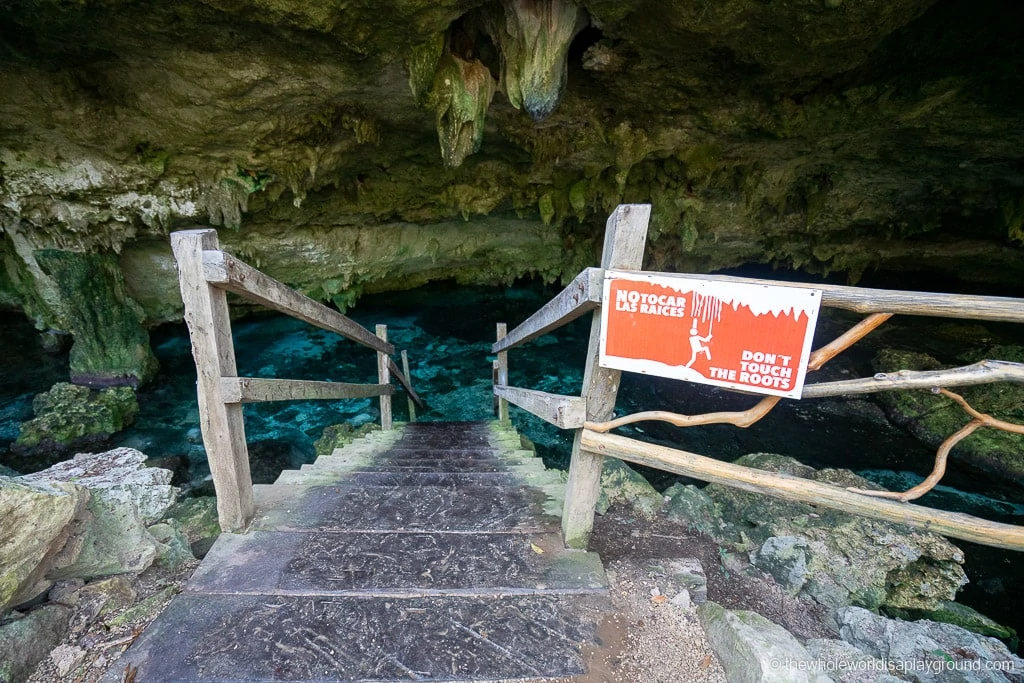 7 | Sunscreen / Mosquito repellent
You are not allowed to wear sunscreen or mosquito repellent before you enter the water at the cenote. This is to preserve the quality of the water for everyone. There are showers available which you have to use before you enter the water, however, you shouldn't apply it at all if you're planning to visit the cenotes.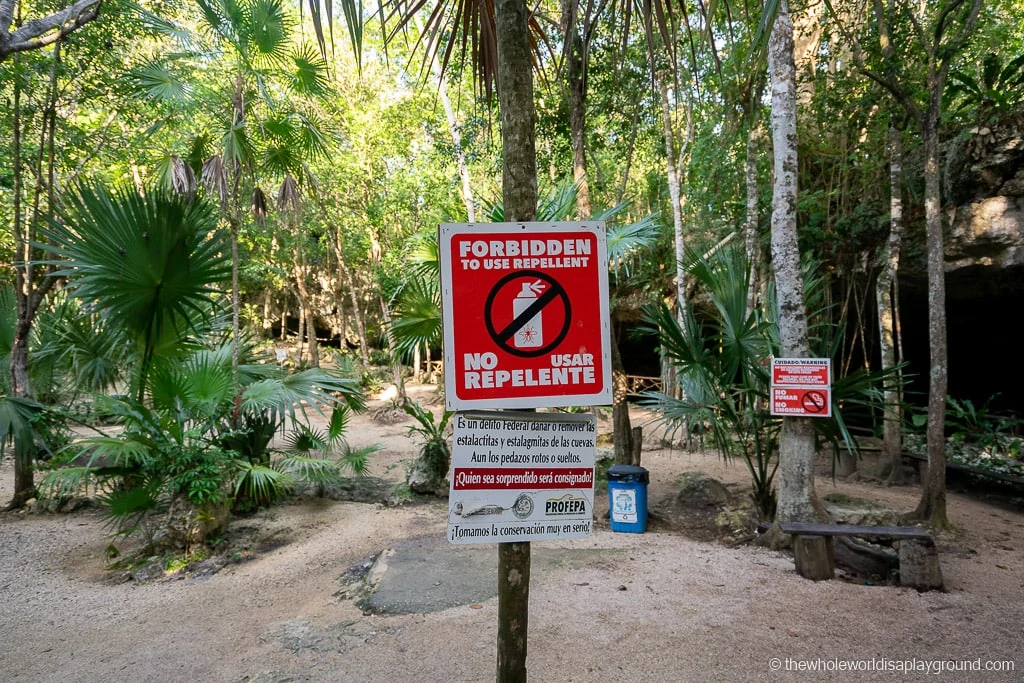 8 |Jumping
There is no jumping allowed at Cenote Dos Ojos.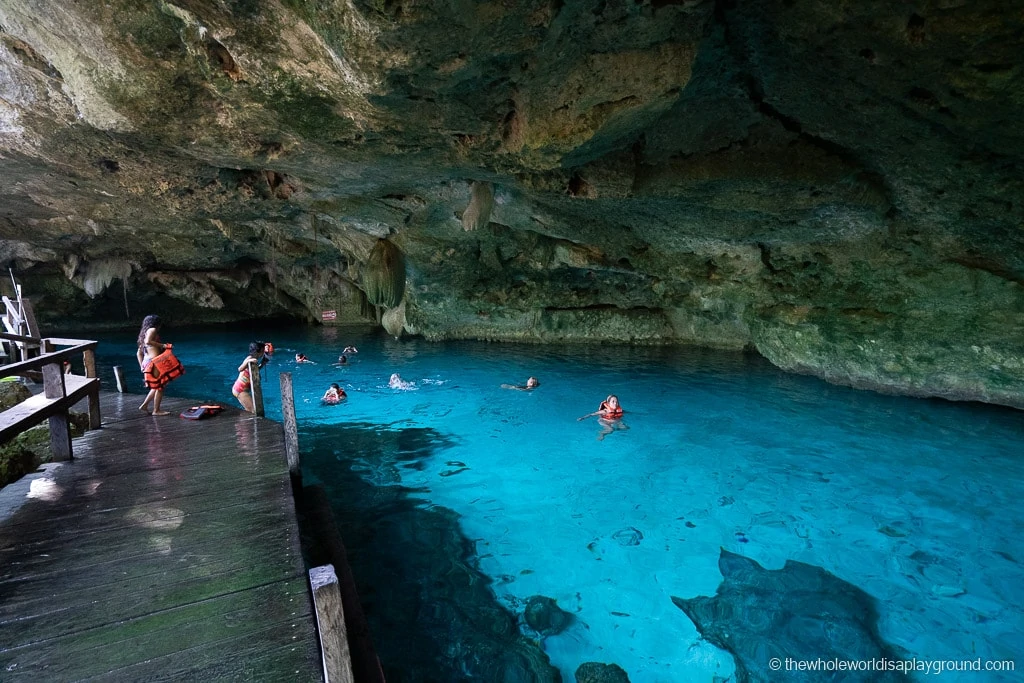 Facilities at Dos Ojos
Due to its size and popularity, the facilities at Dos Ojos are very good.
Lockers and changing rooms
There are lockers and changing rooms available to all visitors. The lockers are included in the price of the Dos Ojos Tour ticket but you can pay separately.
Massage rooms
There are a number of massage areas for anyone who wants to relax even more!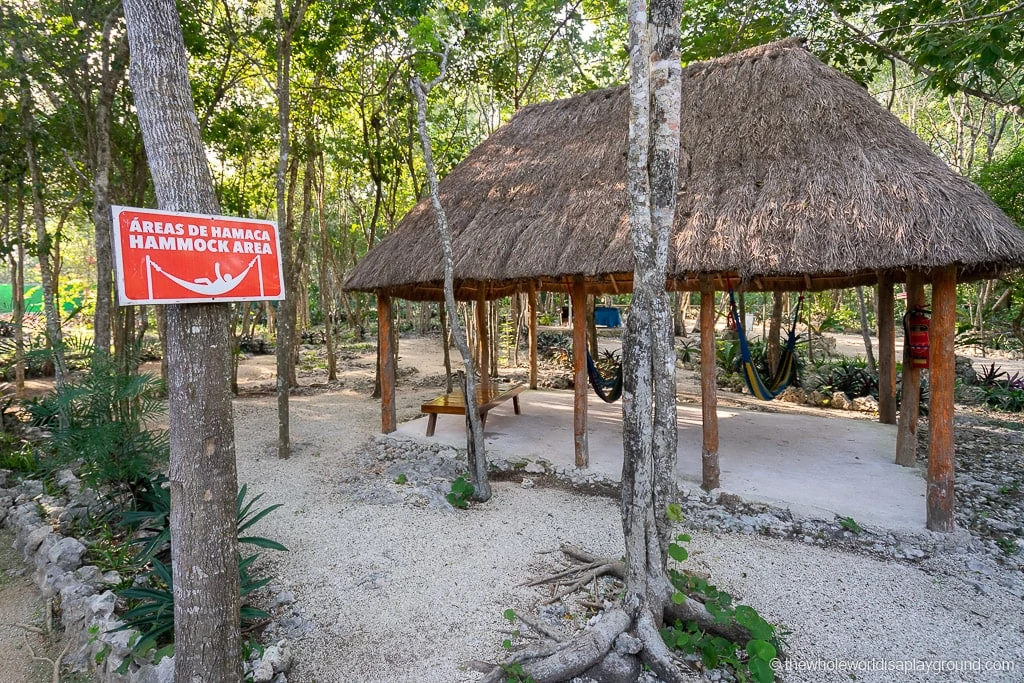 Hammocks
There are two areas with hammocks at Dos Ojos. The first is a designated hammock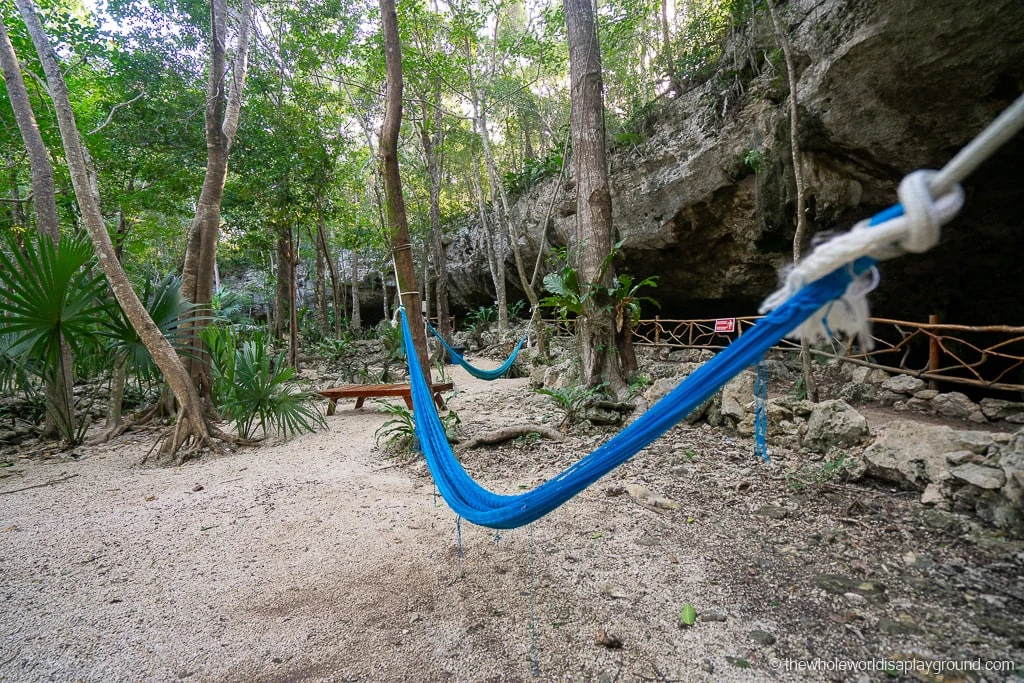 Food
There is a restaurant (Dos Ojos Restaurant) located at the entrance. We didn't eat here however prices seemed reasonable at there was a steady flow of customers when we visited.