Norway is one of the most beautiful countries in the world and is renowned for its stunning landscapes and magnificent fjords. Renting a car is one of the best ways to explore Norway and allows the flexibility to explore the country at your leisure. We've driven 4,000km through the country and explored its Fjordlands, UNESCO's, hiking trails, and experienced everything the country had to offer, all of which was possible with our rental car. We wanted to share our top tips for renting a car in Norway, including the benefits of renting a car in Norway and tips for planning your trip.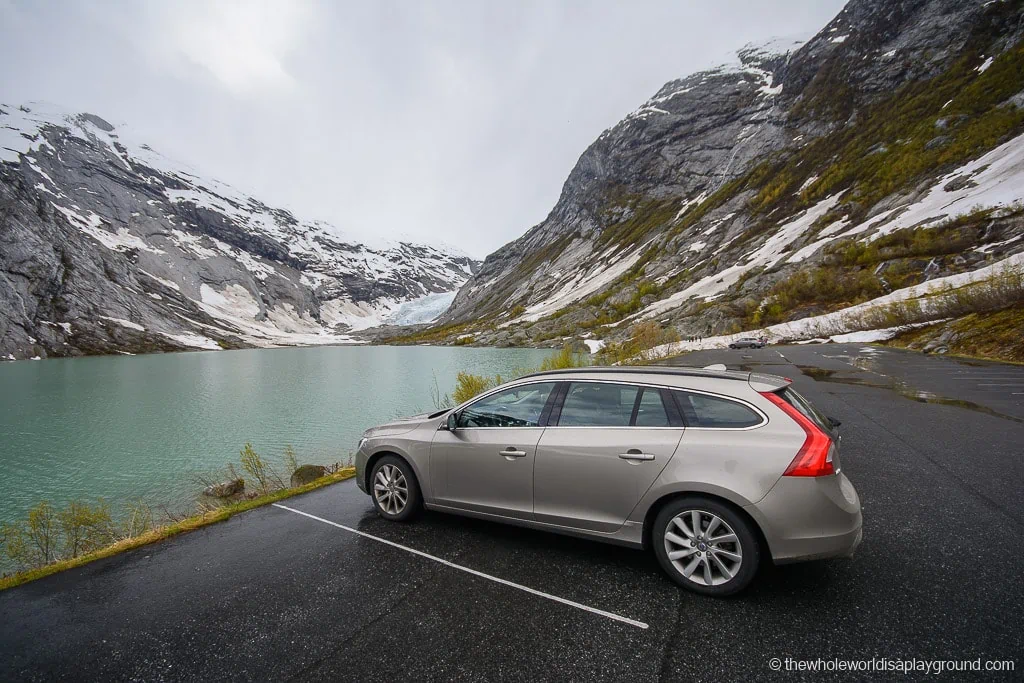 Why Rent a Car in Norway?
Renting a car in Norway is one of the easiest, most flexible, and most cost-efficient ways to explore the country. From the stunning Fjordlands to the epic scenery of the Atlantic Road, Norway is packed with stunning sights, incredible hikes, and beautiful things to see and do.
Having a rental car gives you the flexibility to explore the country on your own schedule. It is also one of the safest countries in the world for driving – the roads are very high quality and the speed limits are low.
Some of the driving routes in Norway are among the most beautiful in the world. Roads like Trollstigen and the Atlantic road can really only be experienced by car and driving it yourself is all part of the adventure!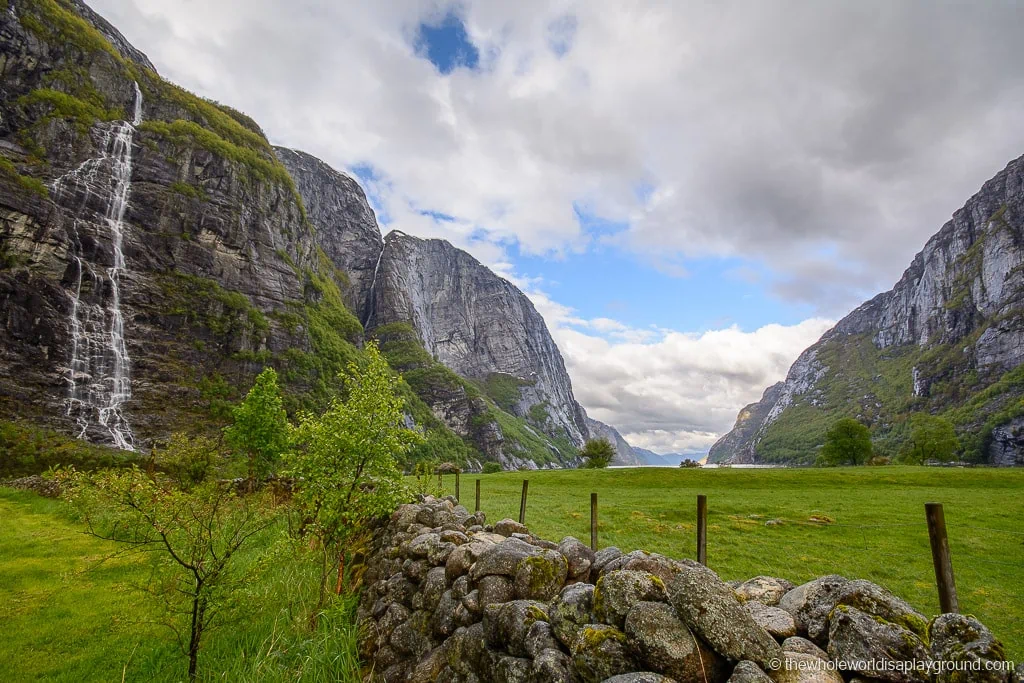 17 Tips for Renting a Car in Norway
Having traveled over 4,000km through the country, here are our best tips for renting a car in Norway!
1 | Booking your rental car
Although it can be an expensive country to visit, renting a car in Norway is relatively affordable. For the best availability and prices, we recommend booking your rental car well in advance, particularly during the peak summer months. We booked our rental a few months in advance through Hertz via RentalCars.com and found a great price for an excellent car.
We're huge fans of road trips and have driven rental cars in almost 50 countries so we have a lot of experience renting cars in foreign countries. We recommend using RentalCars.com to reserve your car. They have the best selection and prices that we've found – book your car now with RentalCars.com
Click here for the best rental car prices
2 | Choosing a rental car
One of our biggest tips for renting a car in Norway is to hire larger car than you need. We recommend going a size up depending on your group size. The drives in Norway are beautiful but drive times between destinations can also be very long due to sightseeing and stops. This means you will be spending a lot of time in your rental car so being comfortable will make your trip a lot more enjoyable. We hired a Volvo V60 for the two of us and the extra space in the car really made the trip more comfortable.
3| Speed Limits and Fines
Adhering to local speed limits is obviously extremely important when driving in any country but we wanted to highlight the mix of low-speed limits and heavy fines in Norway. The following general speed limits exist in Norway (unless otherwise signposted):
Regular roads: 80km/h: the general speed limit which drops to 50 km/h in built-up areas.
Built-up Areas: 50 km/h
Motorways/some dual carriageways: 110 km/h
Residental Areas: Speed limits can also drop to 30 km/h in residential areas.
Speed Fines in Norway
Hopefully, you'll never need to worry about speed fines in Norway but it is worth being aware that Norway has some of the heaviest fines and punishments for speeding in Europe. Basically, you never want to go above the speed limit in Norway.
Fines operate on a sliding scale once you go over the speed limit: 800 NOK (90 Euro) for 1-5km/h above the speed limit all the way up to 10600 NOK (1,200 Eur) and even a minimum jail sentence depending on how high above the speed limit you are. For example, driving at 150km/h on a Norweigan motorway will land you in jail for at least 18 days.
Cruise control
We found cruise control invaluable while driving in Norway. With the relatively low-speed and strictly enforced speed limits, cruise control makes it much simpler to adhere without having to worry.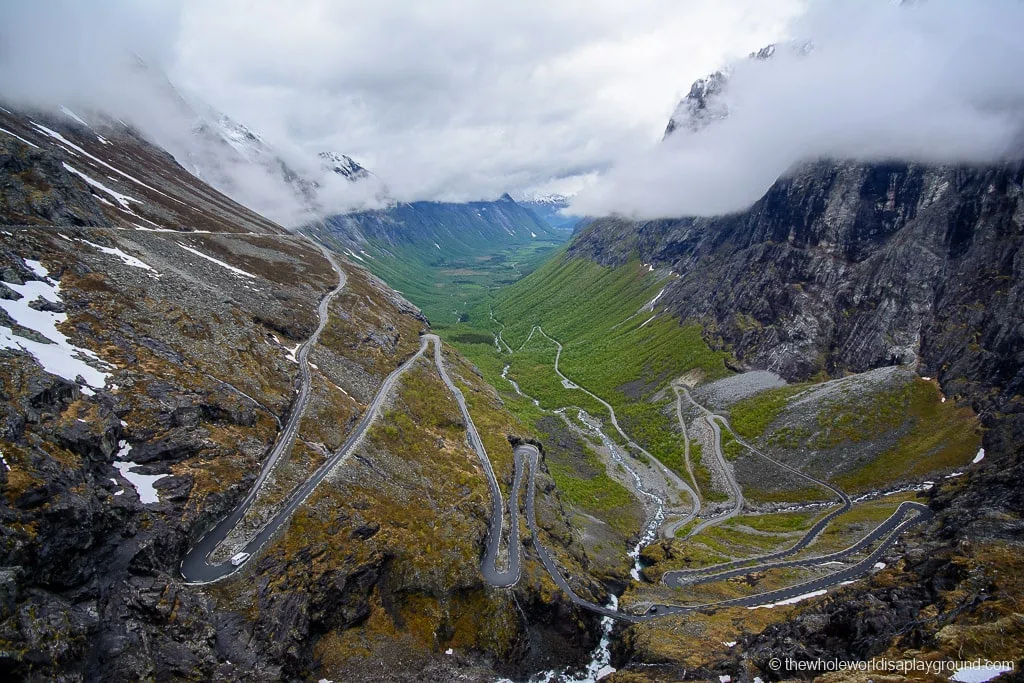 4 | Rental Car Insurance
Third-party insurance is compulsory in Norway so at a minimum, this will be included with your car rental. This third-party insurance is usually referred to as the standard Collision damage waiver (CDW) and has an excess amount attached. This means if you have an accident you'll pay up to your excess. This can range from a few hundred Euros to thousands, so check with your rental car provider before you book.
You can reduce or remove this excess completely by paying an additional daily rate – you might already be covered for this if you hold a travel credit card so make sure to check. This extra insurance allows you to minimise or remove your cost in case of damage to your rental car.
Renting a car in Norway tip: We always recommend having full insurance on your rental car to avoid any nasty excess payments in case of damage or an accident. It might be tempting to not get the extra insurance to save money on your Norway trip but we wouldn't recommend it
Most rental car companies on RentalCars.com allow you to add this full or super insurance in at the time of booking so you won't get any price shocks when you pick up your car – check prices now!
Book your car and insurance on RentalCars.com
Renting a car in Norway tip: Many credit card companies (especially US ones) offer car rental insurance with CDW (Collision Damage Waiver) cover – make sure to check with your car provider to ensure it covers Norway before you travel.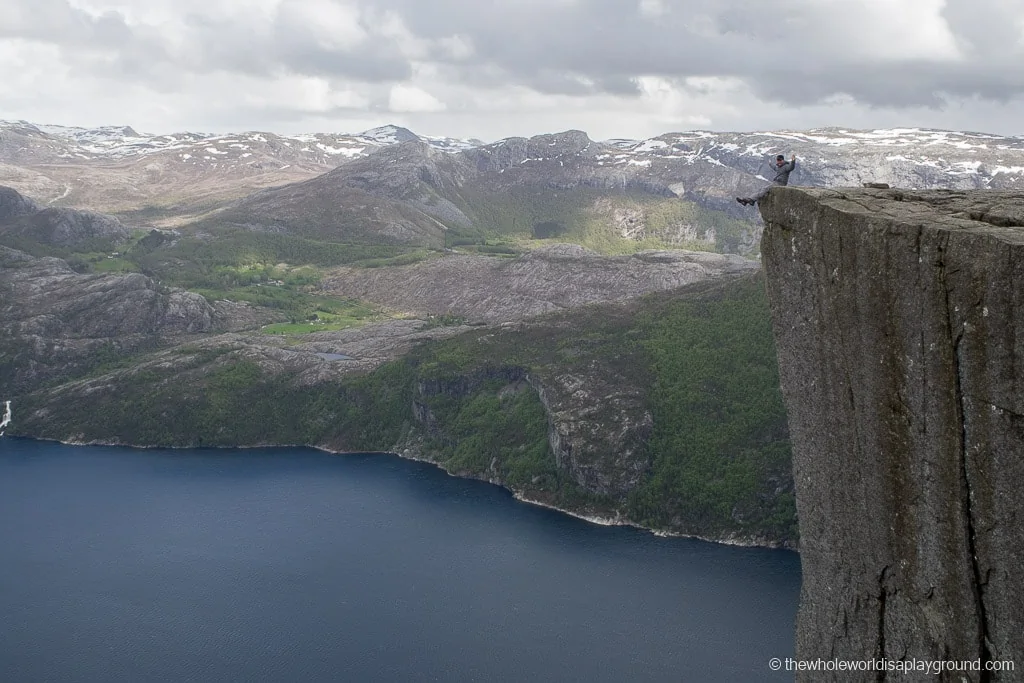 5 | Renting Eligibility
Visitors must be aged 19 and up to be eligible to rent a car in Norway. You must also have held your driver's licence for at least 1 year and renters under age 25 may have additional costs and are restricted to lower car classes.
6 | Fuel
Most cars in Norway are diesel so it's likely that your rental car will also be diesel. Norway has some of the most expensive fuel prices in Europe (diesel is around 2EUR per litre) so it's worth allowing a budget for fuel. We drove from Oslo through the Fjordlands, north to Trondheim and the Arctic Circle and back to Oslo. This route was approximately 4,000 km over three weeks and the fuel costs did add up. Our fuel bill for our trip came to around €400, but we did do a lot of long-distance driving!
Renting a Car in Norway tip: We had no problem finding gas stations throughout Norway during our trip. There has been a recent surge in Electric Vehicles (EV's) in Norway so many stations are converting to electric with reduced fuel pumps. It's worth checking ahead for any planned stops to make sure the station you plan to use still uses pumps.
7 | Navigation
While you can use Google maps to plan your journey in Norway, we found that in many locations (especially in the Fjordlands) reception can be very unreliable. For this reason, we recommend using an offline app or dedicated sat nav for your Norway road trip. We recommend Maps.me (iOS and Android) or OsmAnd (Android) for offline navigation. We used OsmAnd during our trip and it worked great.
It's worth packing a car phone holder for your trip to Norway, one of the many road trip essentials we recommend.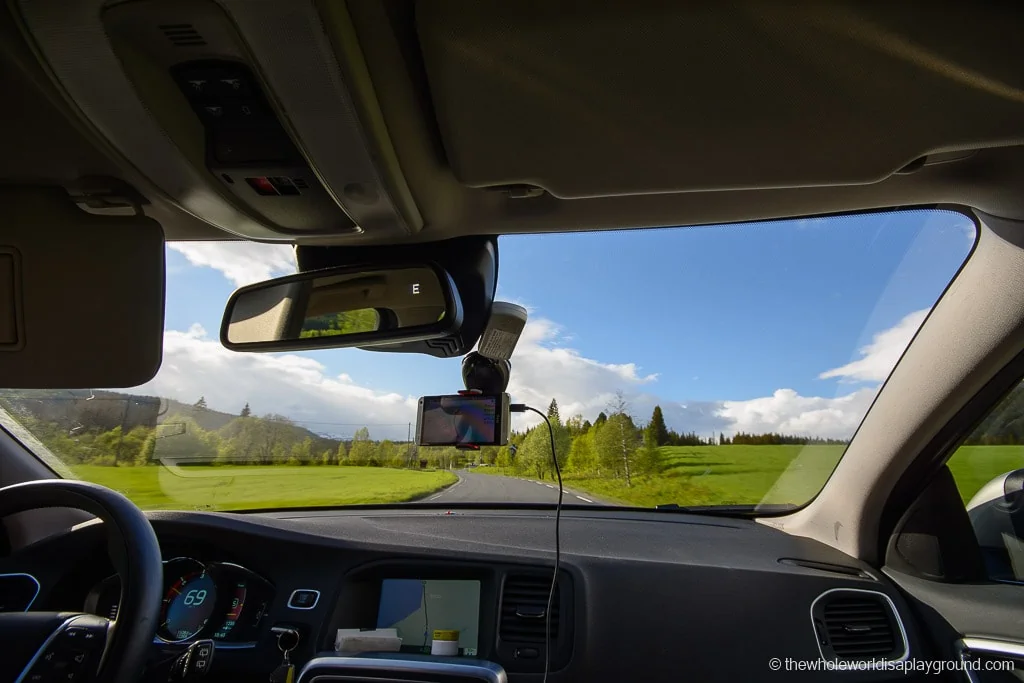 8 | Roads and Weather Conditions in Norway
The roads in Norway were some of the best that we've driven on. The road network is of exceptional quality throughout the country and maintained very well.
As in any country you need to drive according to the weather conditions. Heavy rain, ice, sleet, and snow can be common occurrences in Norway, even in the summer months at higher altitudes.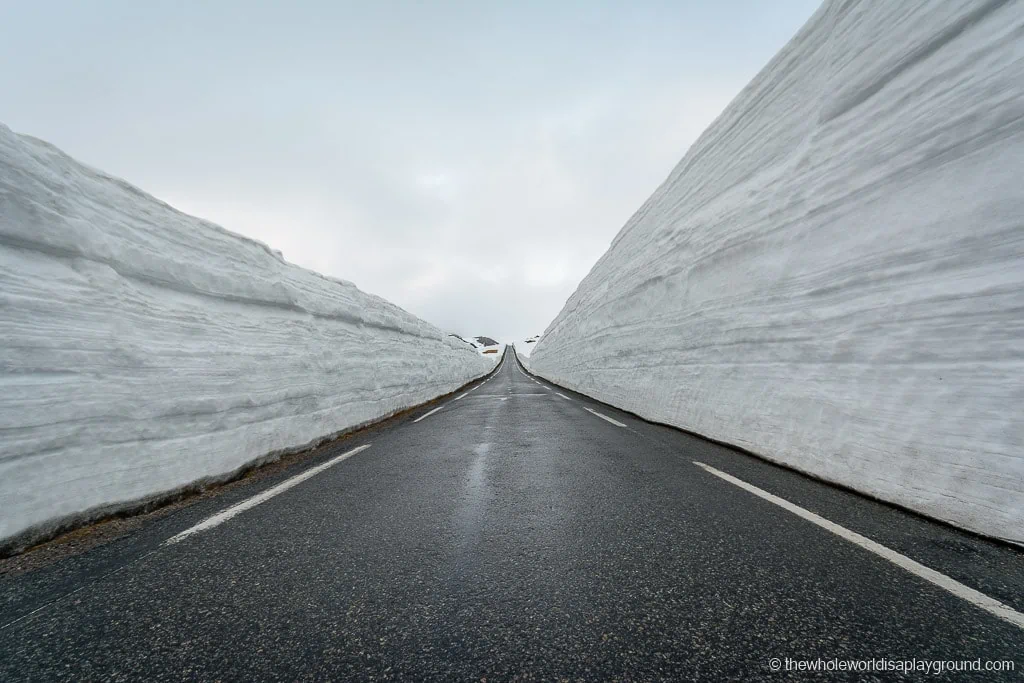 9 | Mountain Passes and the Snow Roads
Norway has a number of roads that close completely during the winter months due to snow and ice. A full list of the roads that close is here and it's worth noting that the dates the roads open vary each year depending on the weather.
Some of the mountain passes throughout Norway can also close due to weather conditions and high winds at any time during the year. These mountain passes are known as the snow roads and can get snowfall and frost during the shoulder months (April/May and September/October) while there are summer conditions in lower altitude areas.
We visited Norway in late May and were unable to pass some of the snow roads as they had not yet reopened due to high snowfalls. You can check the status of all mountain passes on the official site, Statens Vegesen here. The site also has an extensive list of webcams on most of the roads which you can check for road conditions.
Renting a Car in Norway tip: many of the scenic roads, including Suleskarvegen, are closed during winter (approximate period is 1 November to late May but this is weather dependent)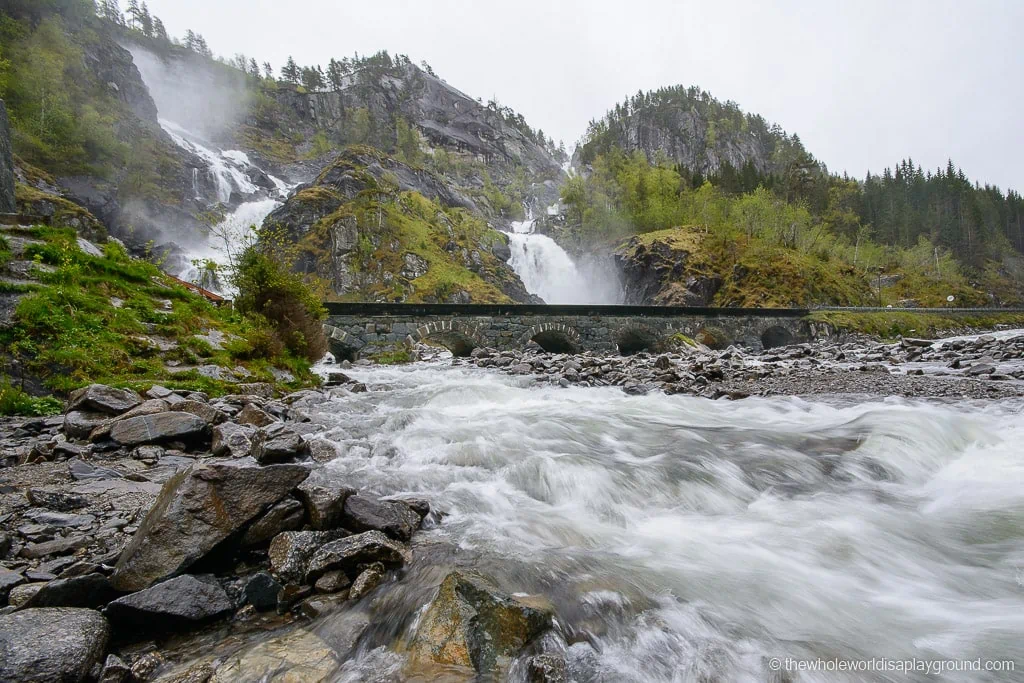 10 | Toll Roads
Many roads in Norway operate on an automatic toll system, called the Auto PASS system. There are almost 200 toll stations dotted around the country so you will definitely pass through a few. It's not a big additional cost but it's worth factoring into your budget for a Norway itinerary. We spent around 700kr (around 65EUR) on tolls during our road trip in Norway which covered most of the country from the Fjordlands, up to the Arctic Circle and back to Oslo.
All rental cars in Norway include a toll tag that automatically charges to your account. When you return the rental car your rental car supplier will provide you with a summary of the tolls and the total cost will be added to your rental.
It's worth noting that there are tolls for entering the cities of Trondheim and Oslo. There are various tolled sections to the cities, with each individual toll costing 20-30 kr (2-3€ euros), so tolls can add up for trips into both cities.
Renting a Car in Norway tip: One of the most notable tolls that most visitors will encounter is the Ryfylke Tunnel which costs 140 NOK (€15) each way.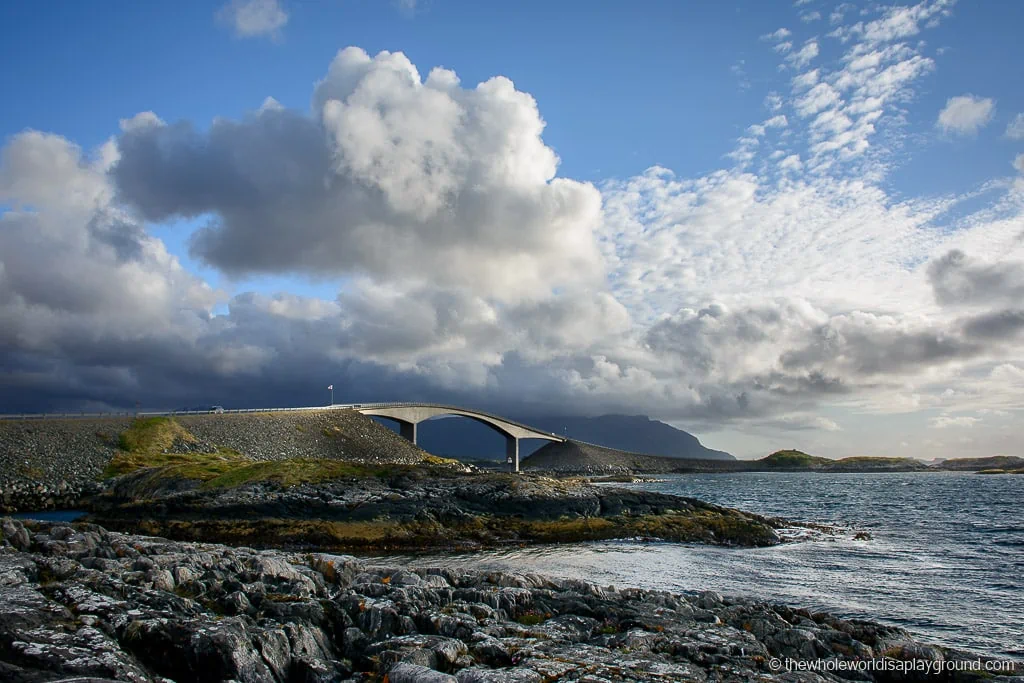 11 | Tunnels
Norway has over 900 tunnels and it's highly likely you'll drive through a selection of them during your time exploring the country. It took us a little time to adjust to driving through so many tunnels, especially in the Fjords region. It's mportant not suddenly slow down upon entering a dark tunnel. Tunnels are usually signposted and any reduced speeds are always clearly marked.
Renting a Car in Norway tip: Norway is home to some unique tunnels, including the longest road tunnel in the world, the Lærdal tunnel at 24.5 km long, and the Ryfylke Tunnel, the worlds longest and deepest subsea tunnel. We had the chance to drive through the Lærdal Tunnel en route to Bergen and it took around 20 minutes from end to end!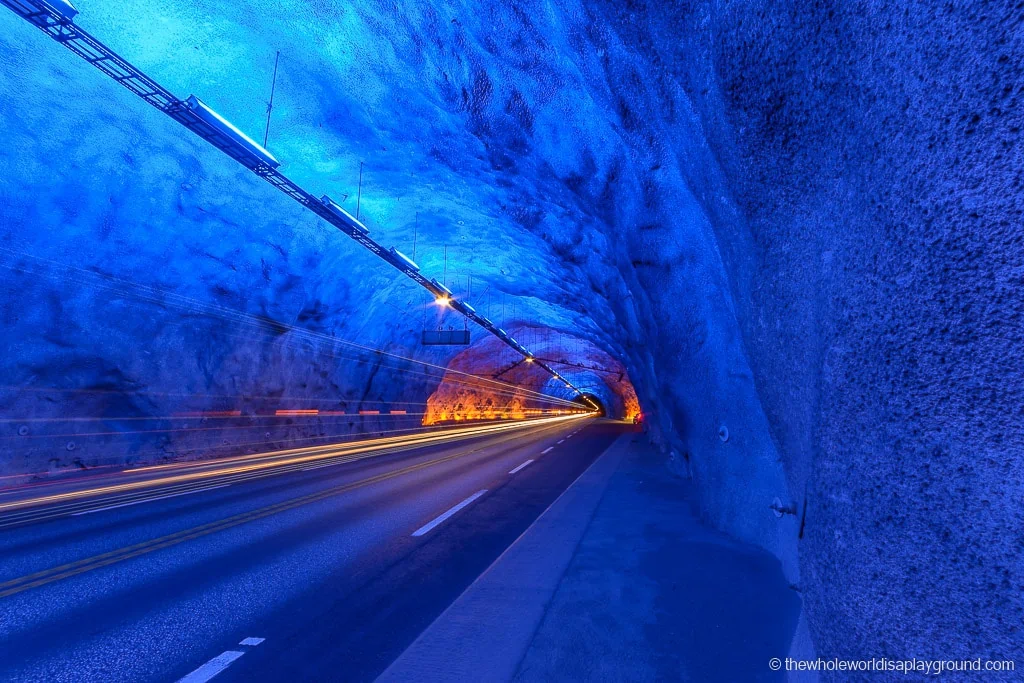 12 | Ferrys
Car ferrys are used extensively throughout Norway to connect many of the road routes, including the scenic driving routes in the Fjordland region. They are a really fun aspect of driving in Norway and offer stunning views on the crossings.
Renting a Car in Norway tip: Many of the shorter ferry routes in Norway are slowly being replaced with bridges or tunnels so make sure you have up to date information when planning your route.
Ferries operate frequently and it's usually a matter of turning up and waiting for the next departure. During peak season some ferry's may need to be booked in advance as they may only run during peak season have limited car spaces. You can check for general ferry information here.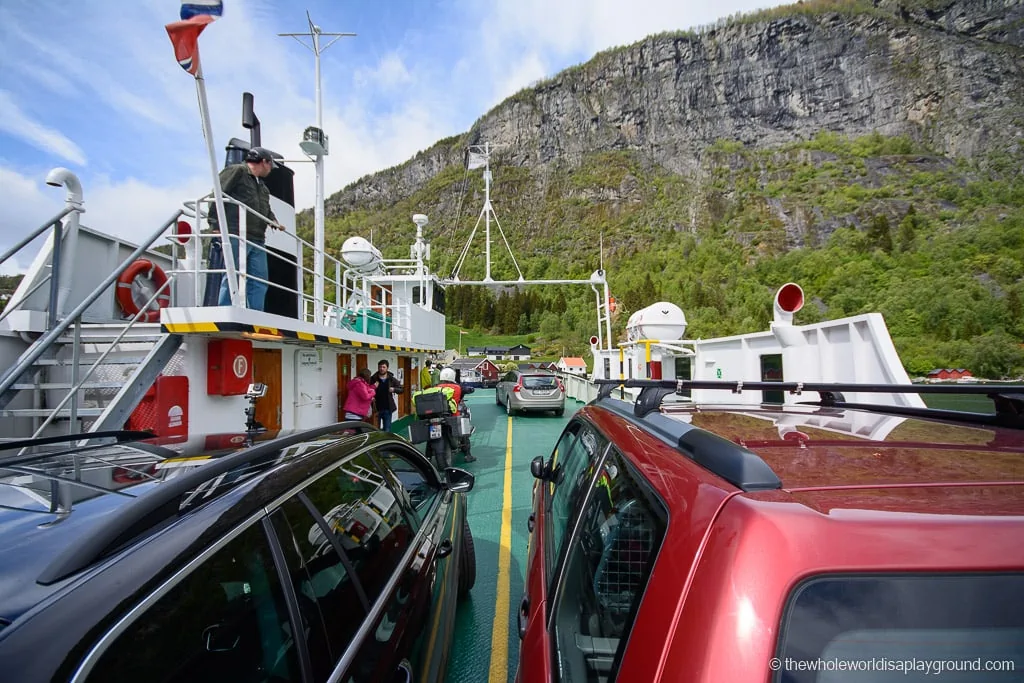 There are additional charges for a ferry crossings. They are operated by a variety of operators, the largest being Fjord1. Most crossings range from 100-200 NOK. For details and timings of all crossings with Fjord1 check the timetables here. You can pay for the ferry's at the point of departure via card, cash or your AutoPASS.
Renting a Car in Norway tip: Generally you do not need permission from your car rental company to take your car on the short car ferries linking areas in the Fjordland etc. It's worth checking your route with the agency staff when you pick up your car to check any planned ferrys are ok.
Some of our favourite ferry crossings were Jondal, Fodnes and the short ferry ride to Urnes Stave church in the stunning Lustrafjord.
13 | Drive times
Due to the nature of the Norweigan landscape, particularly in the Fjordlands, roads tend to be wind around the mountains with low-speed limits. As a result, drive times between major destinations can be significant in Norway. It's worth allowing a large time buffer for drives to include time for sightseeing and stops – we managed around 200km on our longest driving days.
We find that it is very important to have the flexibility to switch up your route and allow time for scenic stops or road closures. This is one of the biggest benefits of having your own car as you can change your schedule throughout your trip.
14 | Car Parking
Parking charges apply for street parking in most Norweigan towns and cities. Parking is metered and is clearly marked by signs. Parking garages are also common in the cities such as Bergen, Trondheim and Oslo.
We used street parking in a few of the cities and it worked fine.
Parking is generally free at all of the tourist viewpoints dotted around the country, however there are charges at some of the trails for parking. Parking at the Pulpit Rock hike currently costs 250NOK (25 Eur) and for the Kjerag hike it is 200 NOK (20 Eur).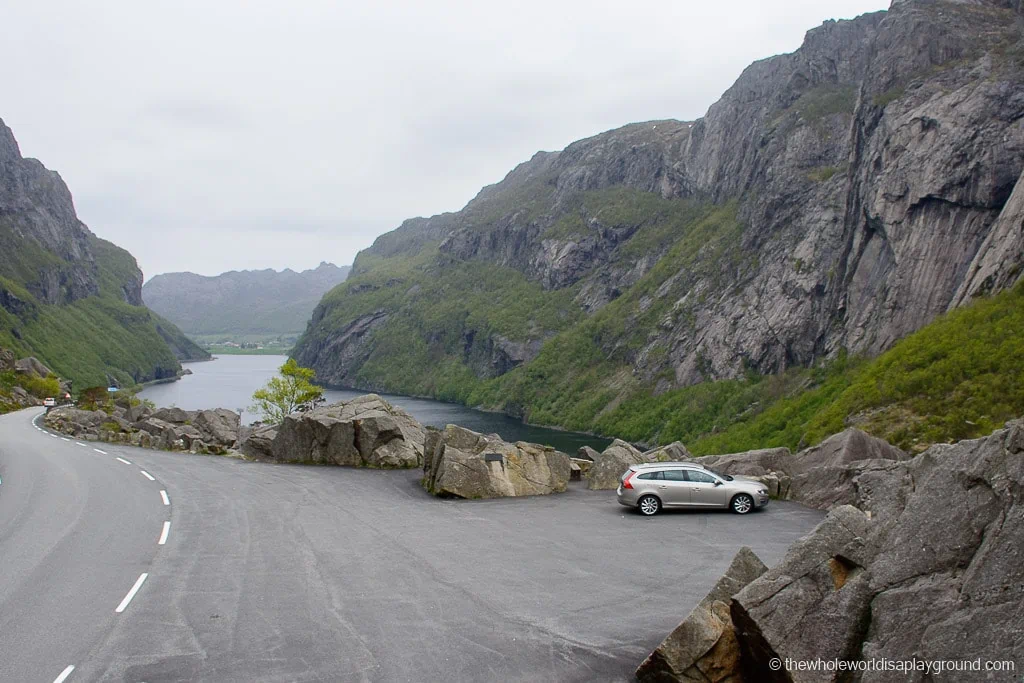 15 | Drive on the right-hand side of the road
Cars drive on the righthand side of the road in Norway, similar to most countries in Europe and the world.
16 | Always keep your headlights on
It's required by law in Norway to keep your headlights on a low beam at all times (even during the day). This is a requirement year-round, the only exception being when full lights are required.
17 | Drink Driving Laws in Norway
As always you should never drink alcohol if you plan to drive. Norway has one of the lowest legal driving limits for alcohol in the world at 20 milligrams of alcohol per 100 millilitres of blood. As the limit is so low it's wise to not drink any alcohol at all if you are planning to drive. This is especially true if you are planning to socialise in the evening and drive early the following morning.