Norway is one of the most beautiful countries in the world but it's also one of the most expensive to travel in. Fortunately, it is possible to visit Norway on a budget and we found some tips and tricks which enabled us to save money on our Norway trip. We spent almost a month on an epic 4,500km road trip through the country and we managed to budget well, see everything we planned and have a blast! We wanted to share our tips on how to save money on a Norway trip: so for all of you planning on travelling in Norway herse's our top 10 tips for visiting Norway on a budget!
If you are planning a trip to Norway check out our Norway itinerary for more inspiration!
Norway on a budget: Transport
1 | Fly with a budget airline
Start your trip as you mean to continue and take advantage of the low fares offered by budget airlines such as Norwegian and Ryanair into Oslo and other regional airports. We nabbed some super cheap sale fares into Oslo and, with baggage, spent less than 100 Euro each on flights.
Norway budget tip: be careful of extra charges for baggage, seat selection and food on low cost airlines and make sure to factor this into your ticket price or consider foregoing the extras!
2 | Travel Independently
It is relatively easy to travel independently in Norway. Alongside the advantages of flexibility and travelling to your own schedule, it can often be a much cheaper way to travel. We opted to explore Norway with a rental car but buses and trains are also a great way to travel through the country independently on budget.
Norway budget tip: we booked a cheap rental car well and had the flexibility to travel to more remote locations like the Vega Islands and the Arctic Circle
Renting a Car in Norway
Renting a car in Norway is the best way to explore the country. Driving conditions are really good with extremely good quality roads throughout the entire country. Having your own car gives you the flexibility to travel at your own pace through the Fjord lands and see places that are simply not possible on group tours or public transport.
We're huge fans of road trips and have driven rental cars in over 40 countries so we have a lot of experience renting cars in foreign countries. Book your car now with RentalCars.com, where you will find the best rental car prices
Click here for the best rental car prices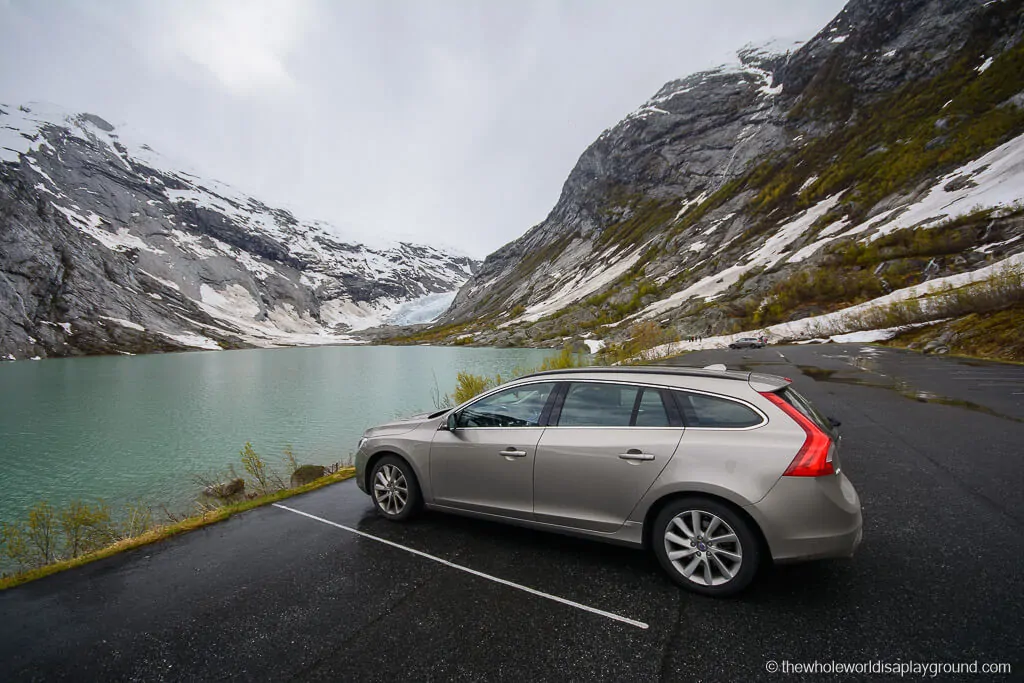 3 | Book buses and trains in advance
Norwegian buses and trains are usually cheaper when booked directly and in advance of travelling – it's often the case that the earlier you book the cheaper the fares that are available. For example, the Norwegian State Railways (NSB) offer a limited number of minipris fares: these are discounted tickets on train routes which can be secured by planning and purchasing early.
Norway budget trip: Some visitors have reported issues using out of country credit cards on NSB trains. The telephone/online chat agents are often helpful at resolving these issues.
Norway on a budget: Accommodation
4 | Wild Camp
Camping is one of the cheapest ways to travel, especially in Norway which operates the 'right to roam'. This means you can pitch a tent anywhere in the countryside, forests or mountains provided you stay at least 150 metres away from the nearest inhabited house or cabin. If you wish to stay for more than two nights you must seek the permission of the landowner.
Norway budget trip: visitors are required to tread lightly and leave no trace. It's essential to pick up rubbish and show respect for nature.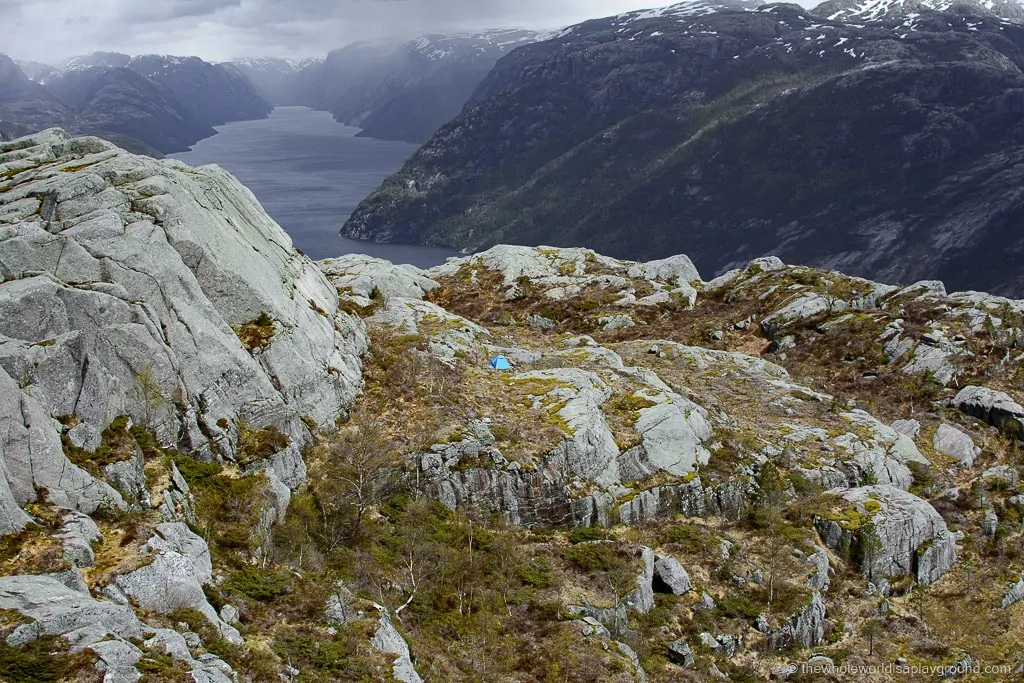 5 | Stay in tents and cabins at campsites
Campsites are another great accommodation option in Norway. We spent most of our nights in campsites, either pitching our own tent or splashing out on a cabin. The standards vary by individual campsite but facilities include showers and bathrooms as well as communal kitchens. Most campsites came with the added bonus of spectacular views which were incredible to wake up to!
Norway budget tip: We experienced all four seasons in a single day and got rained on a lot so it was nice to mix up camping and cabins. Retiring to a warm and cosy cabin after a long day hiking was a lovely alternative to pitching a tent in the pouring rain! Our cabins ranged from having just beds and basic kitchens to more luxurious options with private bathrooms and couches.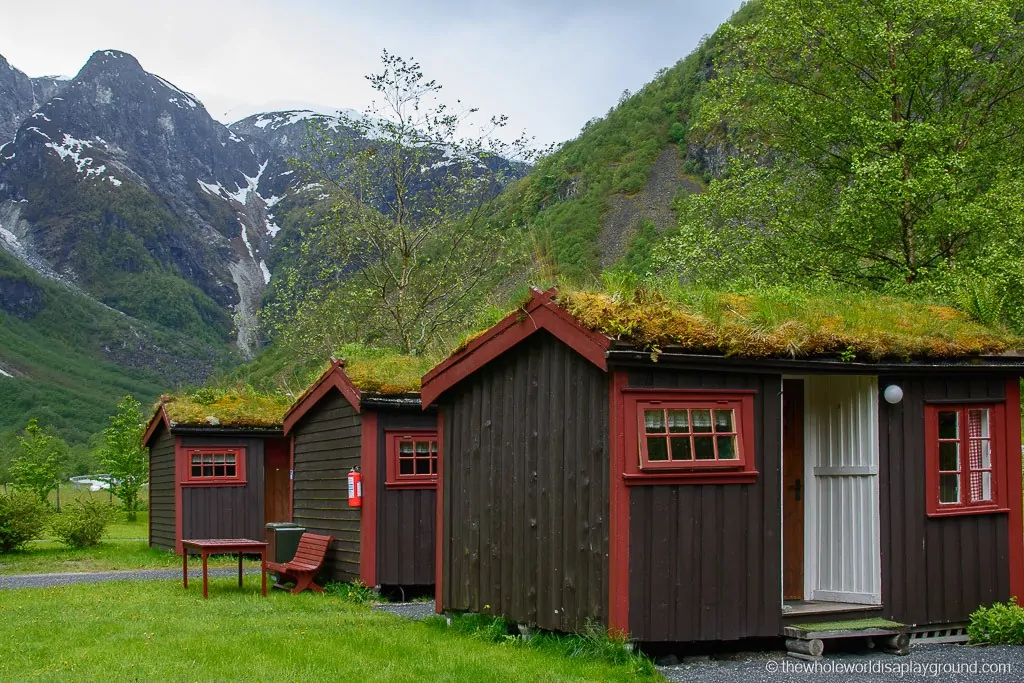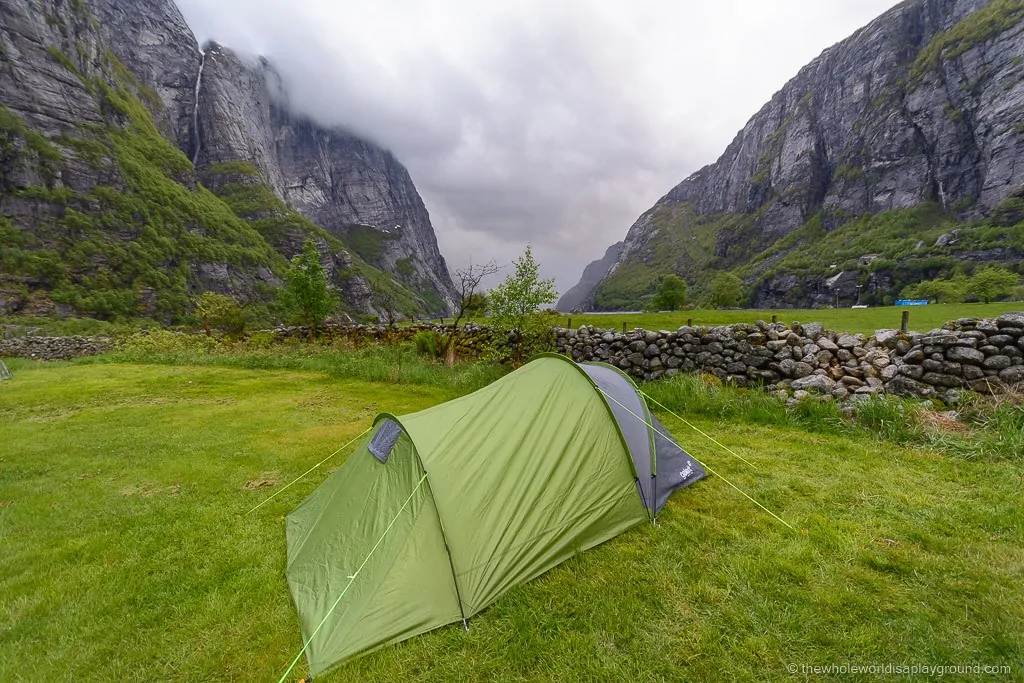 Norway on a budget: Food and Drinks
6 | Bring basic food supplies and shop in low cost supermarkets
When researching our trip we came across advice from lots of previous visitors recommending to pack food supplies and we were extremely glad we did! Even staples like bread and pasta are expensive. We packed a bag with cereals, energy bars, pasta, noodles, baked beans, tortilla wraps and chocolate which was both budget friendly and extremely convenient as we were on the move and active for most of the trip. We still saved money even with the cost of an additional check-in bag on the aiplane.
We purchased fresh food and extra supplies in the Norwegian supermarkets: Kiwi and Rema are among the low cost chains.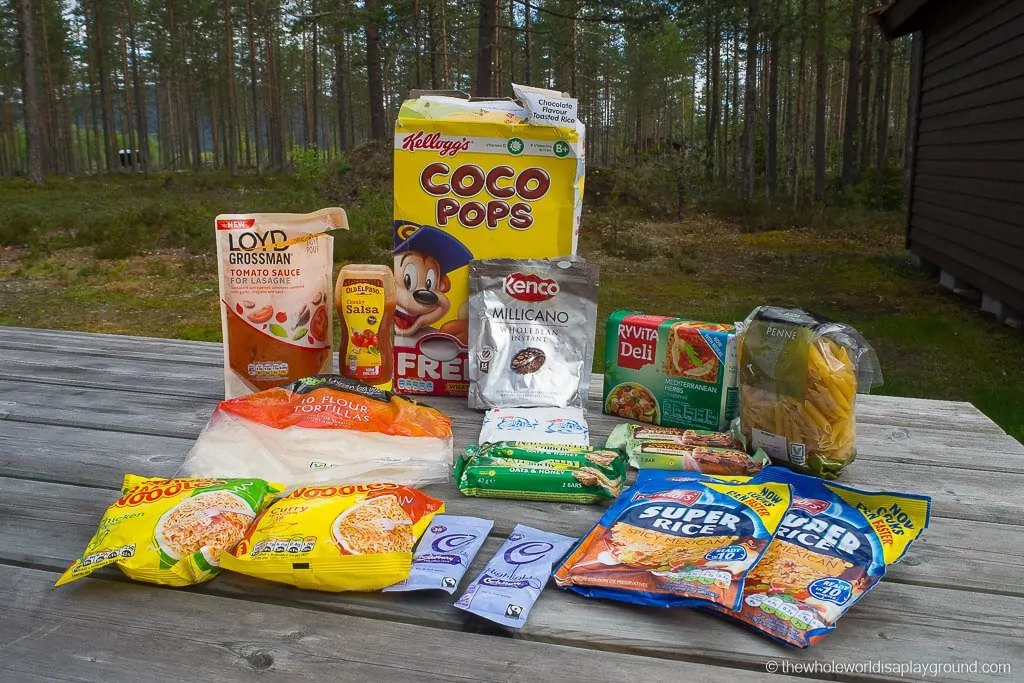 7 | Cook instead of eating out
It's expensive to eat out in Norway where even basic convenience foods such as a roadside hotdog can cost over 5 Euro and takeaway pizza over 20 Euro! As well as food supplies we also packed cooking utensils. We included a compact travel stove and picked up some propane gas canisters when we arrived. It was great to have the option of warm food when we were on the move and we used it to cook beans, soup, pasta and noodles.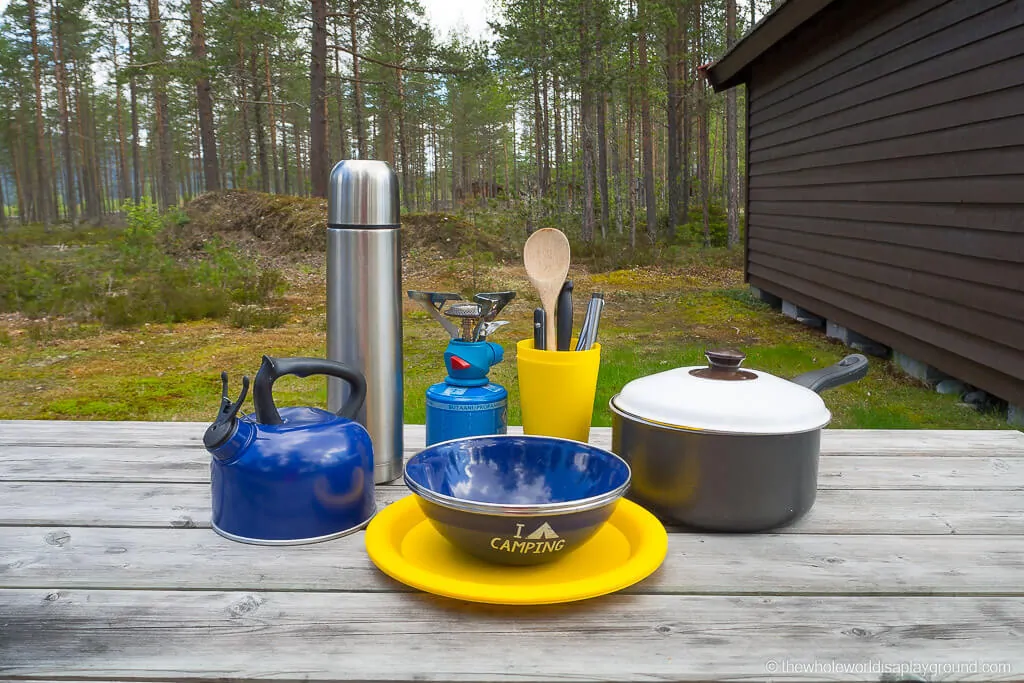 6 | Drink tap water
Tap water is drinkable in Norway so save money and the environment by bringing a reusable water bottle!
8 | Stock up on duty free alcohol if you enjoy a tipple
Alcohol is expensive and a pint of beer can cost over 10 Euro. Early mornings, long drives and challenging adventures meant we didn't really drink very much alcohol in Norway! If you do plan to drink, take advantage of the full duty free allowance at the airport on arrival. Oslo Airport has a duty free shop for arriving visitors and many stock up on the reduced price alcohol.
Norway on a budget: Sightseeing
9 | Swap city for the countryside
Like anywhere on the planet, Norway's cities can be expensive. We spent most of our time exploring its spectacular countryside as that's what had drawn us to the country. When we did venture into the cities, we stayed on the outskirts and took advantage of free attractions such as the crazy Oslo Vigeland Sculpture Park.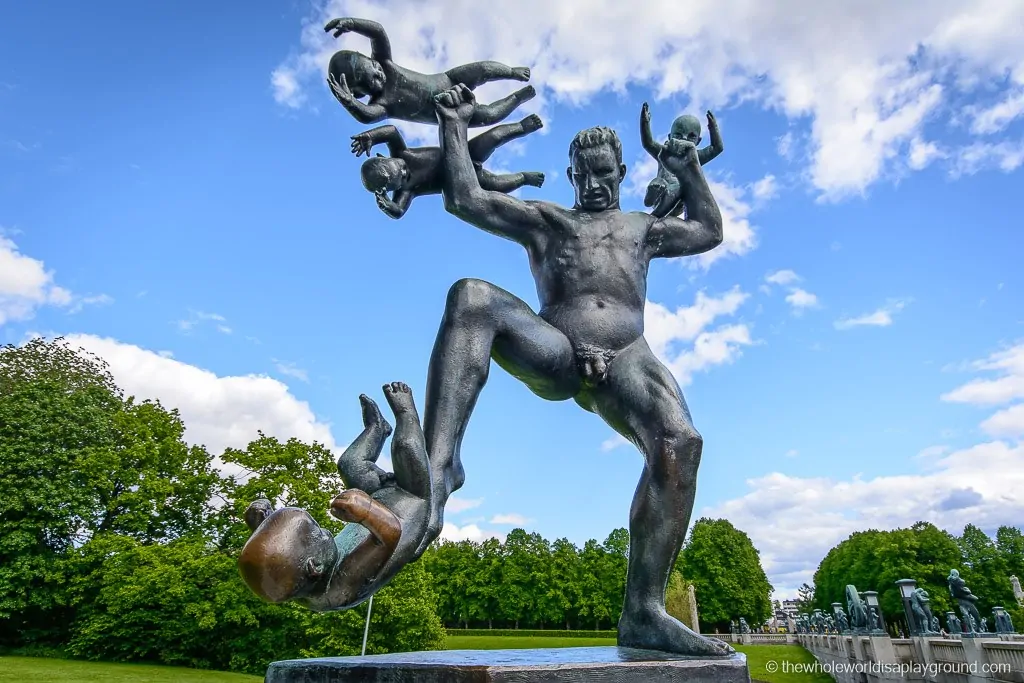 10 | Nature is free!
The best thing about Norway is that a lot of its most spectacular sights are free. Norway is home to incredible hikes and stunning fjords, there are waterfalls to chase and glaciers which will take your breath away. From wandering around the UNESCO World Heritage sites of Bergen and Roros to admiring the man made wanders of the Atlantic Road and Trollstigen, many of the sights that Norway is famous for don't cost a cent.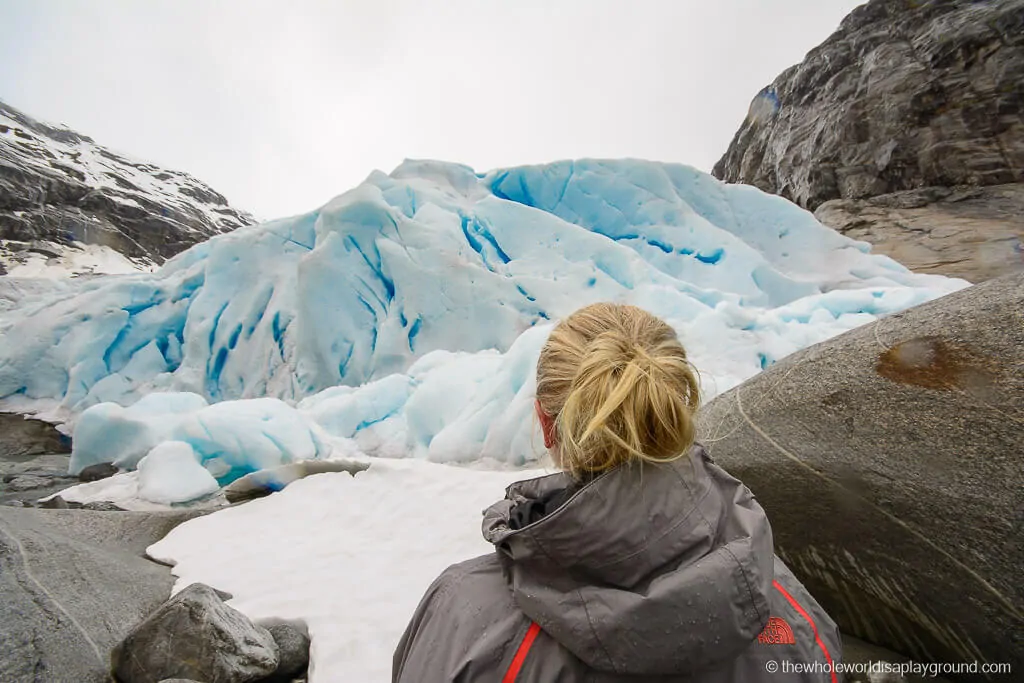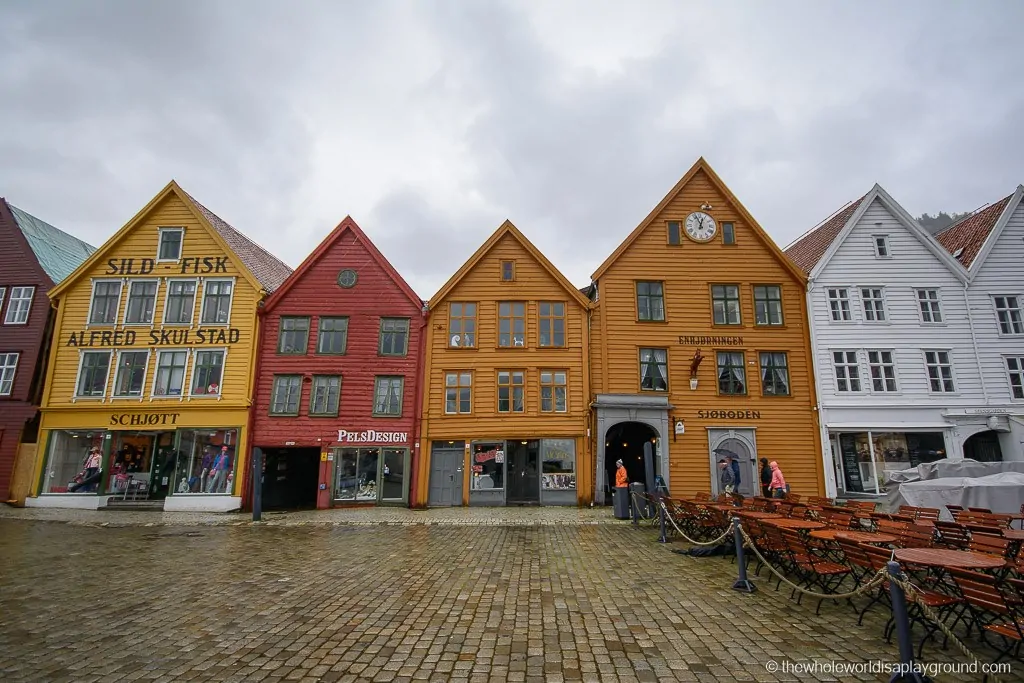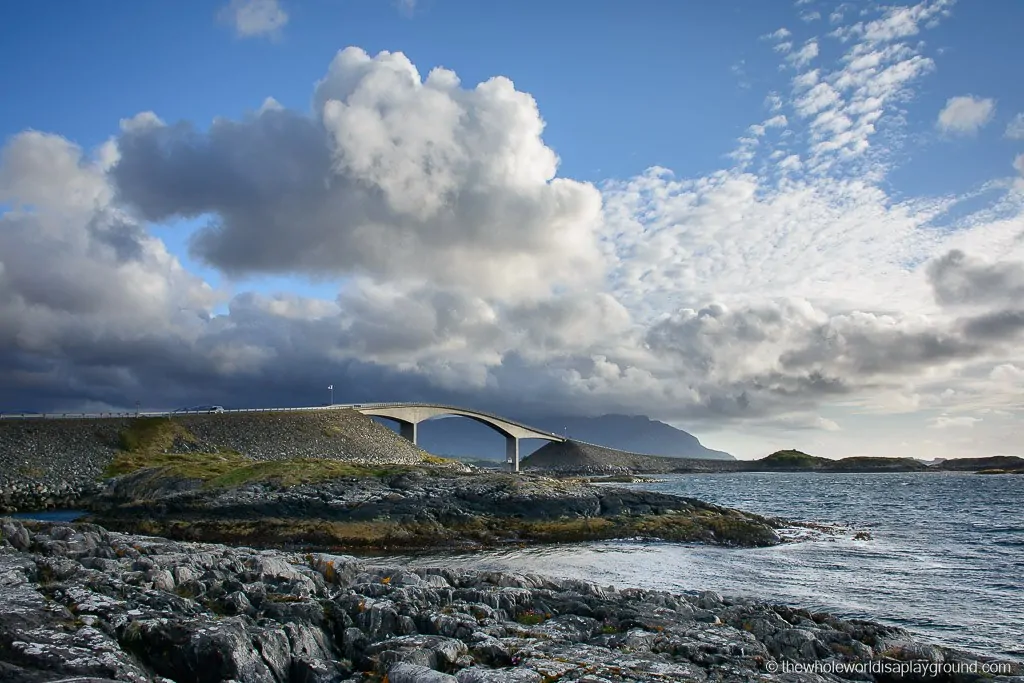 Do you have any other tips for travelling in Norway on a budget? Let us know in the comments!
Check out the following articles for more on Norway