Having spent a month exploring Tokyo we've put together our recommended 7 day Tokyo itinerary for those with a week to spend in the city. From the iconic Shibuya Crossing to the neon lights of Akihabara, the historic Asakusa and the incredible food and drinks, Tokyo is one of the best cities in the world to visit. For those of you planning your own 7 day Tokyo itinerary, we wanted to share our guide to Tokyo including the best things to do and what to see. Enjoy!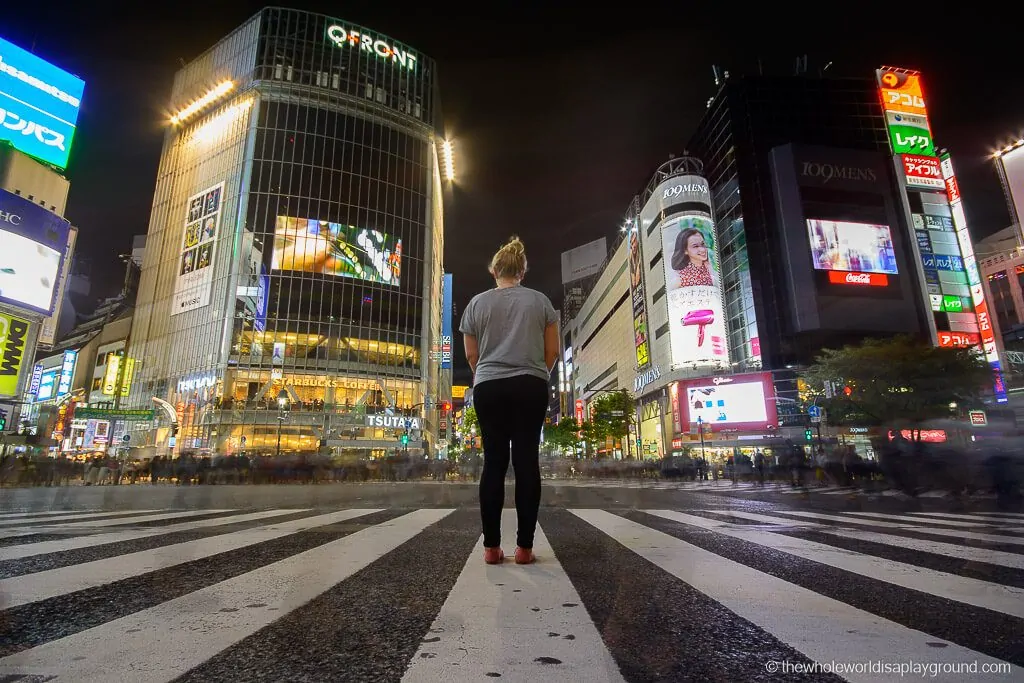 Tokyo Itinerary Essentials
From transport to internet, these are our Tokyo itinerary essentials!
How long to spend in Tokyo
Depending on how long you have to spend in Japan, we recommend allowing at least 5 nights in Tokyo. We've included a detailed itinerary for 7 days of sightseeing – just pick and choose days based on your interests and length of visit.
Tokyo itinerary tip: this 7 day Tokyo itinerary is based on the highlights and unmissable experiences from the months we've spent exploring Tokyo and its best sights.
Tokyo Transport
Tokyo is best explored through a mix of trains and walking.
From Narita airport take either:
Getting around Tokyo
Depending on the duration of your stay, a 24, 48 or 72 hour subway pass is invaluable for navigating Tokyo. We saved so much money using our 3 day subway pass. The passes can be picked up at one of the designated arrival airports in Japan and work for unlimited rides on Tokyo Metro and Toei Subway lines – check prices now!
Click here to order your Tokyo subway pass
After we'd used our unlimited passes we switched to a rehargeable Suica or a Pasmo card. The cards are swiped at the ticket barriers to pay for the train fare instead of buying individual tickets for each train ride. We found them much quicker and more convenient than individual journey tickets – check prices now!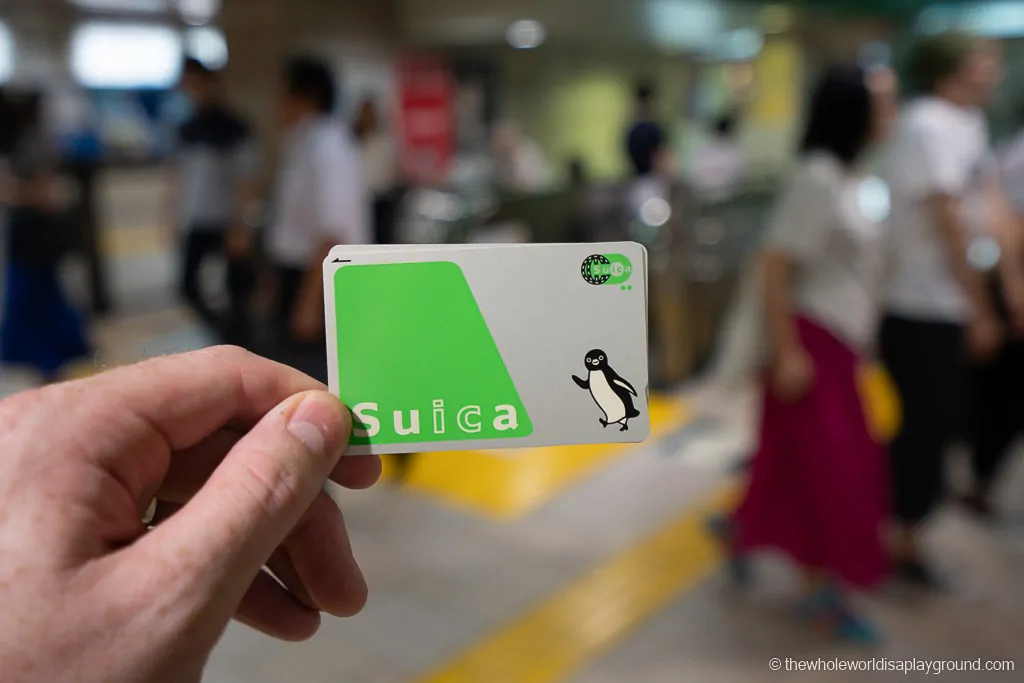 Tokyo itinerary tip: We've included How to get there info for each day of our itinerary. However, the easiest way to navigate Tokyo is to purchase a Sim card and use Google Maps for real time train options and walking directions. We found having a Sim invaluable – check prices now!
Where to stay in Tokyo
Tokyo is best explored by a combination of trains and walking so we recommend choosing a hotel within a short walking distance of a subway station, the Yamanote Line or one of the major train stations such as Tokyo Station.
Mitsui Garden Hotel Koyobashi: close to both Tokyo Station and the Koyobashi Metro Station, the Mitsui Garden Hotel is a great base for exploring the city. Standard rooms are a reasonable size ad there is coin-operated laundry– check prices here!
Shibuya Excel Hotel, Tokyu: close to Shibuya Station the hotel's 25th-floor restaurant level offers the best views of Shibuya and the location is excellent for exploring the city – check prices here!
Keio Plaza Hotel:a 5 minute walk from Shinjuku Station, Keio Plaza has comfortable rooms and awesome views of Shinjuku – check prices here!
Click here for the best Tokyo hotel prices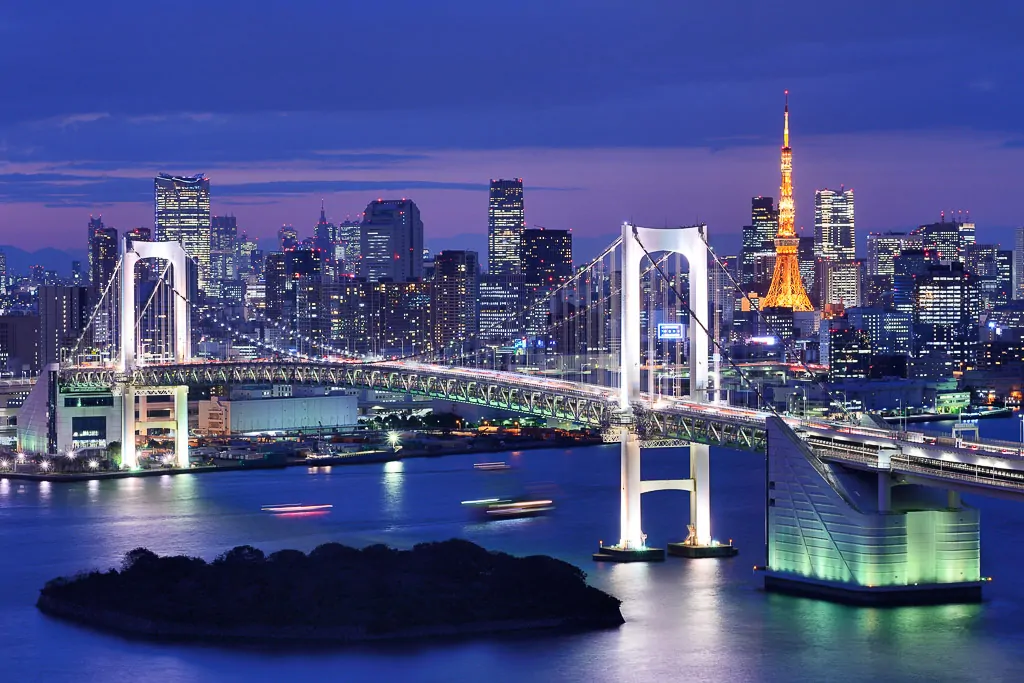 Internet
One of the best investments for a Japan trip is to obtain a sim card or 4G hotspot for internet access while on the go. A sim card is perfect if you just have your phone while 4G hotspots are great if you have multiple devices or if you're travelling in a group.
We used the Klook app to order our sim cards. The app is great as you can order in advance, pick up on arrival or from various departure cities and the price is usually discounted.
Click here to order your SIM Card
Daily Tokyo itinerary
Below you'll find 7 days of Tokyo itinerary fun! We've planned our recommended itinerary based on the best things to do in Tokyo and ordered them so as to minimize the traveling between sights.
Day 1: Odaiba and Shinjuku
A man made island in Tokyo Bay, Odaiba is a shopping and entertainment mecca which is best known for its incredible Digital Art Museum, TeamLab borderless. Shinjuku is Tokyo's hub for eating, drinking, entertainment and shopping and is home to towering skyscrapers and neon lights.
TeamLab Borderless in Odaiba
Start the day with one of the most incredible things to do in Odaiba and in Tokyo, the TeamLab Borderless Digital Art Museum.
How to get there: the closest station to TeamLab Borderless is Aomi Station. The fastest way to go is to take Yurikamome Monorail from Shimbashi Terminal. After disembarking at Aomi Station, it's a short walk to TeamLab Borderless.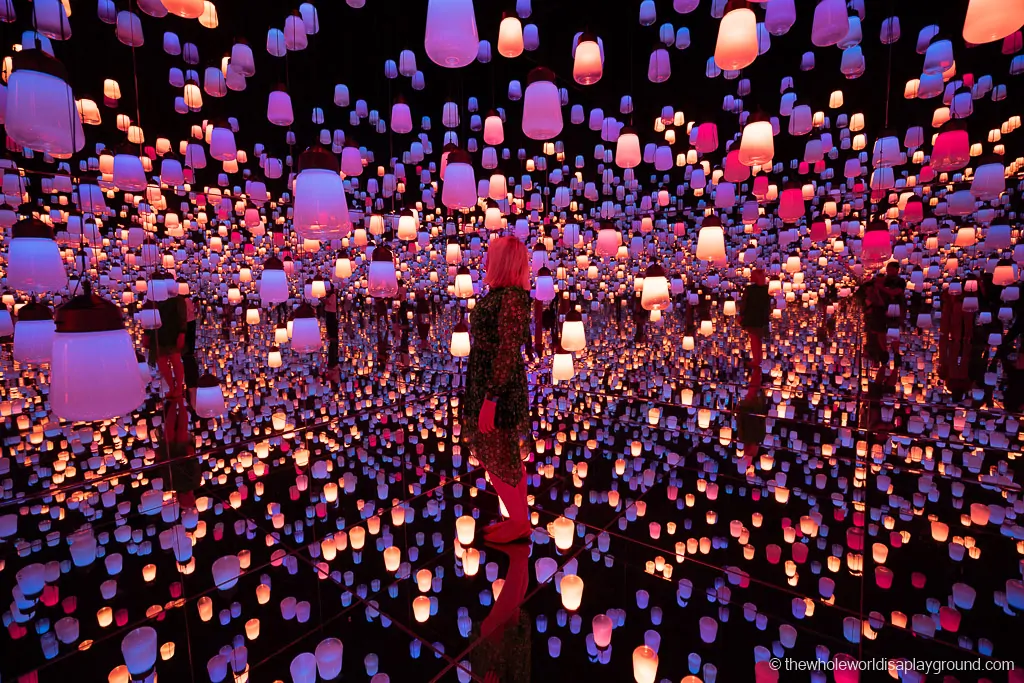 TeamLab Borderless is a magical world of colour, light and sound. It is divided into 5 distinct sections: Borderless World, Athletics Forest, Future Park, Forest of Resonating Lamps, and EN Tea House. The Forest of Resonating Lamps, with coloured lanterns which seem to stretch forever, was our highlight. Crystal World, a mirrored room of LED ropes which create a crystal effect, is also incredible.
TeamLab Borderless sells out almost every day so it's essential to reserve tickets in advance. Entrance is only by official ticket and you can reserve your tickets in advance on Klook – check prices here!
Click here to order TeamLab Borderless tickets
Tickets are reserved for a specific day but there are no assigned entry times – ticket holders can visit at any time during the museum opening hours.
Tokyo itinerary tip: we highly recommend visiting TeamLab Borderless on a weekday, either first thing in the morning or late afternoon, as it can get uncomfortably busy at peak times.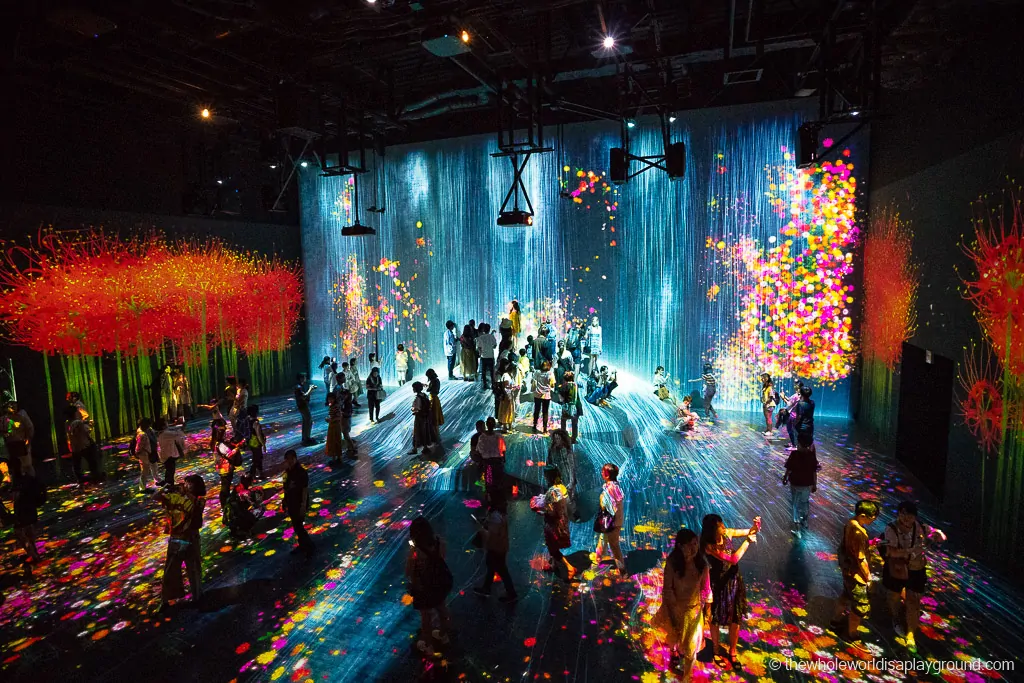 Shinjuku
Shinjuku is one of Tokyo's most fascinating neighbourhoods and we recommend setting aside the rest of the day to explore.
How to get there: Take the Rinkai Line from Tokyo Teleport Station (a 10 minute walk from TeamLab Borderless) to Shinjuku Station. The Rinkai line transfers to the Saikyo Line during the journey but you don't need to change train.
As you disembark at Shinjuku Station take a moment to look around and absorb the energy. Over 3.5 million passengers use the station every day and it is incredible to observe the organized chaos of the world's busiest train station.
After leaving the train station, take a stroll through the tranquil Shinjuku Gyoen Park. With picturesque ponds and English, French and Japanese gardens, the park is a beautiful contrast to the surrounding skyscrapers and chaotic streets of Shinjuku.
Tokyo itinerary tip: if you visit during cherry blossom season, the sakura trees make Shinjuku Gyoen one of Tokyo's most popular spots.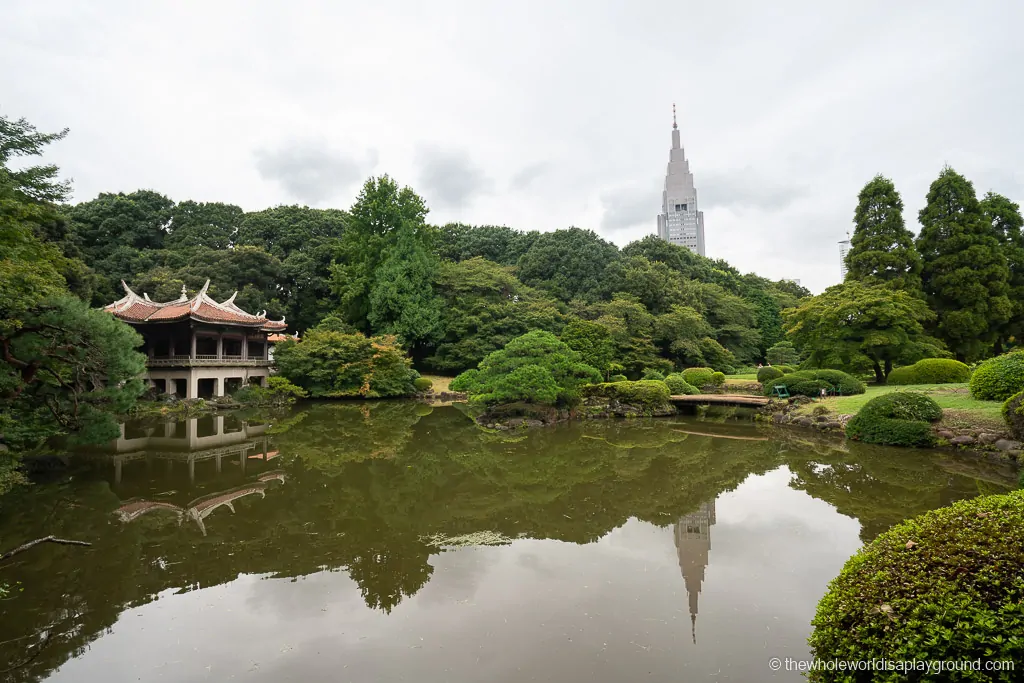 Tokyo boasts the world's only Michelin Star ramen restaurants and Shinjuku is home to the latest Michelin Star Ramen joint, Soba House Konjiki Hototogisu. If you are lucky, you might pass on a day when the queues are short and you grab a spot relatively quickly.
Tokyo itinerary tip: as with the three Tokyo ramen restaurants with Michelin Star status, a bowl of ramen comes in at around $10.
The Tokyo Metropolitan Government Building is a short walk from Shinjuku Gyoen and offers a free observation deck on the 45th floors of its North and South towers. The views of the city are incredible and, on a clear day, it is possible to catch a glimpse of the iconic Mount Fuji.
Tokyo itinerary tip: due to renovations, only the South Observatory is currently open.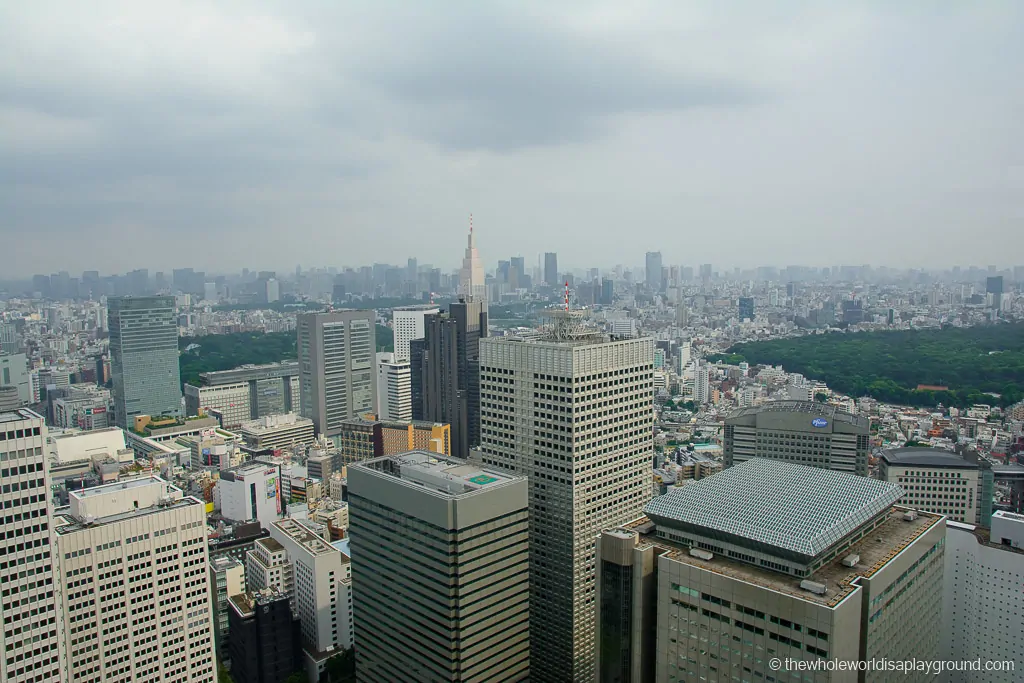 If you are a Van Gogh fan, Sunflowers by Van Gogh is one of the most famous pieces in the nearby Seiji Togo Memorial Sompo Japan Nippon Koa Museum of Art. The 42nd floor panoramic views are a bonus!
Tokyo itinerary tip: the museum is closed until March 2020 so do check it has reopened before visiting.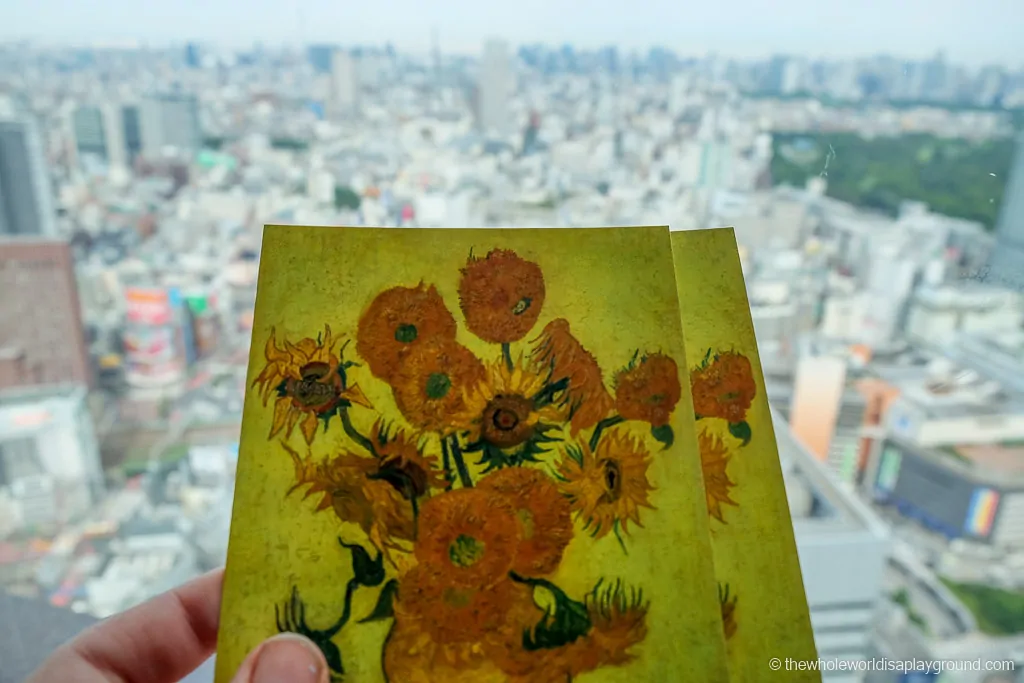 The next stop is one of our absolutely favourite things to do in Shinjuku, grabbing a spot at one of the tiny yakatori bars on Omoide Yokocho, or Memory Lane as it is known in English. The gritty alley was once an illegal drinking quarter that is now home to a collection of tiny yakitori bars serving drinks and freshly cooked skewers. Red lanterns light up the alley and yakitori smoke fills the air making for an amazing Tokyo atmosphere.
Tokyo itinerary tip: an abundance of beer and the absence of toilets in its heyday resulted in its commonly used nickname, Piss Alley!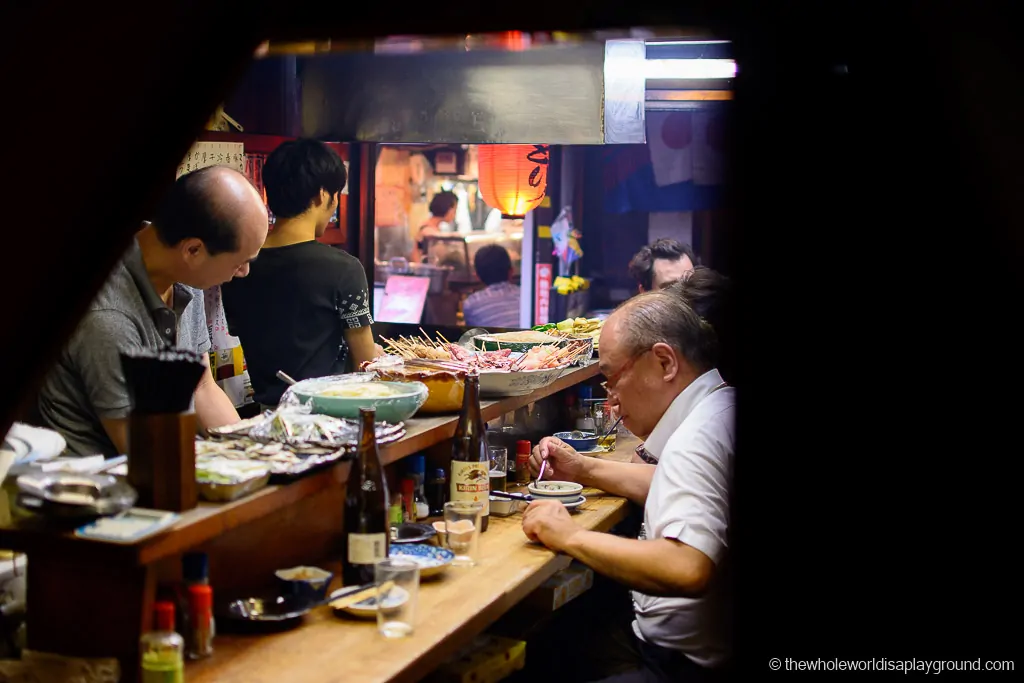 Have a browse at the Shinjuku branch of Don Quijote, a Japanese discount store, where there is an eclectic range of products ranging from the luxurious to the ridiculous!
If you are interested in Japanese history and conflict, Shinjuku's Samurai Museum has over 70 samurai displays with armor, helmets, guns and swords. Capture some photos while dressed in replica armor of Japanese warriors or holding a Samurai sword – click here to book your spot at the Samurai Museum!
As darkness falls, it's time for a wander through Kabukicho, Tokyo's Red Light district. The area is a heady mix of neon lights, bars, nightclubs, love hotels and themed restaurants and is fascinating to visit after dark.
Reserve a table at Shinjuku's Robot Restaurant. With its neon lights, laser beams, techno music and crazy performances, Robot Restaurant is a tourist rite of passage in Tokyo! It's weird, whacky, colourful, loud and super touristy but a quintessential Japan experience all the same!
Klook sells discounted tickets which we used to save some yen on the admission fee – click here to book your spot at the Robot Restaurant!
Click here for discounted Robot Restaurant tickets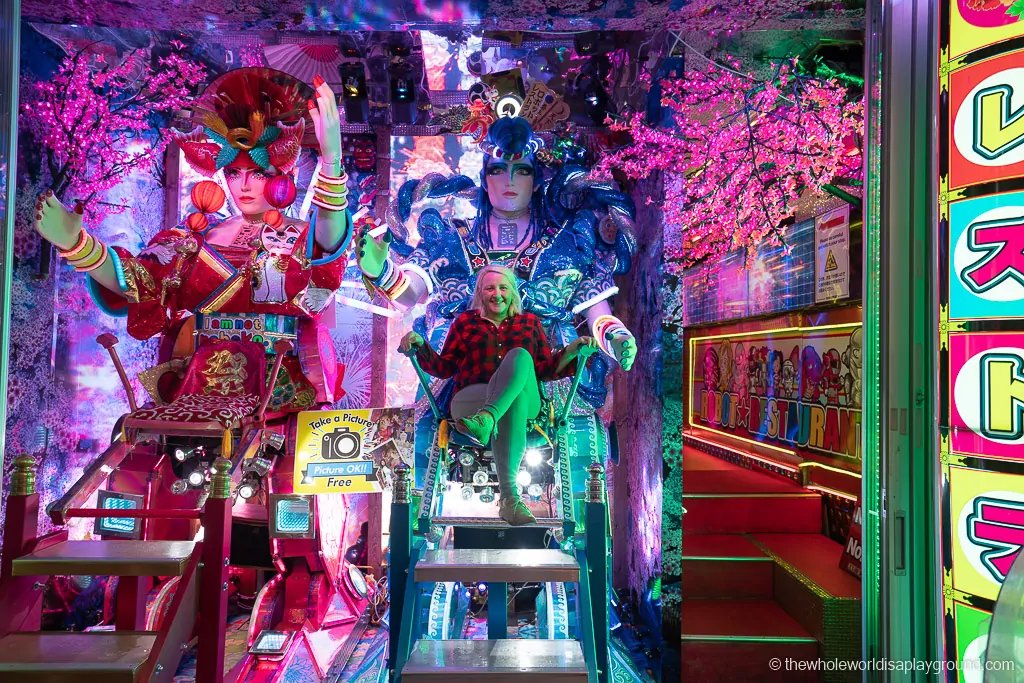 Finish up the day with a bar hop through Golden Gai, six tiny alleys among a maze of passageways. The area is home to over 200 tiny bars, clubs and restaurants. Pull up a seat and order at drink at whichever one captures your imagination.
Tokyo itinerary tip: Golden Gai is still popular with Tokyo locals. Some bars even have signs stating no tourists or regulars only.
The New York Bar at the Park Hyatt Hotel is another great option for an evening cocktail in Shinjuku. It was in this 52nd floor bar where Bob and Charlotte (Bill Murray and Scarlett Johansson) met in the movie Lost and Translation. The views, ambiance and cocktails are all incredible!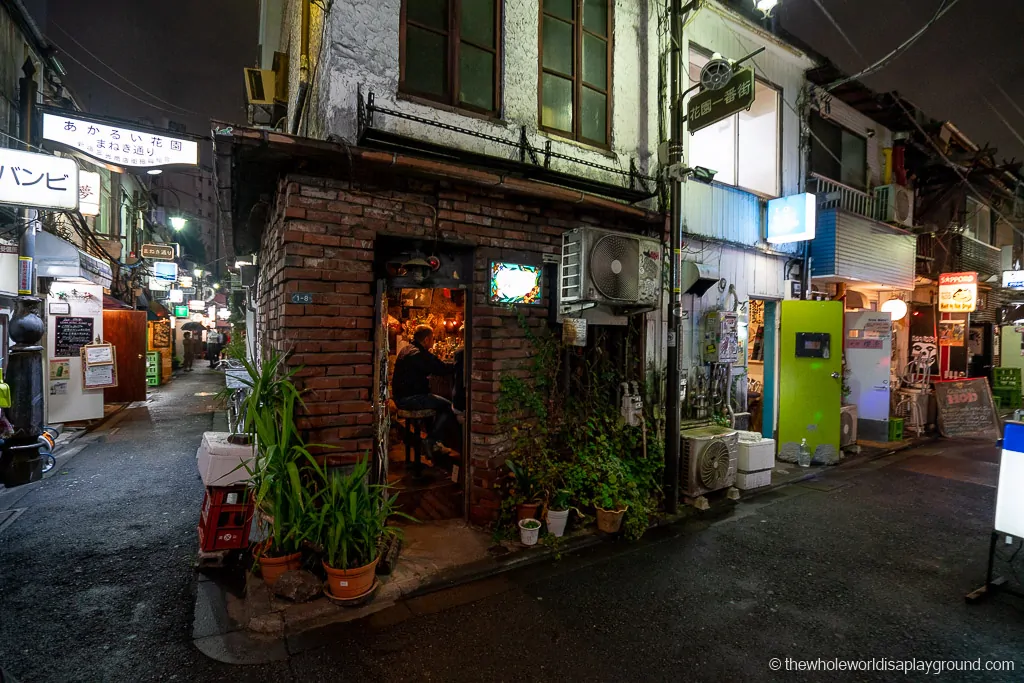 Day 2: Harajuku
Harajuku is one of the quirkiest and most colourful of Tokyo's neighbourhoods and is the kawaii and fashion capital of Japan.
Meiji Shrine and Yoyogi Park
The first stop in Harajuku is the tranquil Meiji Shrine which is dedicated to the Emperor Meiji, the first Emperor of Modern Japan. There are two huge torii gates guarding the entrance to the shrine and a huge display of sake barrels which signify a gift to the gods.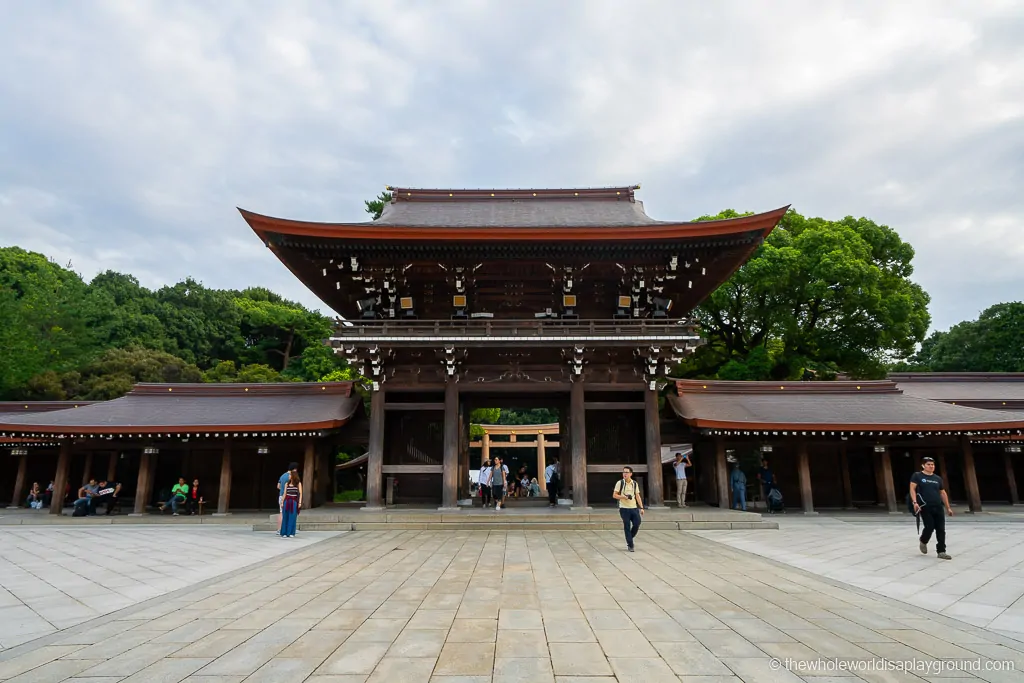 How to get there: Harajuku is on the Yamanote Line, a circular train line which connects many of Tokyo's popular tourist spots including Shibuya, Shinjuku, Harajuku and Tokyo Station.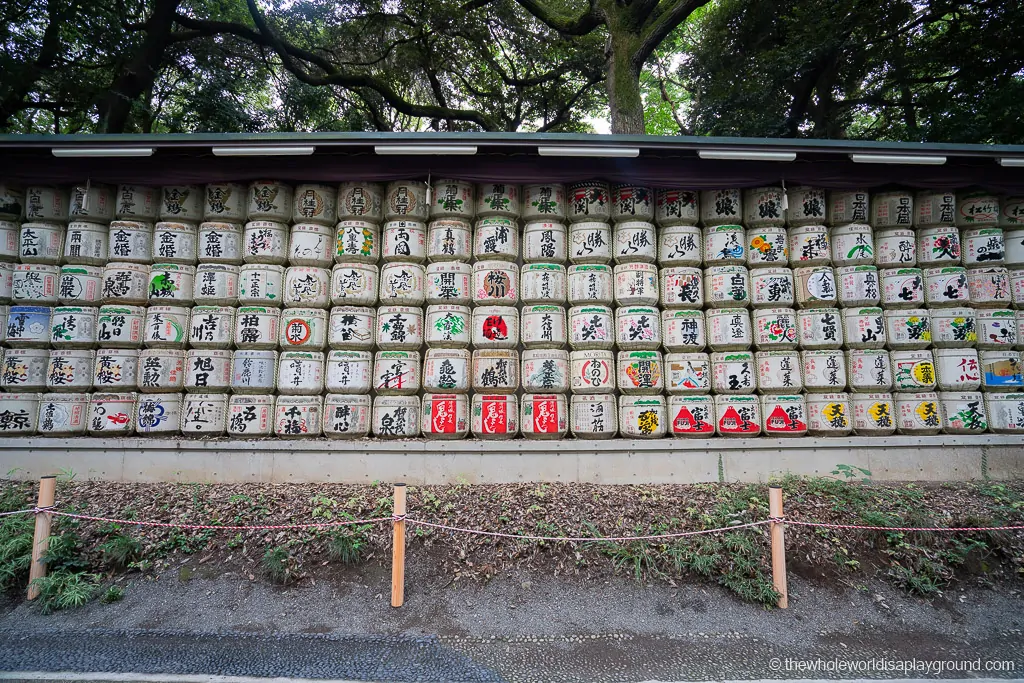 Adjacent to the Meiji Shrine, Yoyogi Park is a hangout for locals and visitors alike and a great place for a stroll.
Tokyo itinerary tip: on Sunday's the Rockabilly dancers often perform at the Harajuku entrance of Yoyogi Park and it's a great time to visit.
Lunch in Harajuku
If you've worked up an appetite there are endless quirky and delicious food options in Harajuku.
Pop into Le Shiner in Harajuku and order one of its famous rainbow grilled cheese sandwiches.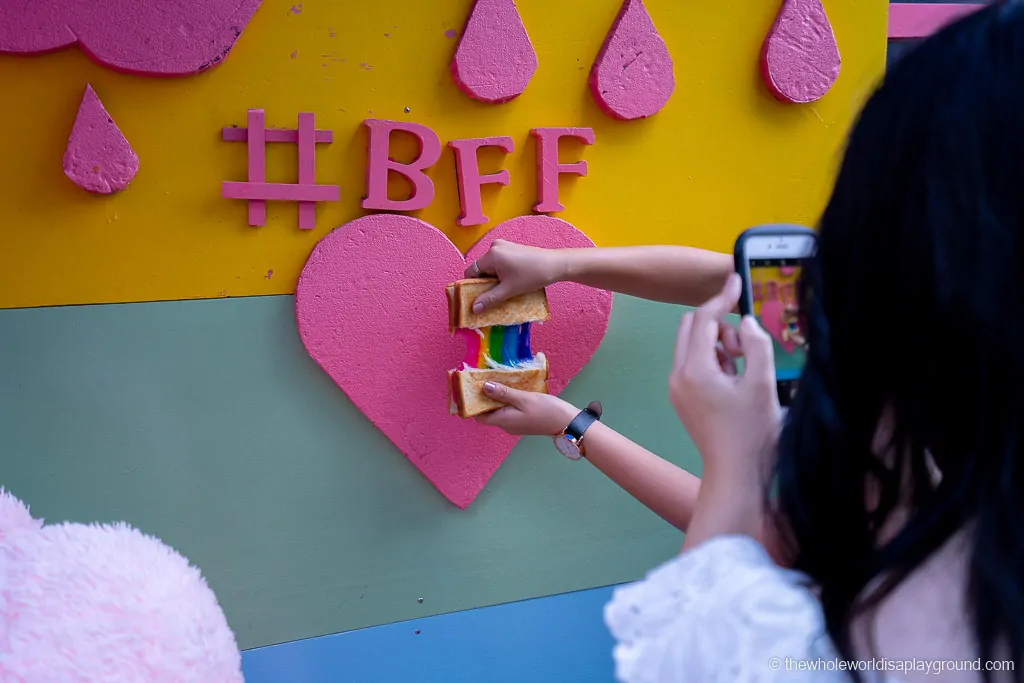 Other great options include the circus-inspired candy floss at Totti Candy.
If the wait time is short, indulge at the donut and croissant delight known as a cronut at the Dominque Ansel Bakery. We also loved the amazing gyoza at Harajuku Gyoza-ro, together with the amazing lobster at Luke's Lobster Roll.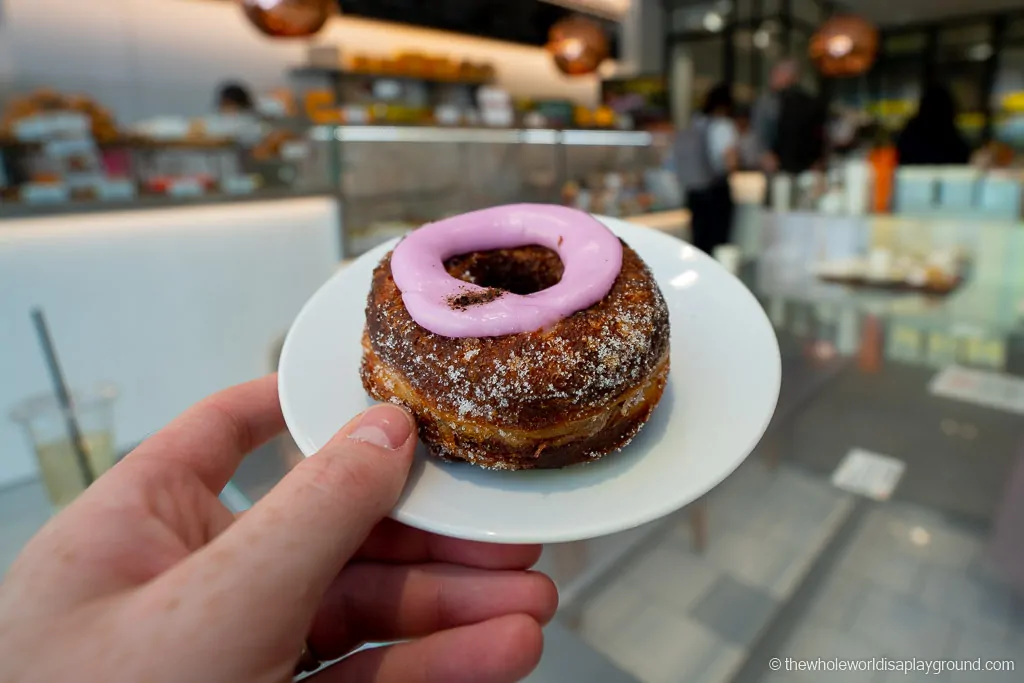 There are also endless cute ice cream offerings in Harajuku and our favorites were Cosiof, Milk and Roll Ice Cream Factory. The shaved ice desserts at Ice Monster are another awesome treat.
Tokyo itinerary tip: we spent a lot of time eating in the neighbourhood and these were our favourite!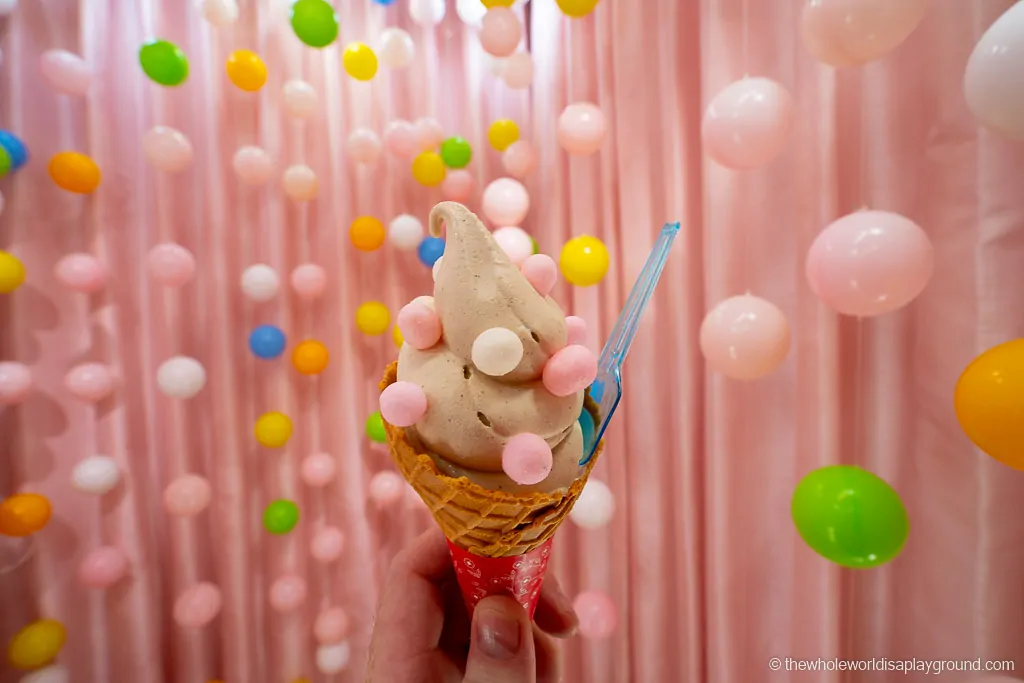 Explore Harajuku
Take a stroll down Takeshita Street. Harjauku's main thoroughfare is lined with shops selling everything from crepes to vintage clothes to candy floss. It's often possible to spot the incredible kawaii inspired fashion looks that Harajuku is famous for.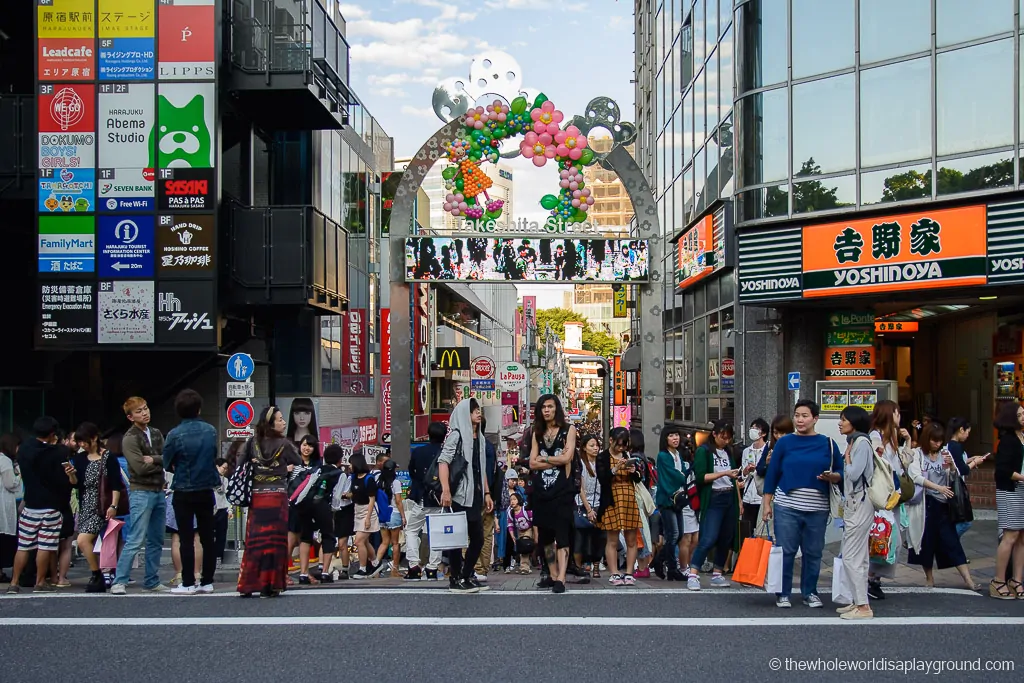 Capture some fun memories with a quick photo booth session at a purikura store on Takeshita Street. The themed photo booths and crazy edits are a great souvenir of Japan.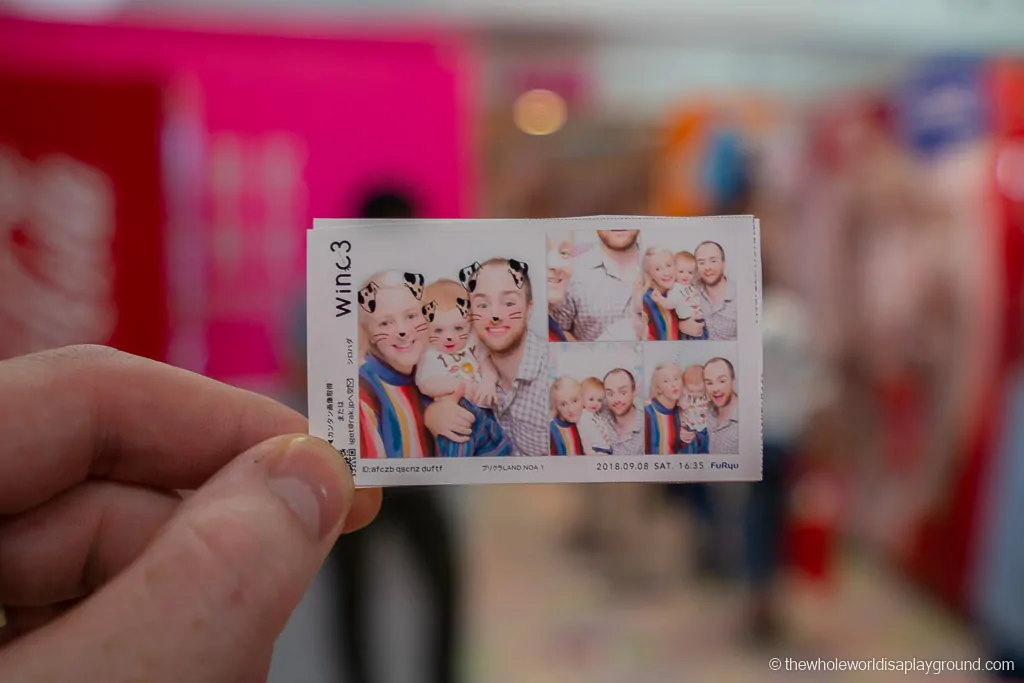 Another Takeshita Street stop, Daiso is a Japanese discount store stocking a fun range of products for 100 yen or less.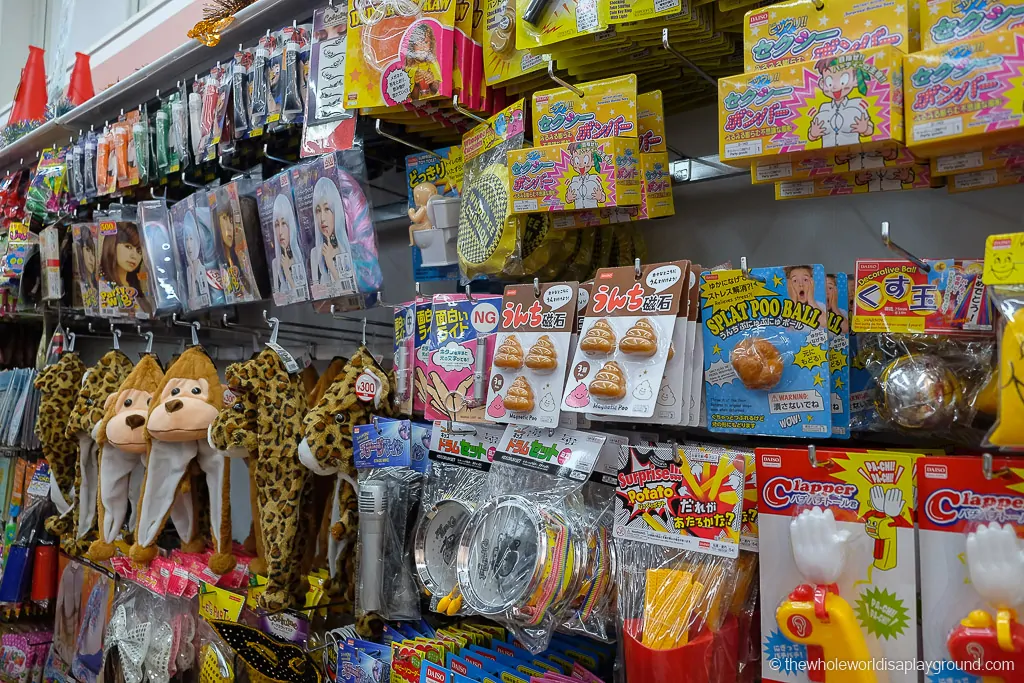 If you wish to indulge in some retail therapy, Omotesando is a fantastic mix of luxury stores, vintage stores and quirky boutiques. While there, pop into the Tokyu Plaza Omotesando Harajuku shopping center. The entrance is an intriguing kaleidoscope of mirrors where you can check out your reflection from every angle imaginable!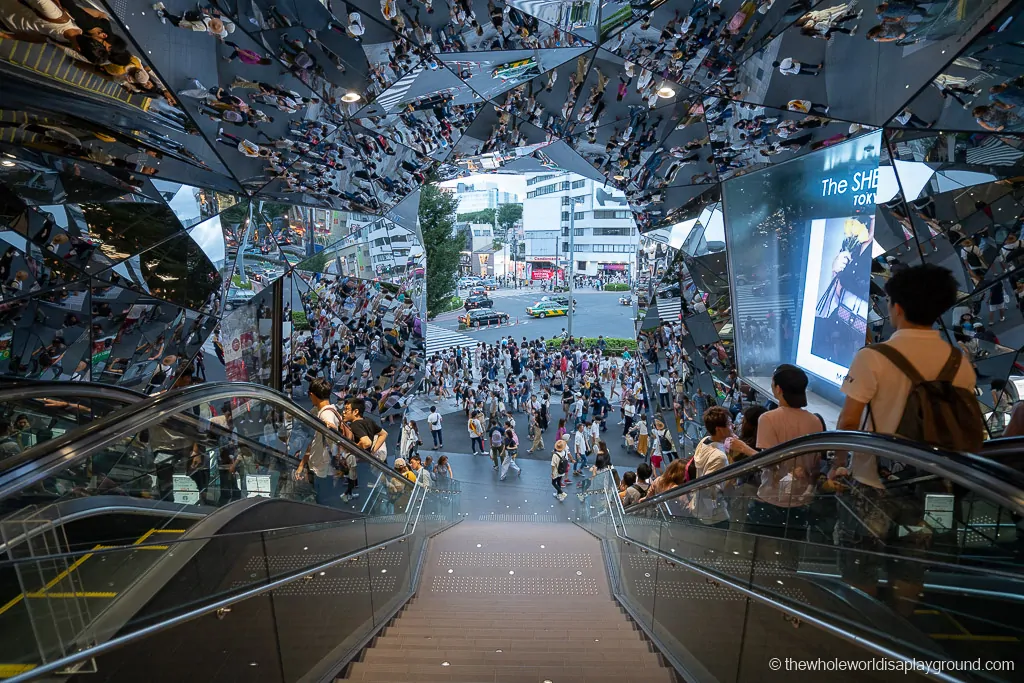 Dinner at Monster Café
For a unique Tokyo experience, we loved the psychedelic decor and cuteness overload at the Kawaii Monster Café. With its giant cake themed merry go round, incredible staff outfits and the colourful food, the Kawaii Monster Café is one of our favourite things to do in Harajuku.
Advance tickets to Monster Cafe are only sold via Voyagin, their official partner, or, if available, walk-in tickets can be purchased on arrival. You can book your package (entrance only, food and drink or themed and premium packages) and time slot via and have tickets sent via email. We used them and it was super easy and reliable – click here to book now!
Click here for Monster Cafe tickets
Tokyo itinerary tip: there are day and evening shows at Monster Café. The burlesque and drag evenings are adults only.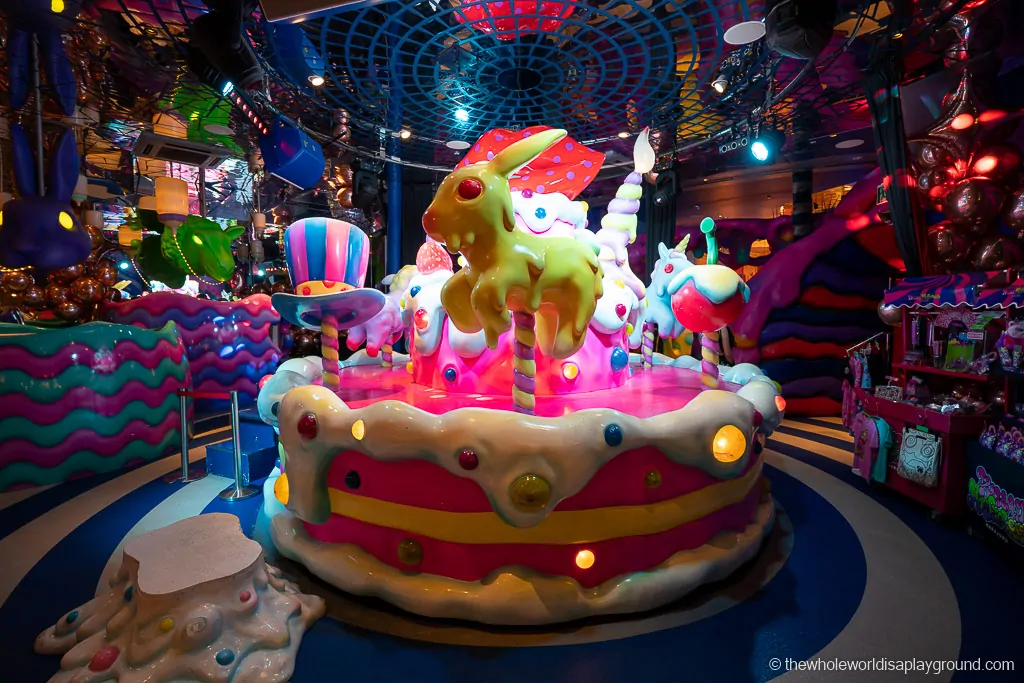 Day 3: Asakusa, Ueno Park, Akihabara and Tokyo Tower
Day 3 is a busy day but takes in the traditional Asakusa and the Senso-ji Temple, the green spaces of Ueno Park, the instantly recognizable Tokyo Tower and the bright lights of Akihabara. If you love ramen, there are two great inexpensive Michelin Star to choose between in today's itinerary.
Asakusa
The ancient Senso-Ji Temple is the oldest Buddhist temple in Tokyo and draws millions of tourists to Asakusa. Pass through the Kaminarimon Gate, a symbol of the city, explore the colourful temple and its five story pagoda and have your fortune told in the temple.
Walk through the historical Nakamise shopping street, in the temple grounds. The wares include souvenirs, snacks, arts and crafts, folding fans and plastic foods replicas!
Tokyo itinerary tip:exploring Asakusa by rickshaw is an awesome way to travel around the iconic sights of the neighborhood while experiencing a rickshaw ride – click here to book a Rickshaw tour!
Click here for to book a Rickshaw tour
Japan's tallest structure, the Tokyo Skytree is within walking distance of Asakusa. The Skytree is a television broadcasting tower and houses a shopping complex, an aquarium and two observation decks – click here for tickets!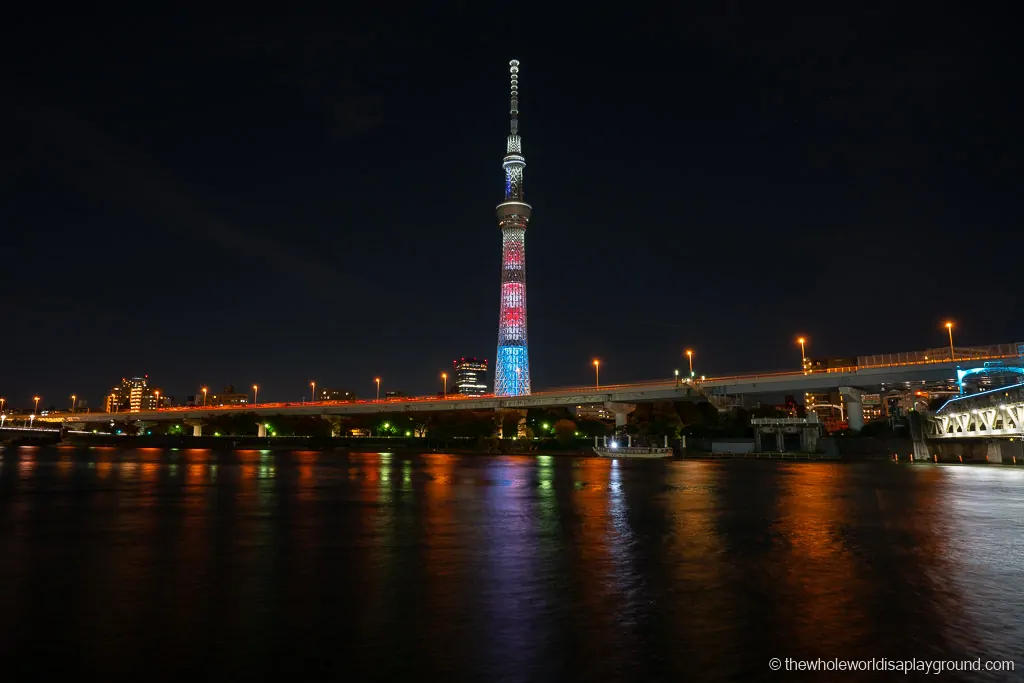 If you're craving open space, make a stop at Ueno Park It's Japan's first public park and house temples, museums and a zoo.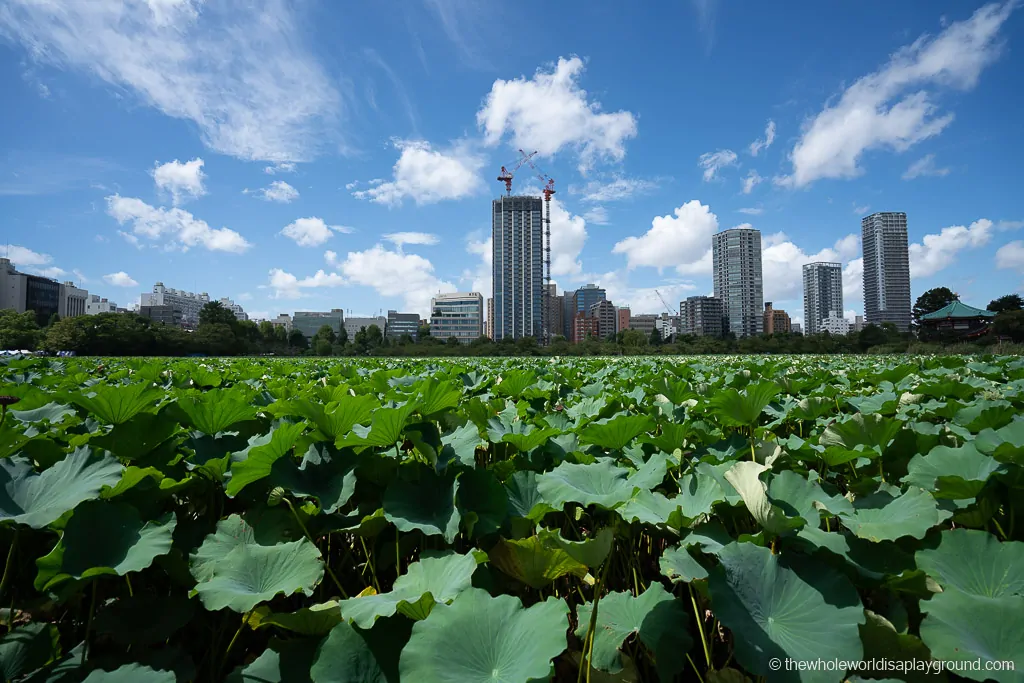 With its stairway of red torii gates, Tokyo's Nezu Shrine is reminiscent of Kyoto's iconic Fushimi Inari albeit on a smaller scale. It's rarely crowded and is such a tranquil place to visit.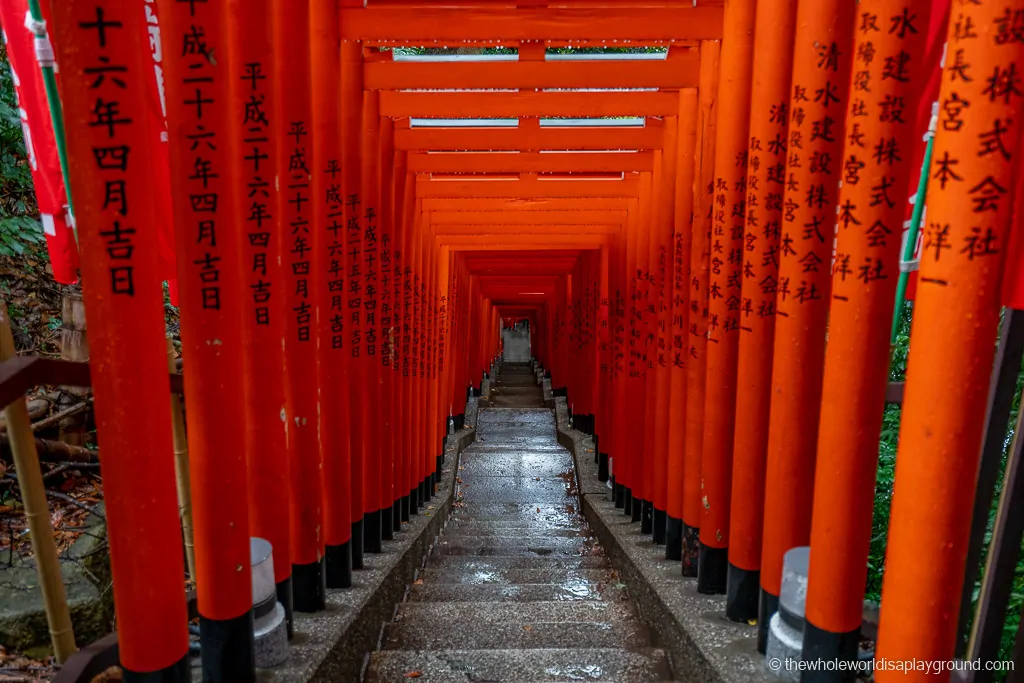 Michelin Star Ramen
Tokyo boast 3 ramen restaurants which have been awarded a Michelin Star and today's itinerary is a great opportunity to indulge in some Michelin Star dining at a really reasonable price.
There are two Michelin Star ramen restaurants close to Nezu Shrine, Tsuta and Nakiryu, and we've visited and loved both.
Tsuta requires an early morning visit to pick up a ticket and then return at your allocated time to eat.
Nakiryu operates on a queuing system where you queue and then dine.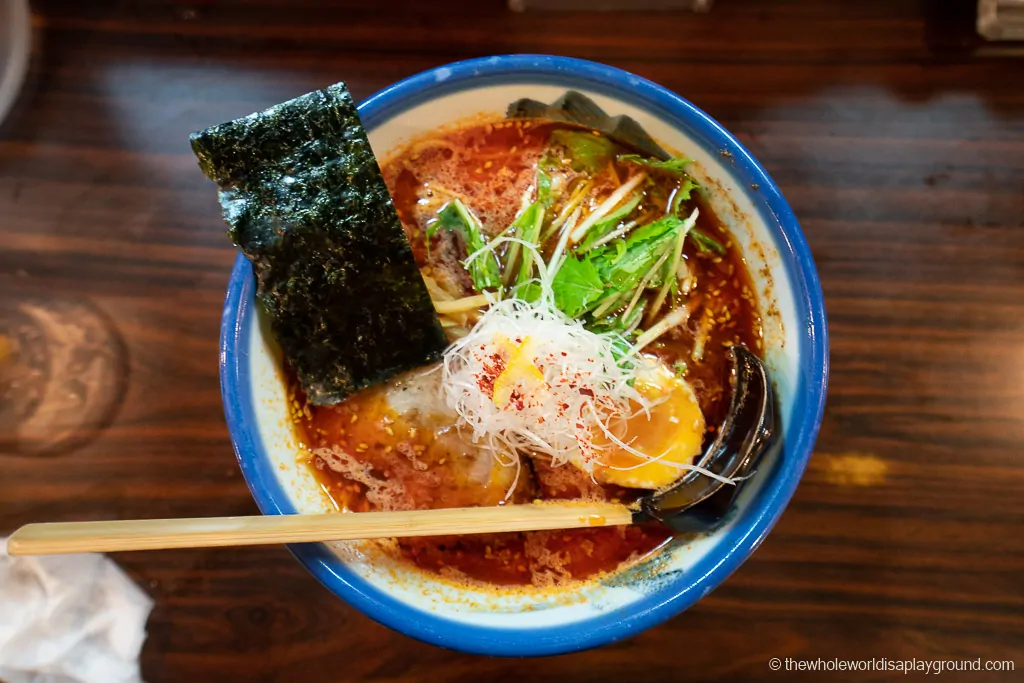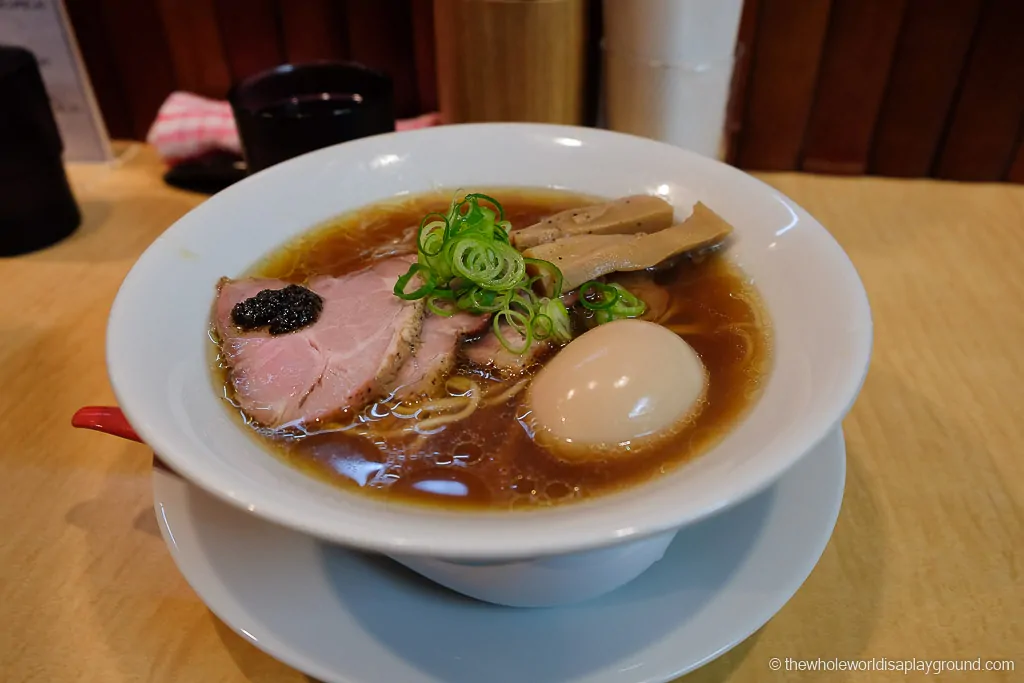 Spend the evening the neon lit streets of Akihabara, Tokyo's Electric Town. Akihabara is crammed full of shops and stalls selling every electronic device and accessory imaginable! BIC Camera is one of the most popular electronic stores in Akihabara – make sure to order a free discount coupon for the store on Klook – order your free discount coupon for BIC Camera here
Akihabara is also the center of anime, the animation culture and Otaku, the hardcore geek movement which are both hugely popular in Japan. It is also home to many of Tokyo's famous maid cafes. Manga cafes, which offer a mix of comics and internet access, are also popular.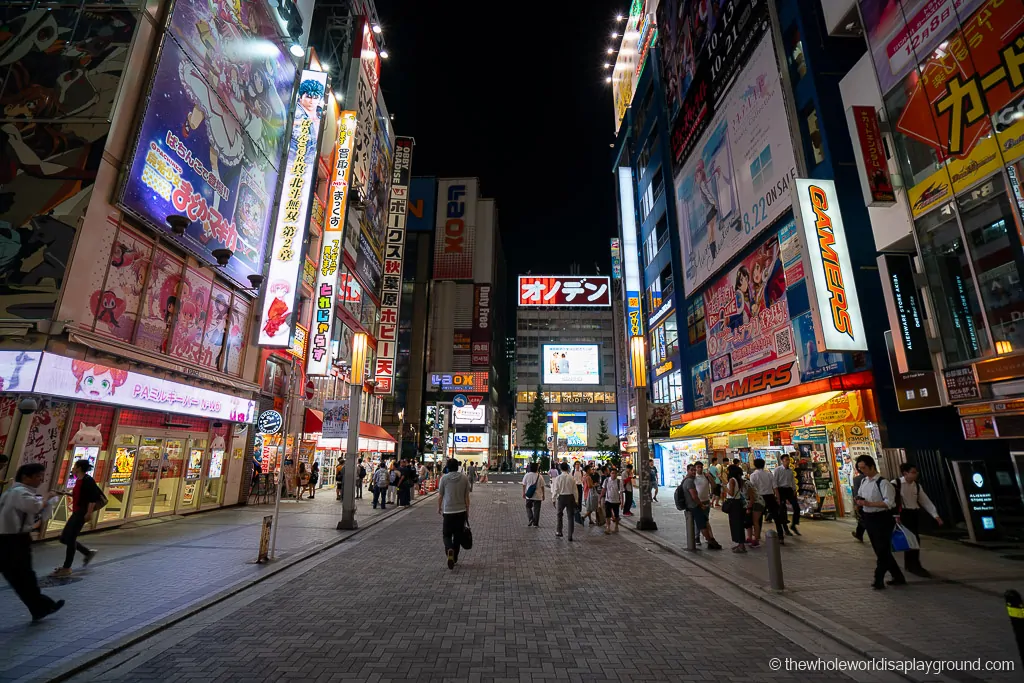 Go Kart through the streets of Akihabara
One of the most fun and unique things to do in Tokyo is driving a go kart through the neon lit streets of Akihabara. We opted for a two hour tour which took in Akihabara, Ueno Park, Asakusa and the Tokyo Sky Tree. Zipping around the Tokyo streets in a go kart while dressed in bright cosplay costumes is unforgettable experience – check prices here!
Click here for to book Akihabara go-karting
Tokyo itinerary tip: you must present an International Driving Permit to take part in the Akihabara Go Karting activity. An International Driving Permit is just a standard translation of your countries driving licence. It's quick and easy to get an International Driving Permit but you must obtain it before you travel.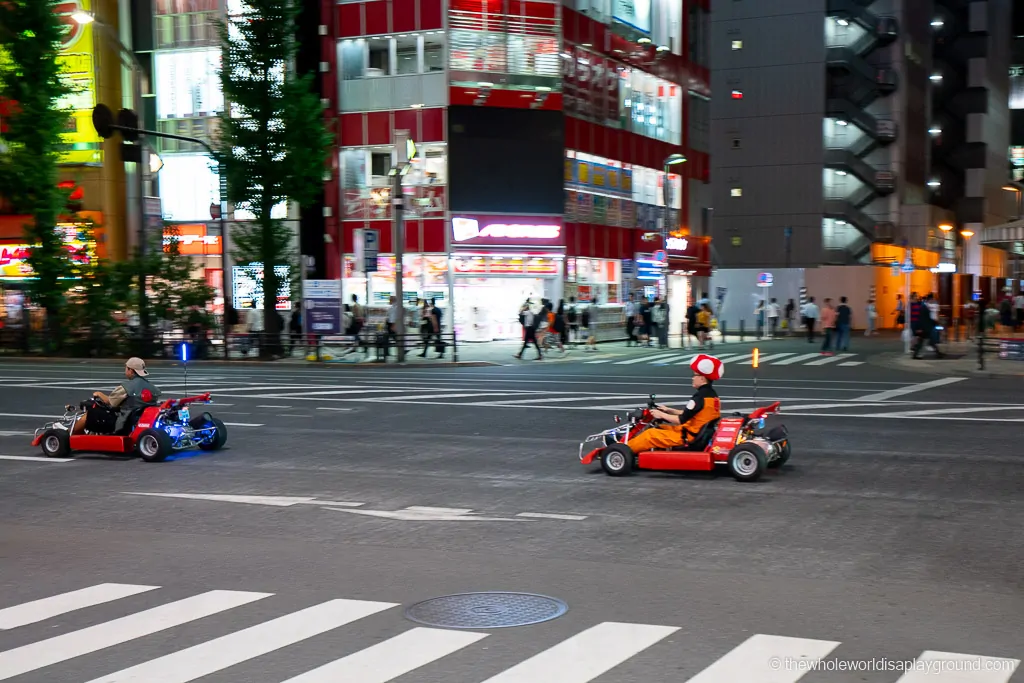 Finish up the day with a trip to Tokyo Tower and the nearby Zojoji Temple.
Standing under the shadow of Tokyo Tower, Zojoji Temple is one of the largest and most important Buddhist temples in all of Japan.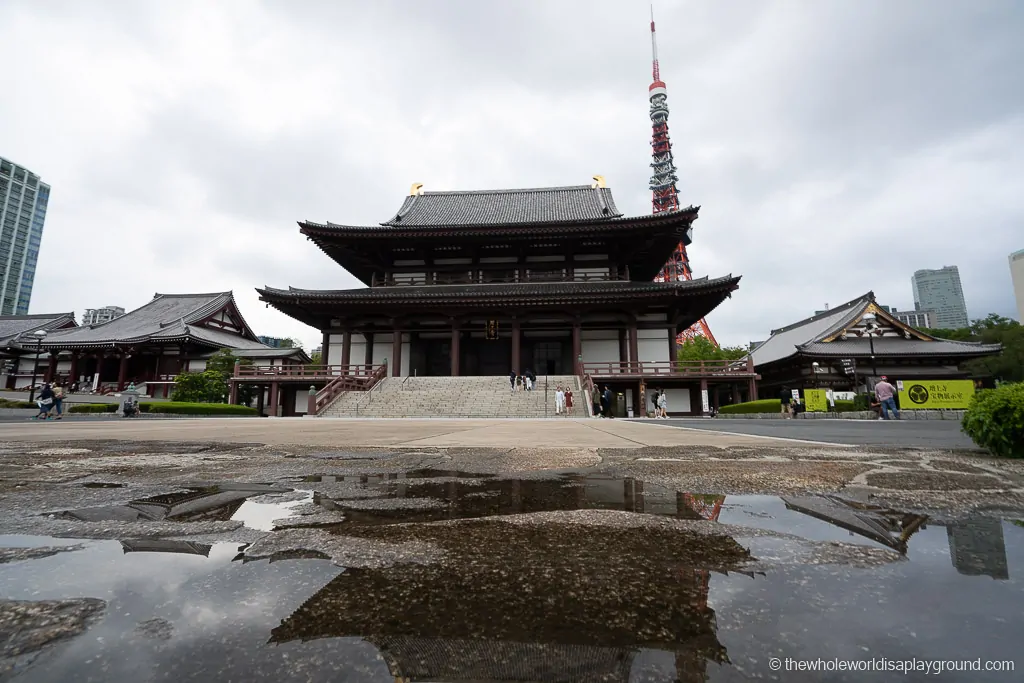 In the temple grounds there is a garden filled with Jizo statues who are care guardian deities of children. They are dedicated to the safe growth of our children and grandchildren together with the babies who passed. It's a beautiful and moving tribute.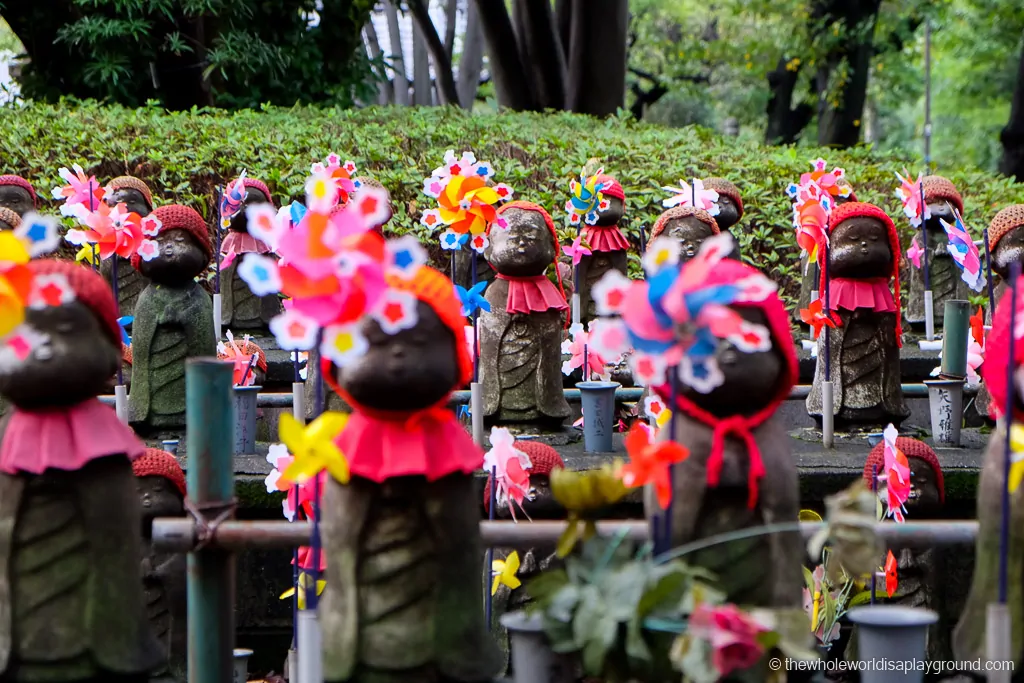 The nearby Eiffel Tower inspired red and white Tokyo Tower is one of the most recognizable landmarks in Tokyo. The communications tower is one of the tallest structures in Japan and houses two observation decks. The Main Deck is 150meters high and the Top Deck is staggering 250meters into the sky! The views are spectacular and it is spectacular to see Tokyo at night. We visited the top and main decks and both are amazing – check prices here!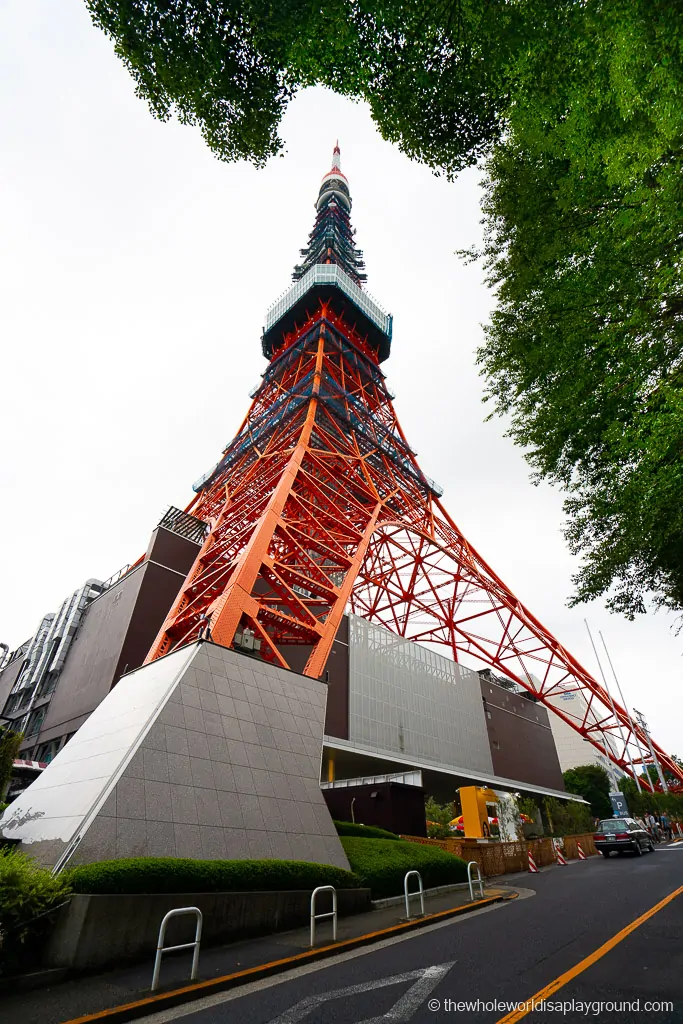 Day 4: Shibuya and Roppongi
The chaotic Shibuya, its iconic crossing and endless food, drink and entertainment options while the Roppongi district is Tokyo's expat hub and is popular for nightlife, entertainment and art together with its awesome observation deck.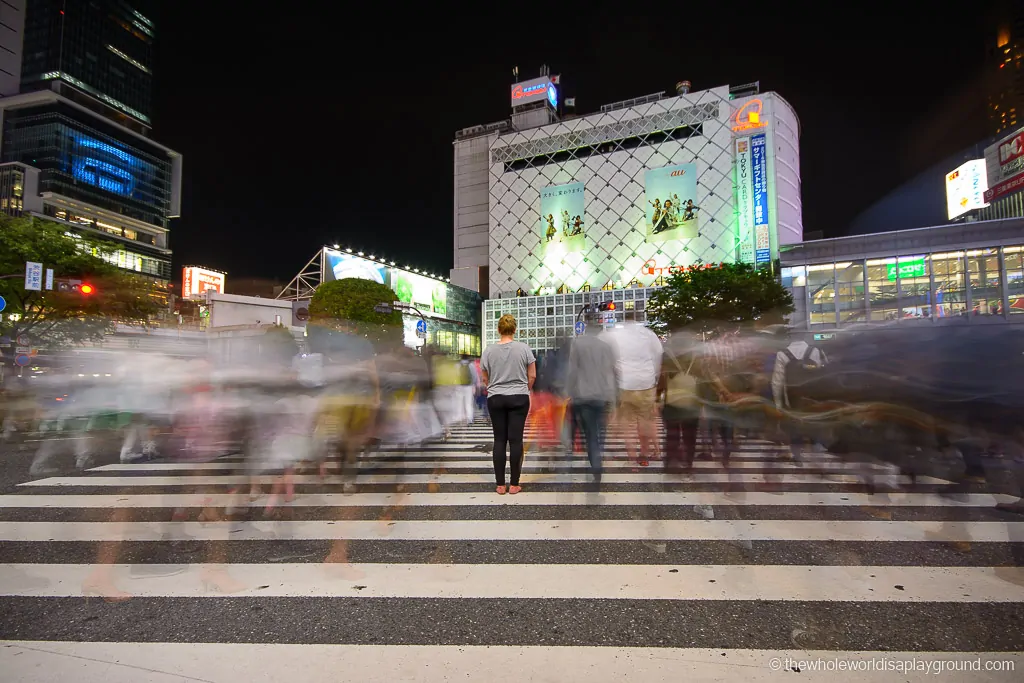 Shibuya
Shibuya is home to the neon lights and crowded streets that Tokyo is famous. As you leave Shibuya Station, stop to pay tribute to Hachikō, a loyal dog who waited at the train station for 9 years for his owner, who had passed away at work, to return. It's one of the most beautiful stories we've come across on our travels and Hachikō is a Japanese treasure.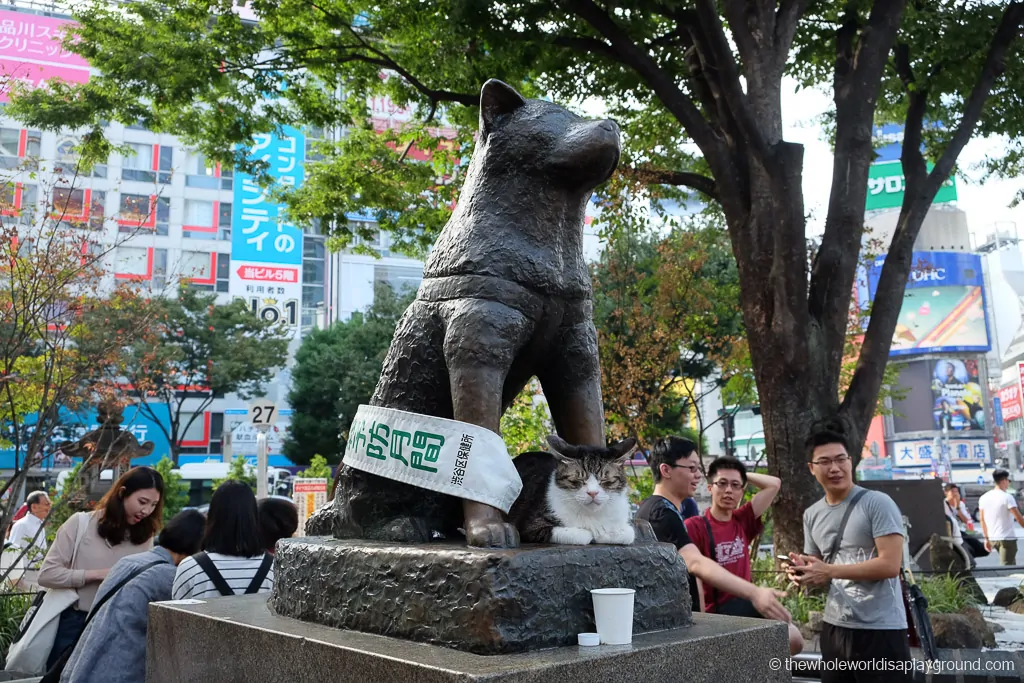 The iconic Shibuya Crossing is located a few steps away. 3,000 people cross the intersection at peak times and the junction is an incredible maze of pedestrian crossings.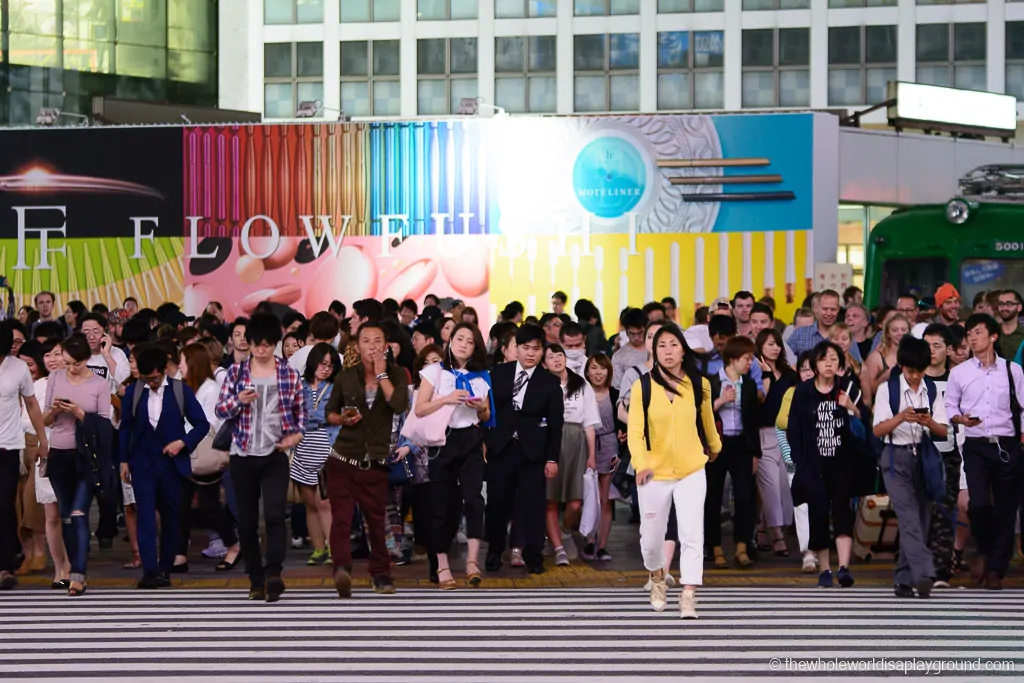 As well as zigzagging across the intersection it's amazing to watch the crowds from above. A window seat at the Starbucks Shibuya Tsutaya is our favourite place for a birds eye view of the action.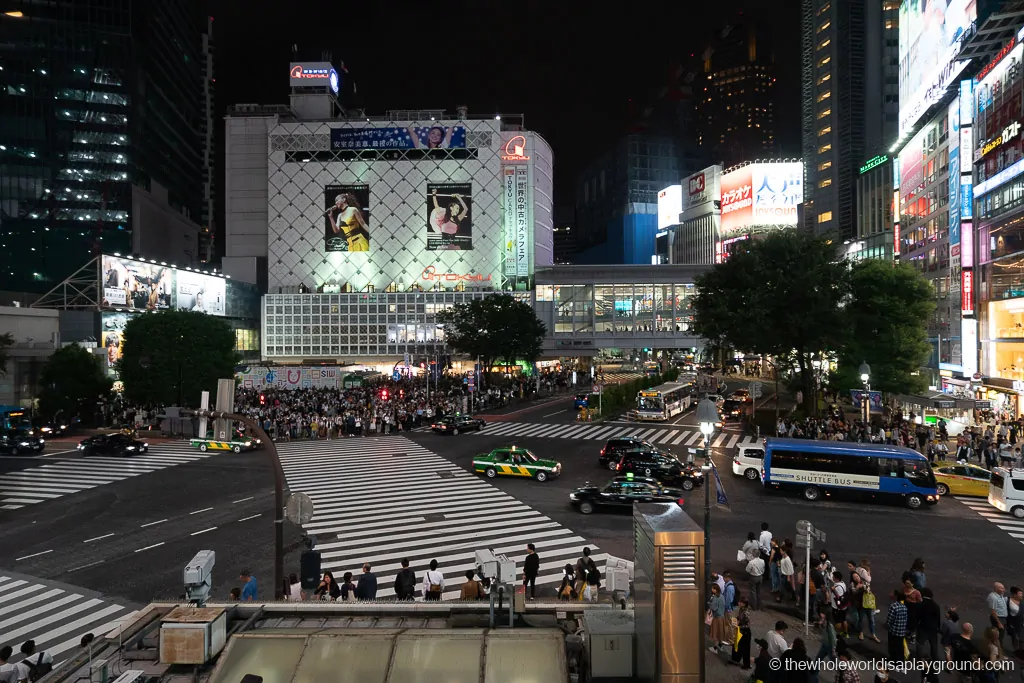 Bring some of the quirky and bizarre into your afternoon with a visit to Maidreamin Maid Café. Maids, dressed in frilly maid costumes, sing, dance and draw quirky characters in the food and drinks. Chances are, like us, you'll leave just as baffled as when you arrived! – check prices now!
Click here for Maid Cafe tickets
Shibuya is renowned for shopping with everything from the biggest high street names to small, unassuming stores. We love exploring the unique Tokyo shopping offerings – Tokyo Hands, with its huge collection of stock ranging from useful to quirky to cute, is our favourite!
Early dinner at Zauo
Zauo Fish Restaurant is a quirky dinner option in Shibuya. Guests sit in a giant boat and fish for sea bram, flounders and lobster in the surrounding moat. A drum beats when a fish is caught and it is then served as sushi, tempura, fried or in soup. It's so much fun! – click here to book now!
Tokyo itinerary tip: Zauo is super touristy and really popular. Make sure to reserve in advance and request a boat seat so you can fish directly from your table!
After dinner, stop by Nonbei Yokocho. Similar to Shinjuku's Piss Alley, Shibuya's Drunkards' Alley is a tiny lane of bars popular with Japanese salarymen. Grab a seat, order a drink and enjoy the dark and moody atmosphere and the lingering smells of beer and yakitori smoke that fill the air.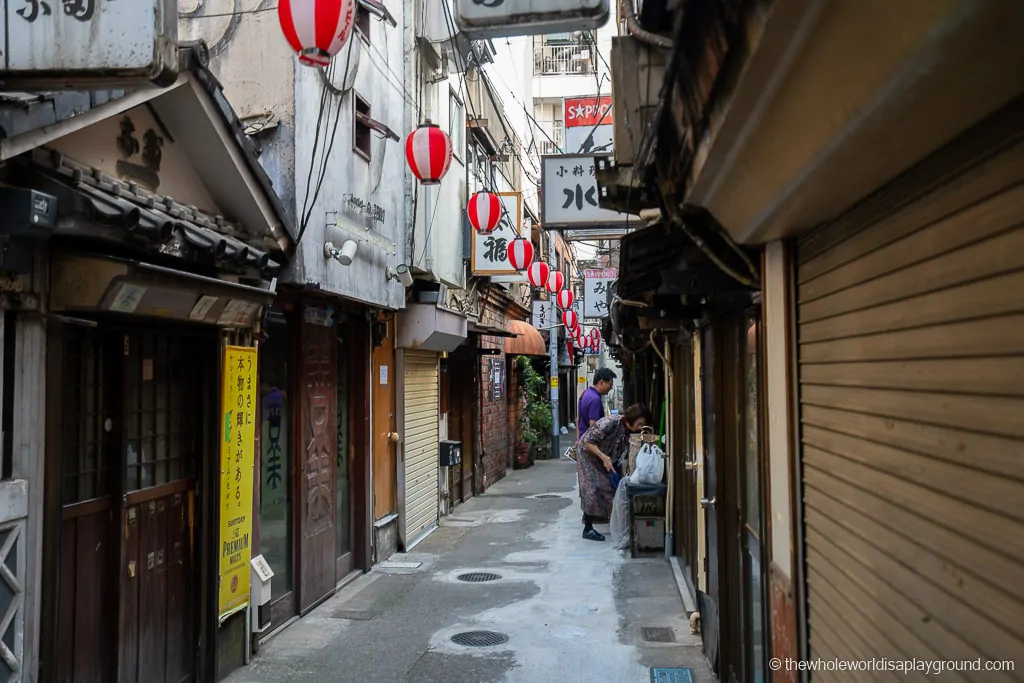 Roppongi
Finish up the day's sightseeing with a short jaunt to Roppongi to check out the views at the Roppongi Hills Tokyo City View Observatory. The observation deck is located in the Mori Tower, one of the tallest buildings in Tokyo. The views are incredible from both the 52nd floor indoor observation deck and the Sky Deck, an outdoor observation deck 270 metres high – click here for tickets!
Click here for Roppongi Hills Observatory Tickets
Tokyo itinerary tip: the late opening hours make Roppongi Hills a great choice for late evening sightseeing. The indoor observation deck closes at 11pm (last entry 30 minutes prior) and at 1am on Friday and Saturday (last entry 60 minutes prior). The outdoor Sky Deck closes at 8pm daily (last admission 30 minutes prior) and during private events and adverse weather.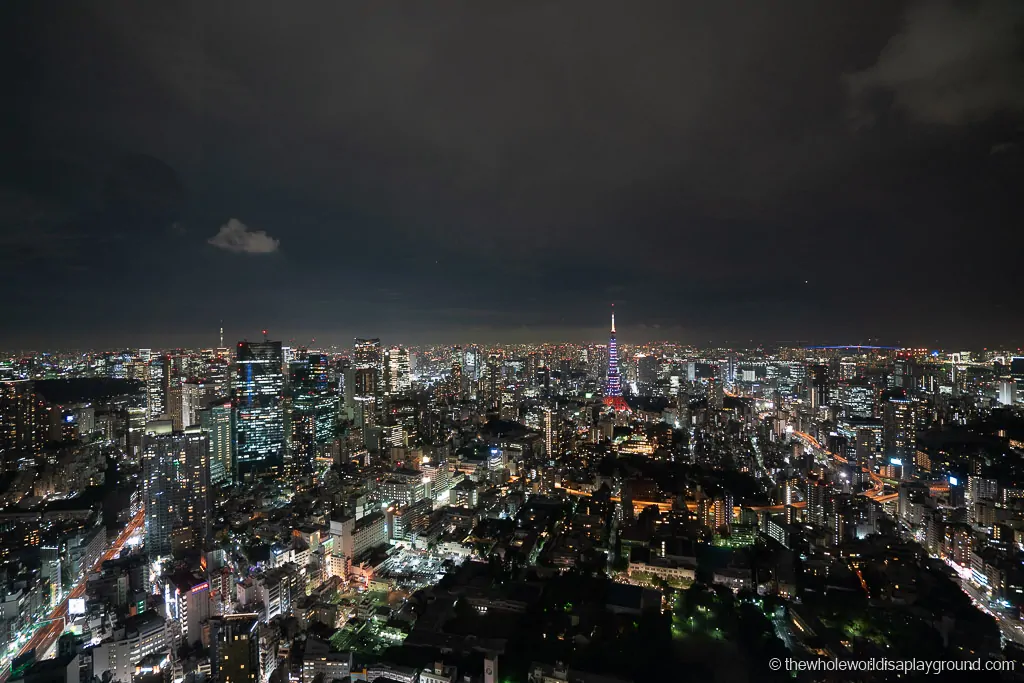 Day 5: Toyosu and Tokyo Station
Toyosu shot to fame as the new location of the Tokyo fish market. It is also home to Kidzania, one of the best things to do in Tokyo with kids. You're likely to pass through Tokyo Station during your travels and Ramen Street, the Marunouchi building and the Imperial Palace are all worth a visit.
Toyosu Fish market
The new Toyosu Fish market is the home of the recently migrated Tsukiji Fish Market and famous tuna auction.
Tokyo itinerary tip: after multiple delays the Tsukiji Fish Market relocated to Toyosu in late 2018. We were lucky enough to visit and eat at Tsukiji many times before the move and even attended the tuna auction there.
Tuna auction
Tokyo hosts a world famous tuna auction. For a unique experience try and secure free tickets for the tuna auction observation deck. The auction takes place from 5:45am most weekdays and Saturday's throughout the year.
Auction tickets allow access to the closest viewing area and only 120 people are granted access each day. Make sure to apply during the month before your time in Tokyo and you will be notified by email if you are successful – the Toysu lottery website is here
Tokyo itinerary tip: If you are unsuccessful in the lottery, it's still possible to view the tuna auctions from the windows of the building. However, you won't be able to hear the auction.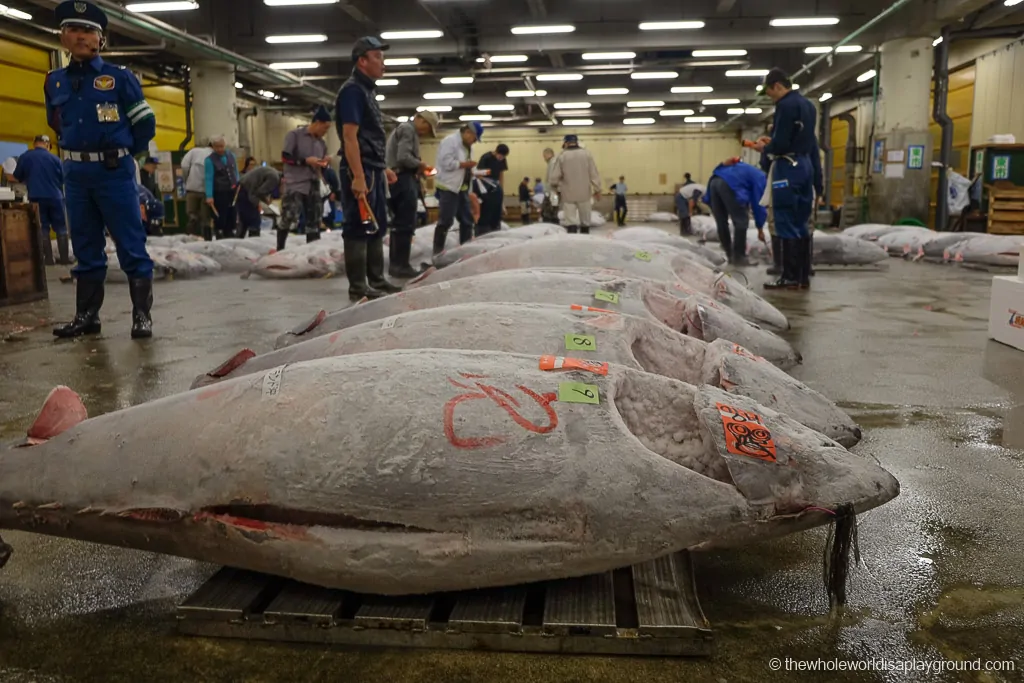 The Fish Market
There's a Wholesale Fish Market which is closed to the public an an Intermediate Fish Market which is home to the renowned Sushi Dai – we ate in the original Sushi Dai in Tsukiji and had an amazing experience. The Fruit and Vegetable Market building is where you'll find Daiwa Sushi, another incredible option. There are some great tours which take in all the best food options at both Toysu and Tsukiji – check prices here!
It's a short walk from the fish market to the TeamLab Planets digital art exhibition. Delivered by the same team as TeamLab Borderless, this is another spectacular display of digital art.
Again, it's best to book tickets in advance and arrive early for the best experience – check ticket prices here!
Tokyo itinerary tip: if you are travelling with kids, Kidzania is a great option. It is a mini-city where kids can try out adult jobs and get paid for their work! Check out our Tokyo with kids itinerary for more family friendly suggestions.
Tokyo Station
Stop by the aptly named Ramen Street deep inside the station. It houses a collection of rmouth watering ramen restaurants that will satisfy any ramen cravings! Outside of the station, check out the architecture of the red brick Marunouchi Building. It was designed by Kingo Tatsuno, a key figure in modern architecture in Japan.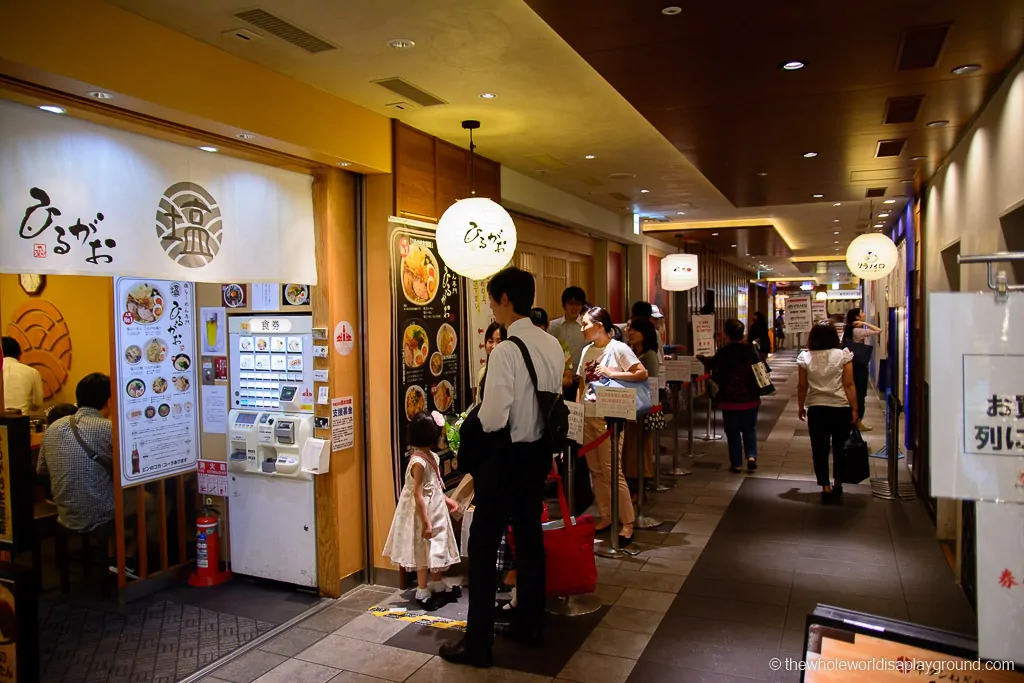 Make the short walk to the historic Imperial Palace which has been used by the Imperial family since 1868.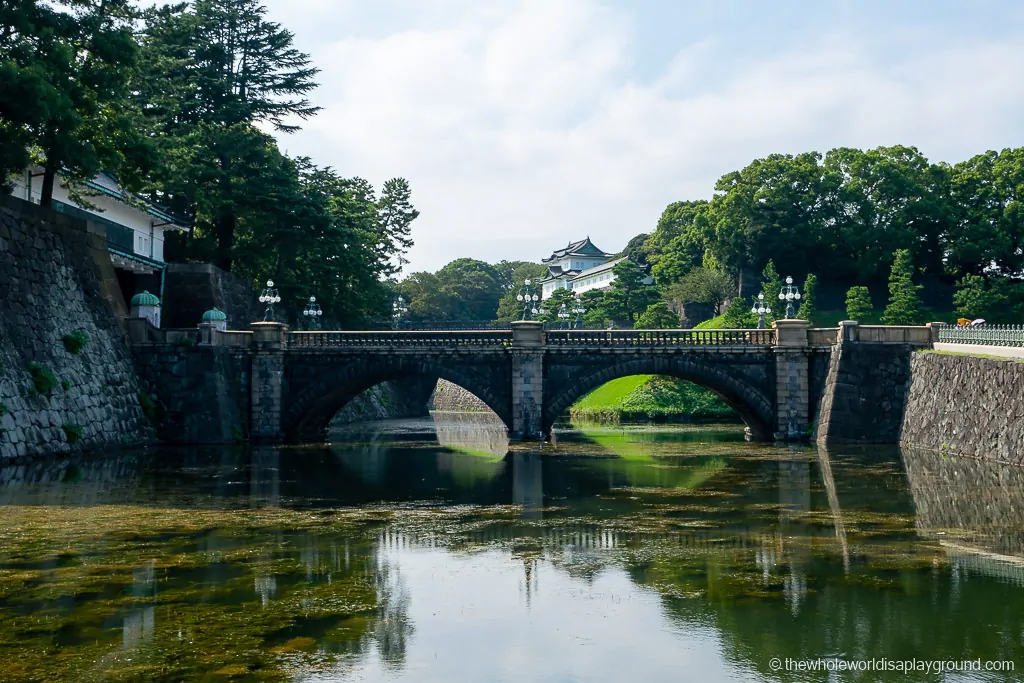 How to get there: take the Yurakucho Line from Toyosu Station to Yurakucho Station. From there, it's a 5 minute walk to Tokyo Station.
Day 6: Hakone
Hakone is a popular day trip from Tokyo and is easily accessed by train from Shinjuku. Famous for its hot springs, outstanding natural beauty and stunning Mount Fuji backdrop, there are lots of fun and adventurous things to do in Hakone.
How to get there: an Express train operates between Shinjuku and Hakone-Yumoto. It's easiest to purchase a Hakone Free Pass. The pass covers the return train journey from Shinjuku together with transport in Hakone. It allows for free travel on the bus, the Hakone Ropeway, the Hakone Tozan train and the pirate ship on Lake Ashi. There are also discounts on entry to many Hakone attractions – purchase a Hakone Free Pass here!
Click here to purchase a Hakone Free Pass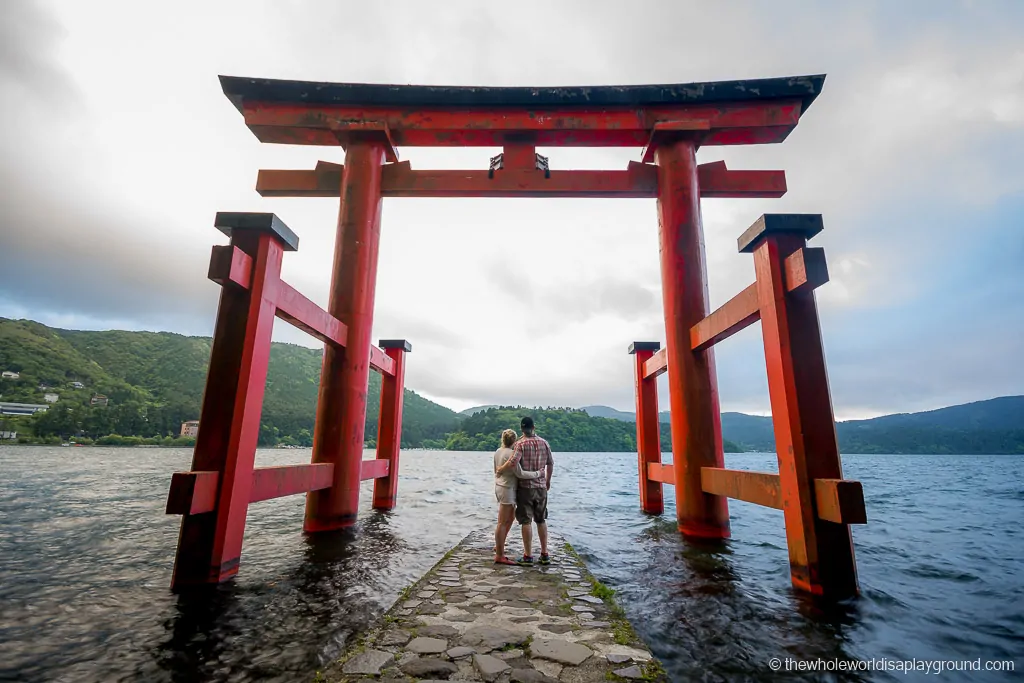 Ride the Hakone Ropeway over the volcanic Owakudani Valley and gaze upon the majestic Mount Fuji from the observation deck. Make sure to sample the regions famous black eggs which are touted as adding 7 years to the life of those who consume.
Visit the Hakone Open Air Museum with works by Henry Moore and Joan Miro as well as a permanent exhibition hall with over 300 Picasso pieces. There's also Hakone Kowakien Yunessun, a novelty onsen park with a wine bath, a green tea bath, a sake bath and a coffee bath – check prices here!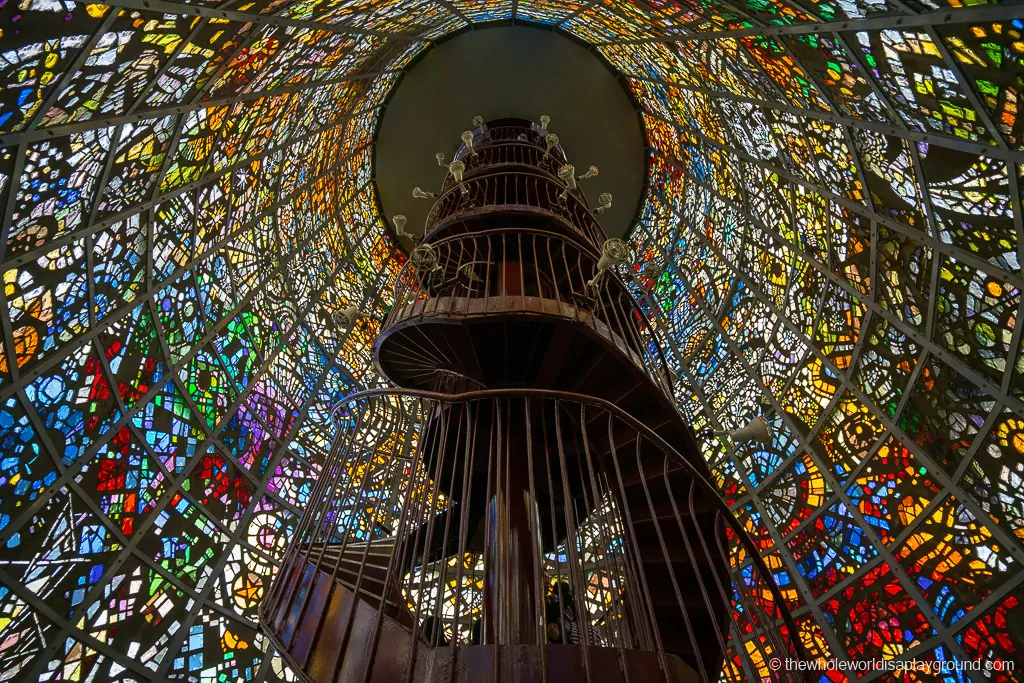 Day 7: Tokyo Disneyland/ Tokyo DisneySea
Tokyo's Disney Resort is made up of two theme parks, Tokyo Disneyland and Tokyo DisneySea. You will need to allow two days if you wish to visit both.
Tokyo Disneyland
Modelled on Disneyland California and Magic Kingdom in Florida, Tokyo Disneyland is one of the best Disney parks in the world. The most popular rides include Pooh's Honey Hunt, Space Mountain, Big Thunder Mountain, the Haunted Mansion and Monster's Inc Ride and Go Seek.
How to get there: At Tokyo Station, switch to JR Keiyo Line or JR Musashino Line and go to Maihama Station. If you have a JR Pass, this journey is covered with your pass.
Tokyo Disneyland attracts big crowds so plan to arrive as early as possible and make the most of your time in the park.
If you've visited Disney in the US and want to focus on Tokyo's unique rides then check out:
Pooh's Honey Hunt: the honeypots travel seamlessly through a trackless system making for a unique and surreal experience.
Monster's Inc Ride and Go Seek: riders are given a flashlight weapon to search for monsters, scoring points on a sighting. The level of detail is mesmerising.
Parades: Dreaming up and Dreamlights.
Space Mountain: the single rider queues are usually a breeze in Tokyo Disneyland. On the day we visited the wait time was less than 15 minutes for a single rider.
Make sure to buy tickets in advance as Tokyo Disneyland can sell out – check prices here!
Click here to buy Tokyo Disneyland tickets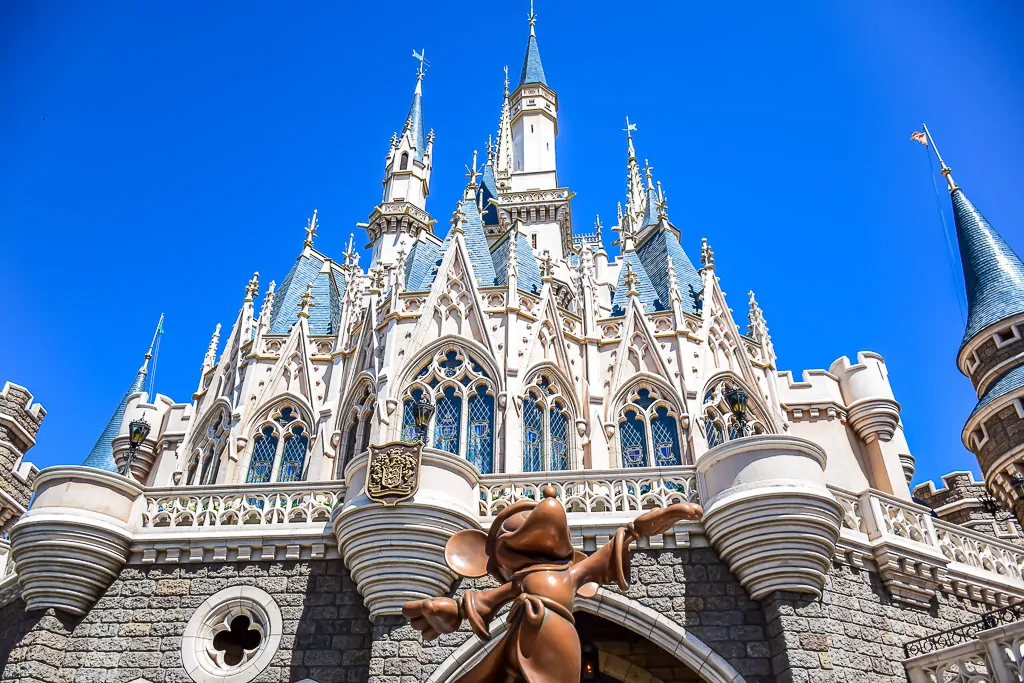 Tokyo DisneySea
Located next to Tokyo Disneyland, Tokyo DisneySea is a unique Disney park based around the tales and legends of the sea. The park is split into 7 ports and the park is famous for the shows that take place at the Mediterranean Harbor.
The best rides include 20,000 Leagues Under the Sea, Sinbad's Storybook Voyage and Journey to the Center of the Earth. For younger guests, the Mermaid Lagoon has a great selection of kid friendly rides – check prices here!
Click here to buy Tokyo Disneysea tickets