As we stepped into the Cloud 9 business class cabin of the Ethiopian Airlines Dreamliner we were excited for two things: a much anticipated flight in an Ethiopian's Boeing 787 Dreamliner and the prospect of 3 weeks road tripping through South Africa. It was go time: all aboard for the Dublin to Addis Ababa Cloud 9 business class review!
Pre flight treats
Dublin Airport
Our business class ticket entitled us to use the Fast Track security queue in Dublin Airport's Terminal 1 and this is always a bonus in the bustling terminal. Ethiopian use the Dublin Airport Authority Executive lounge (read our report here) which is a lounge with a basic offering covering lots of airlines and paid access options. We've spent many pre flight hours in the DAA lounges and the bright and airy Terminal 1 offering is a solid option which is well aligned for the pricing of the Ethiopian business class product.
Addis Ababa Airport:
We spent a LOT of time in Addis Ababa airport due to an unexpected 48 hour stopover in Ethiopia (see the not so good below and be sure to leave lots of time between connecting flights to allow for potential delays). With our business class tickets we were able to access the dedicated Cloud 9 lounge in Departures it was a more relaxing and less crowded alternative to the bustling terminal outside its doors. The traditional decor and the strong Ethiopian coffee were the highlights of our visit. A priority security and boarding queue was also available and, again, this was a great perk in a busy airport. Read our review of the Addis Ababa Cloud Nine Business Class Lounge here.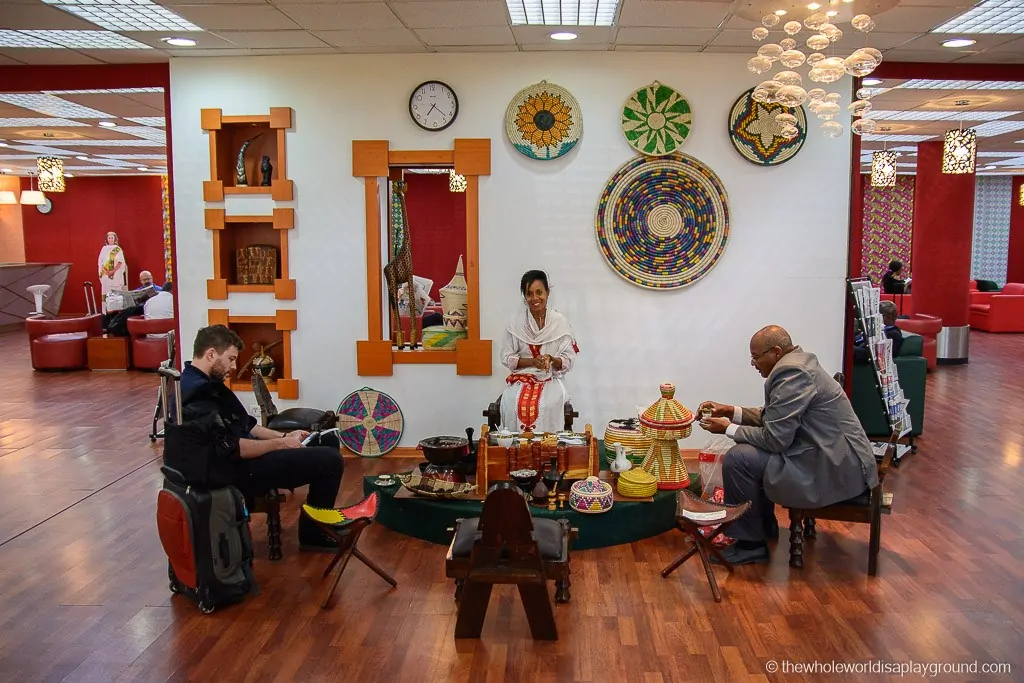 Welcome Aboard
It was time to board our flight to Addis Ababa and check out our home for the next 9 hours. Boarding was quick and we were soon settled in our seats with a chilled glass of champagne!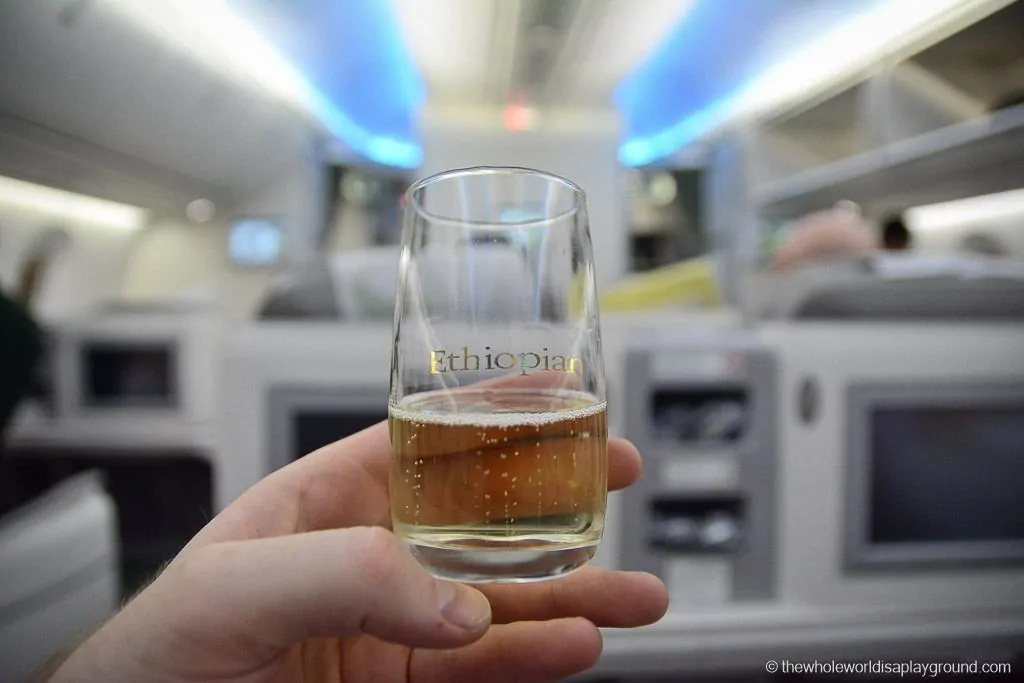 The Cabin
Our first impressions of the Ethiopian Airlines Dreamliner were positive. We found the business class cabin inviting and were excited to experience our first flight on a Dreamliner! On the Ethiopian Dreamliner the Business Class section is made up of 24 seats in a 2-2-2 configuration. Business Class is bright and airy but the cabin did feel quite crowded when it filled up.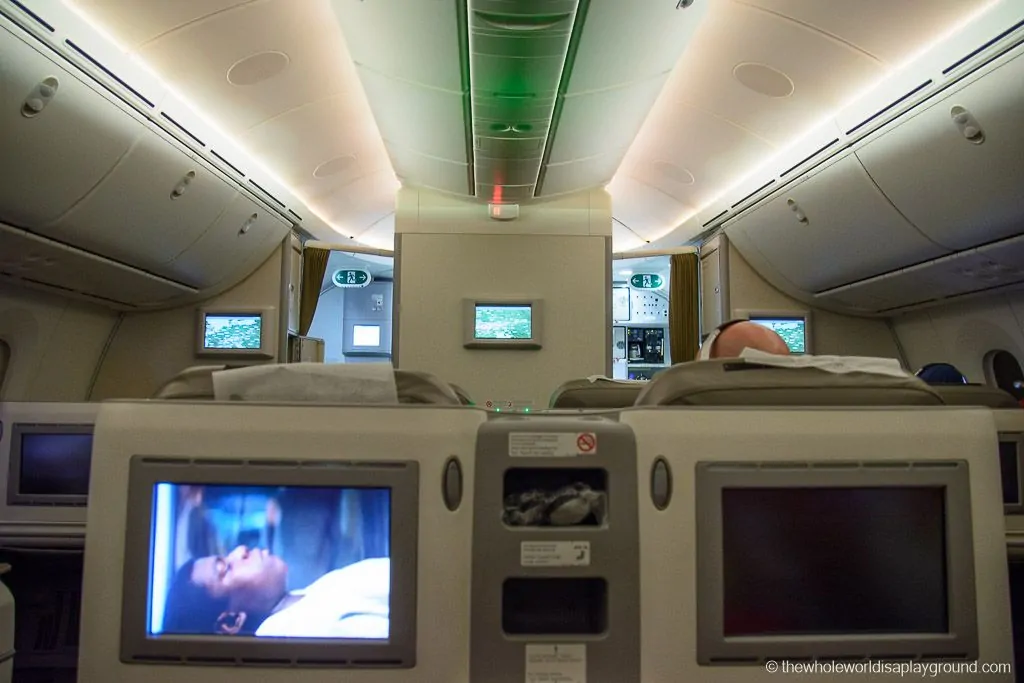 The Seat
With 3 of us travelling (Dave and I took my mum along for some South Africa safari fun!), we opted for a window 2 seater and the middle seat across the aisle in the same row. In the end we had the 4 seats to ourselves as no one was allocated the remaining middle seat.
The business class seats on the Boeing 787 Dreamliner are shell like with a wooden divider offering some privacy between the individual seats. The seats are equipped with power supply, a tablet which controls the seat position and entertainment system, a large television screen and small storage cubes. A pillow and blanket were on the seat ready for our night time sleep.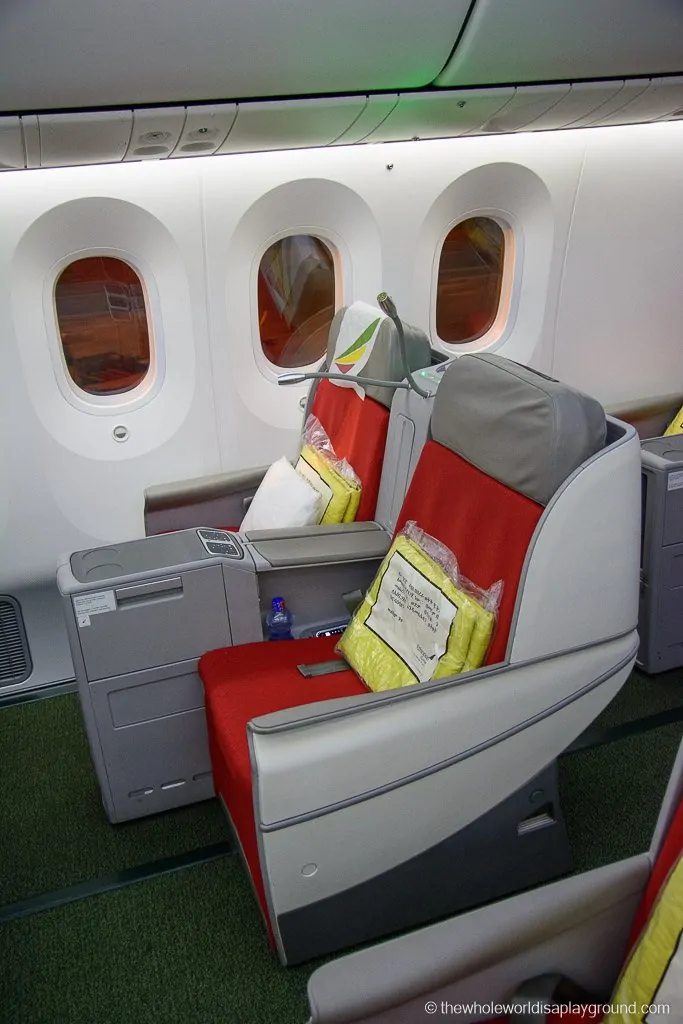 The seat was comfortable for relaxing although Dave, who is considerably taller than my mum and I, found the short foot rest impractical and uncomfortable.
Leg room: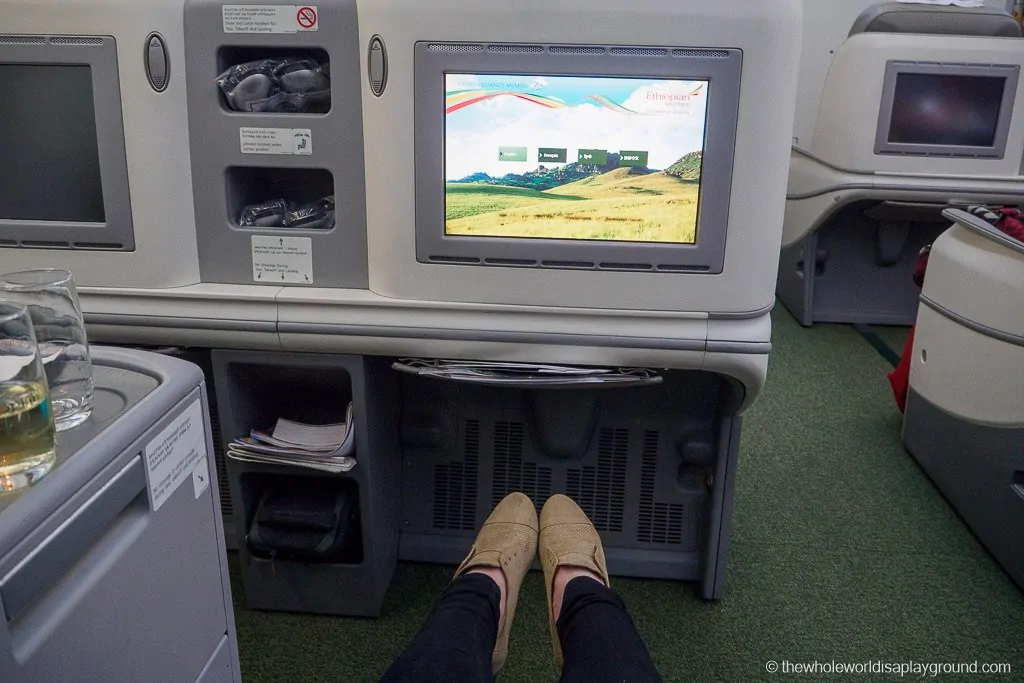 Food and Drinks
With 3 of us on board we got to sample most of the Ethiopian Airlines menu options on our return flights from Dublin to Addis Ababa!
Food
On both legs there was a selection of meat, fish and vegetarian starters and mains and the food was of an OK standard. The food service was a bit lower key than many business class offerings we've experienced and the options were limited to the standard meat, fish and veggie dishes. A menu was only provided on one of the legs although, even then, the crew didn't refer to the options on it when taking orders!
The food tray: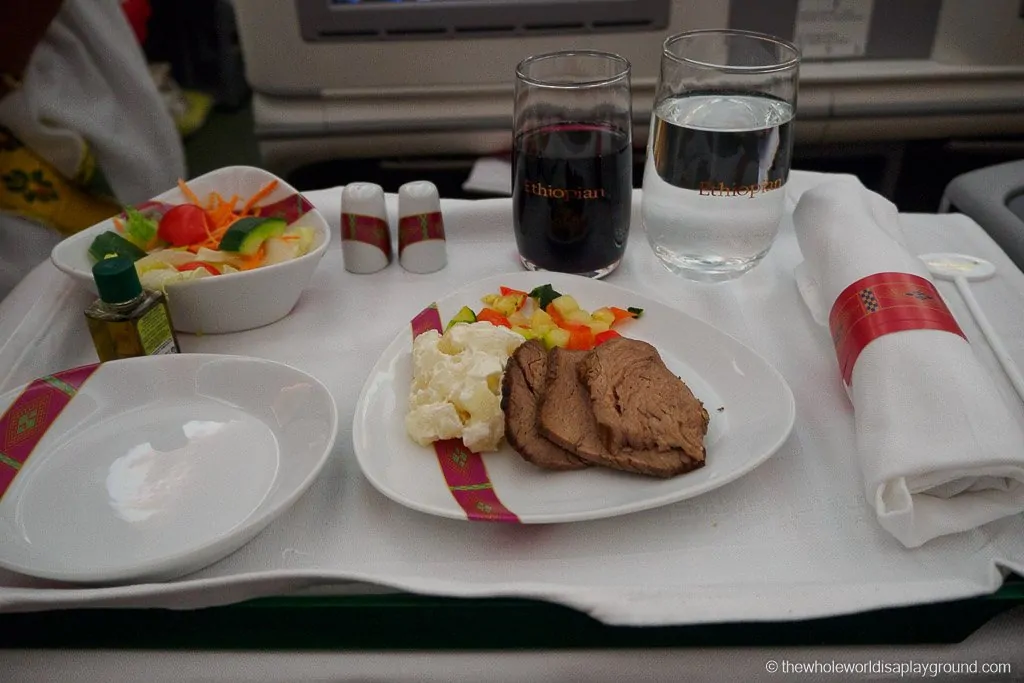 Roasted vegetables and cous cous: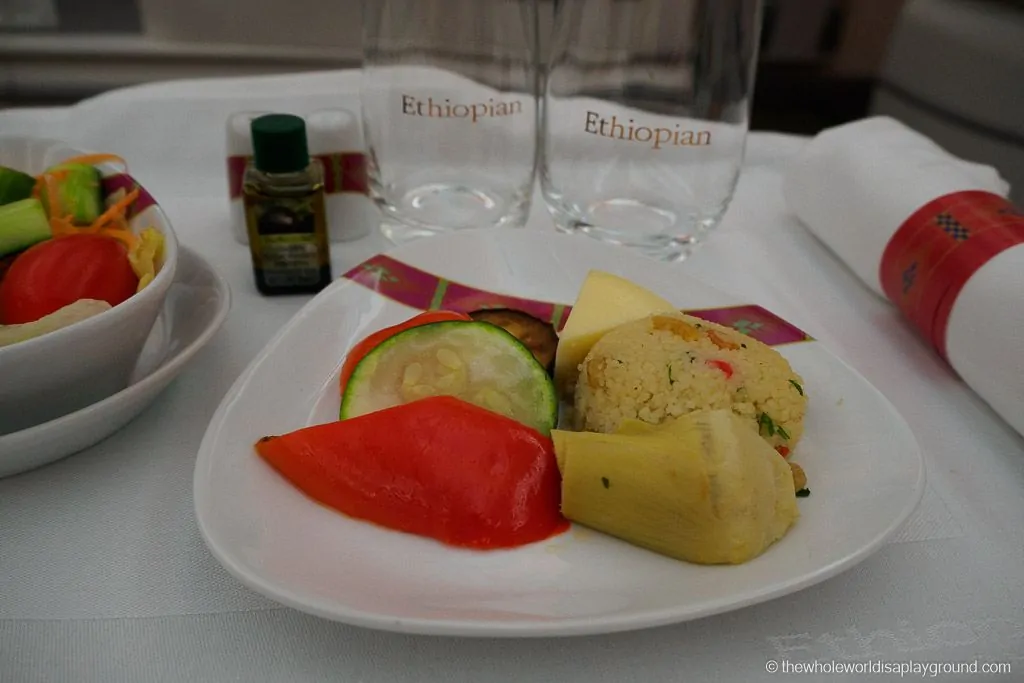 Beef and salad starter: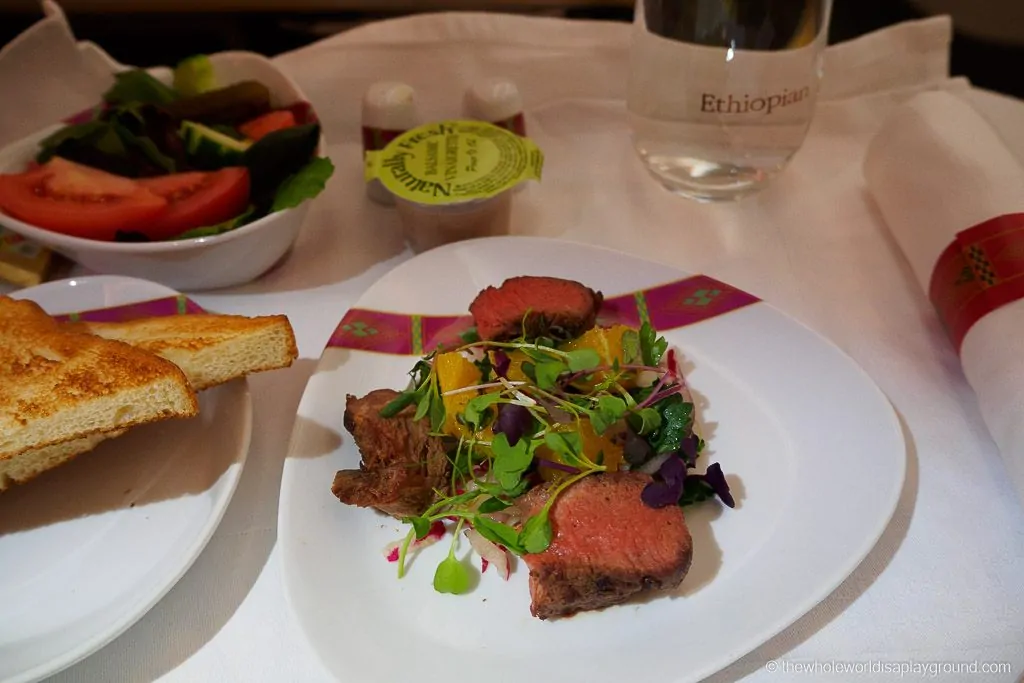 Steak and onion main course: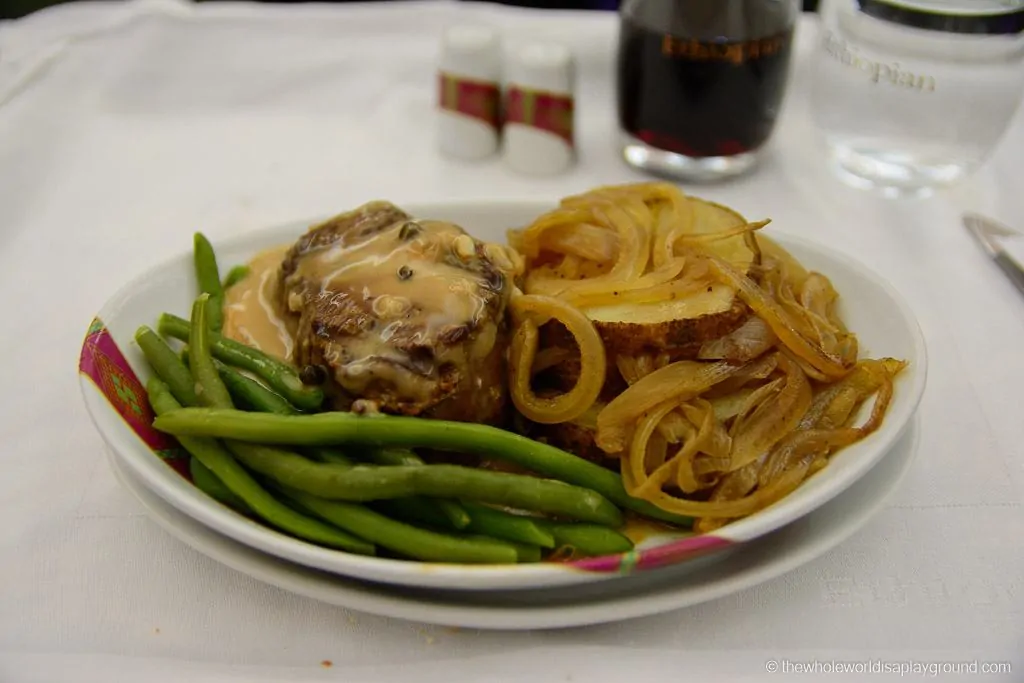 Salmon and rice main course: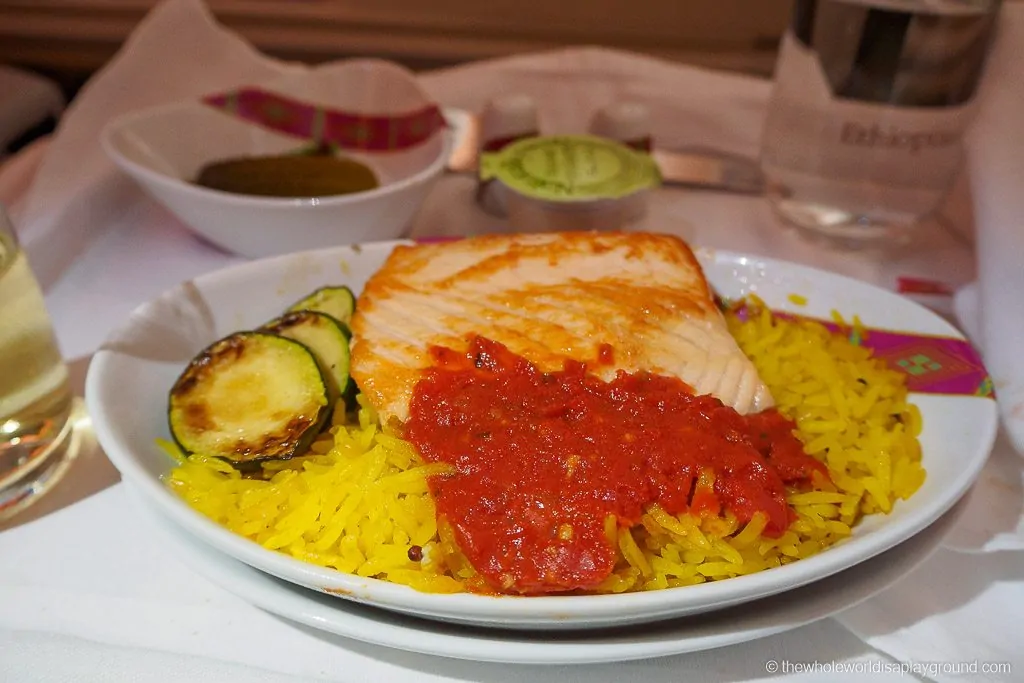 Ravioli main course:
Cheesecake and fruit for dessert: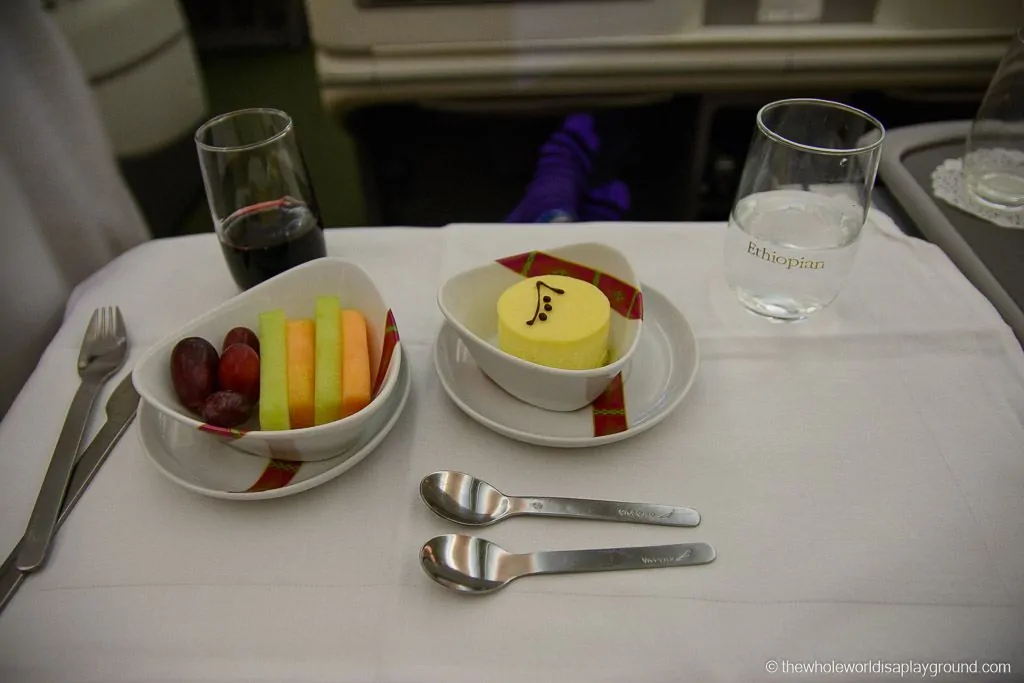 Cheese plate: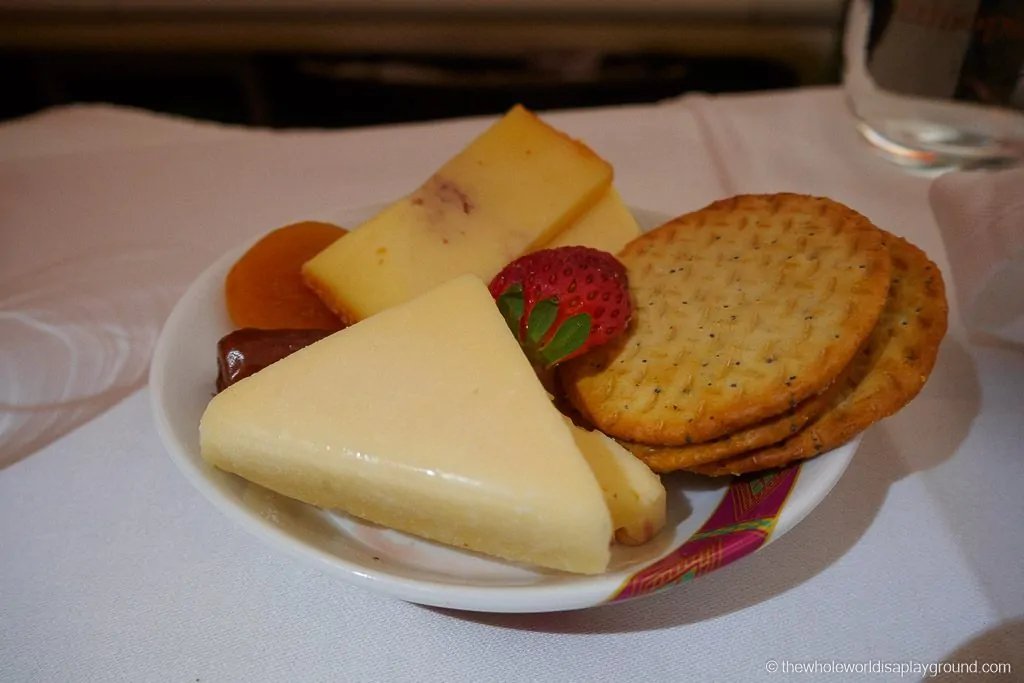 Breakfast was served close to our early morning arrival on both legs but we didn't indulge!
Drinks
The drinks selection included champagne, wines and spirits as well as soft drinks and water. The spirits were premium brand and the wines included a choice of Ethiopian red and white wines in addition to wine from other countries. Service was good and the drinks were generously mixed.
Sleep Time!
We were excited to try out the Dreamliner on our Ethiopian Airlines flights but the bed was actually our least favourite on all their aircraft. There are 24 seats in the business class cabin and, apparently, squeezing in 24 forward facing seats meant there was no room for those seats to covert to lie flat beds! When converted to sleeping position the beds are very angled which made it difficult to get comfortable when lying down and it was difficult to shake the feeling that we were sliding off our seats when trying to get comfortable horizontally!
It should be noted that some of Ethiopian's later 787s have been equipped with lie flat beds but they didn't feature on our flights.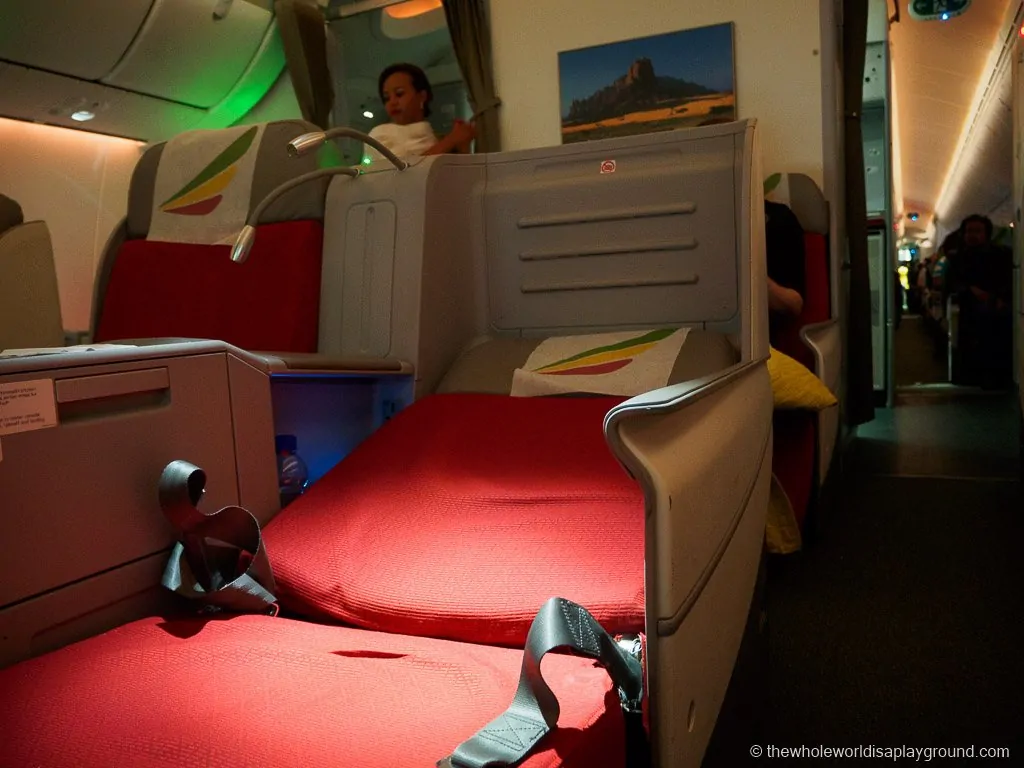 Face down! The only way I could get comfortable: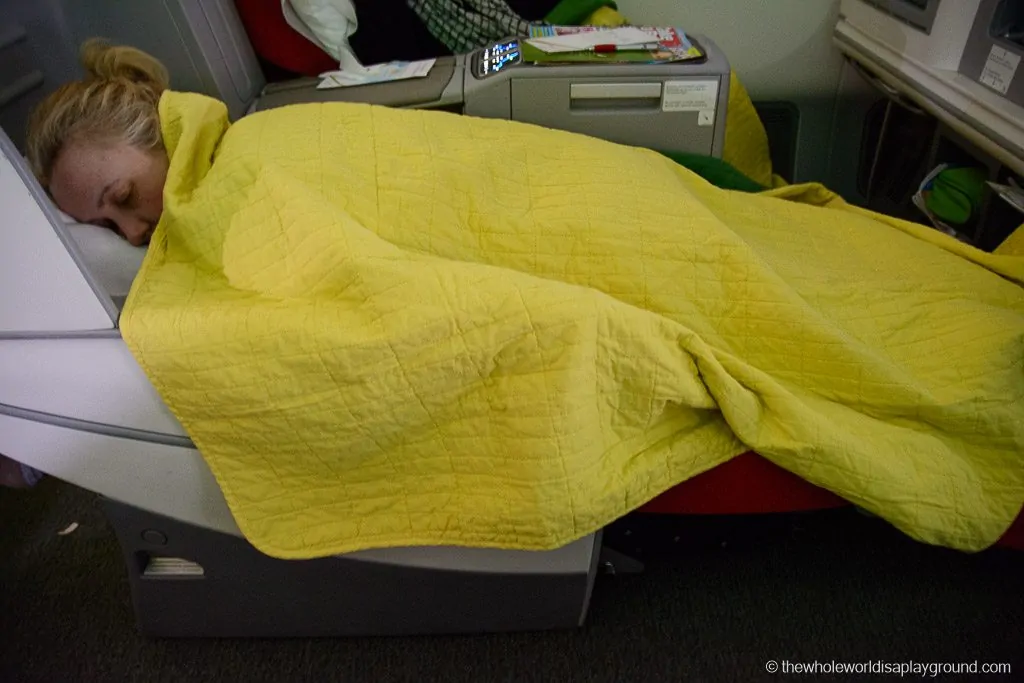 Amenity Kit
The amenity kit contained an eye mask, ear plugs, socks, a pen, a toothpick, toothpaste and a toothbrush, a hairbrush and some balm. As the joint owner of no less than 12 Ethiopian Airlines business class amenity kits from our South Africa trip it's safe to say we're big fans of the yellow and green pouch bags that housed the amenities and plan to use them for our future travels.
Overall
The good:
The Ethiopian Airlines business class product was enjoyable and represented good value for money when considering the price we paid for our tickets (EUR 1,450 for Dublin to Johannesburg and Cape Town to Dublin, both via Addis Ababa). The business class crew were excellent and we felt well looked after on both legs between Dublin and Addis Ababa.
In terms of luxury it's not in the same league as the Middle Eastern carriers we've flown with (check out our Emirates and Etihad reviews for comparison) but we would rate it as a similar experience to the business class product on British Airways.
The not so good:
A delayed flight from Cape Town to Addis Ababa meant that we missed our connection to Dublin and, after returning to the airport the following two evenings, we eventually made it home to Dublin 48 hours later than anticipated. The service on the ground is most definitely in need of some work (it takes weeks and even months for Ethiopian to respond to complaint emails) and, while the airline did put us up in a hotel and provided meals for the 2 days, it was a less than great end to the trip. Queues, lengthy waits for reallocated tickets, minimal compensation (an offer of a voucher representing about 6% of our fare) and no reimbursement of our expenditure during the delay make us reluctant to use Ethiopian Airlines unless we had a VERY long buffer between connecting flights. Then we'd definitely consider it given the fares and in the air product!