An Oregon Coast road trip is an fun and adventurous mix of rugged coastlines, crashing waves, endless hiking trails, delicious seafood and beautiful beach towns. We started our journey from Portland and absolutely loved our time exploring the Oregon Coast.
From hiking to beach walks and stunning viewpoints, there's something for everyone on an Oregon Coast road trip – we were blown away by the variety of sights and scenery.
To help with your Oregon Coast road trip planning, we've put together our ultimate Oregon Coast Road trip itinerary: from its unmissable sights to the best places to stay, this itinerary will help you make the most of your journey along the Oregon Coast!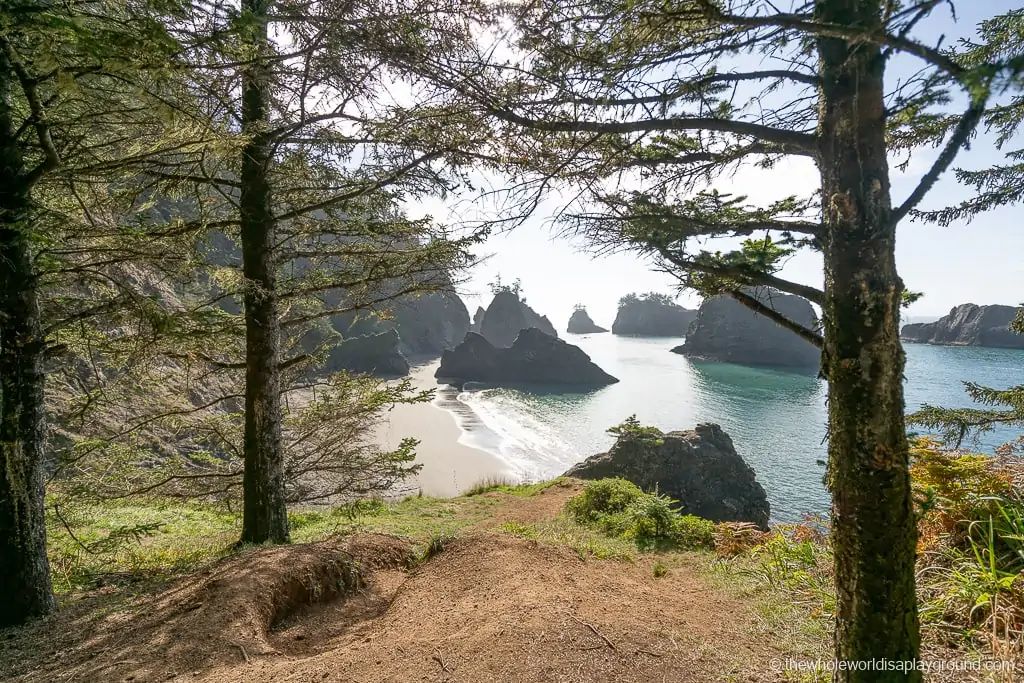 Oregon Coast Road Trip Itinerary Route
Route: Portland – Seaside/Cannon Beach – Newport – Coos Bay – Brookings (Samuel H Boardman)
Our recommended route for the Oregon Coast starts in Portland and ends at the incredible Samuel H Boardman scenic corridor. The ideal length of time for this route is 14 days (which is how long the route took us), but it is possible to do it and see all the sights in 10 days.
Our route includes all the main sights and stops along the Oregon Coast and some of the lesser-known spots that are definitely worth a stop. The Oregon Coast is a spectacular part of the USA and is packed with lots of things to see and do.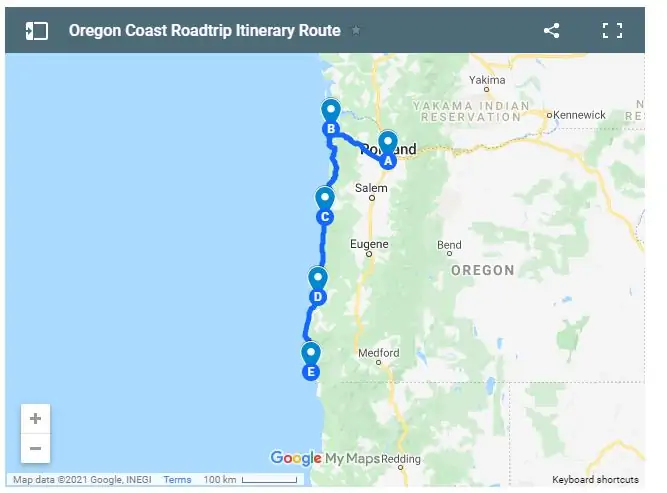 Renting a Car in Oregon
If you are flying in then renting a car is the best way to explore the Oregon Coast. Having your own car gives you the flexibility to travel at your own pace and make stops at all the wonderful sights along the coast. We loved having our rental car in Oregon as it gave us the flexibility to see everything we wanted to, at a pace that suited us.
We're huge fans of road trips and have driven rental cars in almost 50 countries so we have a lot of experience renting cars in foreign countries. We recommend using RentalCars.com to reserve your car. They have the best selection and prices that we've found – check prices here!
Book your car now with RentalCars.com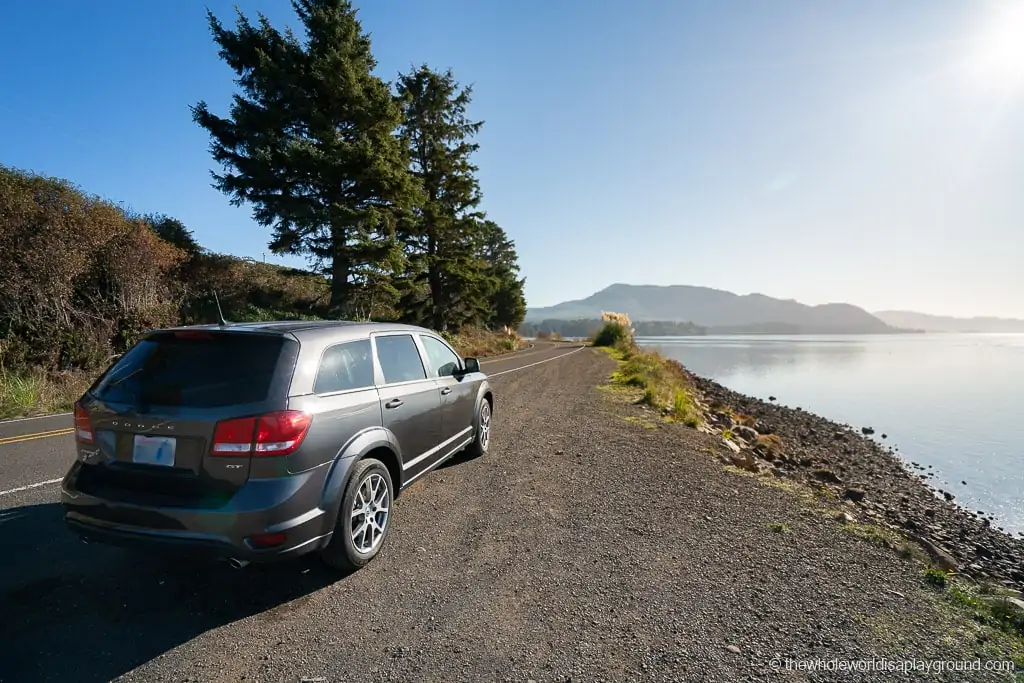 Oregon Coast Road Trip Itinerary
1 | Portland – 2 to 3 Days
Most Oregon Coast road trips begin from Portland, Oregon's largest city. A fun and quirky city, Portland is renowned for its thriving food and drinks scene, its beautiful parks, colorful street art, fascinating museums and stunning waterfalls.
Where to Stay in Portland
Exploring Portland is a lot of fun and worth having a nice hotel to relax in after a long day of adventures. We recommend the following hotels for your stay in Portland:
Inn at Northrup Station – colourful, quirky and well located for exploring Portland. The suite style rooms are huge and come with fully equipped kitchens – check prices now!
Mark Spencer Hotel – perfectly located hotel in the Pearl District and one of the most popular hotels in town. Definitely check it out – check prices now!
Book your stay in Portland now!
Explore Portland
There are so many fun and unique things to do in Portland. We love spending a few days exploring Portland and indulging in its awesome food (check out Vodoo Donuts, the food hall at Pine Street Market, the city's food trucks, Salt and Straw Ice Cream… I could go on and on!). There are many beautiful parks and gardens to visit: our favorites are the Chinese, Japanese and the International Rose Test gardens and Washington Park.
Other unmissable sights include Powell's City of Books, the world's largest independent book store, and the colorful and thought-provoking murals dotted across the city. Pittock Mansion and its views of Mount St Helens are wonderful and you also need to stop by the neon lights of the retro White Stag sign which welcomes visitors to Portland.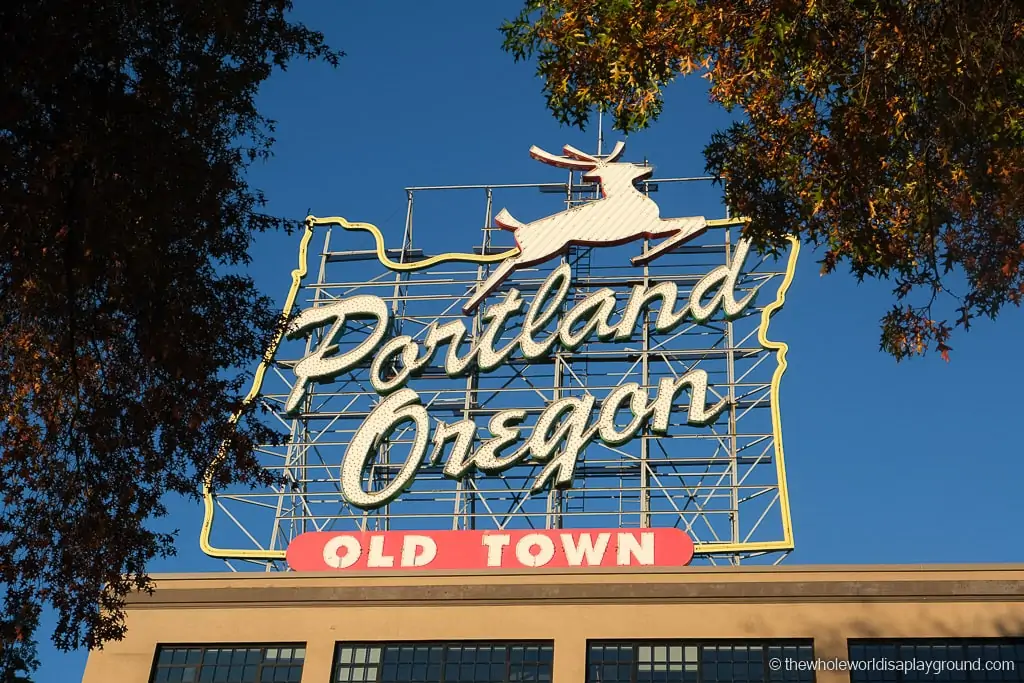 Outside of the city, make sure to check out the Columbia Gorge waterfalls, dotted along the Historic Columbia River Highway. This set of waterfalls includes the beautiful Multnomah Falls, and are some of the best waterfalls in Portland. There are also some amazing day trips from Portland that you can incorporate into your itinerary.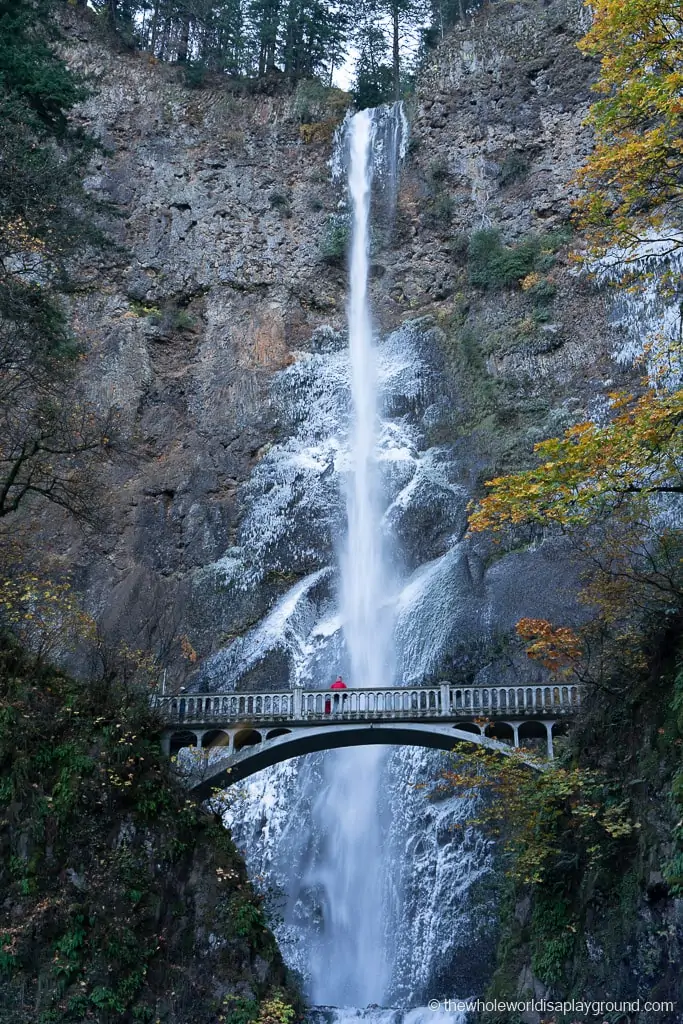 2 | Seaside/Cannon Beach (3 days)
After leaving Portland it's time to start your Oregon Coast adventure with Astoria, Seaside and Cannon Beach among the first stops on our Oregon Coast road trip. Both Seaside and Cannon Beach are excellent bases for exploring this section of the Oregon Coast and allow easy access to all of the amazing sights and coastline.
Where to stay at Cannon Beach
For this part of the trip we recommend staying in either Seaside or Cannon Beach. Seaside is a boardwalk beach town with a retro feel while Cannon Beach, just 15 minutes south of Seaside, is quieter and less commercial. Accommodation tends to be more expensive in Cannon Beach and some places can require a 2 night minimum stay.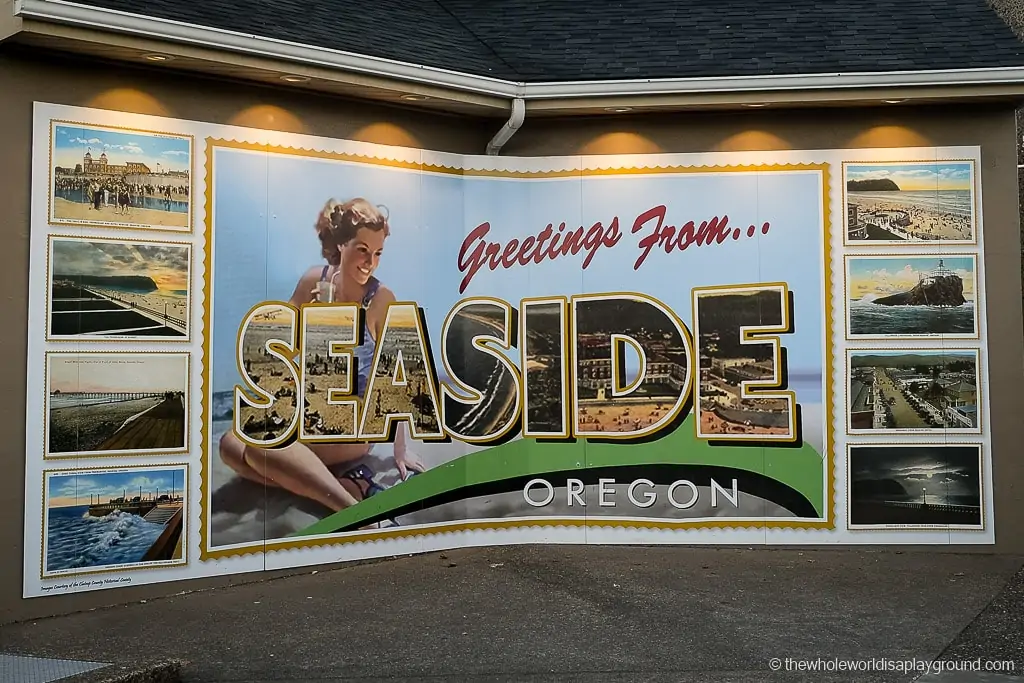 Ashore Hotel (Seaside): we stayed at the awesome Ashore Hotel, a modern hotel with 22 retro decorated rooms located just seconds from the prom. There's a rustic reception area with a fire pit, a small indoor pool and bikes to explore the town – check prices now!
Lanai Cove (Seaside): family-friendly hotel located at the south end of Seaside beach and offers panoramic views of the ocean and Seaside itself – check prices now!
Ocean Lodge (Cannon Beach): ocean front hotel overlooking Haystack Rock. Rooms are well equipped with kitchenettes and treats include lobby cookies evening wine receptions – check prices now!
Inn at Cannon Beach: located at the quieter south end of the beach, the Inn is well equipped and homely. It's just a short walk to Haystack Rock – check prices now!
Oregon Coast itinerary tip: We love both towns – we recommend Seaside if you like old school beach towns with independent hotels/motels and Cannon Beach if you want a quieter area with larger hotels.
Day Trip to Astoria and Fort Stevens State Park
Drive time: 45 minutes from Seaside – Astoria – Fort Stevens State Park or 60 minutes from Cannon Beach
Fort Stevens State Park: Fort Stevens State Park has 6 miles of hiking trails, 9 miles of paved bicycles trails, freshwater lake swimming and a shipwreck, the Peter Iredale which ran aground in 1906. Day Pass: $5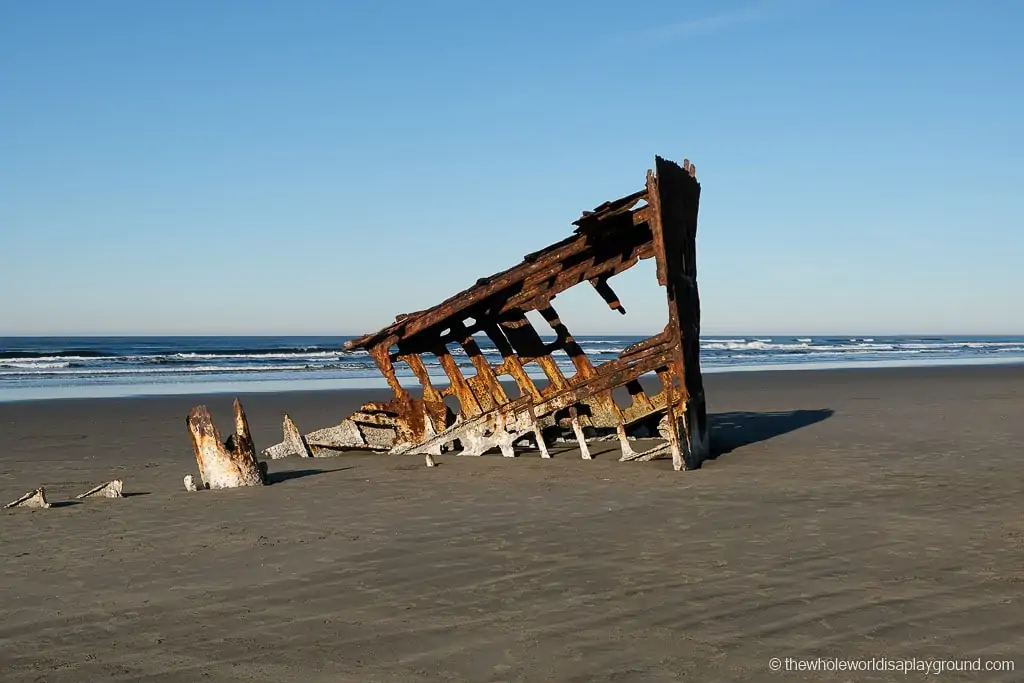 Astoria: A short drive north of Seaside is the small town of Astoria on the banks of the Columbia River. Despite its size, there are lots of things to do in Astoria: the Astoria Column (Parking: $5) has beautiful views over the city and Astoria has been the location for some epic movies over the years. Many of the most recognizable Goonies filming locations were shot in Astoria including the jail and the legendary Goonies House. Other movies filmed in Astoria include Kindergarten Cop and Free Willy!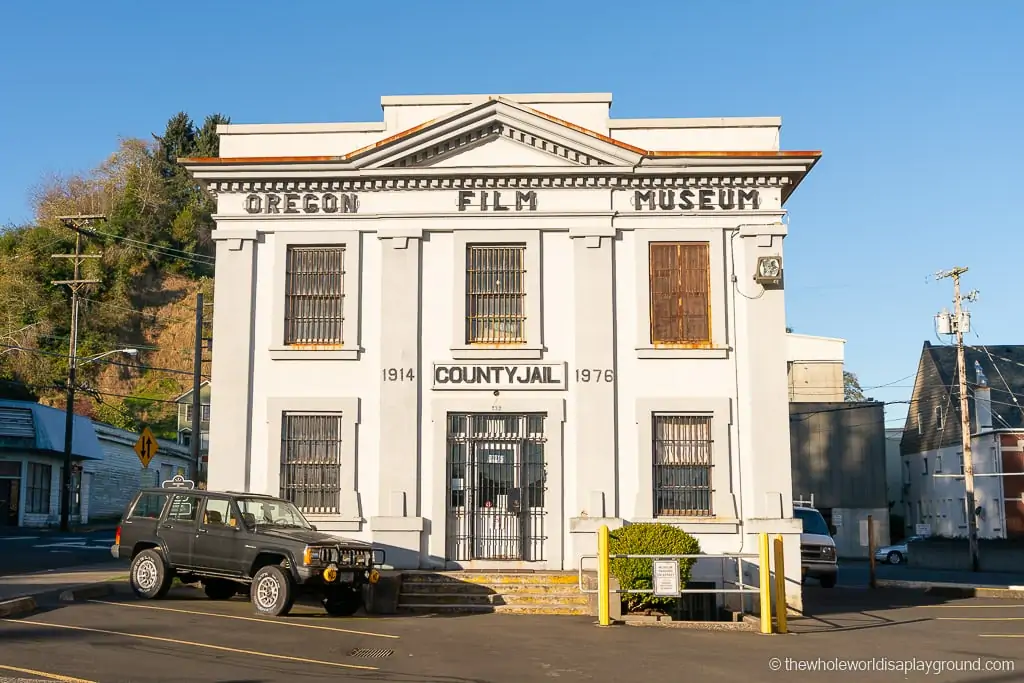 Spend a day exploring Cannon Beach, Seaside and Ecola State Park
Cannon Beach: Haystack Rock is the star attraction of Cannon Beach. It is designated as a National Wildlife Refuge and its tide pools are often full to the brim with marine life. At dusk the beach lights up with bonfires and, provided you follow the Cannon Beach fire rules, you can pick up a bonfire pack if you want to take part. Movie fans may recognize the beach from scenes in The Goonies and Point Break.
Cannon Beach town is located alongside the beach and is packed with cute galleries, shops and restaurants which are fun to explore. Pelican Brewing is a fantastic spot for a craft beer or try the Cannon Beach Distillery if you prefer a craft spirit. For a sweet treat Bruce's Candy Kitchen is fantastic.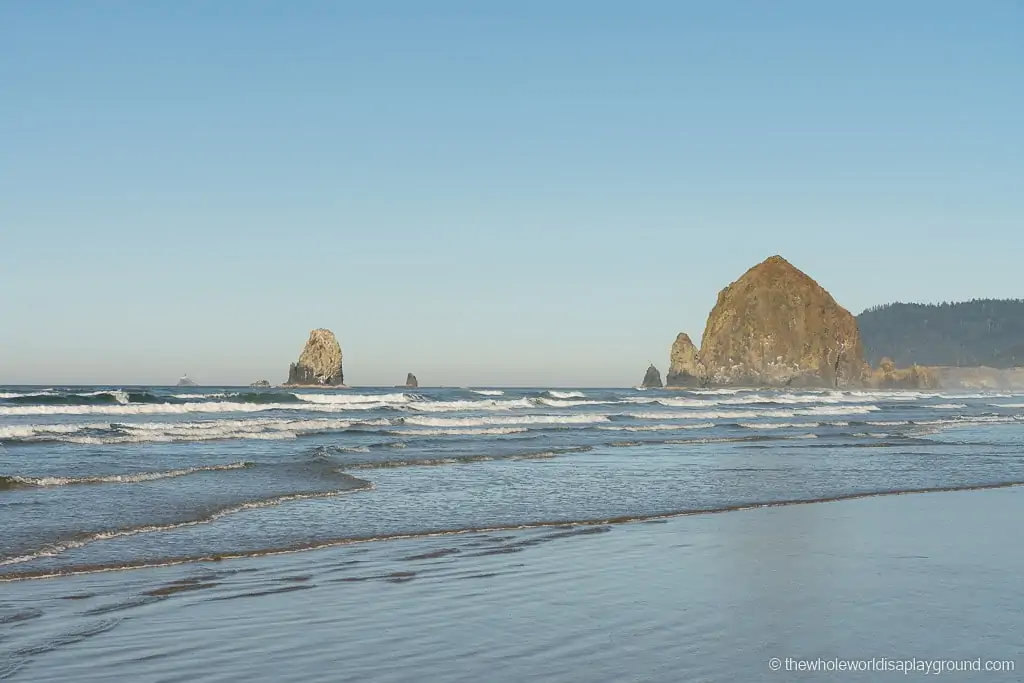 Ecola State Park: located just north of Cannon Beach, the picturesque Ecola State Park reaches out into the Pacific Ocean on Tillamook Head. Day Pass: $5, overnight parking prohibited.
Popular trails in the park include the relatively easy short hikes from Ecola Point to Indian Beach or the Tillamook Lighthouse Trail. For the more adventurous check out the Clatsop Loop Trail which begins at the Indian Beach parking lot and offers stunning views of the Oregon Coast.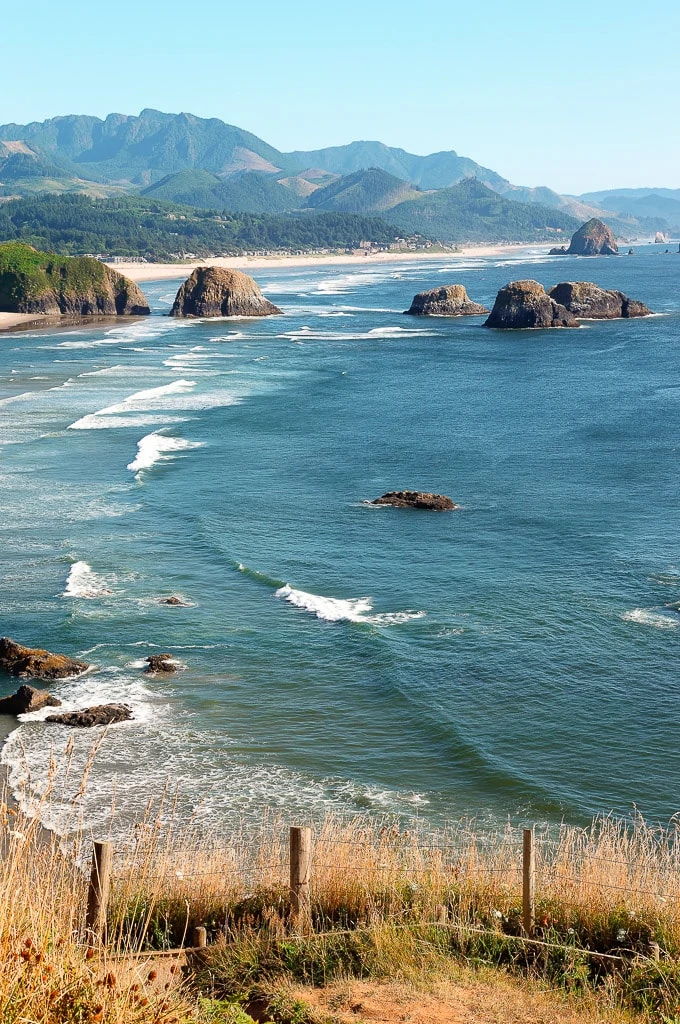 Seaside: A bustling beach town, Seaside is one of our favorite Oregon Coast towns. From sunset beach walks, retro arcades and awesome seafood and ice cream, there are some fun things to do in Seaside itself.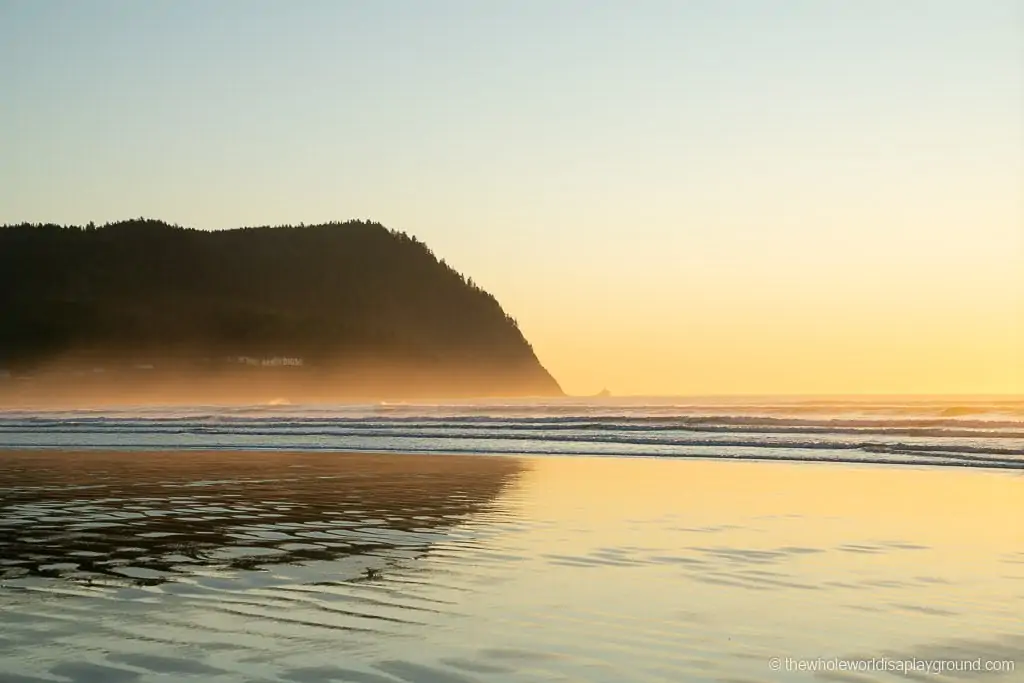 Spend a day exploring the surrounding area
There are some awesome things to do in Cannon Beach and Seaside and, if you have the time, you should definitely consider including these in your Oregon Coast itinerary
Stop by Hug Point State Recreation Site to check out the beach, sea caves, tide pools and a seasonal waterfall that spills onto the beach after heavy rain. It's amazing to imagine the stagecoaches which used to travel along the beach before the highway was built.
Oregon Coast Road Trip itinerary: make sure to check the tide schedule before walking on the beach. It is only safe at low tide.
The four-mile stretch of coastline at Oswald West State Park is another lovely stop and is home to some lovely trails, including the short hike to Devil's Cauldron.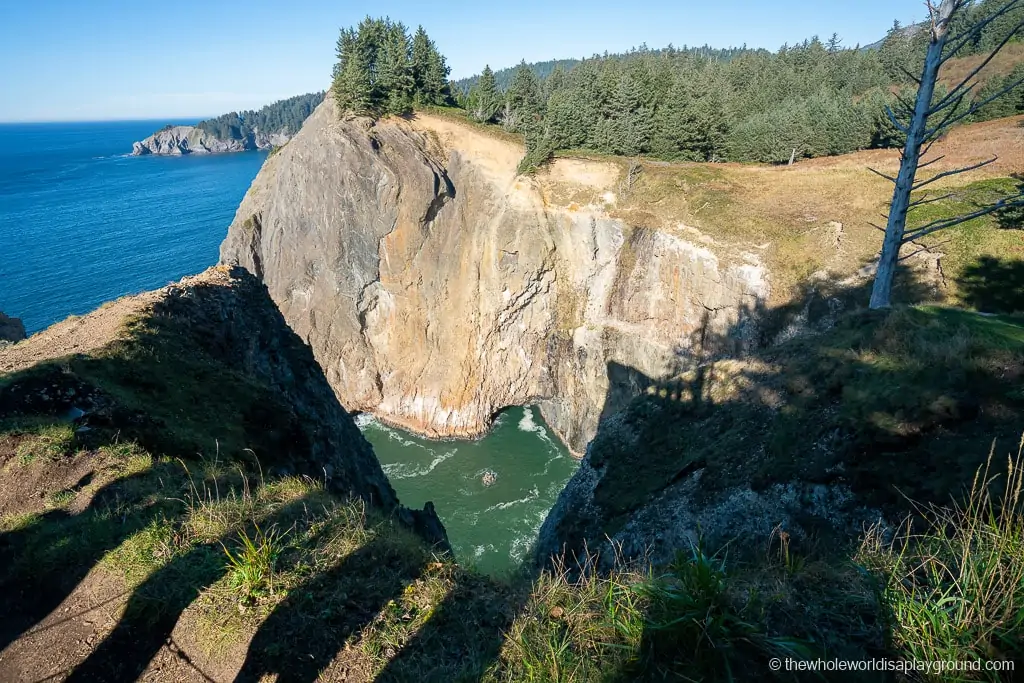 There is a lovely half-mile trail through the woods to Short Sand beach and there are lovely views of Elk Flats, Devil's Cauldron and Neahkahnie Mountain. Don't miss the short 0.1 mile trail to Devil's Cauldron where the powerful Pacific Ocean waves crash into a small cove.
Further South, make a quick stop at the Neahkahnie Viewpoints: there are two viewpoints, the Neahkahnie Viewpoint and the Neahkahnie South Viewpoint. Our favorite is the South as there is a better view of the beach.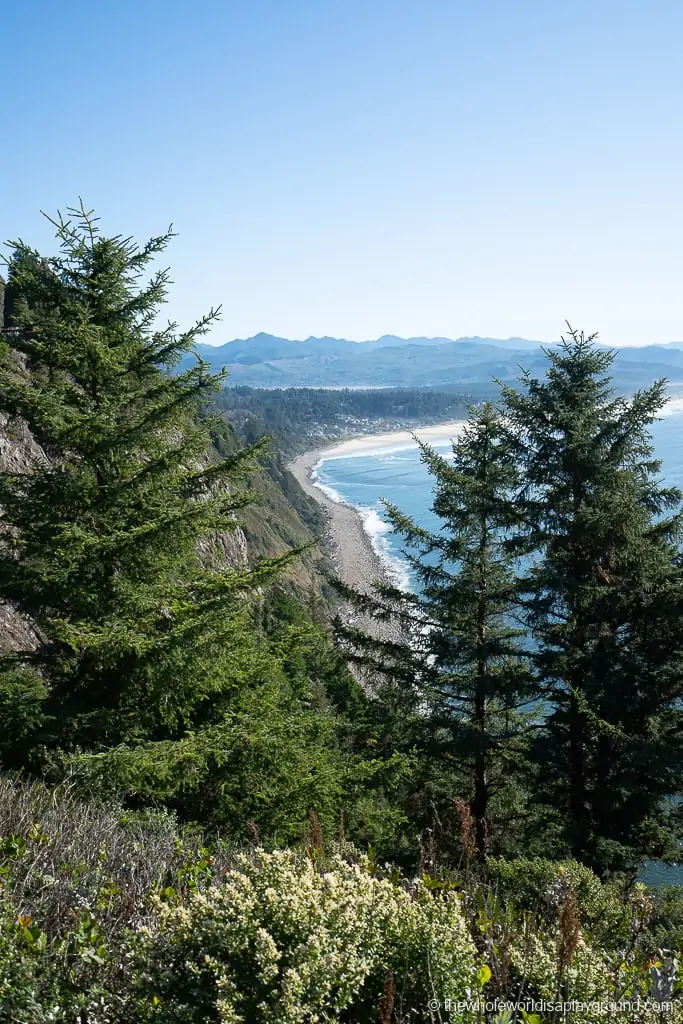 On the way to Newport
On the way to Newport there are two great food stops: the hole in the wall Old Oregon Smokehouse and the Tillamook Creamery. The Old Oregon Smokehouse is a casual and rustic roadside diner which serves amazing chowder, fish and chips and crab cakes. The Tillamook Creamery is a cheese factory with a museum, a cafe serving Tillamook food and ice cream, a viewing mezzanine overlooking the cheese factory floor and a gift shop.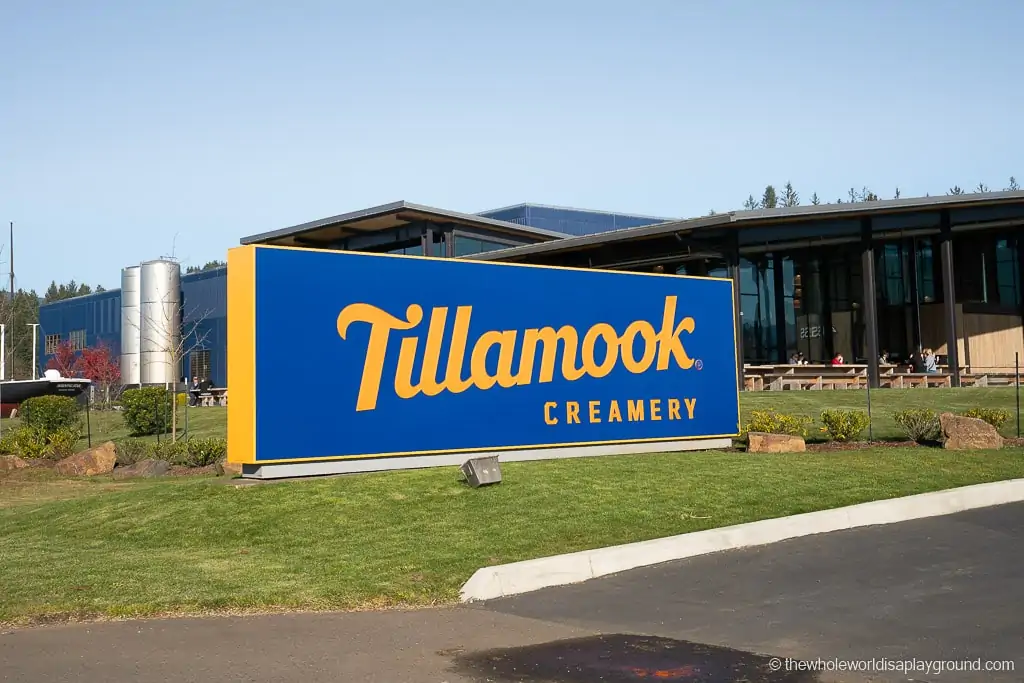 Drive the Three Capes Scenic Route, a 40 mile journey which takes in Cape Meares, Cape Lookout and Cape Kiwana.
Cape Meares is the most northerly of the three Capes forms a high, steep bluff on the south end of Tillamook Bay. There are beautiful views from the Cape Meares Scenic Viewpoint and the Cape Meares Lighthouse.
One of the highlights of Cape Meares is the massive Sitka spruce tree close to the Lighthouse: the 300-year-old tree has sprawling trunks which are similar to an octopuses tentacles, hence the name Octopus Tree! The shape of the tree has been attributed to either natural elements or through its origins as a sacred tree belonging to the Native Americans who inhabited the area at the time.
The second Cape, Cape Lookout is located on a sand spit between Netarts Bay and the Pacific Ocean and is a popular camping spot. If you're stopping then hike a portion of the Netarts Spit Trail, a lovely beach walk that covers 10.5 miles out and back.
The final Cape, Cape Kiwanda, is a sandstone headland and the tough climb to the top rewards with dramatic ocean views. Grab some clam chowder and cold beers at the adjacent Pelican Brewing and enjoy an evening by the beach. We had such a fun time we decided to stay over at the Headlands Coastal Lodge & Spa right next to the beach and brewery – check prices here!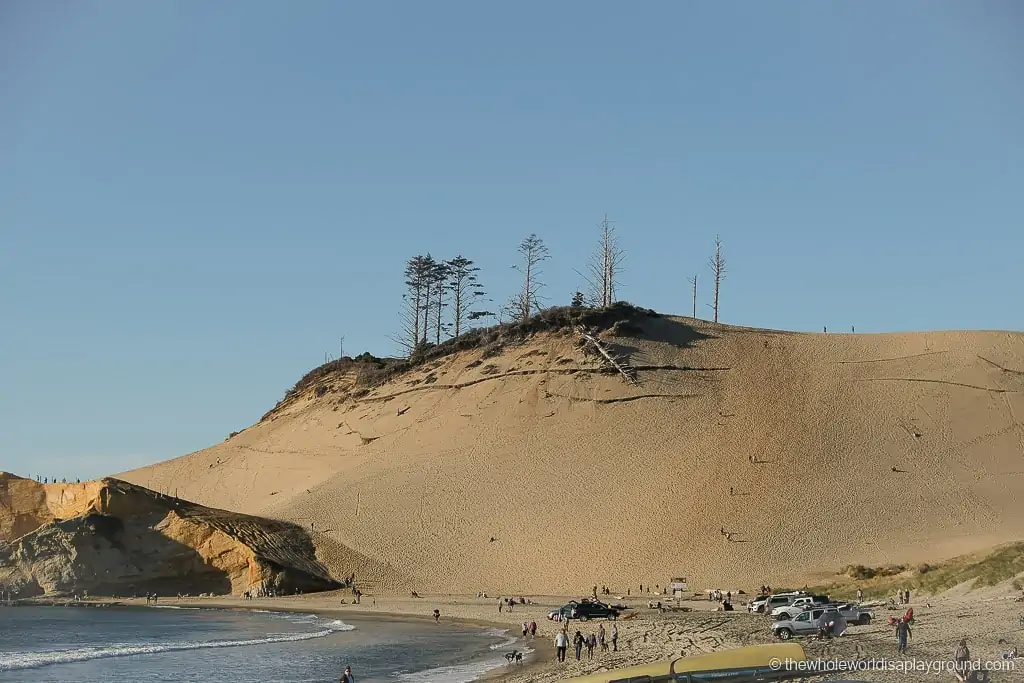 If you are passing at low tide then make sure to stop at the Neskowin Ghost Forest. The Ghost Forest is a graveyard for Sitka spruce and cedar trees that are thought to date back almost 2,000 years. The forest was submerged under the ocean during a powerful earthquake and, at low tide, their stumps emerge from the sand creating the ghost forest.
3 | Newport (3 days)
Drive time: 3 hours from Seaside to Newport/ 2 hours 45 minutes from Cannon Beach to Newport
With its historic bay front and the beautiful beaches, state parks and natural attractions nearby, the coastal town of Newport is a great base for the next few days of this Oregon Coast itinerary.
Where to stay in Newport
Elizabeth Oceanfront Suites: we love staying at this beachfront hotel with ocean view balconies, an indoor pool and fire pits on the terrace – check prices now!
Book your hotel in Newport here!
Spend a day exploring Newport and the surrounds
Newport
Explore Newport: Newport's historic bay front is a lively dock side area with art galleries souvenir stores, great restarants and resident sea lions at the Sea Lion Docks. Stop by the Yaquina Bay State Recreation Site and check out the beautiful views of Yaquina Bay, the art deco Yaquina Bay Bridge and the Yaquina Bay Lighthouse. The historic neighborhood of Nye Beach, on the north side, is home to the city's thriving art scene and the beach itself offers beautiful sunset views – while you are there, make sure to stop into Chowder Bowl and Panini Bakery for some delicious treats.
Oregon Coast Aquarium: one of Newport's, and the Oregon Coast's, most popular attractions, the Oregon Coast Aquarium has incredible marine exhibits. Highlights include a stroll through the Passages of the Deep marine tunnel and exhibits dedicated to the Pacific Octopus, sea otters and sea lions. Make sure to check out the South Beach Fish Market while you're over by the Oregon Coast Aquarium – this old school seafood shack is a real treat and just a 2 minute drive away.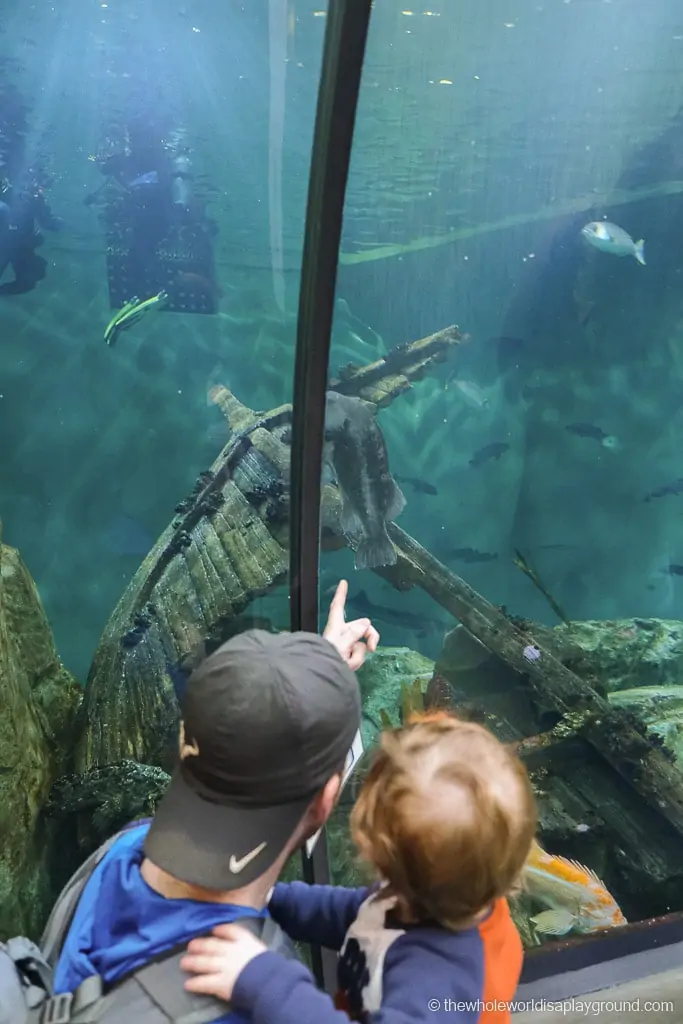 North of Newport
Devil's Punchbowl State Natural Area: home to a remarkable rock formation shaped like a punch bowl – at low tide it is possible to hike into the bowl (make sure you are certain of the tide times and that conditions are calm) but we prefer to visit at high tide when the Pacific Ocean slams and swirls into nature's cauldron. Keep watch for sea lions, seals and even Grey Whales, all of which can be spotted on this part of the coast.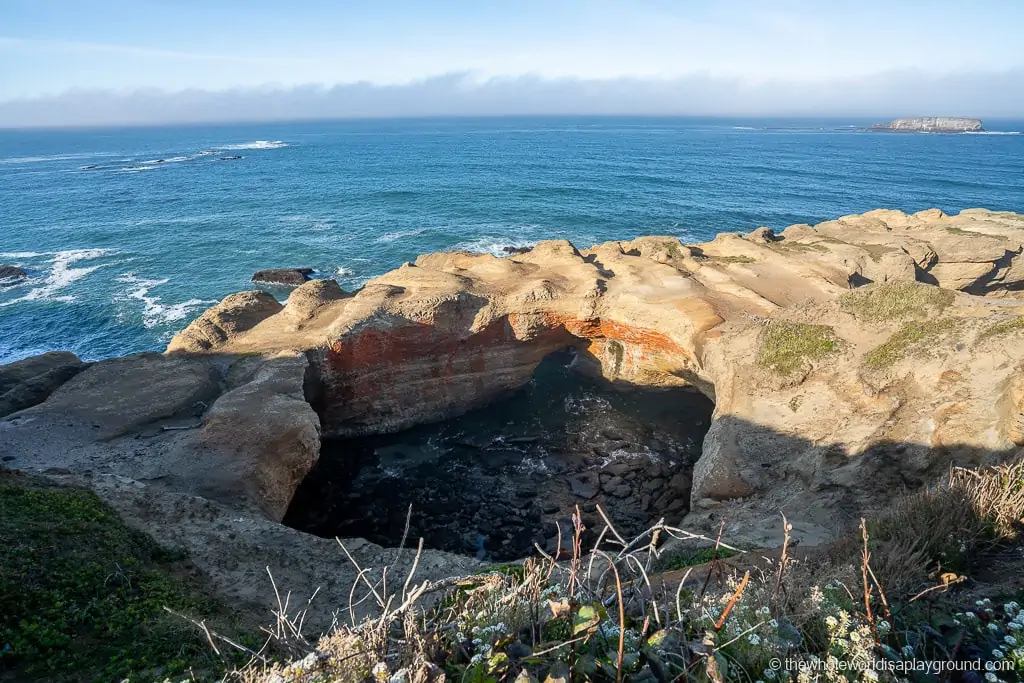 Yaquina Head Lighthouse: built in the 19th Century, the Yaquina Head Lighthouse is the tallest on the Oregon coast. It is part of the Yaquina Head Outstanding Natural Beauty Area. Entry: $7 (tours of lighthouse are currently suspended)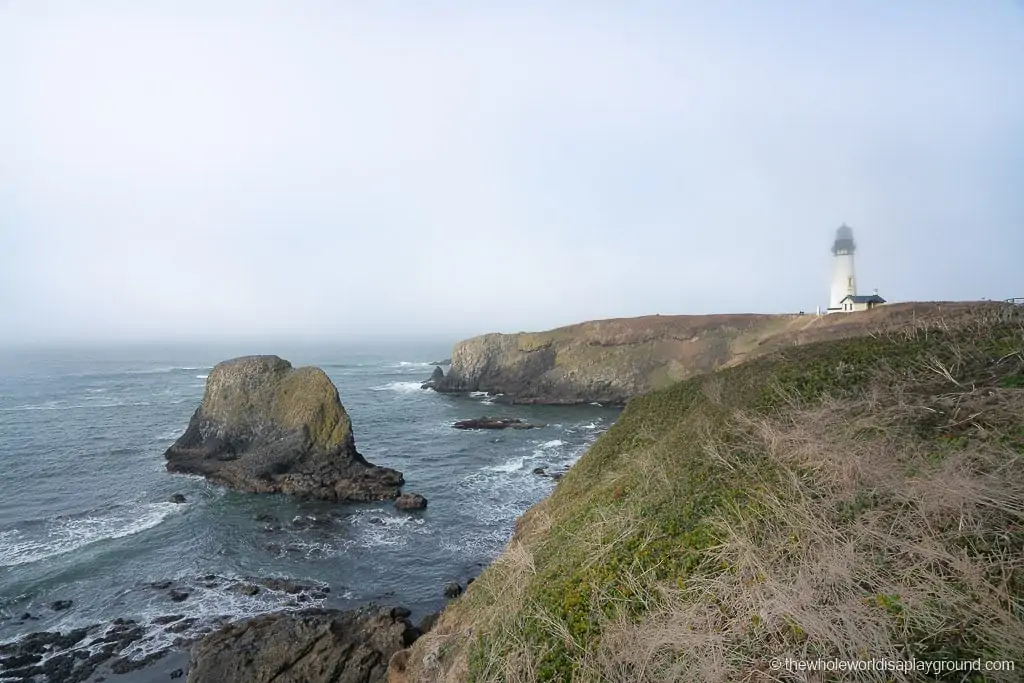 South of Newport
Seal Rock State Park: large rock formations provide habitat for marine life including seals, sea lions and sea birds. Kids will love the tide pools on the beach.
Cape Perpetua Scenic Area: with its lush towering forest, rugged coastline and crashing waves, the Cape Perpetua Scenic Area is exactly how we imagined the Oregon Coast. The Cape Perpetua Lookout is the highest viewpoint accessible by car on the Oregon Coast and has incredible views of the ocean and the winding Oregon Coast road. Other highlights in the area include:
Thor's Well and Cooks Chasm: Thor's Well is a a gaping hole on the edge of the Pacific Ocean which appears to swallow the ocean and powerfully shoot it back out over the surrounding rocks.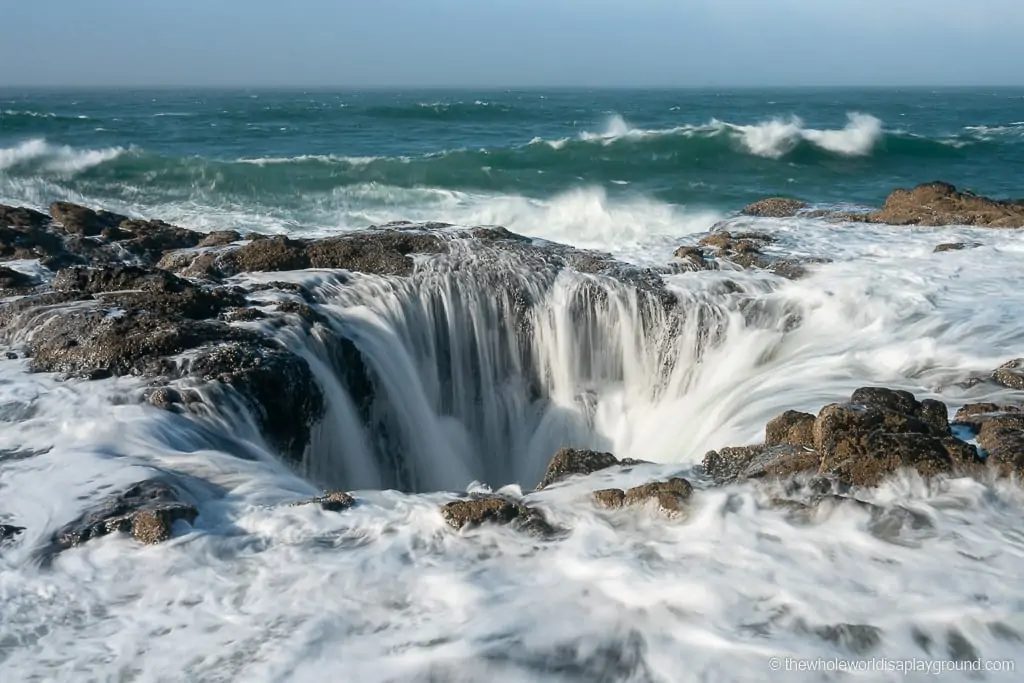 Devils Churn: located just north of Thor's Well. Waves come crashing into the narrow inlet and churn up water and spray over the surrounding rocks.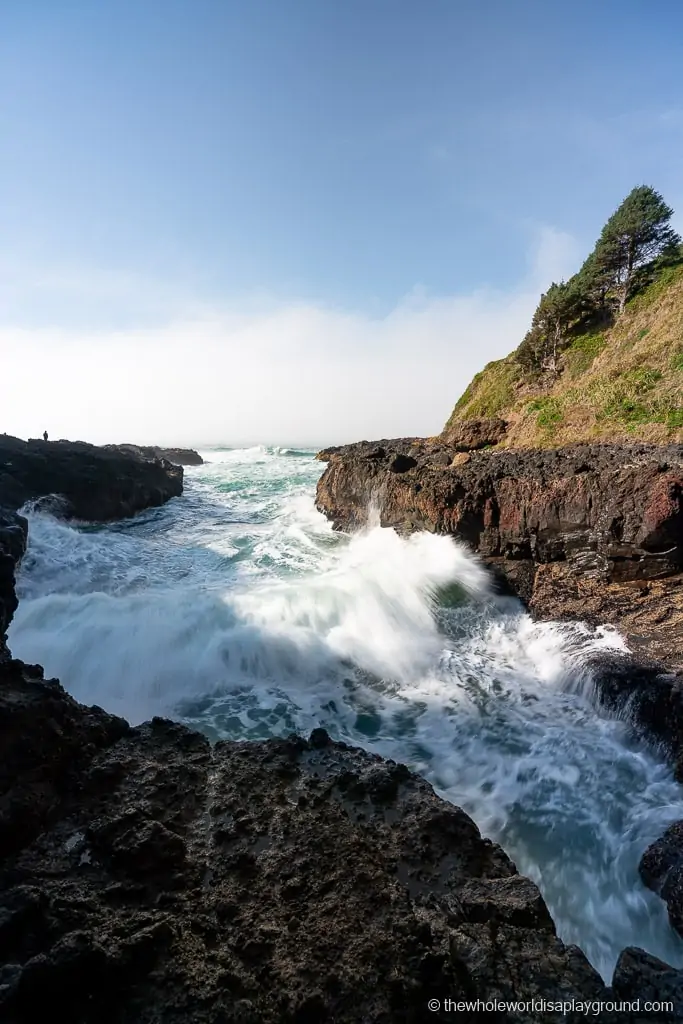 Sprouting Horn: natural ocean blowhole is located just south of Thor's Well. The incoming waves crash into an underwater cave forcing seawater and spray out the sprout of Spouting Horn launching water and spray into the air.
On the Drive to Coos Bay
With its rolling sand dunes and sandy beaches, the charming coastal town of Florence is a magnet for adventure seekers.
The beautiful Heceta Head Lighthouse, perched at 1000 feet atop Heceta Head, is located just north of Florence and is accessible via a half-mile trail at the Heceta Head Lighthouse State Scenic Viewpoint.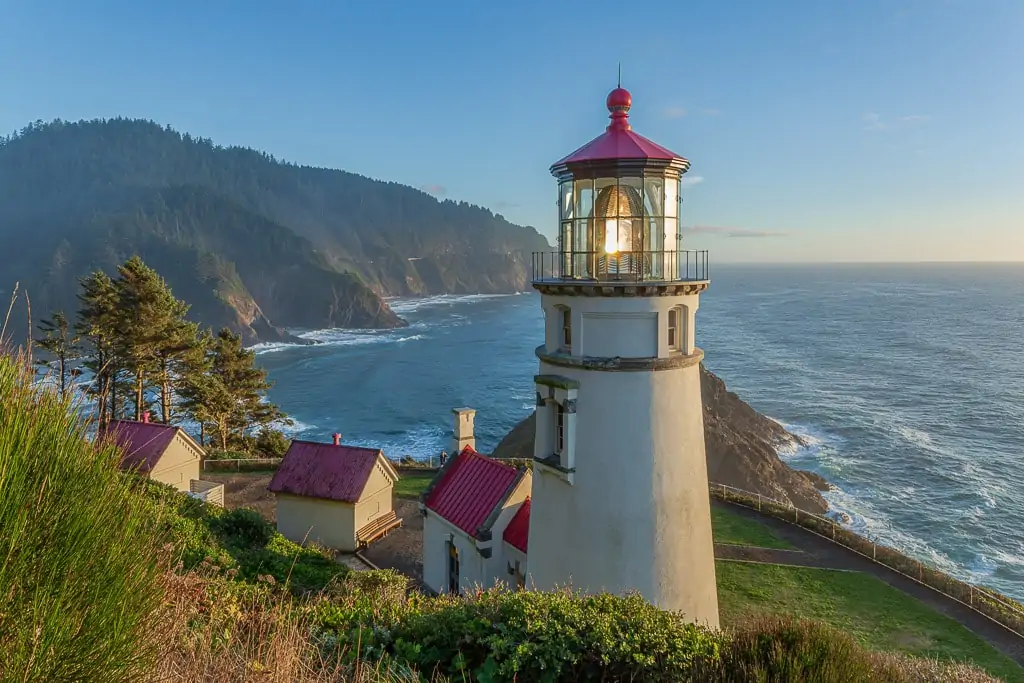 The lighthouse can also be accessed from the nearby Hobbit Trail Trailhead which connects Heceta Head Lighthouse with Hobbit Beach. It's a lovely hike through lush forest to Hobbit Beach and, after exploring the beach, you can hike up the hill to the Heceta Head Lighthouse. It took us around 2 hours to hike the trail.
Oregon Coast road trip tip: parking for the Hobbit Trail is located in a small gravel lot along Highway 101 just north of Heceta Head State Park and is marked by a hiking sign. Be extremely careful as you need to cross the Highway to reach the trailhead.
The Sea Lion Caves are an awesome stop 11 miles north of Florence. The cave is home to the Stellar Sea Lion and is America's largest sea cave. As well as the sea lions, the area is home to a variety of sea birds and sometimes grey whales make an appearance. An elevator transports visitors dee into the cave – note, there are stairs to navigate inside the cave and sloping hills on the outside trails.
Oregon Coast road tip tip: the best time to see the sea lions in the cave is typically during the winter months. During the spring and summer months the sea lions tend to move to the rocks in front of the cave.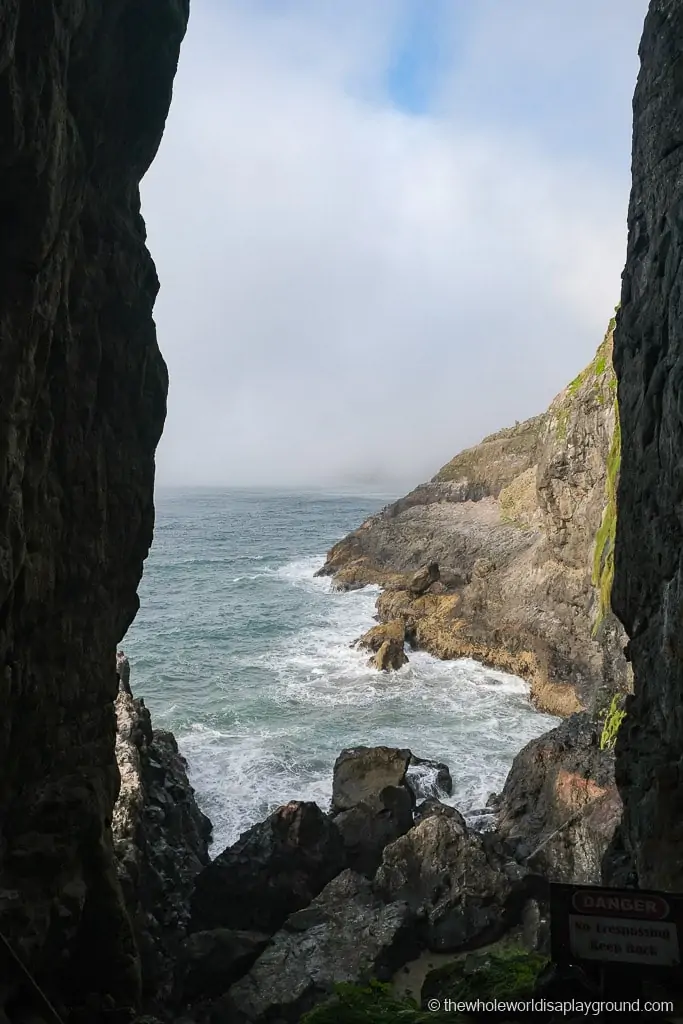 Stretching for over 40 miles between Florence and Coos Bay, the Oregon Dunes National Recreation Area is one of the most beautiful sights on the coast. The sand dunes, shaped by nature, tower over 500 feet above the surrounding lakes and ocean and make up the largest expanse of coastal sand dunes in North America.
The Oregon Dunes Overlook is a great spot from which to gaze upon the dunes. There is a half-mile trail with viewing platforms or a three-mile trail that leads to the beach.
If you are in search of an adrenaline rush then you might want to try experiencing the dunes in an ATV or dune buggy or even sandboarding. Fishing, canoeing and boating are popular in the 32 lakes that make up the recreation area.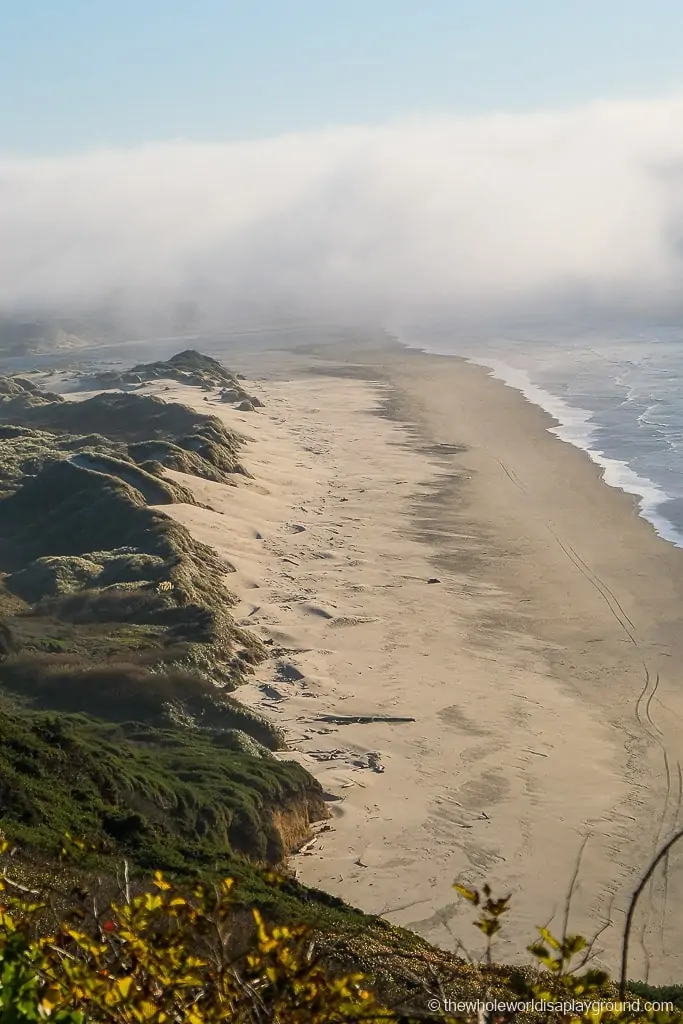 The final stop en route to Coos Bay is the Dean Creek Elk viewing area for the chance to watch a herd of over 50 Roosevelt Elk who reside in the pastures.

4 | Coos Bay (2 days)
Drive time: 2 hours 15 minutes from Newport to Coos Bay
Coos Bay is the next stop on our Oregon Coast road trip itinerary. Halfway between Newport and the Samuel H Boardman Scenic Corridor, Coos Bay is located next to a trio of stunning Oregon State Parks.
Where to stay in Coos Bay
Bay Point Landing: one of our Oregon Coast favorites, Bay Point Landing is a fabulous camping destination with Scandinavian style cabins, iconic Airstreams and RV sites. We stayed in a stunning cabin overlooking the water. Facilities include an indoor saltwater pool, a fitness center, activity room and kids den – check prices here!
Vacation Rentals: – there are a number of great vacation rentals in Coos Bay. Our favorites are Seagate Cottage and Forest Ridge Retreat
Spend a day exploring Coos Bay and the surrounds
Visit a trio of state parks: hiking trails connect Shore Acres State Park, Cape Arago State Park and Sunset Bay State Park along a 3 mile stretch of the Oregon Coast just South of Coos Bay. The rugged coastline and Japanese Gardens are a highlight of Shore Acres while the sandy beaches and magnificent sunset views from Sunset Bay State Park are a real treat. If you are fortunate, you might spot some whales in the sea below the jutting headland at Cape Arago.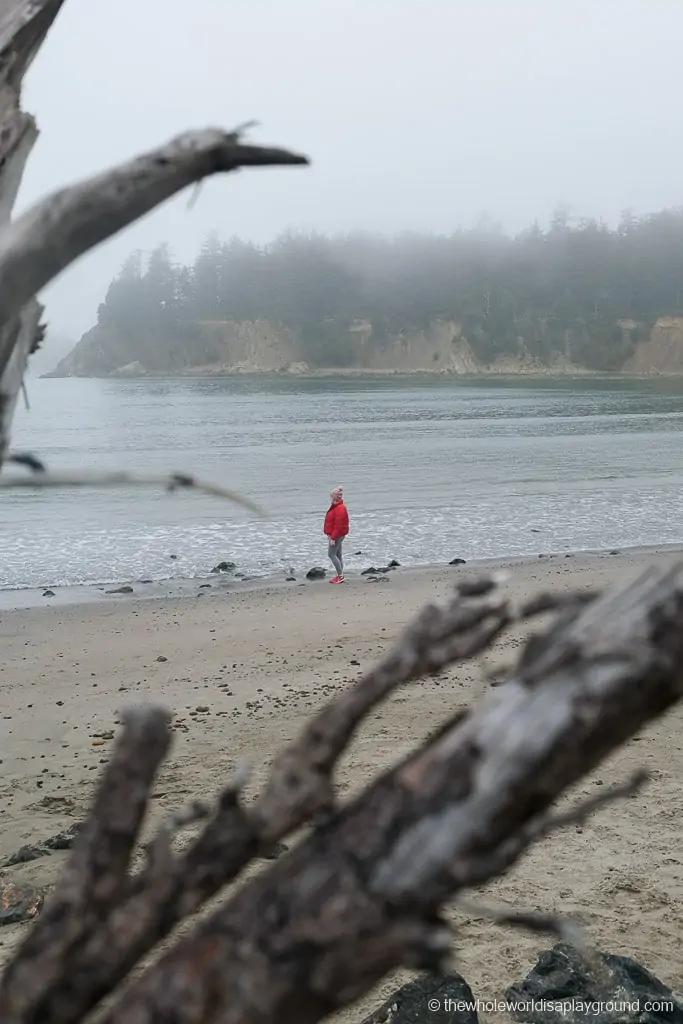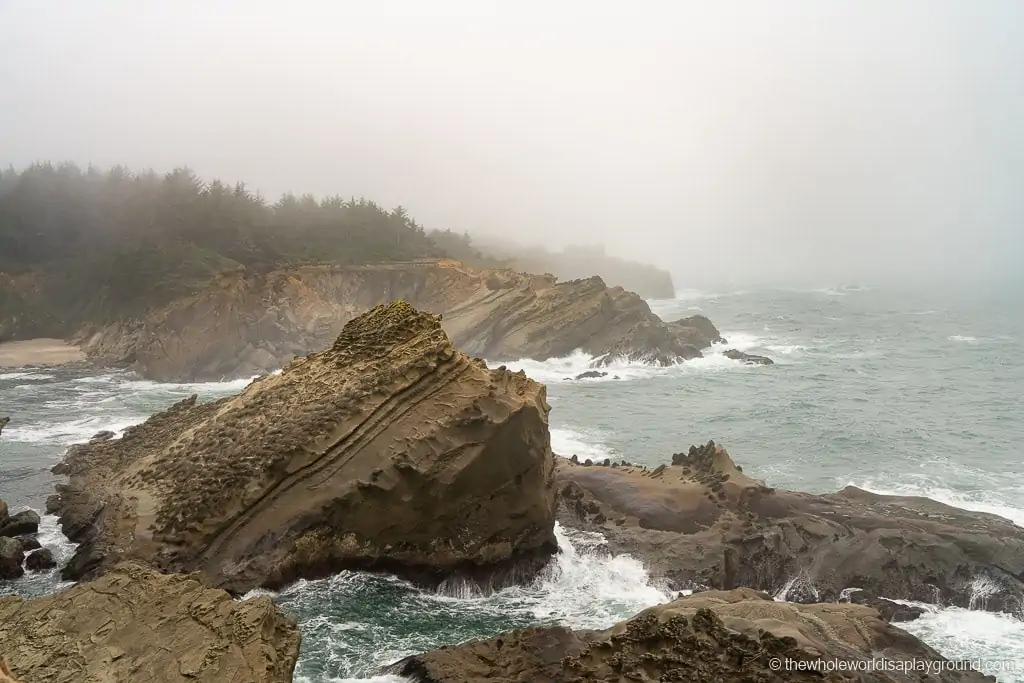 Coos Bay: take a stroll along the Coos Bay Boardwalk, grab some food at Sharkbites where locally sourced food and casual dining is on offer, check out the mural dedicated to Steve Prefontaine, a Coos Bay local, on South Broadway Street and catch a movie at the beautiful Egyptian Theater.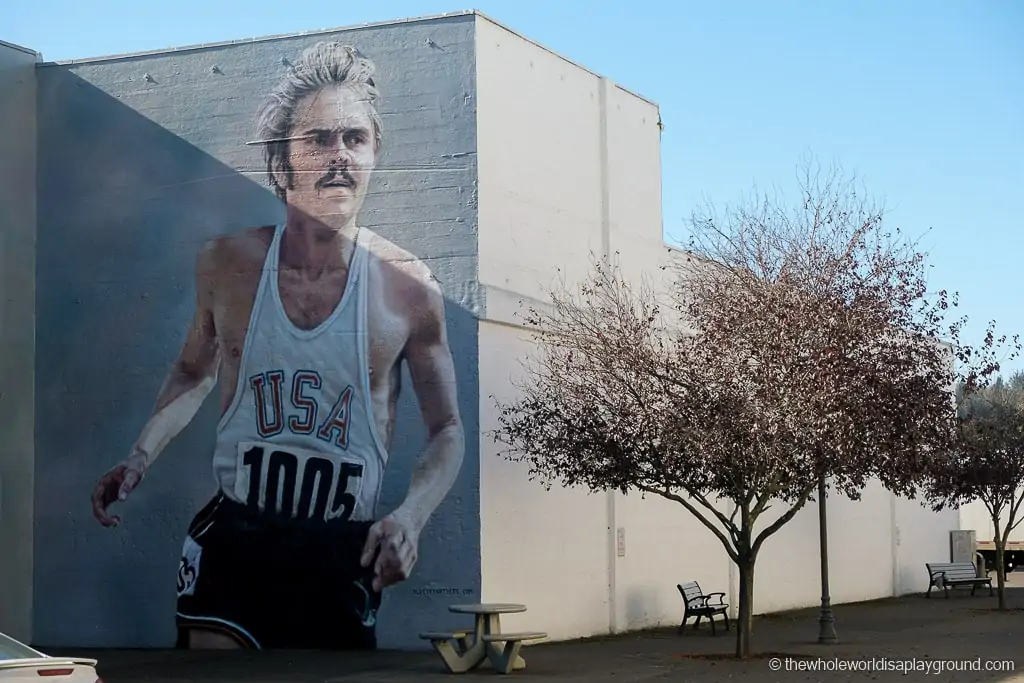 Bandon, Devils Kitchen and Face Rock: A quintessential Oregon Coast beach town, Bandon is close to both Devil's Kitchen, a stretch of beach with jutting rocks, and Face Rock, famous for both the viewpoint overlooking a face in the rock and the Circles in the Sand Festival. Bandon's Coquille Point is a beautiful viewpoint and showcases the rock formations and sea stacks.
On the way to Brookings/Samuel H Boardman Scenic Corridor
Prehistoric Gardens: one of our kids' favorite stops, the Prehistoric Gardens is a small, rainforest-style garden with huge dinosaur models. It's a short trail through lush greenery, hanging ferns and over a creek stopping to check out the huge dinosaurs en route.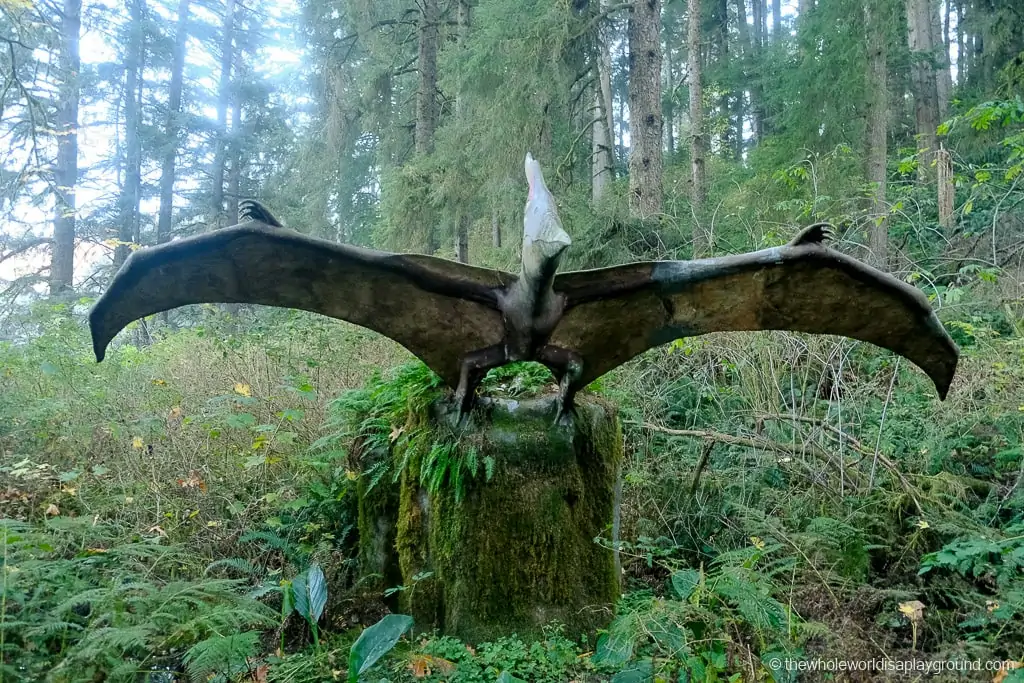 Cape Sebastian Viewpoint: a panoramic viewpoint with a 200 feet above sea level vantage point. The views stretch for almost 50 miles both north and south. There's a 1.5 mile forest trail that descends towards the beach and a roped section for those who want to make it onto the beach. If you visit between December and February or March and May you might catch a glimpse of bi-annual migration of the grey whales who pass by Cape Sebastian on their migratory route.
Further South, the Arch Rock Picnic Area is one of the most memorable picnic stops on the Oregon Coast. Overlooking an impressive Arch Rock, a natural rock arch just off the coast along the Samuel H Boardman Scenic Corridor.
As you continue towards Brooking you will pass the Thomas Creek Bridge which is the highest bridge in Oregon.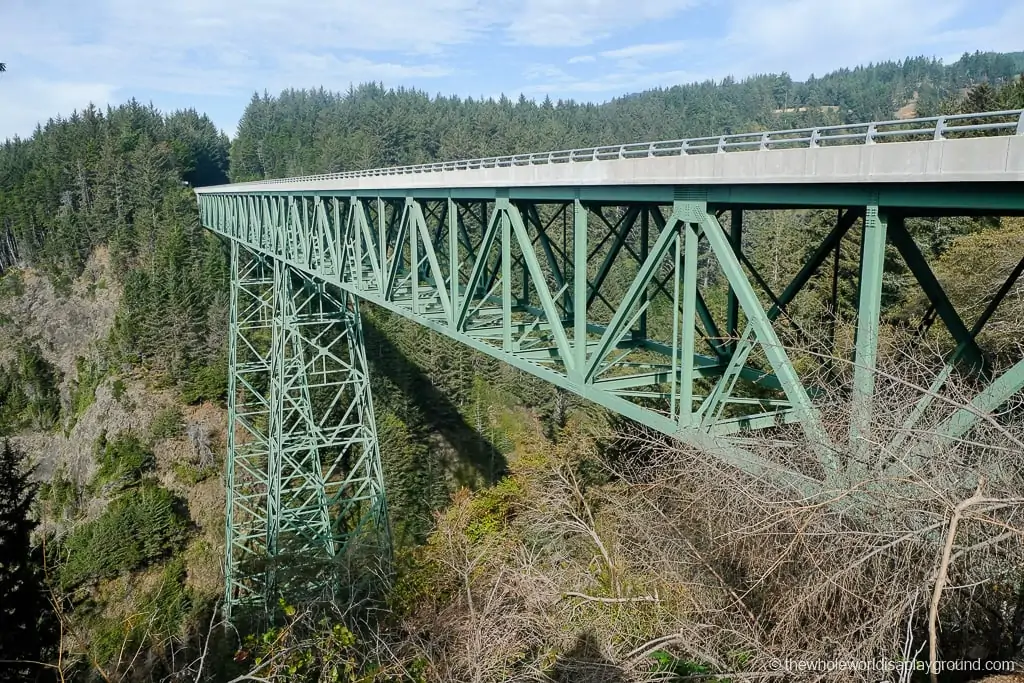 5 | Brookings (1 day) – Samuel H Boardman Scenic Corridor
Drive time: 2 hours 15 minutes from Coos Bay to Brookings
Brookings is a great place to stop if you want to spend a day exploring the Samuel H Boardman Scenic Corridor, a beautiful stretch of coastline on the Oregon Coast.
Where to stay in Brookings
Taylor Creek Lodge: located just north in Gold Beach, we found this lodge a perfect base for exploring the Samuel H Boardman Scenic Corridor. If you're up early the local deer sometimes visit the garden in the mornings. – check prices now
Beachfront Inn: a beach front hotel with clean and comfortable rooms, ocean view balconies and an outdoor pool – check prices here!
Tanbark Shores Guest Suite: one bedroom apartment with beach views and a garden. Located just a few minutes drive from the Samuel H Boardman Scenic Corridor – check prices here!
Book your hotel in Brookings now!
Samuel H Boardman Scenic Corridor
The Samuel H Boardman Scenic Corridor, named in honor of the first Oregon Parks superintendent, is a State Park located on a 12 mile stretch of coastline between Brookings and Gold Beach in south west Oregon.
The most popular stops are:
Natural Bridges: the Natural Bridges are a series of 7 arch rocks and blowholes in the Samuel H Boardman scenic corridor. The stop is well signposted and a short trail 0.5 mile trail leads to viewpoints.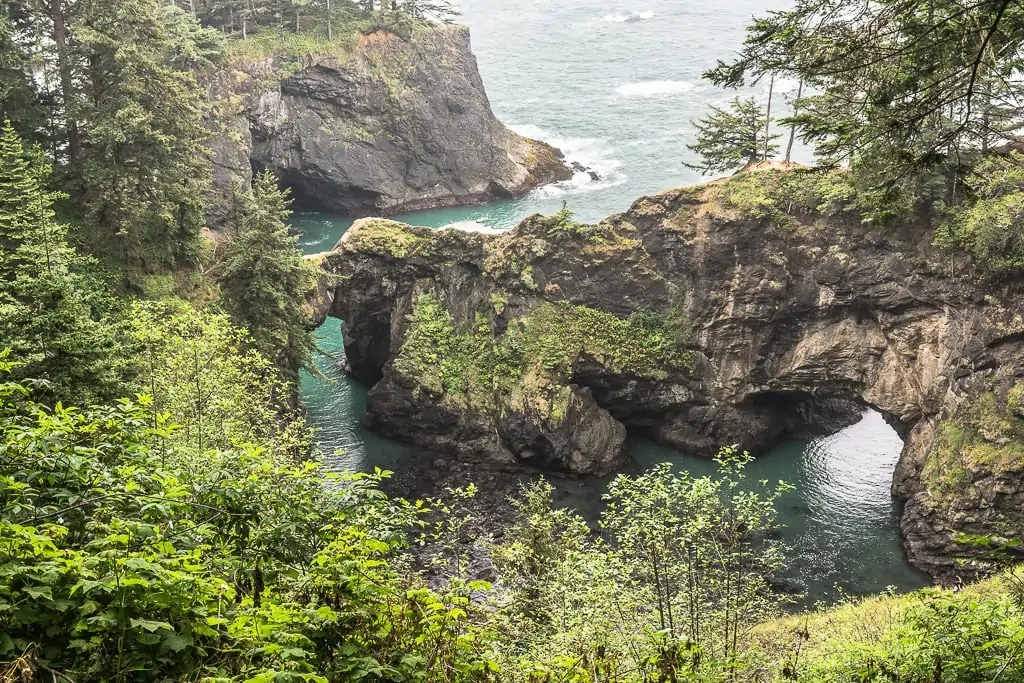 Arch Rock: viewpoint which overlooks a magnificent natural rock arch in the ocean. Accessed by an easy 0.2 mile loop.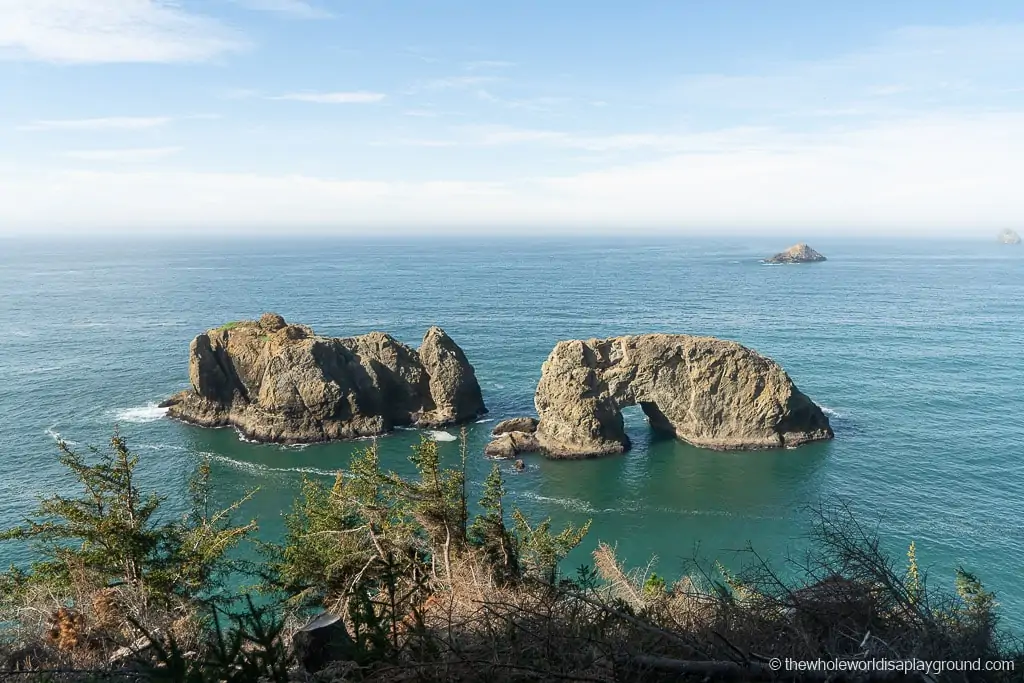 Secret Beach: the beautiful Secret Beach is not really a secret but it can be a little hard to find! You can take the 0.75 mile trail from Thunder Rock Cove Parking Lot down to Secret Beach.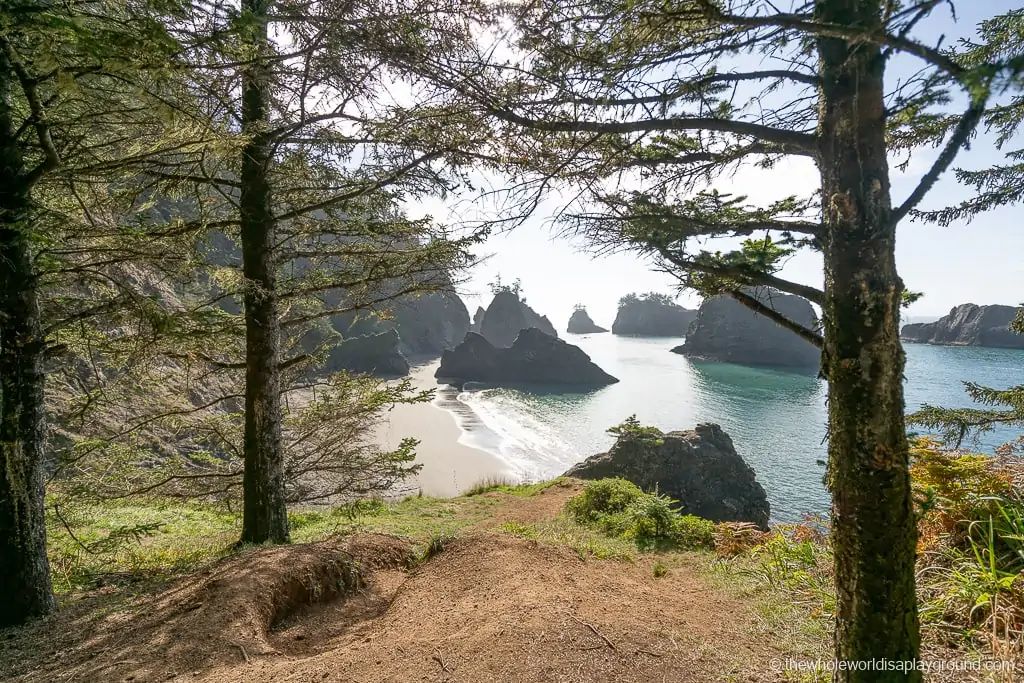 Other amazing stops include the Indian Sands Trail, the Whaleshead Beach and Viewpoint, House Rock Viewpoint, Cape Ferrelo Viewpoint and the beachfront Lone Ranch Beach picnic area.
Where to after the Oregon Coast?
California: on our most recent Oregon Coast road trip we continued South on our journey towards San Francisco, and eventually, the Florida Keys! We loved exploring the magnificent California Redwood Coast and wine country as we drove down the coast: our favorite stops included the Jedediah Smith Redwoods State Park, Redwoods National Park, Glass Beach, Napa Valley and having some fun at the three drive through redwoods in northern California.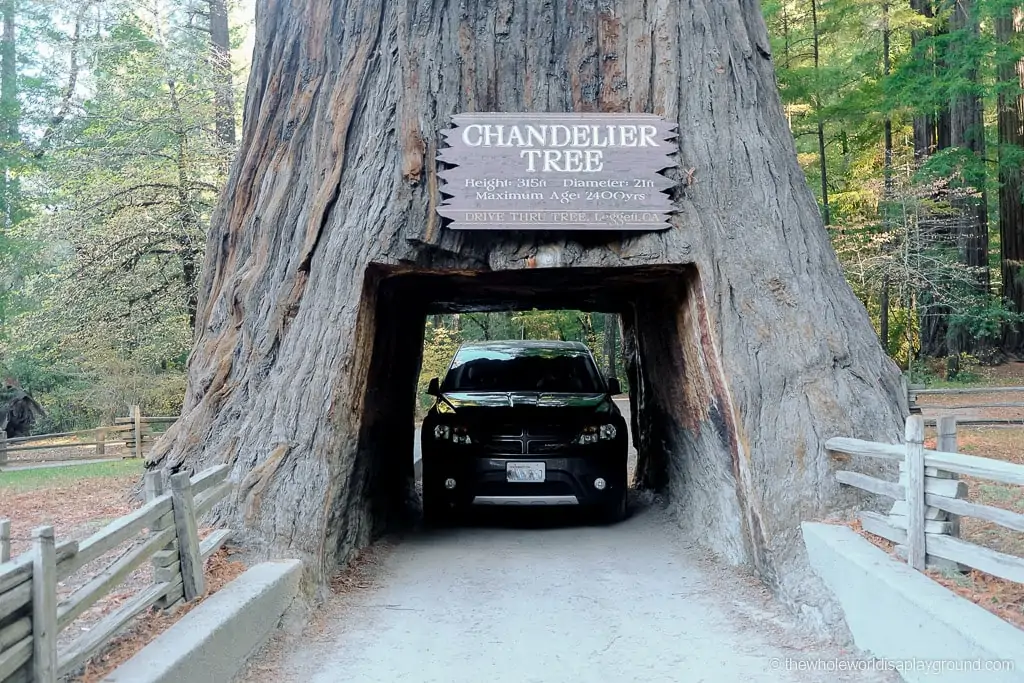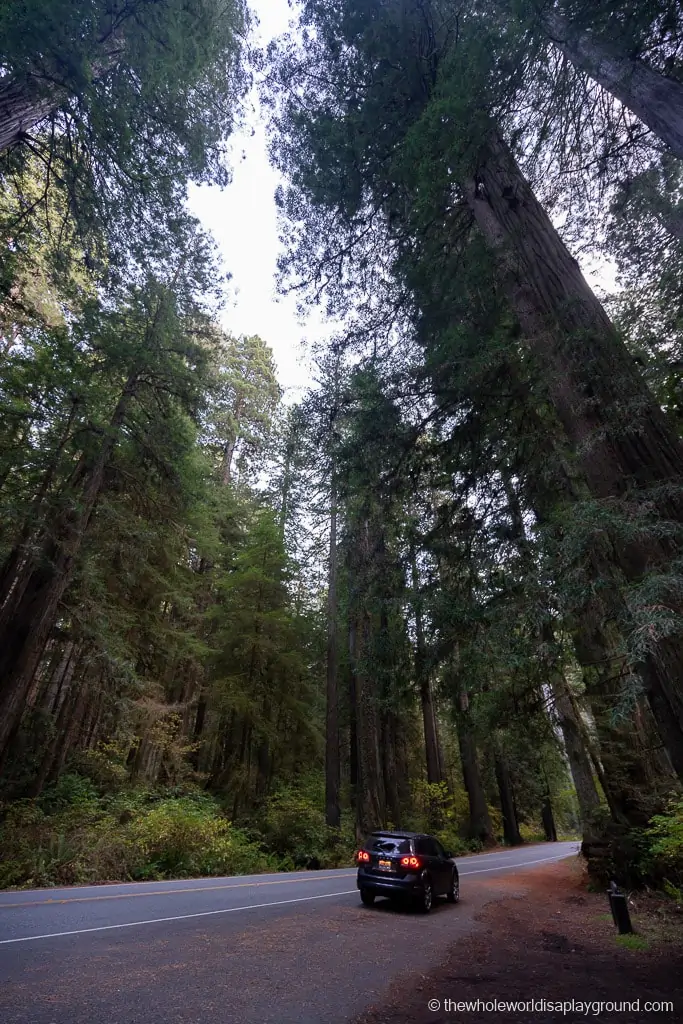 Oregon loop: if you are returning to Portland then this is the perfect opportunity to do a loop of the state. Head east to Crater Lake National Park where a collapsed volcano created a clear blue lake which is the deepest in the US. Then it's north up to Bend where you can check out the views of the 3 Sister Volcano Peaks and, later, Oregon's stunning Painted Hills. On the way back to Oregon spend a few nights exploring the Mount Hood Region: Oregon's tallest peak for some outdoor adventures.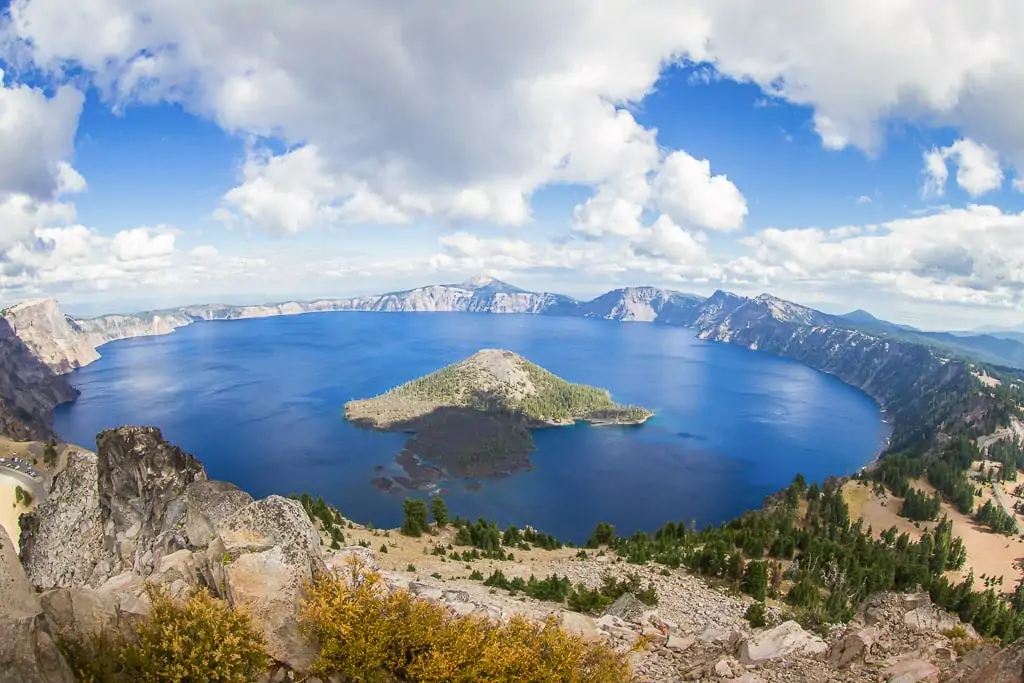 Have fun on your Oregon Coast Road Trip
There is so much to see and do on the Oregon Coast that it can be difficult to choose where to spend your time. We hope our itinerary helps with your planning and let us know if you have any questions in the comments.